Banda, Adames Lead Bulls Past Knights
Southpaw strikes out eight, shortstop scores twice in blowout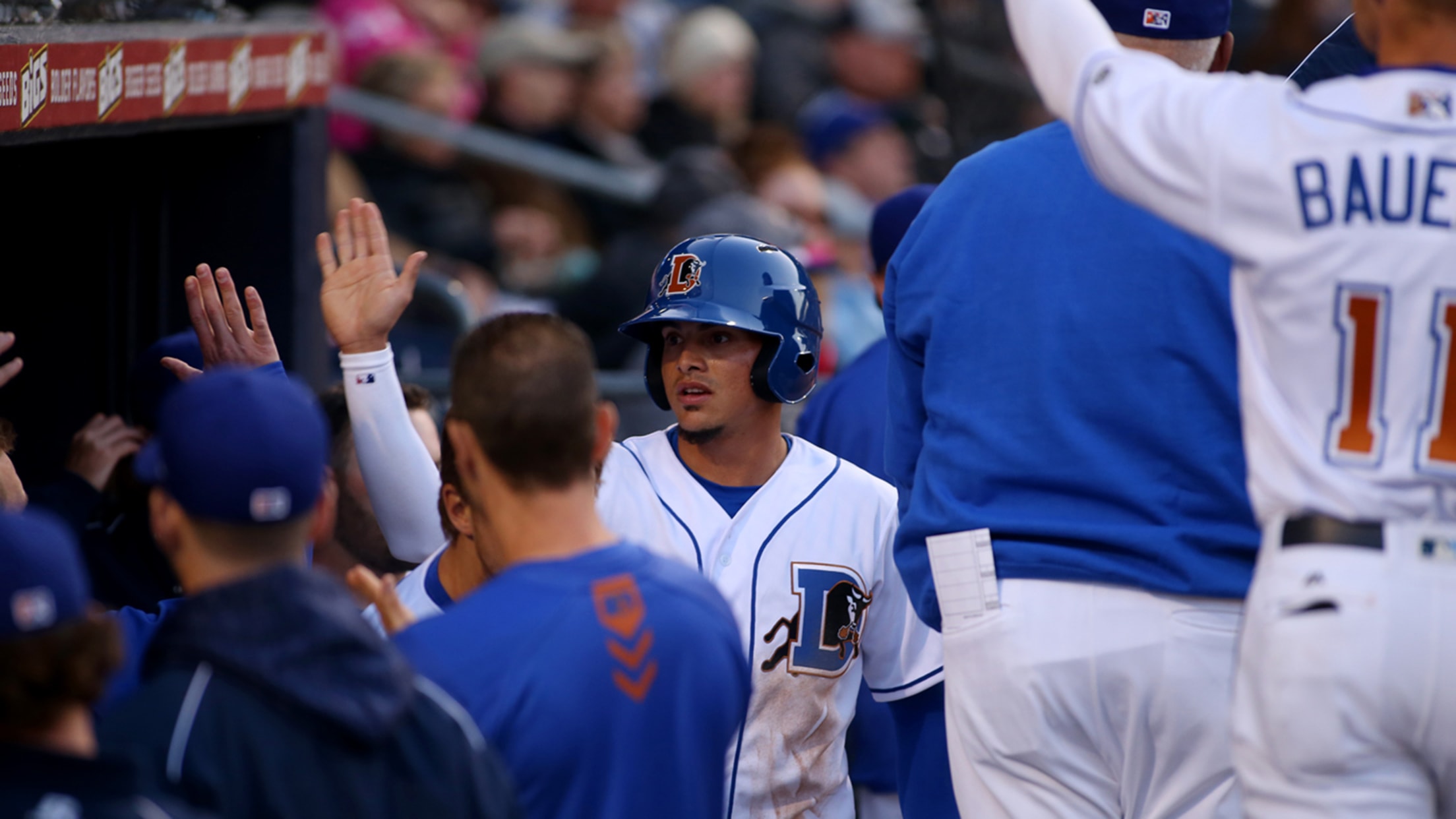 Willy Adames went 2-for-4 with two runs scored in Durham's 11-1 win Friday night at the DBAP
The Durham Bulls (1-1) and Charlotte Knights (1-1) were locked in a pitcher's duel until the Bulls posted an eight-run fifth inning in support of Anthony Banda's (1-0, 0.00 ERA) dominant start overpowering Charlotte, 11-1 in front of 9,154 fans at Durham Bulls Athletic Park.  In the third inning, Kean
The Durham Bulls (1-1) and Charlotte Knights (1-1) were locked in a pitcher's duel until the Bulls posted an eight-run fifth inning in support of Anthony Banda's (1-0, 0.00 ERA) dominant start overpowering Charlotte, 11-1 in front of 9,154 fans at Durham Bulls Athletic Park.

In the third inning, Kean Wong (1-for-2, 2 BB) tripled and scored on an RBI single by Adam Moore (2-for-3, 3 RBI) -- his first hit as a Bull. Durham extended its lead with eight runs in the fifth inning; Johnny Field (3-for-4, 2B, 2 RBI) and Wong walked to begin the rally. Christian Arroyo (0-for-4, RBI) drove in one run on a fielder's choice and Jake Bauers (2-for-5, 2B, RBI) plated another run with his third double of the season.

Willy Adames (2-for-4, 2B, RBI) kept the lineup moving with an RBI single to center field. Joe McCarthy (1-for-4, BB) walked and scored on a two-RBI single from Field. Wong walked for the second time in the inning loading the bases for Moore who drove in two runs with a single to center capping the scoring in a fifth frame where the Bulls brought 14 batters to the plate.

Impressive totals in the fifth; the Bulls plated eight runs on four hits alongside three walks and a hit-by-pitch ending right-handed starting pitcher Chris Volstad's (0-1, 9.64 ERA) night, who tossed 4.2 innings, allowed five runs on six hits, with three strikeouts.

The Tampa Bay Rays No. 16 prospect, Anthony Banda made his first start as a Bull an impressive one, delivering 5.0 scoreless innings with no walks, allowing four hits on 74 pitches, 48 strikes. Banda touched 95 mph and kept the Charlotte hitters off-balance throughout his outing.

Ian Gibaut and Hunter Wood fanned four batters combined in relief of Banda, allowing the only Charlotte run in the seventh inning on an RBI single by Jake Elmore (2-for-3, RBI).

On the night, the Bulls scored 11 runs on 13 hits including five multi-hit performances alongside four extra-base hits. The Bulls and the Knights matchup for the third time tomorrow with RHP José Mujica scheduled to face RHP Donnie Roach for Charlotte. First pitch is scheduled for 6:35 p.m.