Hulsizer Slams Bulls Past Shrimp 6-2 For Sixth Straight Victory
LF Niko Hulsizer smashes grand slam as part of 5-run 4th, Brujan bashes 3 hits
Bulls left fielder Niko Hulsizer smashed a grand slam, while second baseman Vidal Brujan clubbed three hits and drove in two runs as Durham earned their sixth straight win with a 6-2 victory over the Jacksonville Jumbo Shrimp in front of a paid attendance of 9,394 on Saturday night at
Bulls Best Shrimp for Fifth Straight Win
Tristan Gray homers, Bulls throw seven scoreless innings
Bulls first baseman Kyle Manzardo and second baseman Osleivis Basabe each drove in a run, third baseman Tristan Gray homered and the Bulls combined to pitch seven scoreless innings in Durham's 3-2 victory over the Jacksonville Jumbo Shrimp on Friday evening at Durham Bulls Athletic Park. Manzardo put the Bulls
Gamel Gives Bulls 6-5 Walk-Off Win
LF Ben Gamel homers, clubs game-winning double as Durham wins 4th straight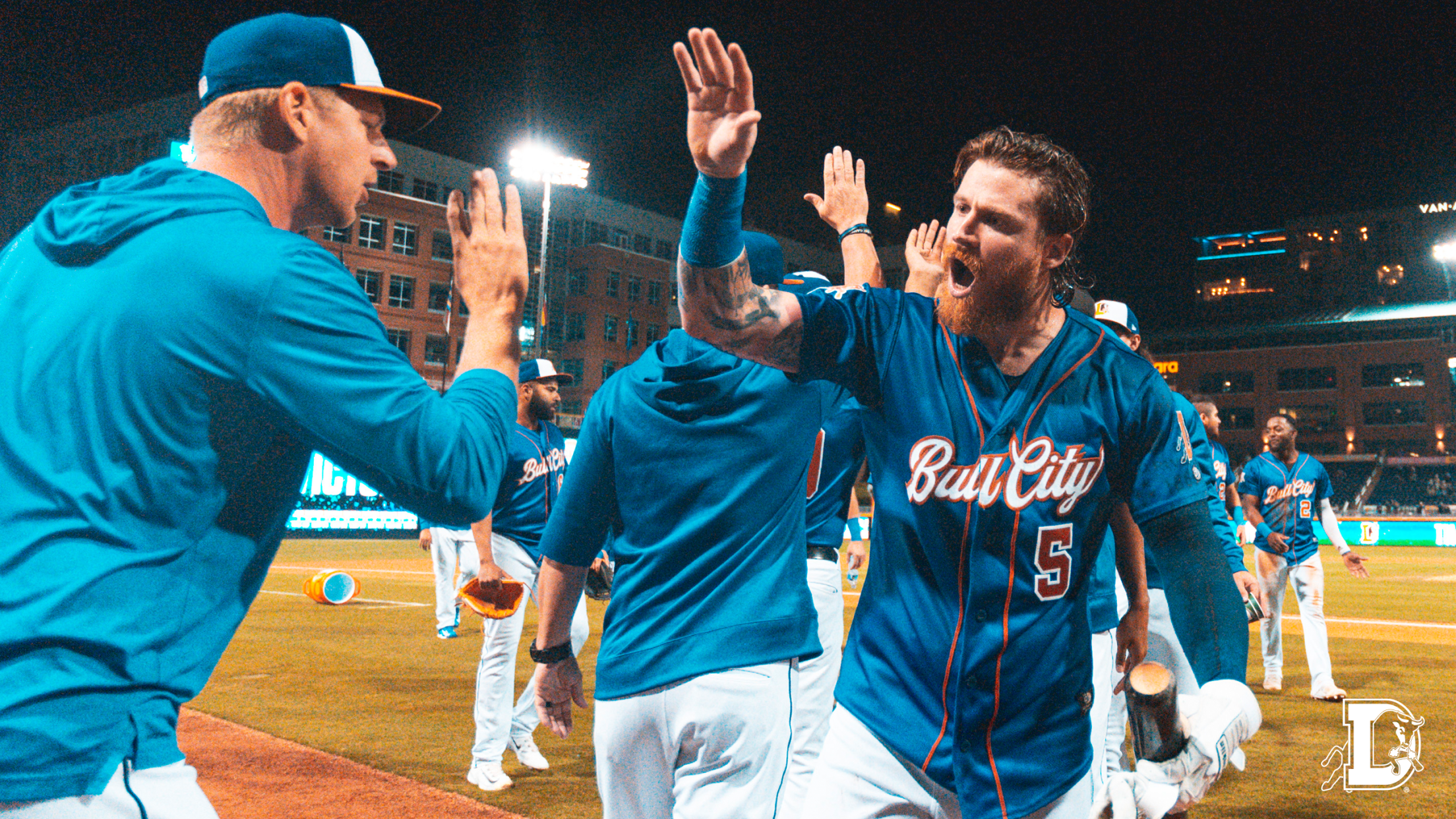 Bulls first baseman Jonathan Aranda recorded two hits and drove in two runs, while left fielder Ben Gamel homered and smashed the game-winning RBI double as Durham earned their fourth straight win in a 6-5 victory over the Jacksonville Jumbo Shrimp on Thursday evening at Durham Bulls Athletic Park. Entering
Bulls Sweep Jumbo Shrimp in Doubleheader
Bulls take game one 3-0, game two 5-2
Bulls designated hitter RubenCardenas knocked a 2-run homer, third baseman Jonathan Aranda drove in a run and RHP Evan McKendry threw seven scoreless innings in Durham's 3-0 victory in game one. Right fielder Ben Gamel and Aranda each drove in a run and third baseman Tristan Gray smashed a 3-run
Manzardo Mashes 4 Hits, Bulls Batter 'Shrimp 13-2
Kyle Manzardo matches career-high with 4 knocks, Nick Dini homers in rout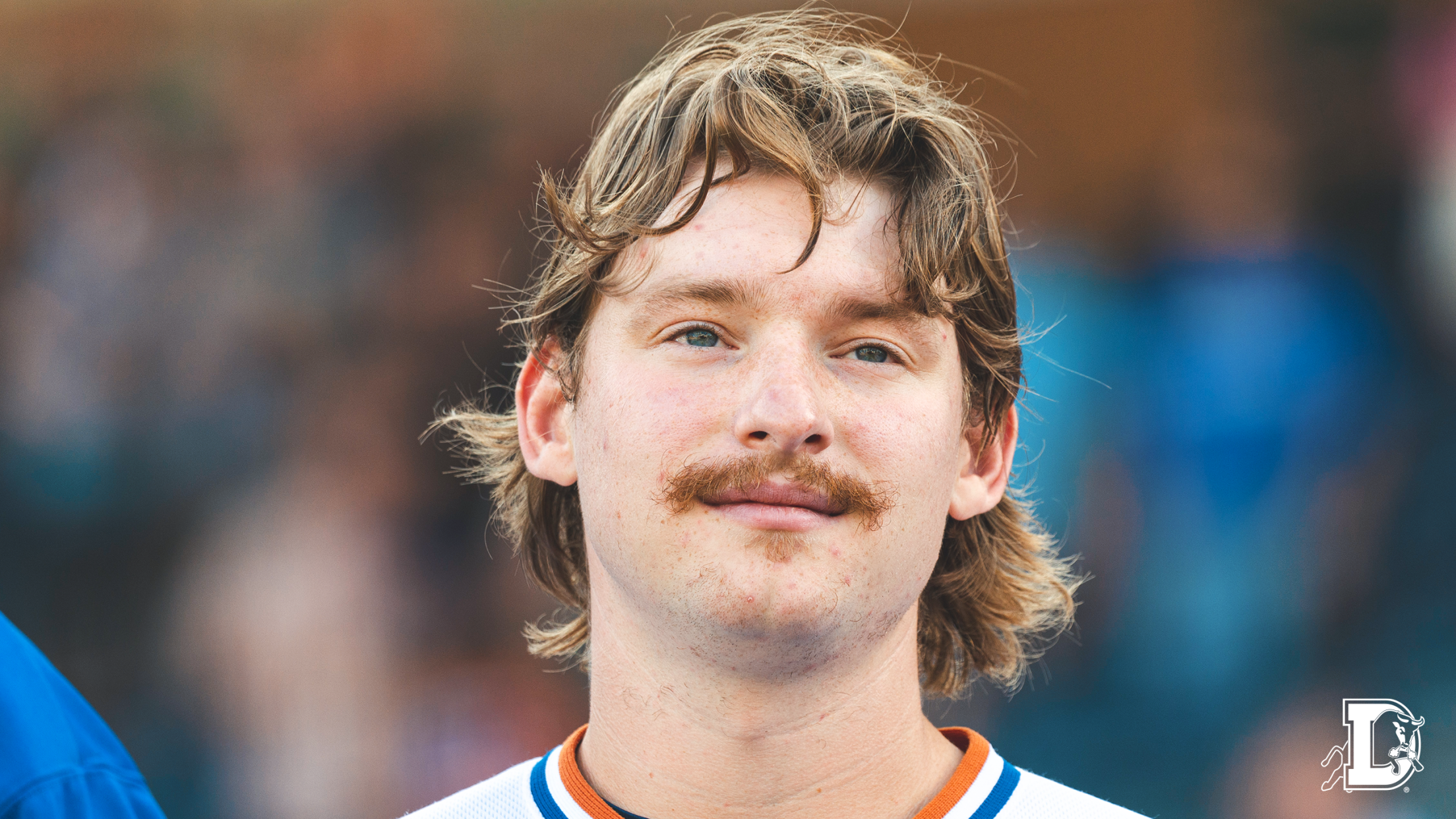 Bulls first baseman Kyle Manzardo matched a single-game career-high with four hits, including two doubles, while designated hitter Nick Dini homered and center fielder Kameron Misner drove in three runs as Durham smashed a season-high seventeen hits in a 13-2 victory over the Jacksonville Jumbo Shrimp on Monday evening at
Stripers Top Bulls 2-0
Basabe tallies two knocks, Chirinos fires four scoreless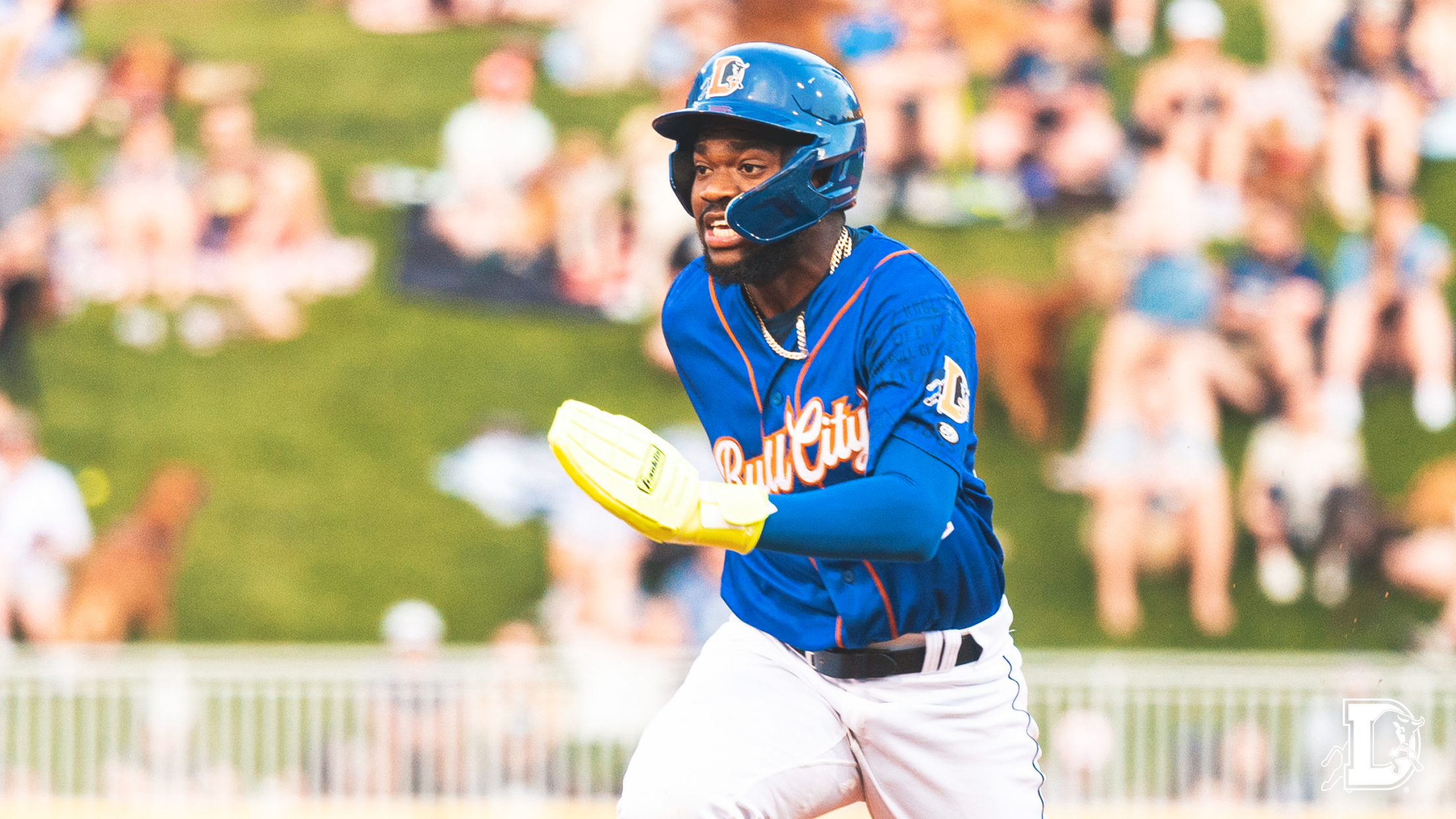 Bulls starting pitcher Yonny Chirinos tossed four shutout innings and shortstop Osleivis Basabe tallied two hits, however five Stripers pitchers combined for a four-hit shutout and Gwinnett left fielder Nick Solak slashed a home run in a 2-0 victory to snap Durham's four-game win streak on Sunday afternoon at Coolray
Durham Drops Gwinnett 4-3 For 4th Straight Win
Aranda, Pinto & Manzardo combine for eight hits & three RBI as Bulls clinch series victory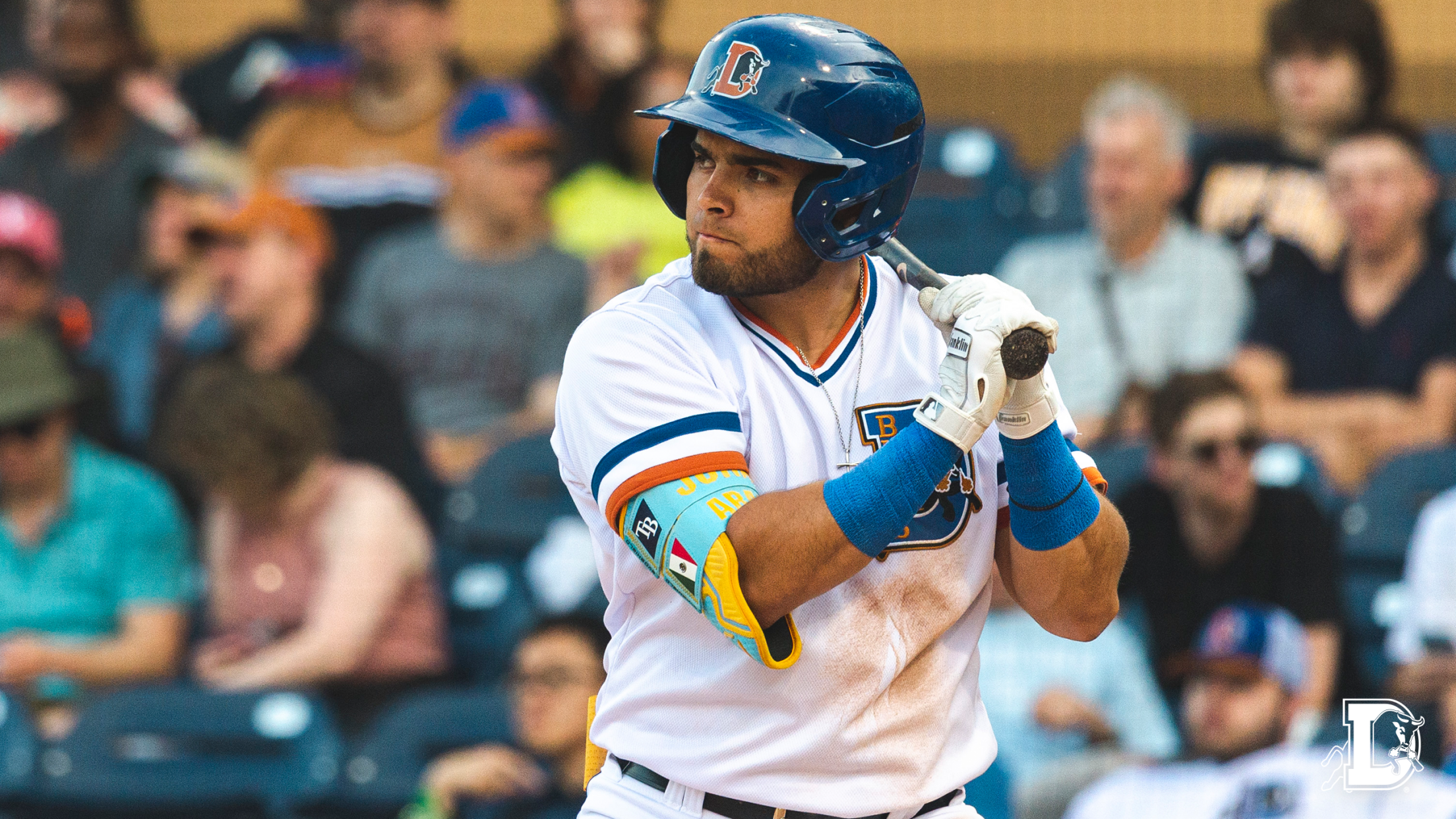 Bulls third baseman Jonathan Aranda, catcher Rene Pinto and first baseman Kyle Manzardo combined to record eight hits, with each driving in a run as Durham earned their fourth straight win with a 4-3 victory over the Gwinnett Stripers on Saturday evening at Coolray Field. Pinto gave the Bulls the
Bulls Sink Stripers 11-8
Jones blasts 1st Triple-A homer, 4 relievers combine for 6.2 shutout innings in victory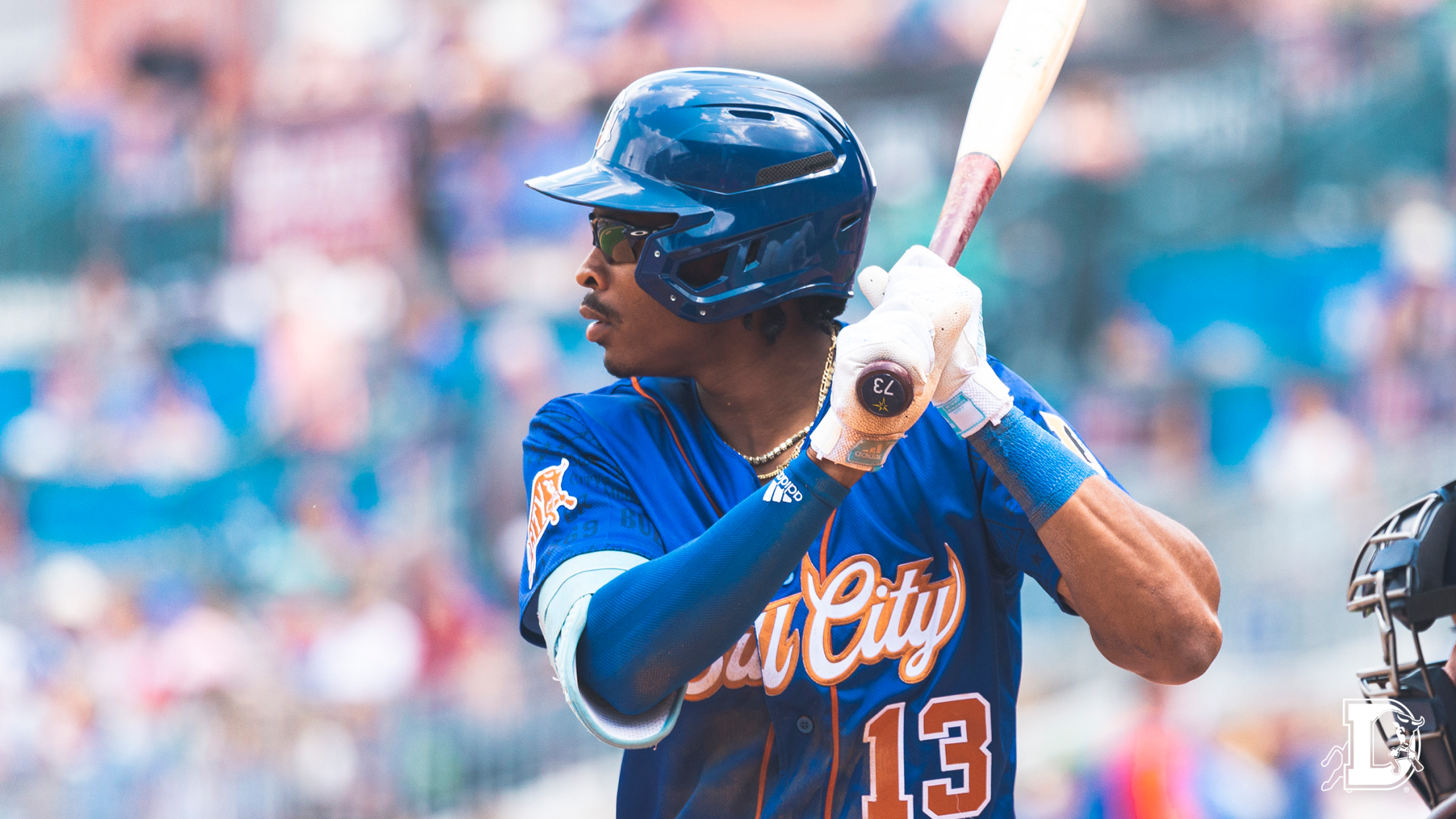 Bulls shortstop Greg Jones clubbed two hits, including a homer, and scored three times, while second baseman Vidal Brujan, third baseman Osleivis Basabe and catcher Rene Pinto combined with Jones to drive in eight runs and four Durham relievers combined for six and two-thirds scoreless frames in an 11-8 victory
Durham Beats Gwinnett 2-1
Gray and Hulsizer each drive in a run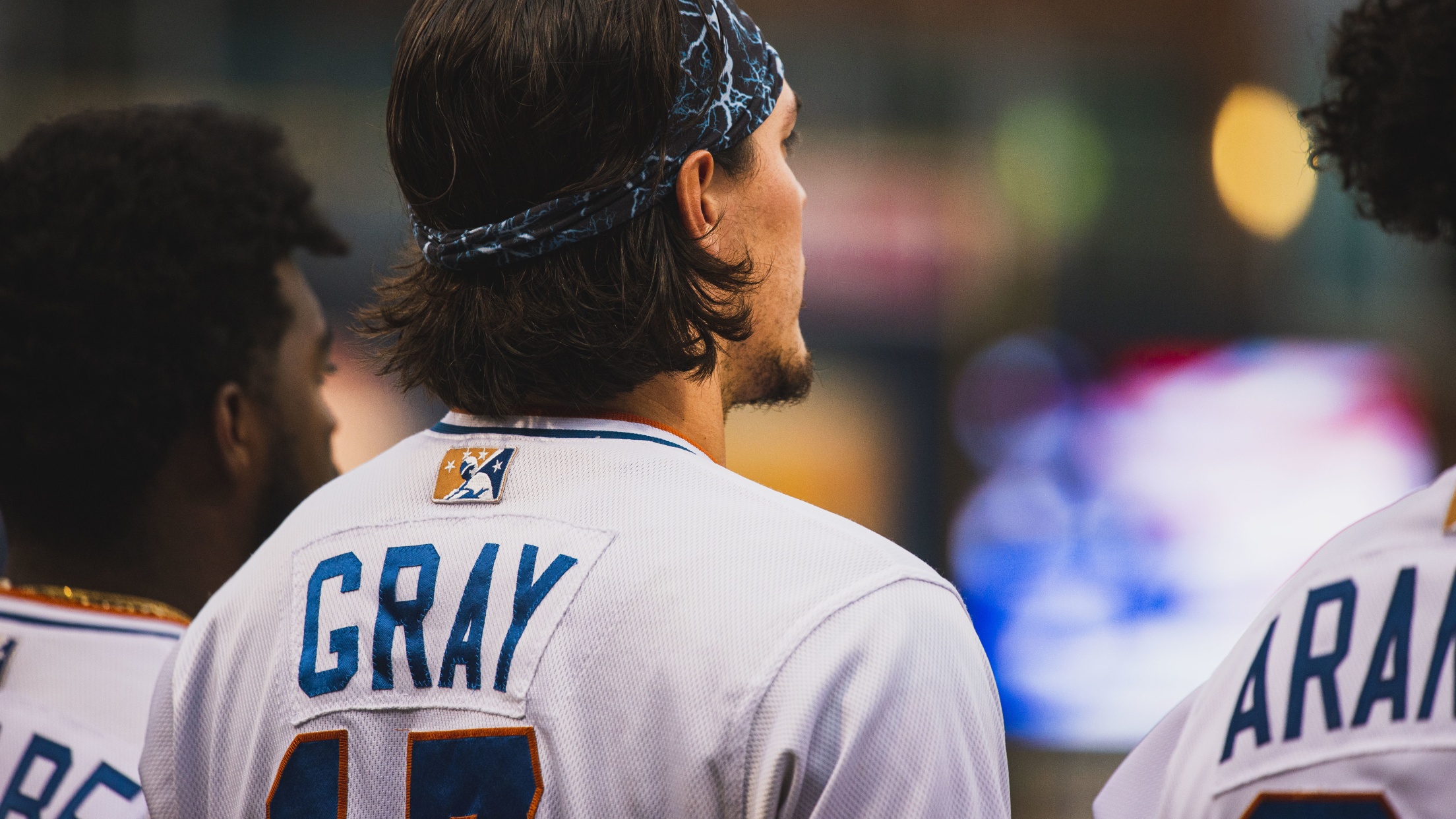 Bulls third baseman Tristan Gray and designated hitter Niko Hulszier recorded two hits combined in Durham's 2-1 victory over the Gwinnett Stripers Thursday evening at Coolray Field. The Stripers got their first score in the first on a walk before Gray's double in the fourth put the Bulls on the
Bulls Host Wool E. Wellness Cooking Class in Partnership With Blue Cross And Blue Shield of North Carolina
Bulls front office staff & Wool E. Bull host cooking class at DBAP to promote healthy eating & balanced lifestyles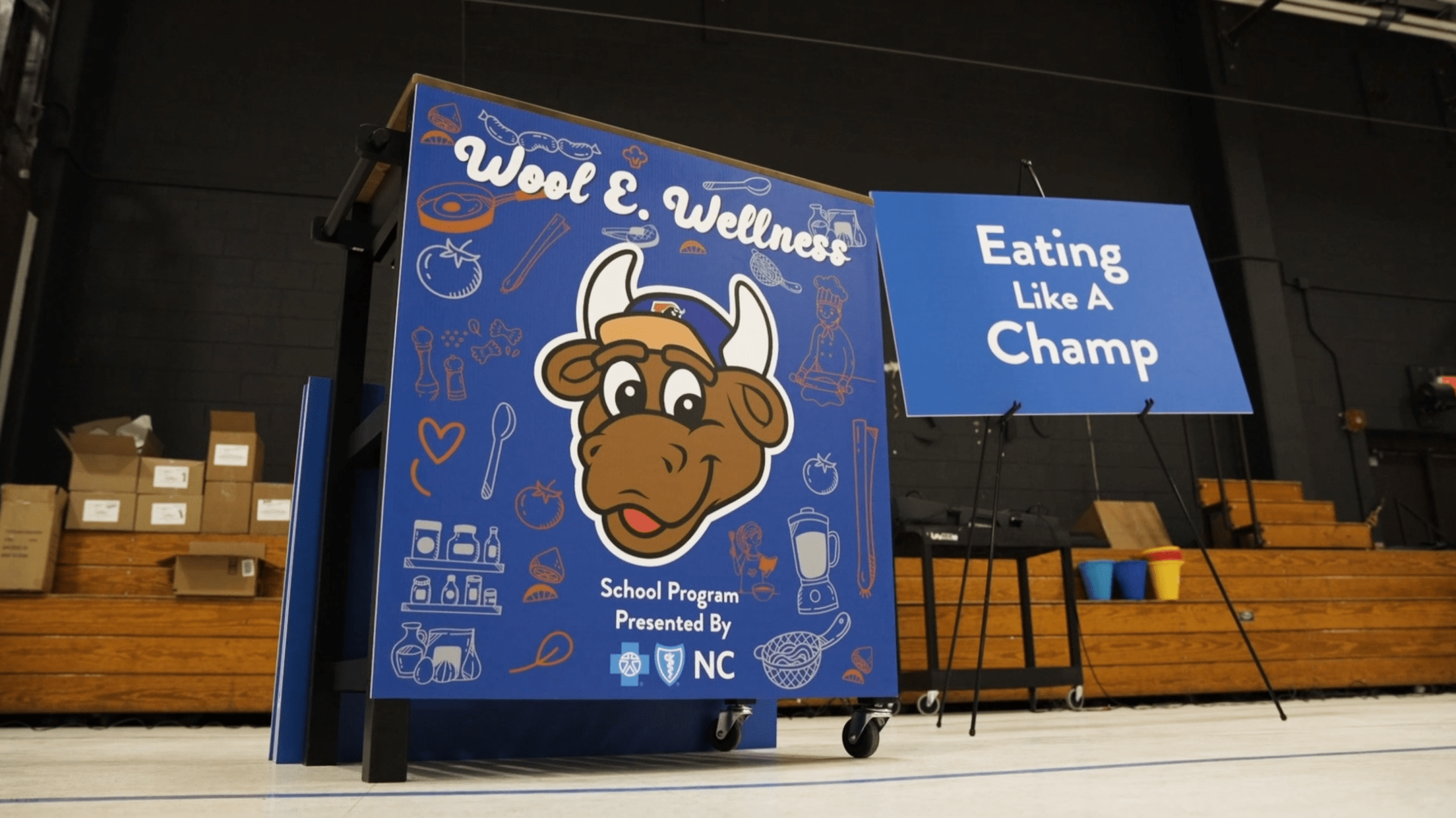 Earlier this month, the Durham Bulls in partnership with Blue Cross Blue Shield of North Carolina (Blue Cross NC) held an on-site cooking class as the culmination of their year-long Wool E. Wellness school program. "We have been thrilled to bring this program to the community" said Durham Bulls General
Bulls Best Stripers 7-3
Aranda drives in three runs, Hulsizer knocks a 2-run homer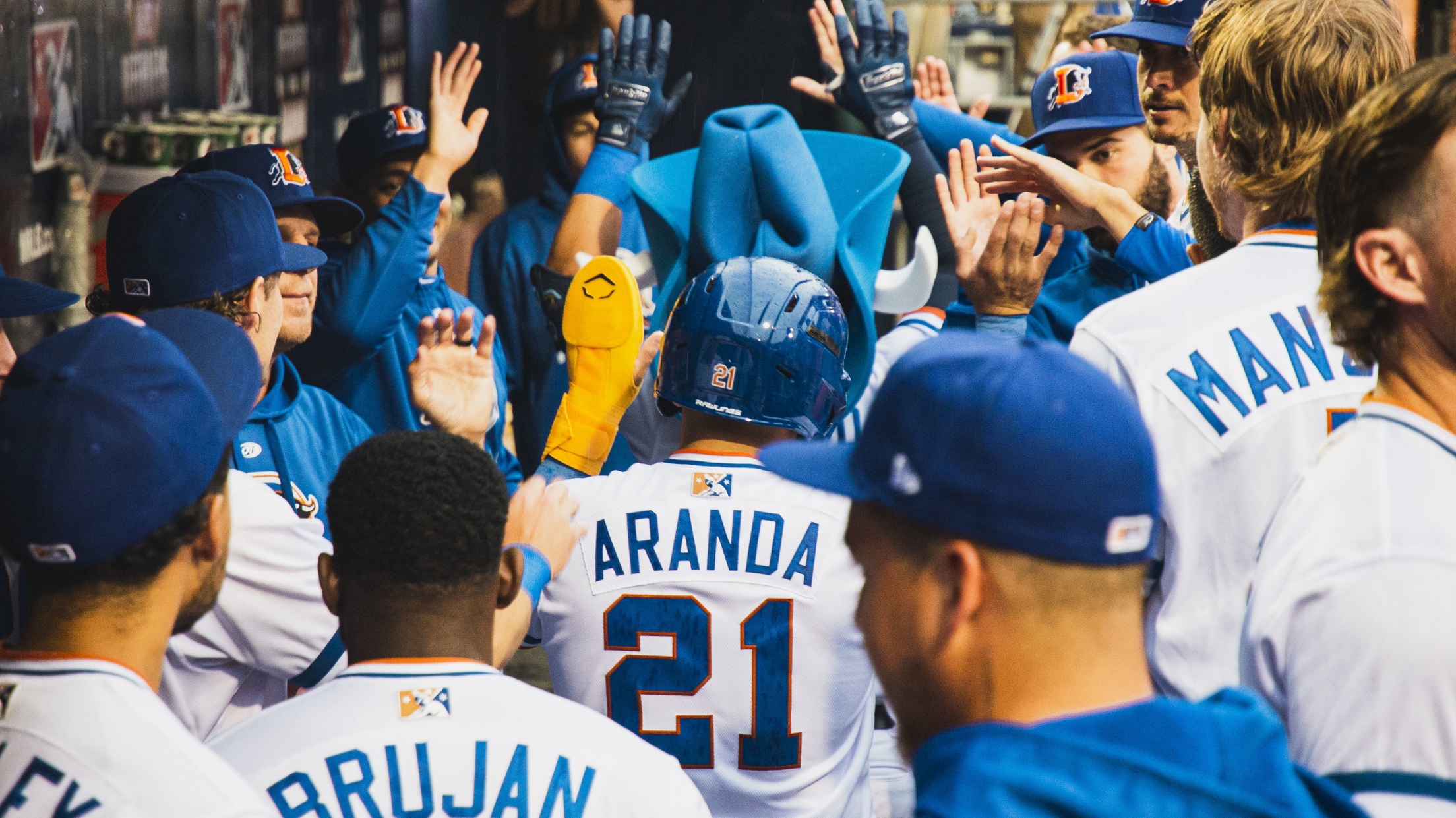 Bulls second baseman Jonathan Aranda drove in three runs and left fielder Niko Hulsizer smashed a 2-run homer in Durham's 7-3 victory over the Gwinnett Stripers on Wednesday evening at Coolray Field. Durham struck first in the fifth inning when Aranda's single gave the Bulls a 1-0 lead before he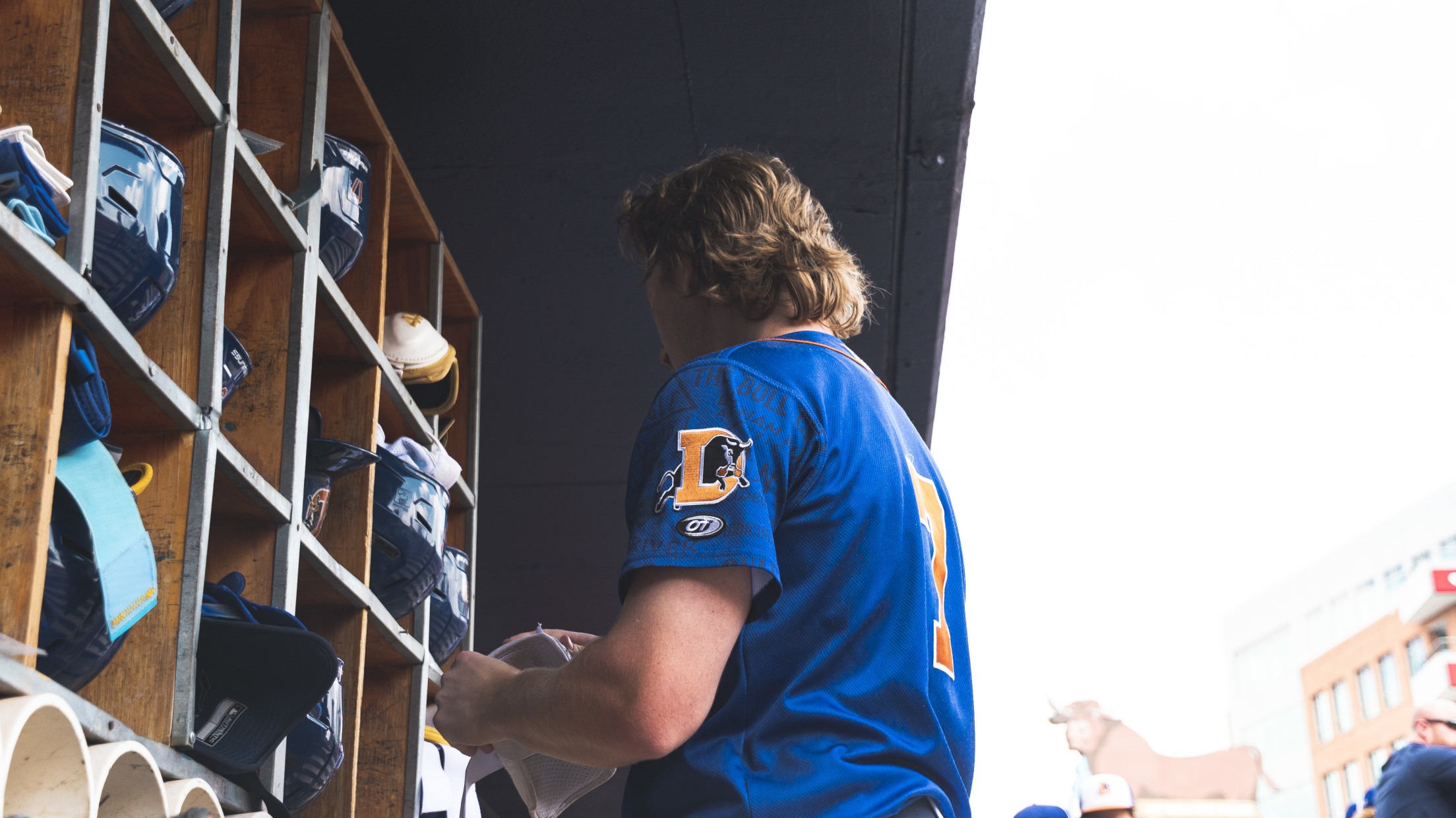 Stripers starting pitcher Michael Soroka tossed six strong innings and second baseman Braden Shewmake homered, while shortstop Osleivis Basabe scored on first baseman Kyle Manzardo's sacrifice fly in Gwinnett's 3-1 win over Durham on Tuesday night at Coolray Field. The Bulls scored in the first thanks to Manzardo's sacrifice fly.
Glasnow Fans Six, Bulls Fall To Sounds 6-4 In Ten
Rays starter Tyler Glasnow strikes out 6 in 6.0 solid frames as part of MLB Rehab Assignment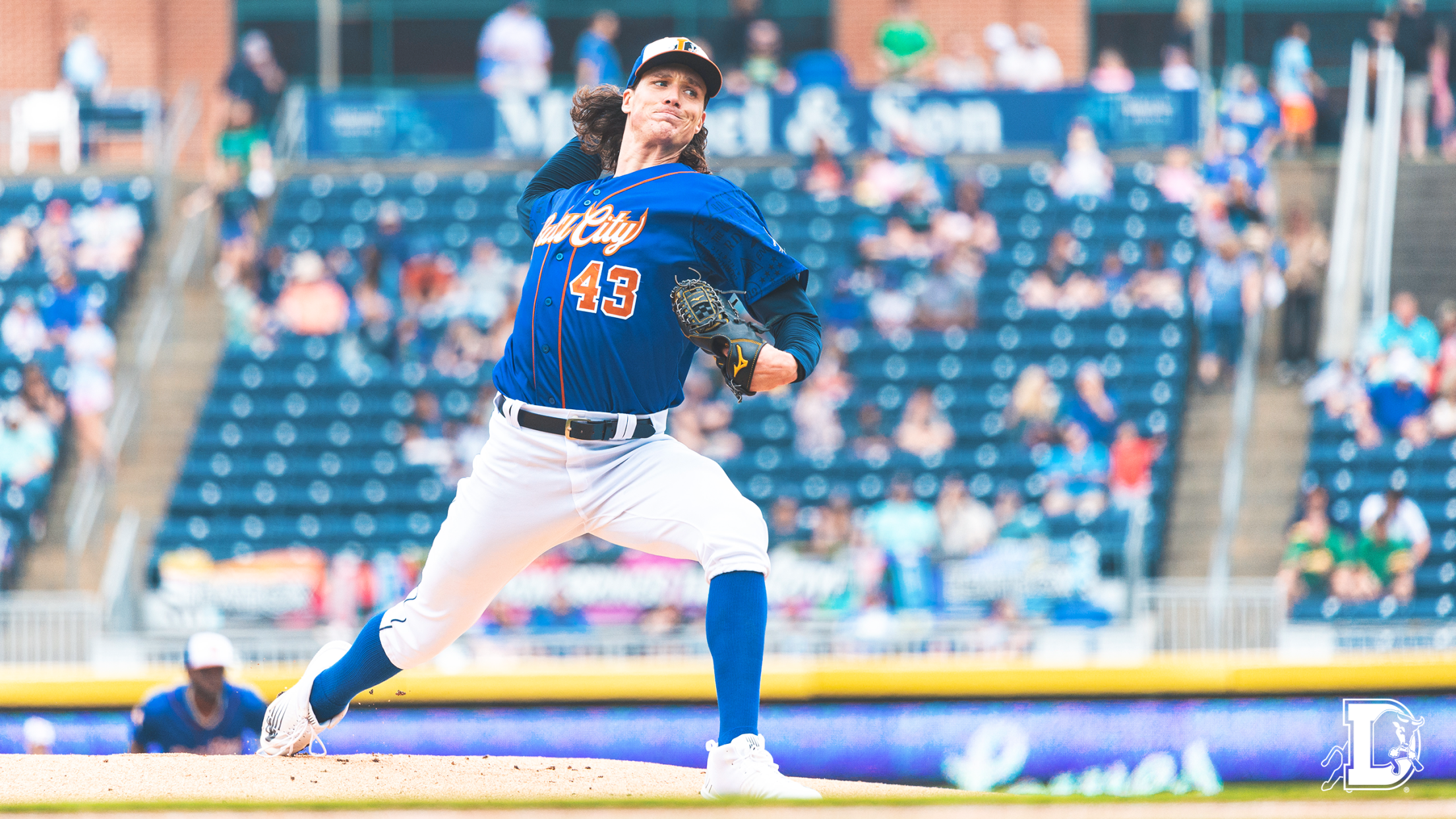 Tampa Bay Rays starting pitcher Tyler Glasnow struck out six batters over six solid innings as part of a Major League Rehab Assignment with Durham and third baseman Tristan Gray drove in two runs, while Nashville scored three runs in the tenth inning of the Sounds' 6-4 extra-inning win over
Hulsizer Smashes Bulls To 5-3 Walk-Off Win Over Sounds
Durham LF Niko Hulsizer drives in 4 runs, capping contest with game-winning two-run blast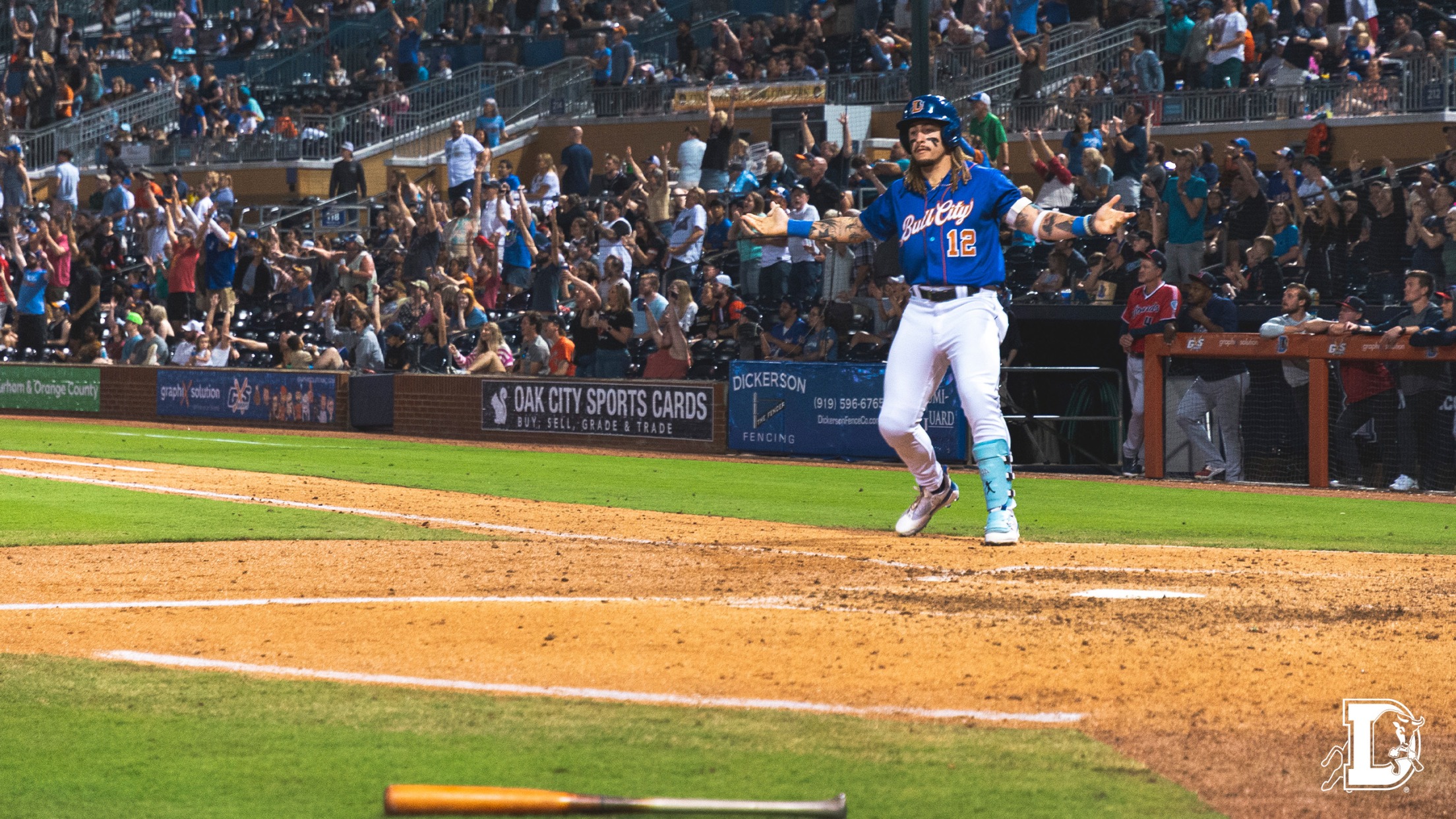 Bulls first baseman Jonathan Aranda homered for the fourth time in six games, while left fielder Niko Hulsizer drove in four runs, smashing a game-winning two-run home run in the ninth to give Durham a 5-3 win over the Nashville Sounds in front of a paid attendance of 9,026 on
Nashville Bests Durham 10-4
Jones Drives in Two Runs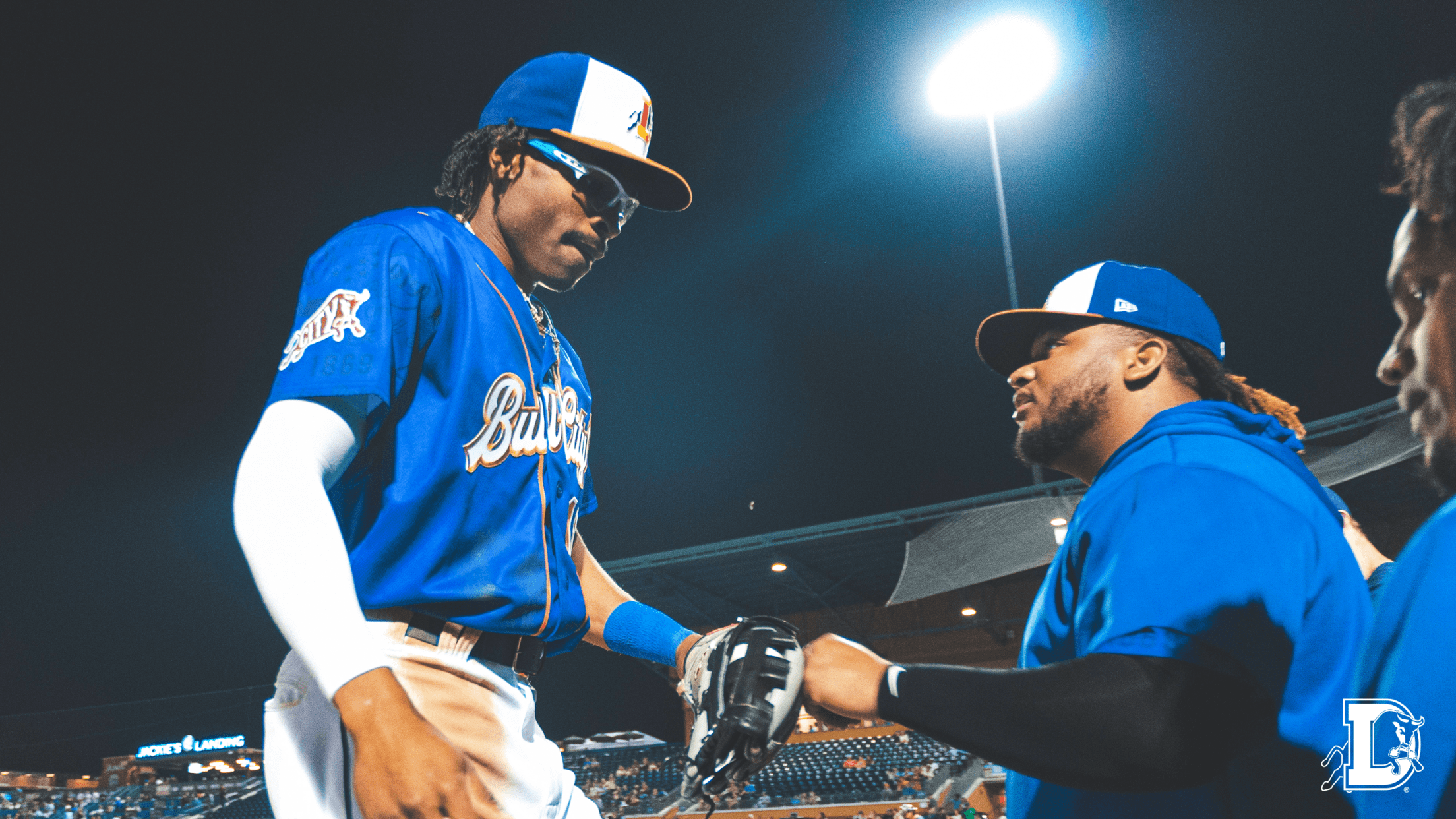 Sounds starting pitcher Robert Gasser tossed six-plus strong innings and first baseman* Jon Singleton *drove in three runs, while Bulls shortstop Greg Jones knocked a two-run single in Nashville's 10-4 win over Durham on Friday night at Durham Bulls Athletic Park. The Sounds got on the board with Singleton's RBI
McKendry Extends Scoreless Innings Streak In Bulls' 8-4 Defeat
Bulls starter Evan McKendry fires 6 shutout frames, has not allowed a run in last 19.1 frames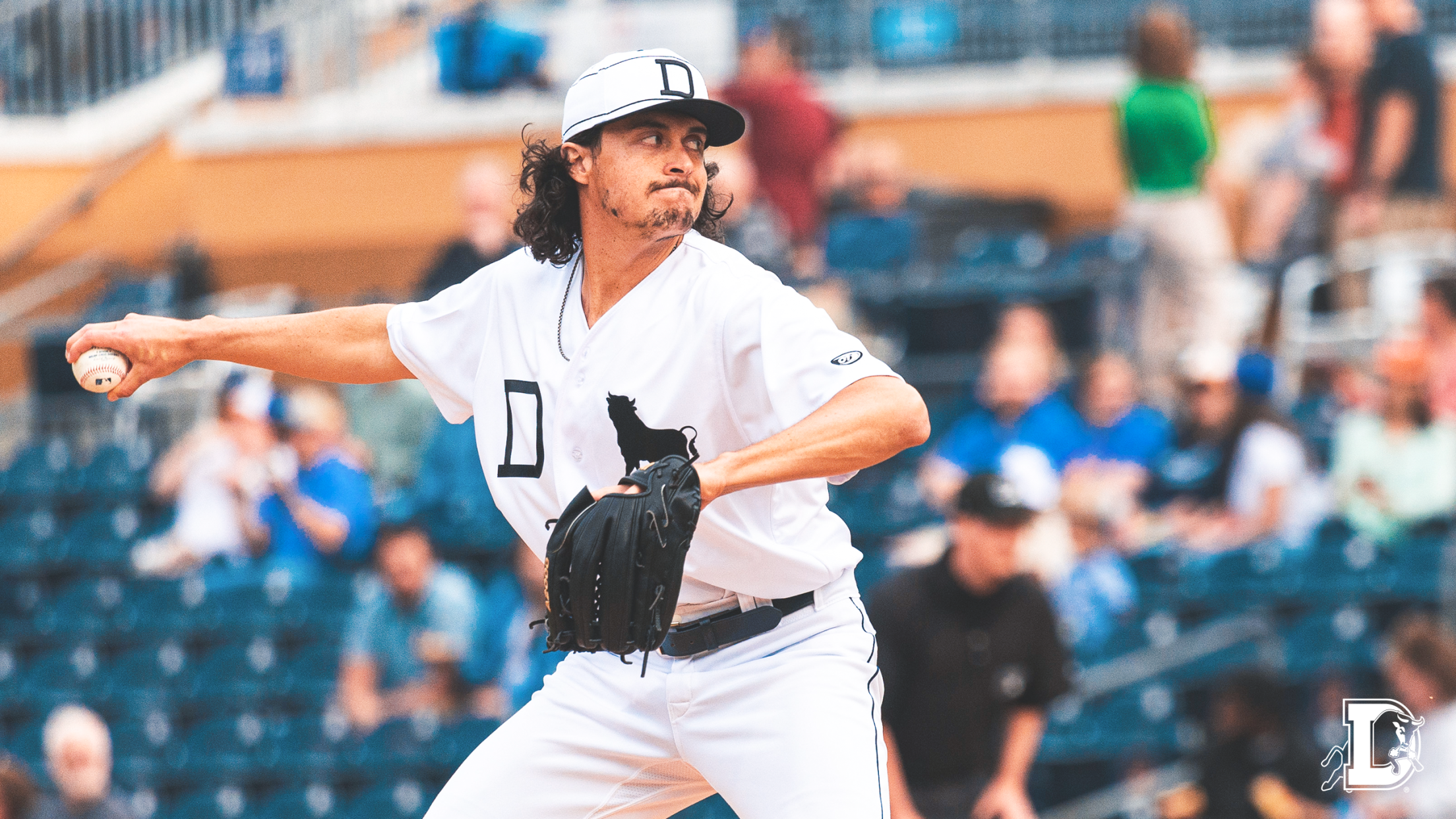 Bulls starting pitcher Evan McKendry fired six shutout frames to extend his consecutive scoreless innings streak to nineteen and one-third innings, with right fielder Ruben Cardenas and second baseman Jonathan Aranda each homering, while Sounds catcher Brian Navarreto clubbed three hits and drove in four runs in Nashville's 8-4 win
Bulls Silence Sounds 4-0
Brujan homered for third straight, Bulls allowed only one hit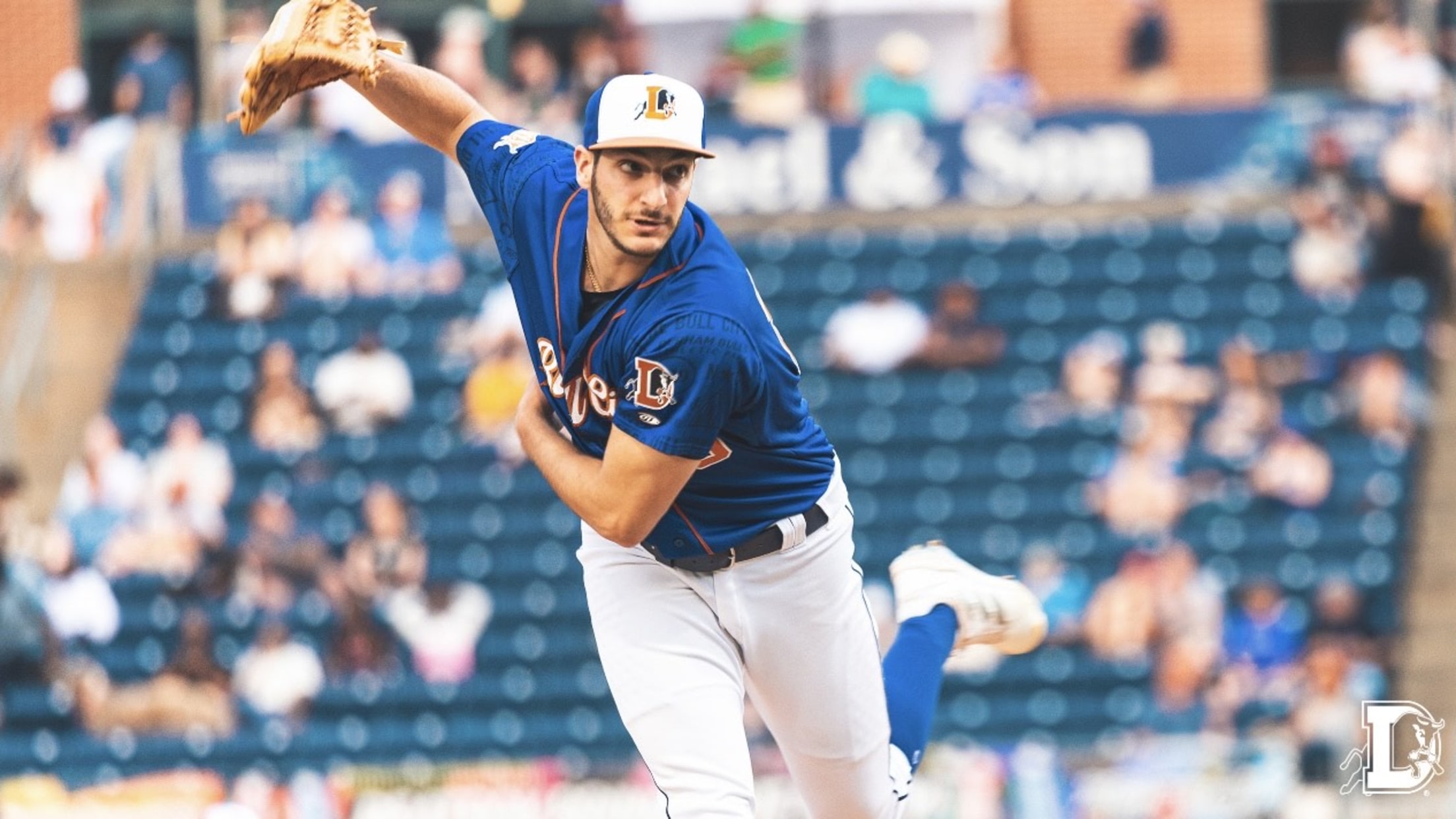 Bulls short stop Vidal Brujan homered for the third straight game, and four Durham pitchers combined to allow only one hit in the 4-0 victory over the Nashville Sounds on Wednesday evening at Durham Bulls Athletic Park. Catcher Rene Pinto scored on an error in the second inning before Brujan's
USA Baseball to Face Chinese Taipei at the DBAP on July 1 & July 3
Tickets for both games will go on sale starting Friday, May 19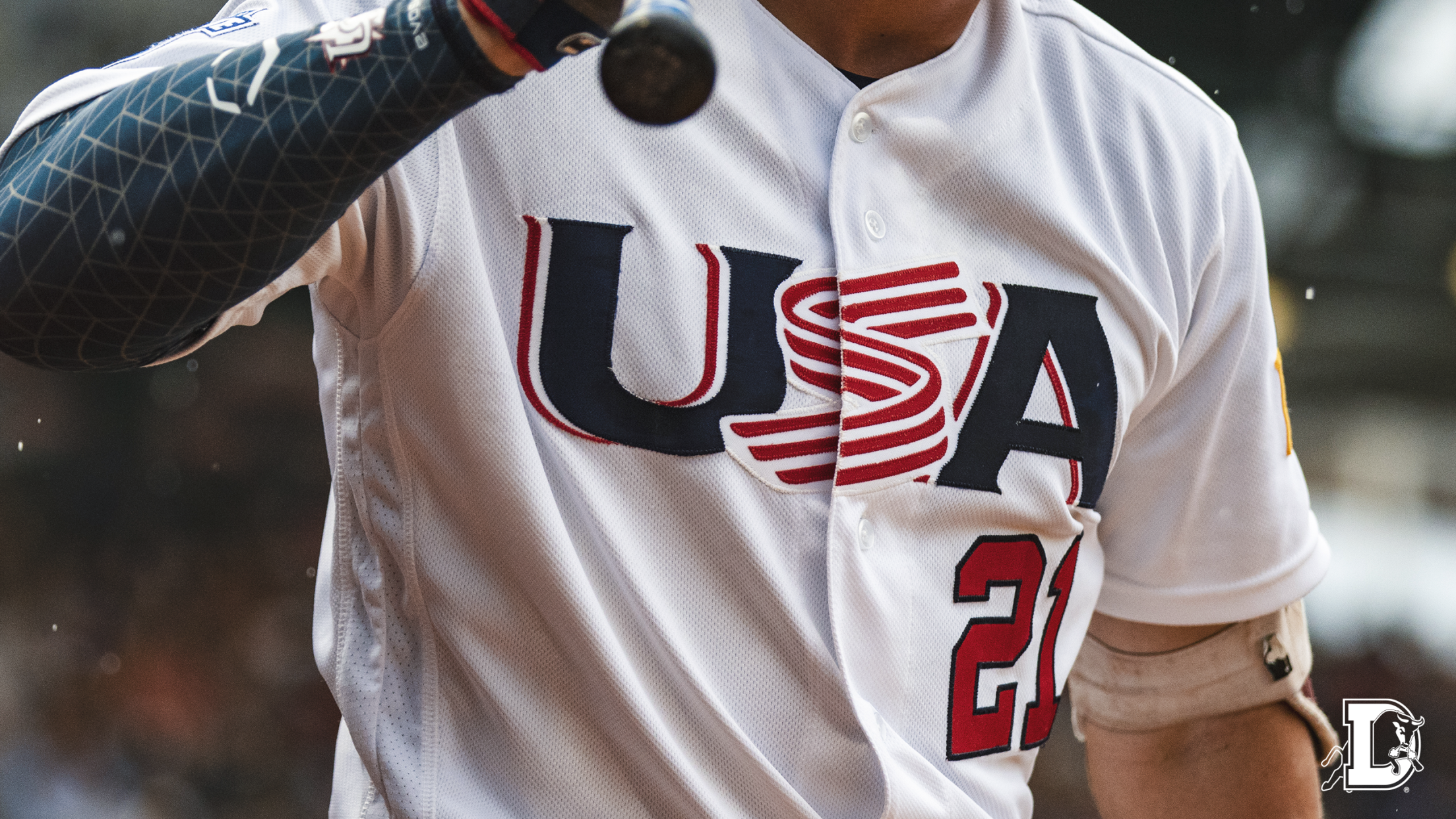 The Durham Bulls and USA Baseball have announced Durham Bulls Athletic Park will host the USA Baseball Collegiate National Team as they face off against Chinese Taipei in two matchups on Saturday, July 1 and Monday, July 3 as part of the 20th USA vs Chinese Taipei International Friendship Series.
Bulls Smash Nashville 7-2
Glasnow fans nine in 4.0 scoreless frames, Brujan, Aranda & Misner all homer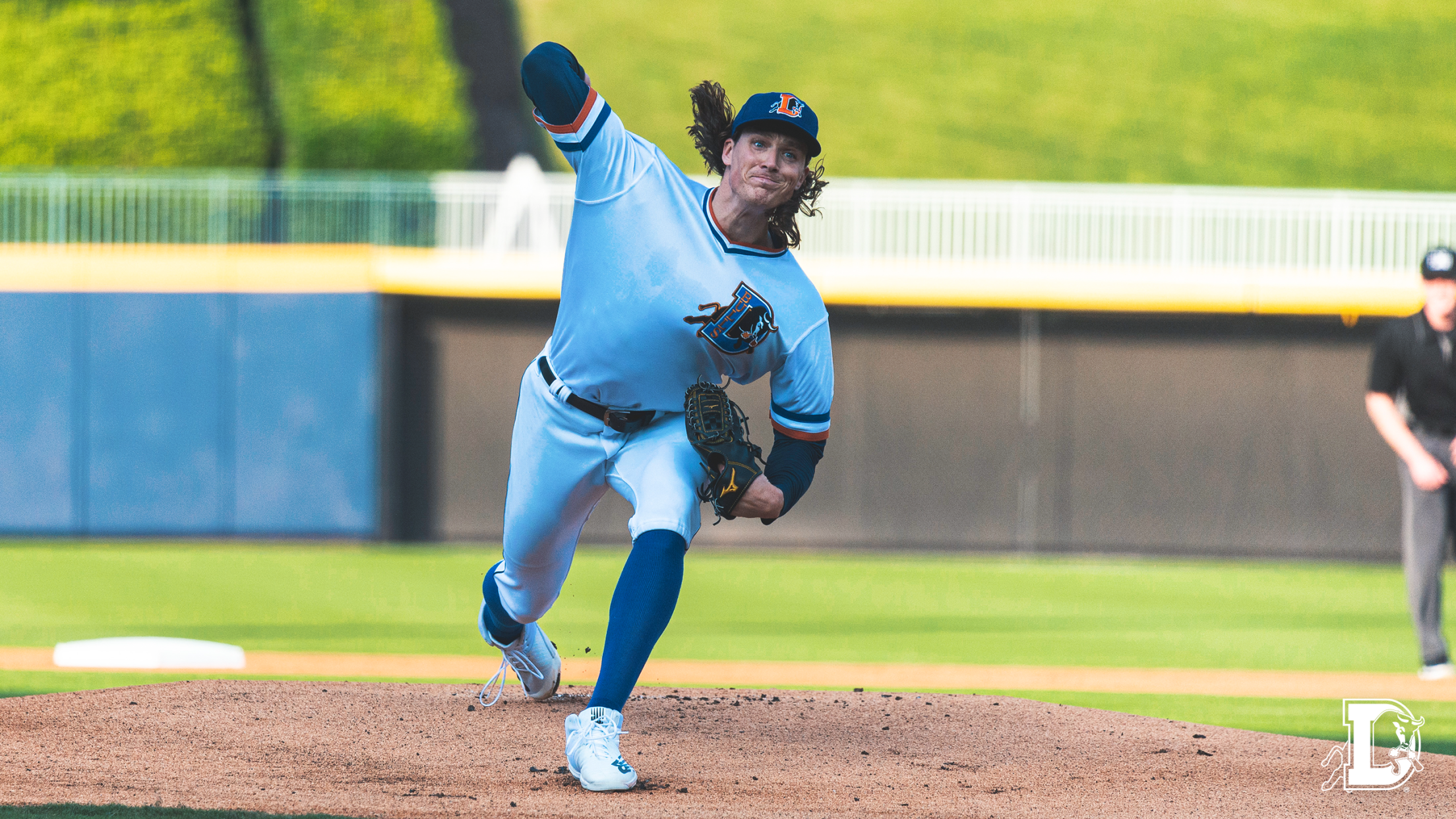 Tampa Bay Rays starting pitcher Tyler Glasnow struck out nine of sixteen batters faced in four shutout innings as part of his Major League Rehab Assignment with the Bulls, while Durham second baseman Vidal Brujan, first baseman Jonathan Aranda and center fielder Kameron Misner all homered and combined to drive
Evan McKendry Named International League Pitcher of the Week
Right-hander fanned season-high 6 batters in 7.0 shutout frames on 5/12 at Charlotte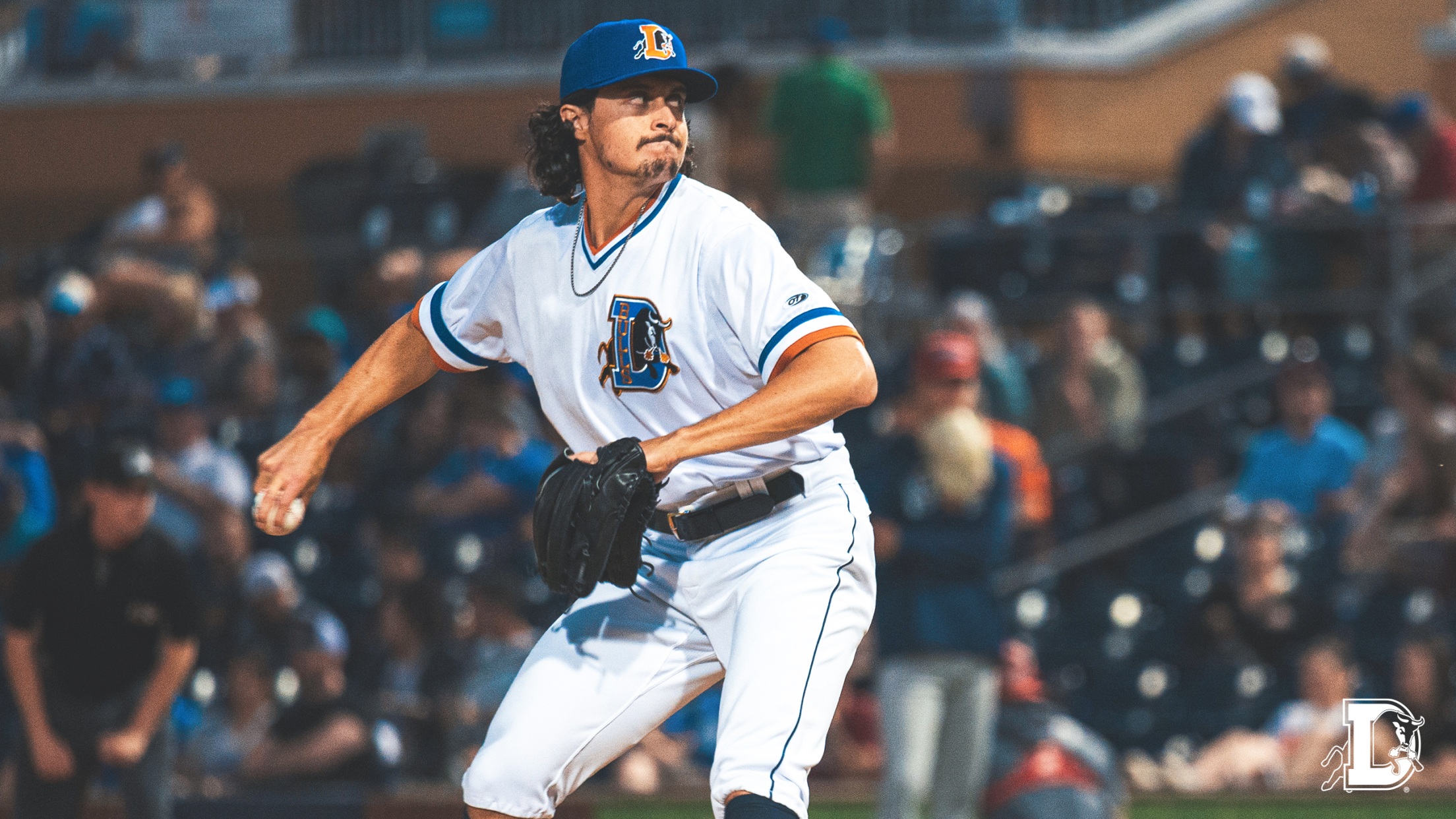 Durham Bulls right-hander Evan McKendry has been named the International League's Player of the Week for the time period between May 9-14, becoming the second Bulls pitcher to earn a league weekly honor this season. McKendry earned the victory on May 12 at Charlotte, firing seven scoreless innings while yielding
Knights Beat Bulls 3-2 In Ten
Basabe and Aranda drive in two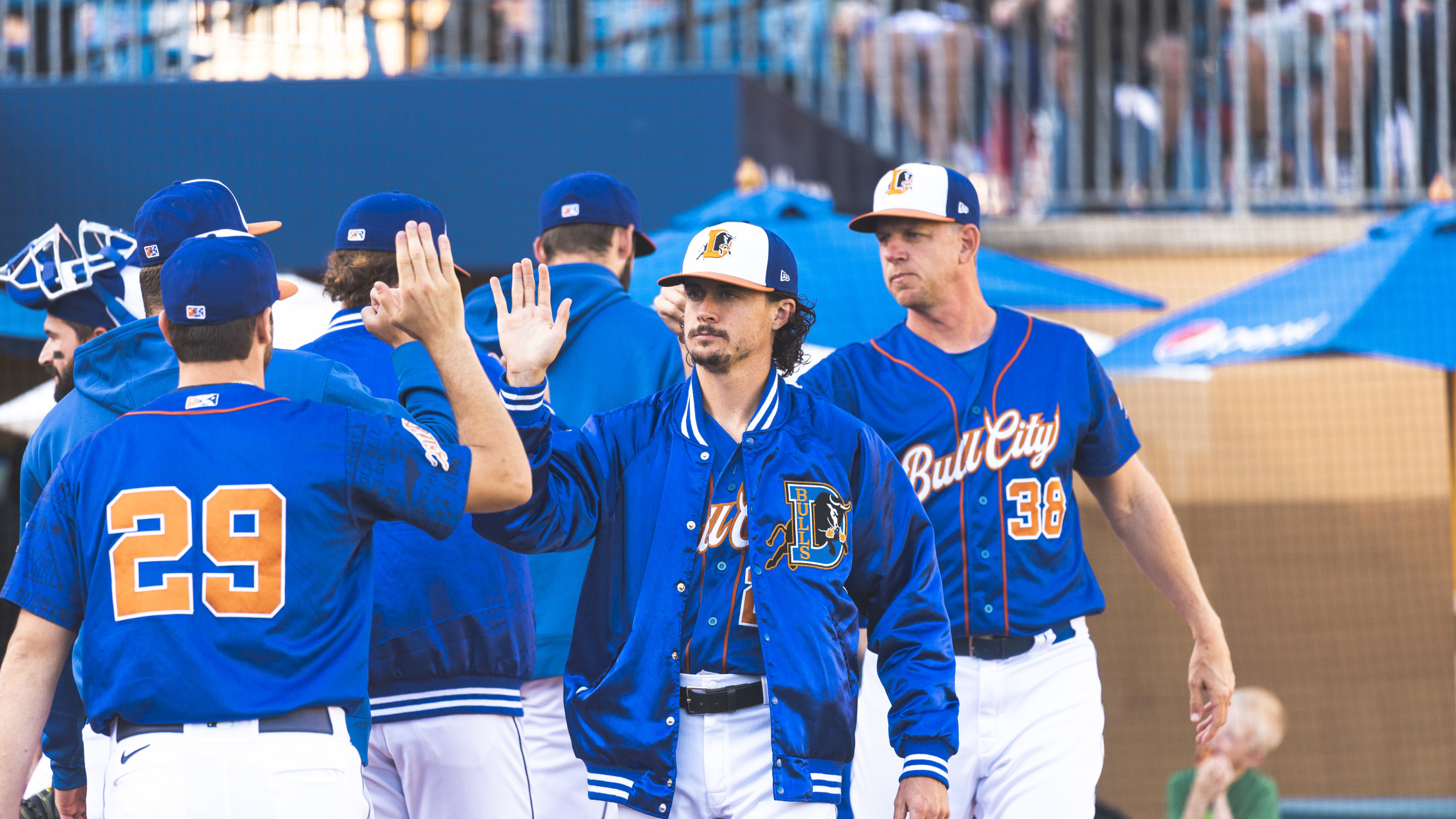 Bulls second baseman Osleivis Basabe and third baseman Jonathan Aranda each drove in a run, however Charlotte starting pitcher Jesse Scholtens fired six-plus scoreless innings and short stop Erik Gonzalez drove in two runs in Charlotte's 3-2 win over Durham on Sunday afternoon at Truist Field. The Knights struck first
Durham Topples Charlotte 13-4
Manzardo mashes his eighth homer, knocks three-run homer to seal the deal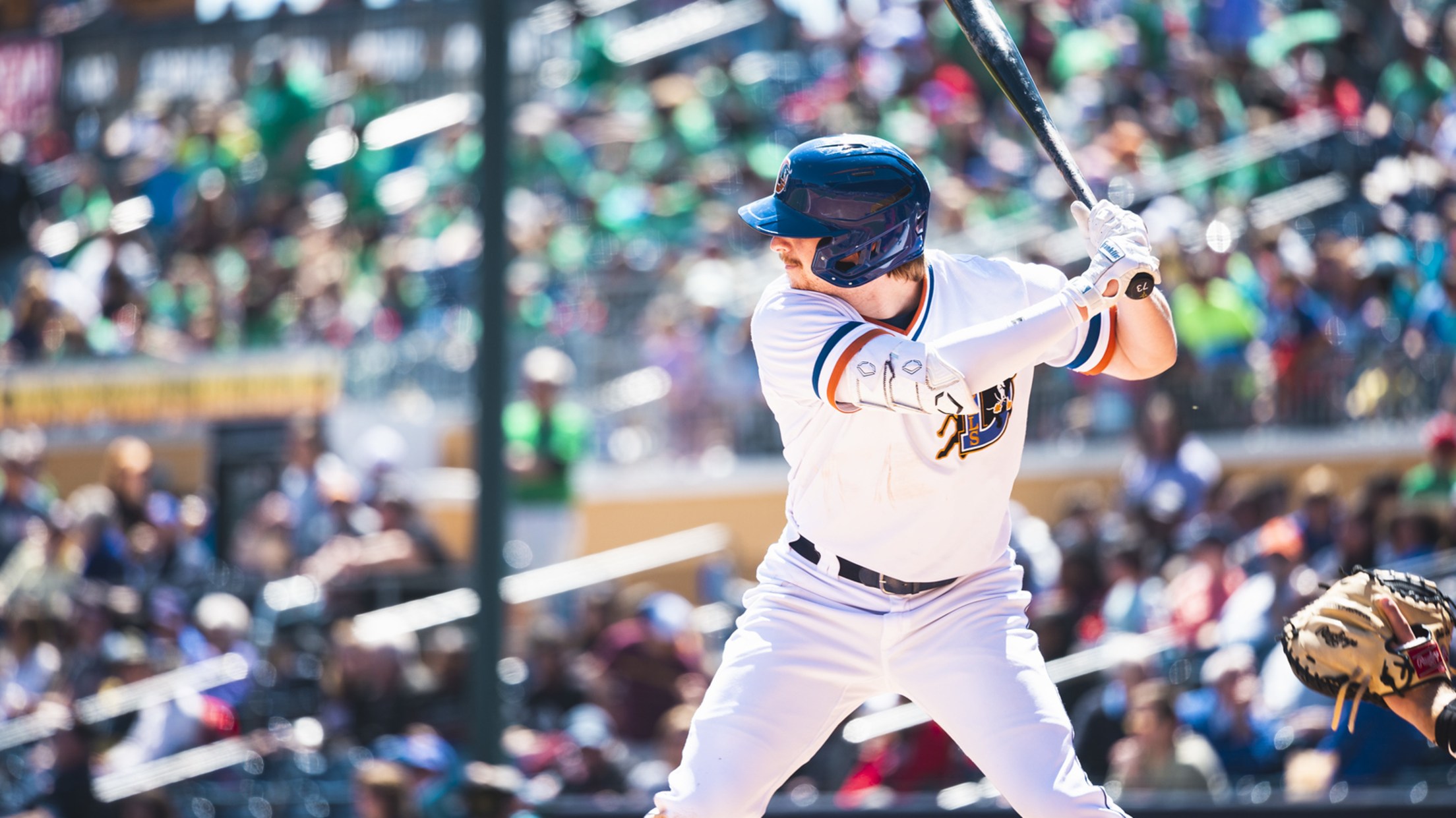 Bulls third baseman Osleivis Basabe homered, first baseman Kyle Manzardo knocked his eighth homer of the season and left fielder Niko Hulsizer and center fielder Kameron Misner each drove in two runs in Durham's 13-4 victory over the Charlotte Knights on Saturday at Truist Field. Basabe started the Bulls offense
Bulls Drop Knights 12-9
Brujan, Manzardo & Aranda homer, combine to drive in nine runs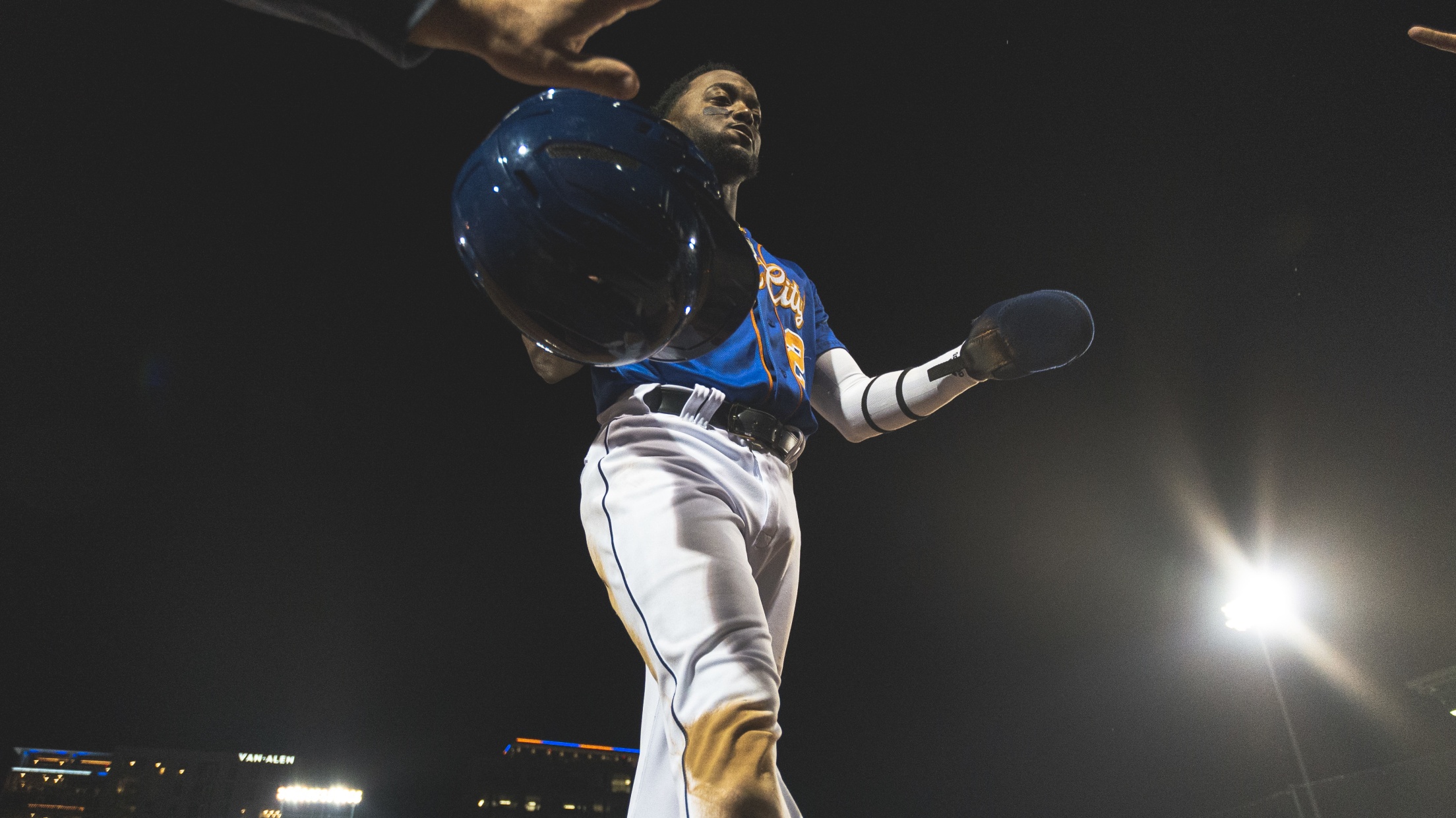 Bulls second baseman Vidal Brujan, third baseman Jonathan Aranda and first baseman Kyle Manzardo each homered and starter Evan Mckendry threw seven scoreless innings in Durham's 12-9 victory over the Charlotte Knights on Friday evening at Truist Field. Aranda started the Bulls offense off with an RBI double in the
Charlotte Outslugs Durham 9-7
Bulls bash five longballs in defeat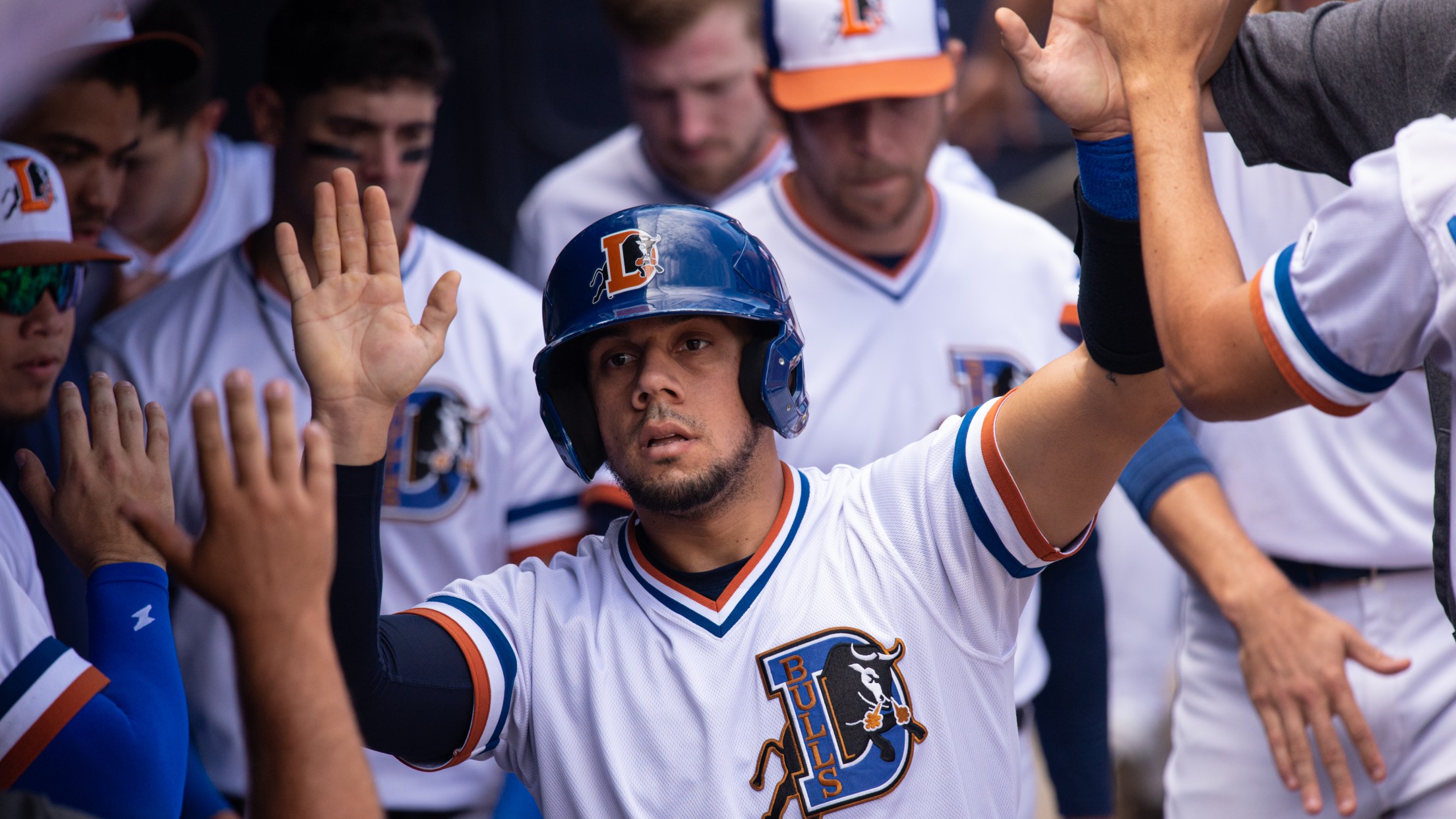 Bulls first baseman Kyle Manzardo, designated hitter Roberto Alvarez, third baseman Jonathan Aranda, center fielder Kameron Misner and catcher Rene Pinto all homered, however Knights right fielder Victor Reyes and left fielder Clint Frazier each went yard, combining for six hits and six runs driven in as part of Charlotte's
Bulls Announce Wool E. Bull Reading Program Presented by Amica Insurance
Kids age 5-12 who enroll and read at least 30 minutes a day for four weeks can receive free ticket to 2023 Bulls home game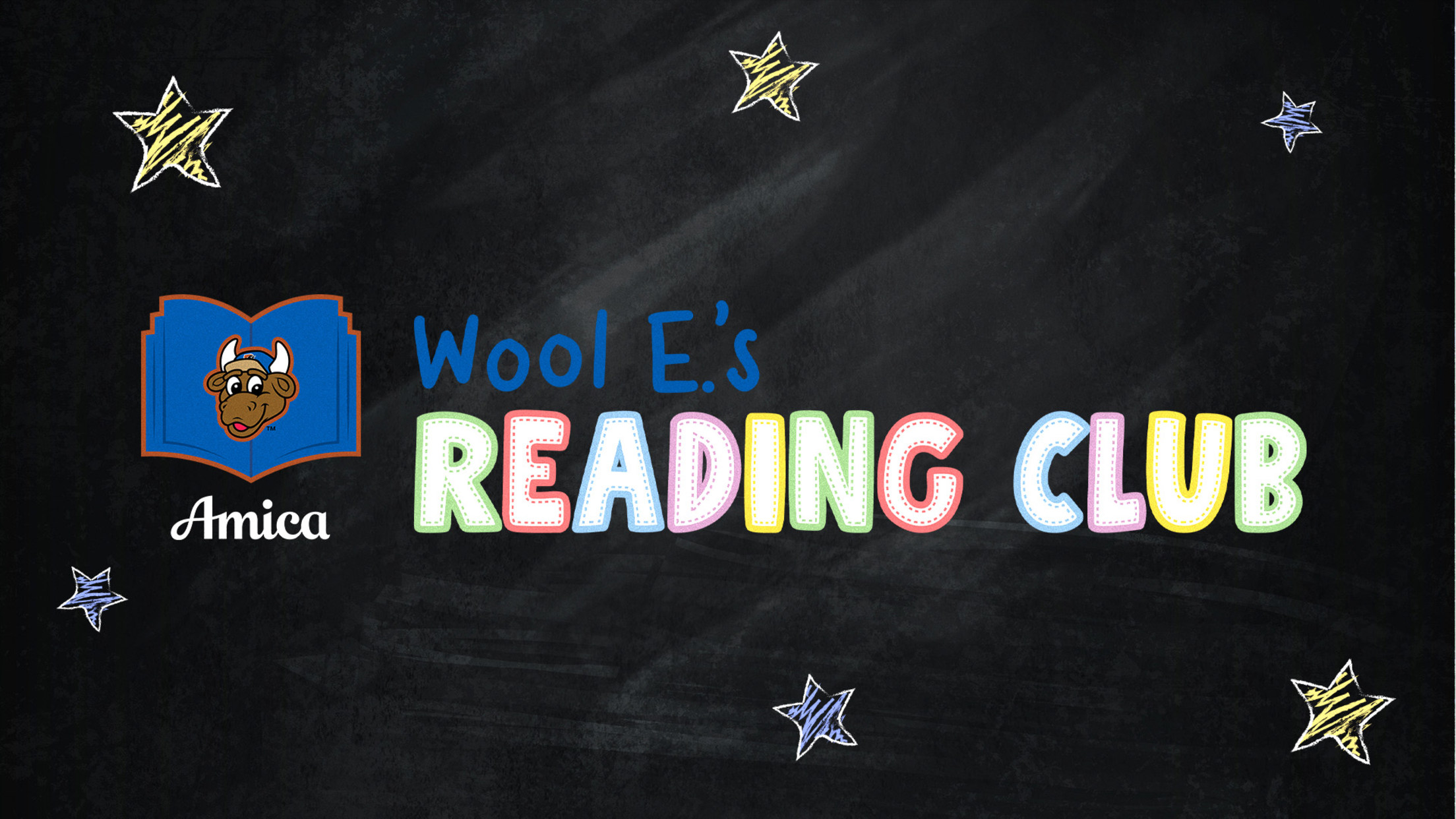 The Durham Bulls have announced Wool E. Bull's Reading Club presented by Amica Insurance, a four-week summer reading club encouraging children ages 5-12 to read at least 30 minutes a day. Participants who complete this challenge will receive a free ticket to a 2023 Durham Bulls home game. Participants can