Bases-Loaded Walk Wins It For Amarillo 
Pfaadt Fantastic Once Again, Strikes Out Eight Over Six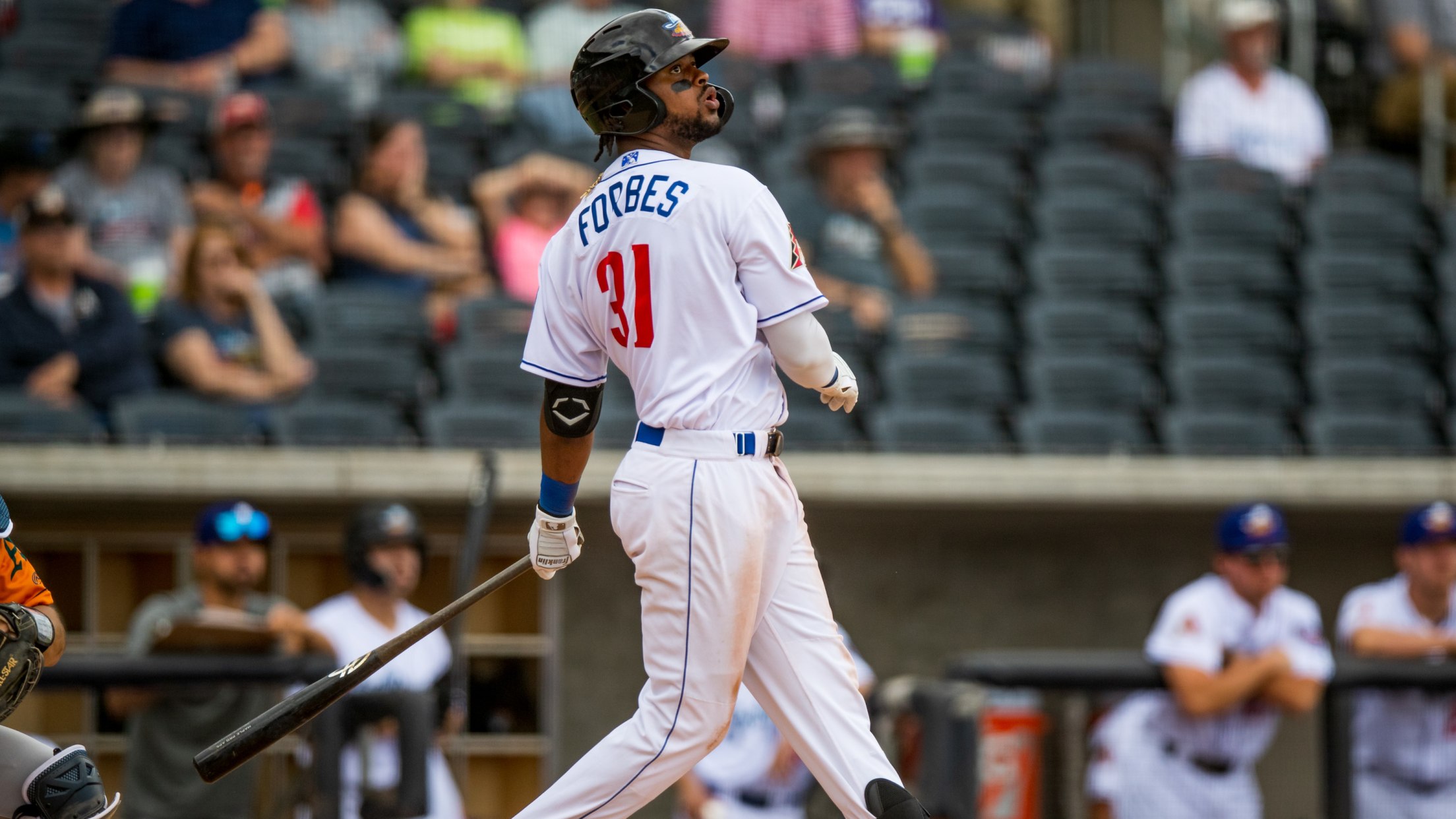 (John Moore)
Amarillo, TX – A bases-loaded walk by Leandro Cedeño in the 8th inning scored the game-winning run in Amarillo's 3-2 victory over the Midland RockHounds on Tuesday night at HODGETOWN. The game lasted 2 hours and 11 minutes, the shortest 9-inning game in HODGETOWN history. Brandon Pfaadt (2-3) took the
Amarillo, TX – A bases-loaded walk by Leandro Cedeño in the 8th inning scored the game-winning run in Amarillo's 3-2 victory over the Midland RockHounds on Tuesday night at HODGETOWN.
The game lasted 2 hours and 11 minutes, the shortest 9-inning game in HODGETOWN history.
Brandon Pfaadt (2-3) took the mound for the opening game of the series and he tossed a gem in a no-decision. He struck out eight RockHounds over six innings pitched in his second quality start in a row.
The RockHounds scored first in the top of the 2nd. Pfaadt allowed his first baserunner of the game on a walk and a two-out RBI single gave Midland a 1-0 lead. Amarillo answered back right away in the bottom of the inning with a solo home run from Blaze Alexander.
Pfaadt and Midland's David Leal battled all night in a low-scoring pitcher's duel. Both pitchers only allowed one baserunner in the 3rd and 4th, and it was Midland that jumped ahead with a run in the 5th. Pfaadt struck out two in the inning, but two doubles gave Midland a 2-1 lead.
Pfaadt ended his night at 6.0 IP, 5 H, 2 R, 2 ER, and 8 K on 95 pitches, and his counterpart tossed 7.0 IP, 4 H, 2 ER, 1 BB, and 5 K on 92 pitches. The Sod Poodles trailed when Pfaadt was relieved in the 7th, but the bullpen did not allow a run en route to the victory.
Rice tossed a perfect 7th inning and Ti'Quan Forbes tied the ballgame with a solo home run in the bottom of the frame. He clobbered a 100-MPH blast over Bar 352 in left field, his 5th home run of the season.
Brett de Geus came on in relief in the 8th inning and held Midland scoreless, setting up Amarillo for a late-inning opportunity. Nick Dalesandro drew a one-out walk in the bottom of the inning and Corbin Carroll joined him on the bases on a fielder's choice. Both advanced into scoring position on an error.
With two on, Jorge Barrosa dribbled a ball in play to the pitcher. He reached first base safely and Carroll advanced to third, but Dalesandro was tagged out at home plate. Eduardo Diaz then loaded the bases with a two-out walk, and Cedeño drove in the go-ahead run by drawing a walk of his own.
Blake Rogers took the ball in a save situation in the top of the 9th. He allowed a single and a hit-by-pitch to the first two batters, but three straight flyouts earned him his third save of the season.
The win snapped back-to-back losses and tied up the season series against Midland, 5-5. The Sod Poodles were out-hit 7-4, but they committed no errors to Midland's one. Blaze Alexander led the way with two hits and three Sod Poodles notched an RBI.
As the calendar flips to a new month, Amarillo and Midland will return for game two tomorrow, Wednesday, June 1, with first pitch at 7:05 PM. The Sod Poodles will also be hosting Hall of Fame pitcher Goose Gossage for a meet-and-greet and book signing tomorrow, which fans can enter at:https://atmilb.com/3POYE9C
Notes:
It's The Pfaadt That Counts: Diamondbacks' No. 9 prospect RHP Brandon Pfaadt (2-3, 3.97 ERA) had another excellent outing in his no-decision effort tonight. The righty turned in his second quality start in a row with 6.0 IP, 5 H, 2 R, 2 ER, 2 BB and 8 K. The performance comes off of his best start of the year on May 25 against Arkansas, where he hurled seven innings of scoreless ball with eight strikeouts. Over his last two starts, Pfaadt has racked up 17 strikeouts in 13.0 IP, and currently leads the Arizona farm system and ranks second in the Texas League with 64 K.
Blaze Of Glory: SS Blaze Alexander completed half of the cycle tonight with a home run and a double. He went 2-for-3 at the plate with a run scored and an RBI, his seventh multi-hit game of the season. The home run was his second in the last four games after knocking a solo shot on May 27 against the Arkansas Travelers. On the year, Arizona's No. 24 prospect is batting .291 with six homers and 14 RBI.
Ti'Quan Mower: 3B Ti'Quan Forbes went yard in the bottom of the 7th tonight to tie the game 2-2. The long bomb was hit 100 MPH off the bat and eclipsed Bar 352 in left field. The home run was the 5th of the year for Forbes, who has played exceptionally well at HODGETOWN. In home games this season, Forbes is batting .324 with four home runs and 13 RBI. Ti'Quan has now recorded a hit in three straight games with a run scored in each of his last four.
Press Relief: The Amarillo bullpen was excellent tonight, allowing just two hits in three innings of shutout ball. Tonight's scoreless effort was the third game in a row that the bullpen has not allowed an earned run, and they have combined to allow just four earned runs over the last seven games. Jake Rice has now tossed three innings in an Amarillo uniform without allowing a run, and Blake Rogers picked up his third save of the year in his fifth straight scoreless appearance.
Every Run Counts: Coming into tonight's game, Amarillo was just 1-10 when scoring three or fewer runs. The victory was their second of the season when held to three or fewer, and they improved to 9-4 when holding their opponents to three or fewer. The Sod Poodles also won while being out-hit tonight, improving their record to 5-22 when being out-hit.
Quick-Fil-A: Tonight's game lasted just 2 hours and 11 minutes, the shortest 9-inning game in HODGETOWN history. The previous mark of 2 hours and 20 minutes was set on May 4 against Midland, eclipsing the previous record by one minute. The shortest 9-inning road game of the year was on May 25, when the Sod Poodles and Arkansas Travelers played in just 2 hours and 13 minutes. The shortest game of the year for Amarillo was the 1-hour and 29-minute 7-inning loss to Arkansas on May 26.