Beede's gem goes for naught in 1-0 loss to Bees
Right-hander throws season-high seven innings, allows just three hits, strikes out eight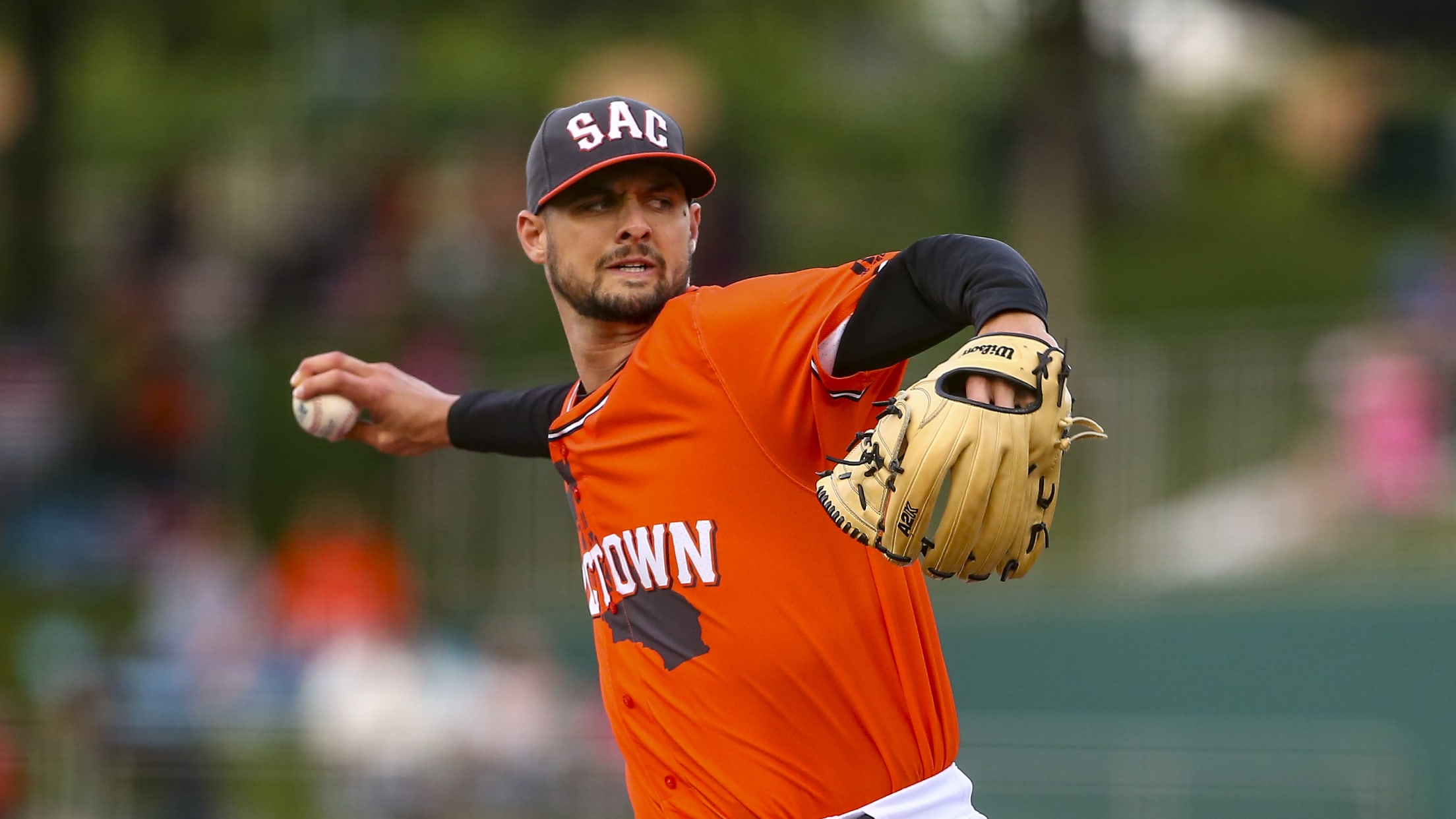 The Sacramento River Cats vs Salt Lake Bees May 24, 2019 Photo: Ralph Thompson / River Cats (Ralph Thompson)
West Sacramento, Calif. - The Sacramento River Cats (22-26) got a tremendous performance from starter Tyler Beede but were unable to get anything going at the plate for a second straight night, dropping the series-finale 1-0 to the Salt Lake Bees (22-25).Beede continued to flash Major League stuff for the
West Sacramento, Calif. - The Sacramento River Cats (22-26) got a tremendous performance from starter Tyler Beede but were unable to get anything going at the plate for a second straight night, dropping the series-finale 1-0 to the Salt Lake Bees (22-25).
Beede continued to flash Major League stuff for the River Cats on Friday night, tossing a season-high seven innings and 104 pitches (71 strikes). He allowed just three hits and a walk while striking out eight. The young right-hander saw his no-hit bid come to end in the fifth when former River Cat Jarrett Parker smoked a ball up the middle past a diving Ryan Howard. Beede falls to 2-2 this season with a fantastic 2.34 ERA.
The lone run Beede would surrender came on a tough luck play in the sixth that allowed Salt Lake's Matt Thaiss to round the bases for an inside-the-park home run. Thaiss crushed a ball to dead center field where Mike Yastrzemski narrowly missed making a phenomenal catch. Unfortunately, the ball bounced back toward the infield resulting in the decisive run of the game.
Sacramento will hit the road tomorrow for a four-game series with the Albuquerque Isotopes. The River Cats will turn to right-hander Enderson Franco (1-1, 6.94) in game one while Albuquerque will send left-hander Pat Dean (0-3, 10.32) to start the series. First pitch is set for 5:35 p.m. (PT). Catch all of the action live online at rivercats.com, on the MiLB First Pitch app, or on Money 105.5 FM.
Additional Notes

The last time the River Cats lost 1-0 where the one run came on a home run, Guillermo Quiroz homered for the Tacoma Rainiers on April 19, 2012 to hand Sacramento the 1-0 defeat.
Matt Thaiss's inside-the-park home run was the first inside-the-park homer surrendered to an opponent at Raley Field in nearly four years when Fresno's Tony Kemp did it on June 16, 2015.
*The Sacramento River Cats are the Triple-A affiliate of the three-time World Champion San Francisco Giants. The team plays at Raley Field in West Sacramento, consistently voted one of the top ballparks in America. Season Tickets, Mini-Plans, and Flex Plans can be purchased for the River Cats' 20th season by calling the River Cats Ticket Hotline at (916) 371-HITS (4487). The only place to guarantee official River Cats tickets is at www.rivercats.com. For information on other events at Raley Field, visit www.raleyfield.com.
[Empty Body]