Johnson's four-hit night carries River Cats to victory
River Cats 8, Rainiers 2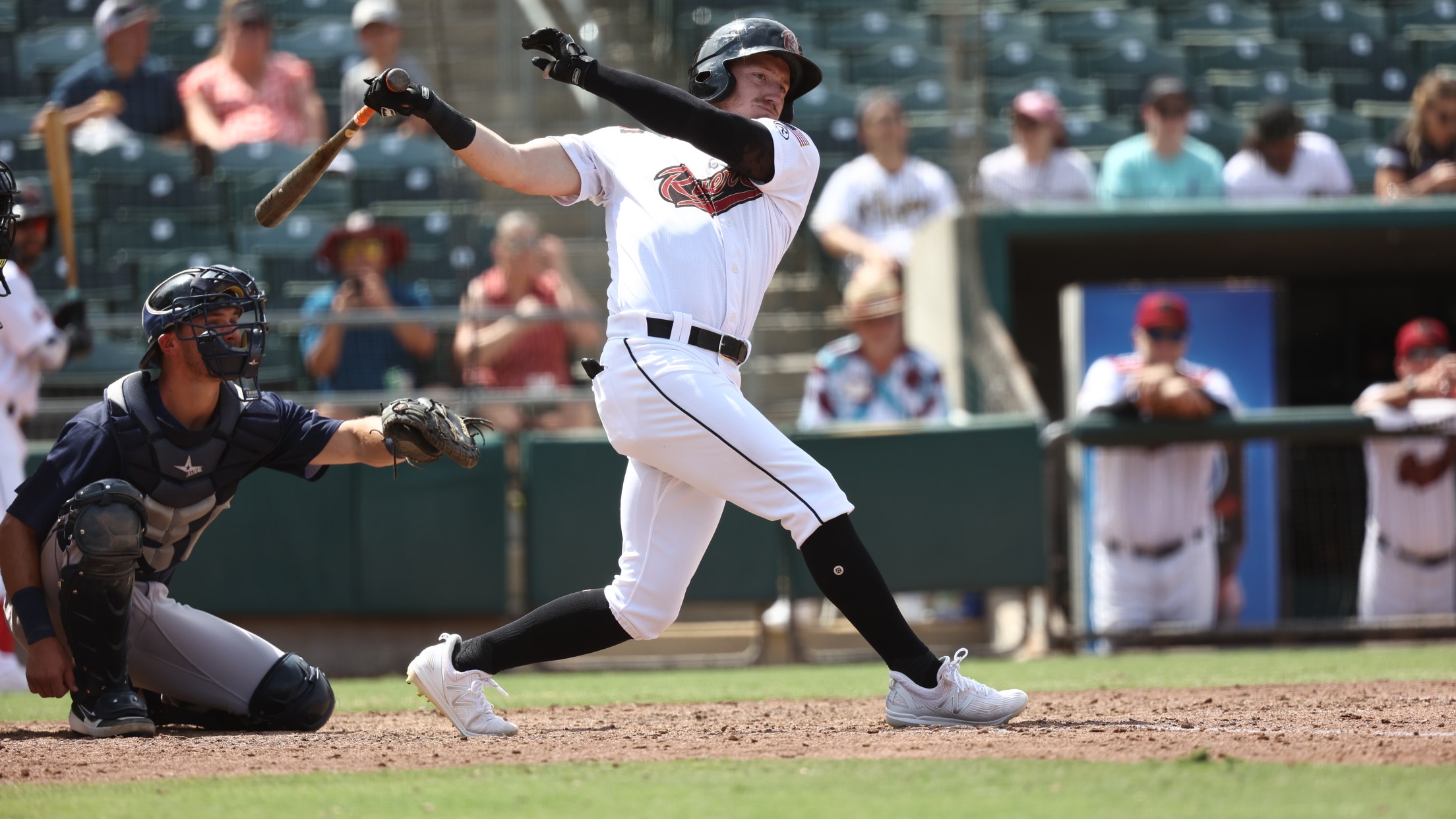 West Sacramento, Calif. — Outfielder Bryce Johnson reached base five times and infielder Will Toffey launched his first career Triple-A home run as the Sacramento River Cats (29-39) toppled the Tacoma Rainiers (36-32) on Saturday night. Johnson, who entered game three of the series with just six hits in his
Dubón, Bart power offense early as River Cats hold off Rainiers
River Cats 8, Rainiers 7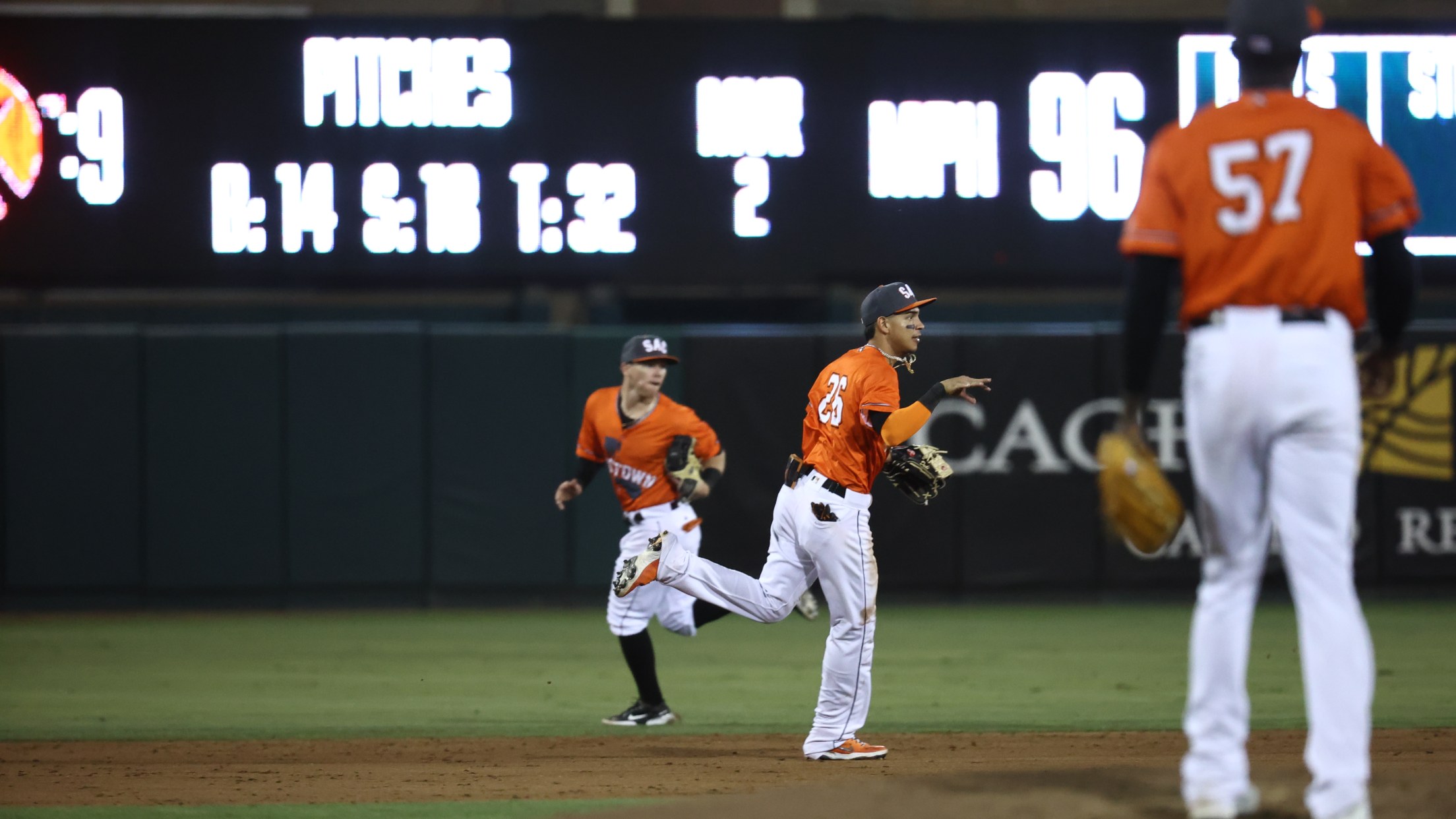 Tacoma, Wash. — The Sacramento River Cats (28-38) came out hot in game one of their six-game series in Tacoma, holding on to defeat the Rainiers (35-31) behind three RBIs by catcher Joey Bart and shortstop Mauricio Dubón's home run. Bart powered the offense to a 3-0 lead with a
Pozo's big day sinks River Cats in Robinson's final game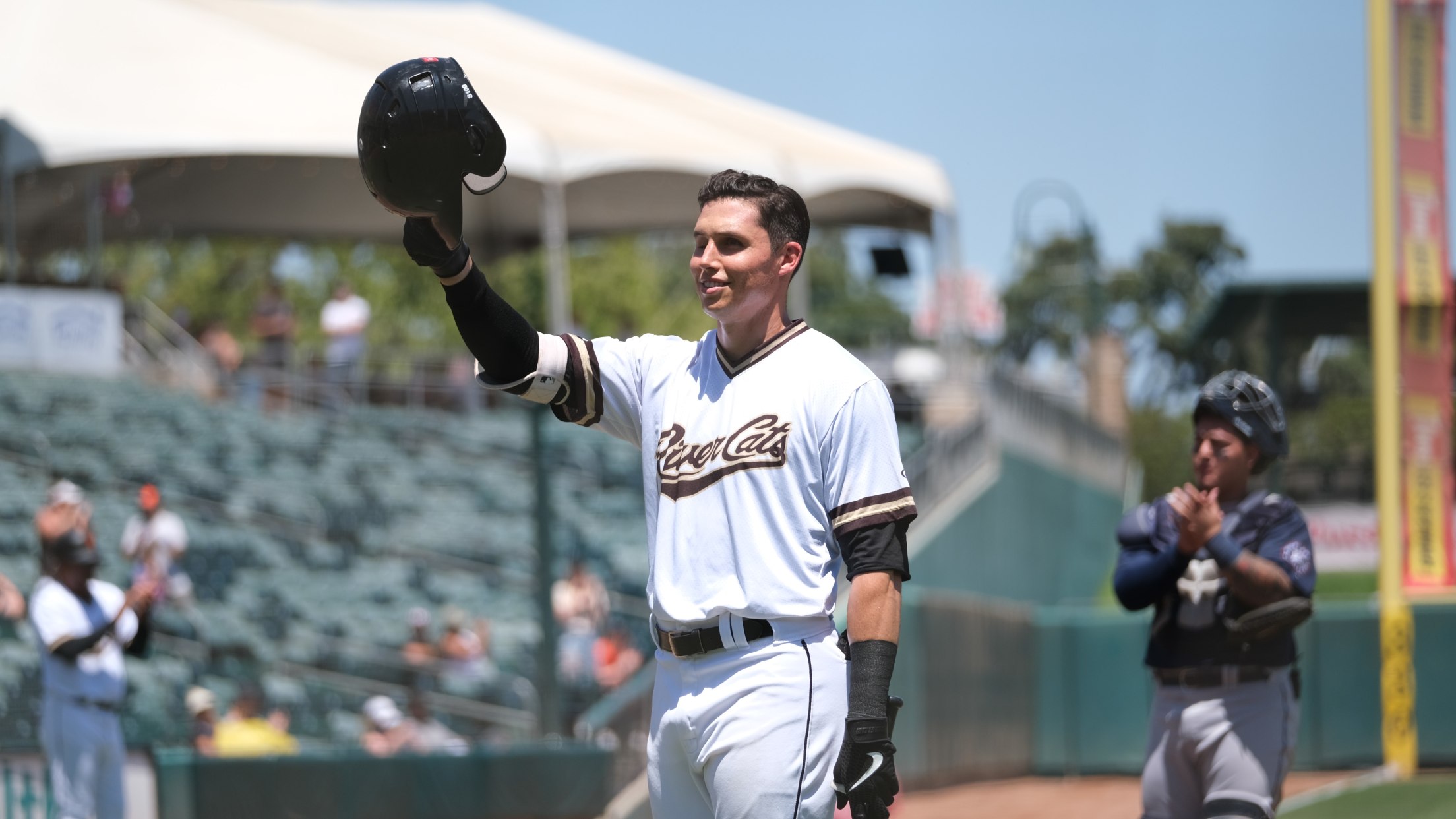 West Sacramento, Calif. — On an emotional day at Sutter Health Park, the Sacramento River Cats (27-38) fell to the Round Rock Express (33-33). The game was part of a larger moment as Drew Robinson's comeback story entered a new chapter. The outfielder from Las Vegas, Nev. competed in his
Maris shines, defense burns River Cats late
Express 7, River Cats 5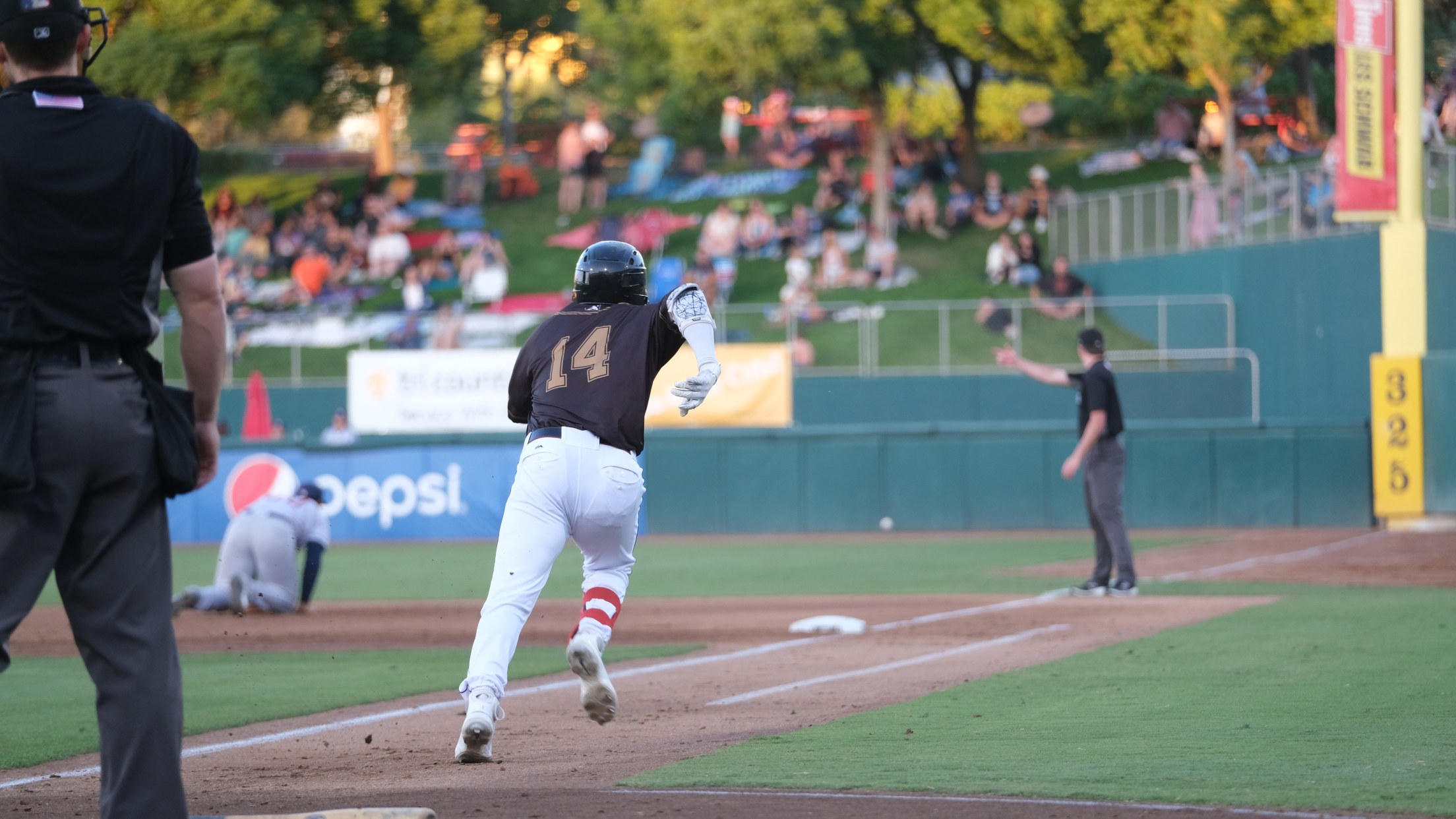 West Sacramento, Calif. — The Sacramento River Cats (27-37) dropped their third game to the Round Rock Express (32-33), surrendering four unearned runs in the two-run defeat. Needing just one out to strand the go-ahead run at second base and send the game to the bottom of the ninth tied
Eight unanswered runs push River Cats to victory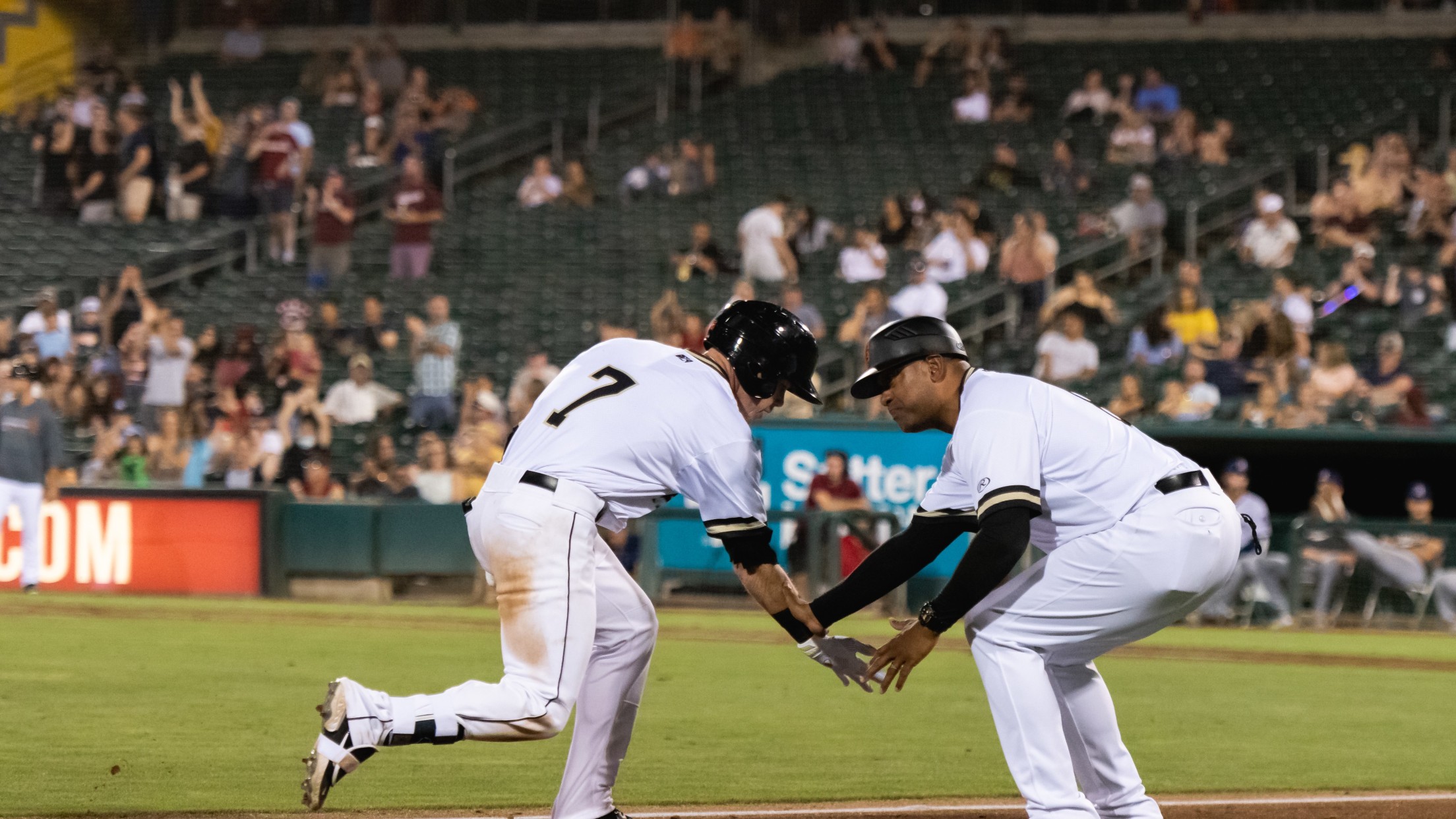 West Sacramento, Calif. — Trailing by five in the sixth inning, the Sacramento River Cats (27-35) scored eight unanswered runs against the Round Rock Express (30-33) for a Saturday night win. Eleven batters came to the plate during Sacramento's game-tying sixth inning, with Mauricio Dubón reaching base twice (single, walk).
Bishop, Johnson homer in walk-filled defeat
Express 9, River Cats 6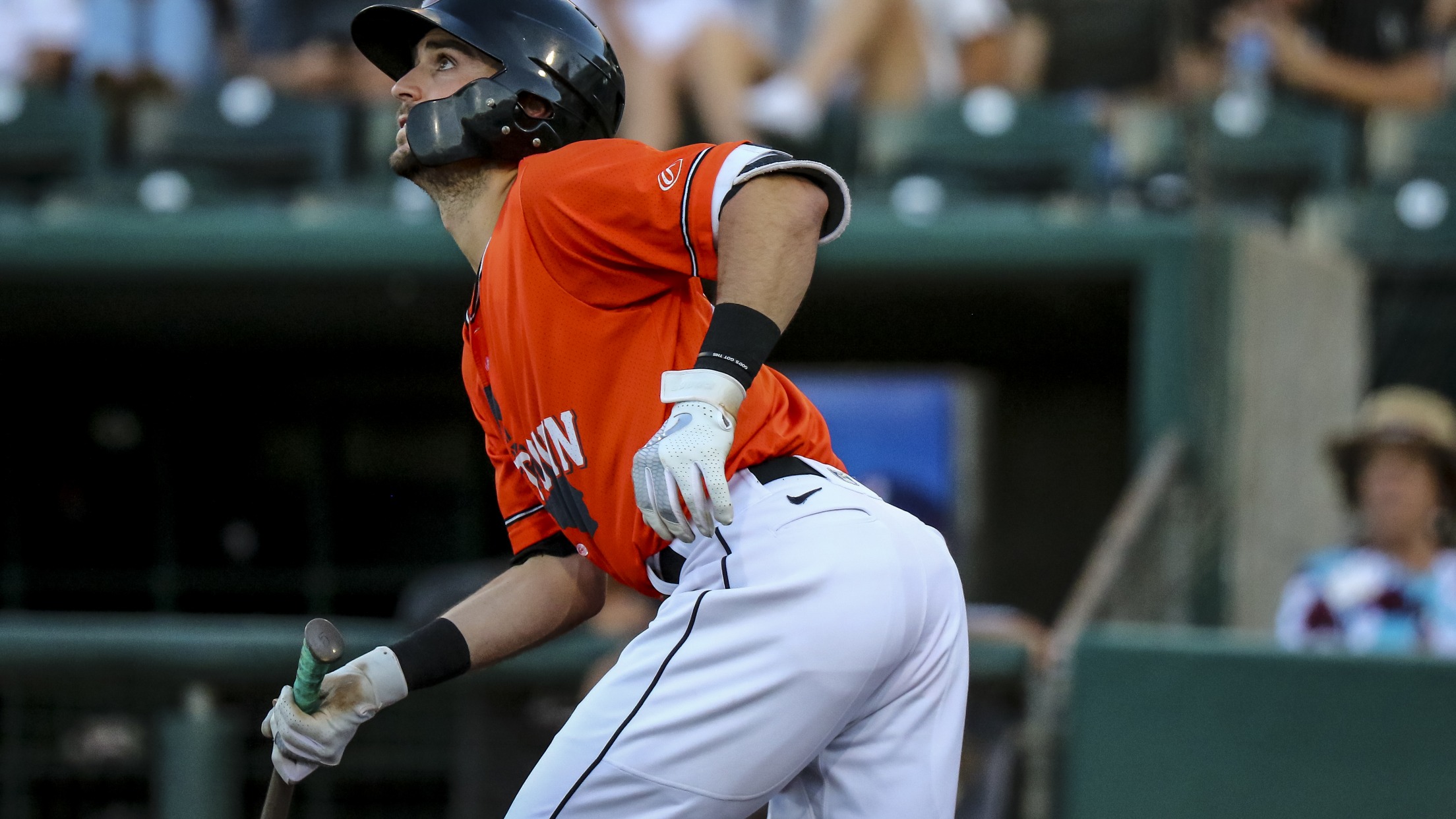 West Sacramento, CA. — Despite home runs from right fielder Braden Bishop and designated hitter Bryce Johnson, the Sacramento River Cats (26-35) were burned by two four-run innings, losing to the Round Rock Express (30-32) on Friday. Bishop's fifth home run of the season provided one of his two runs
Bullpen shines as River Cats' bats fall silent
Express 5, River Cats 1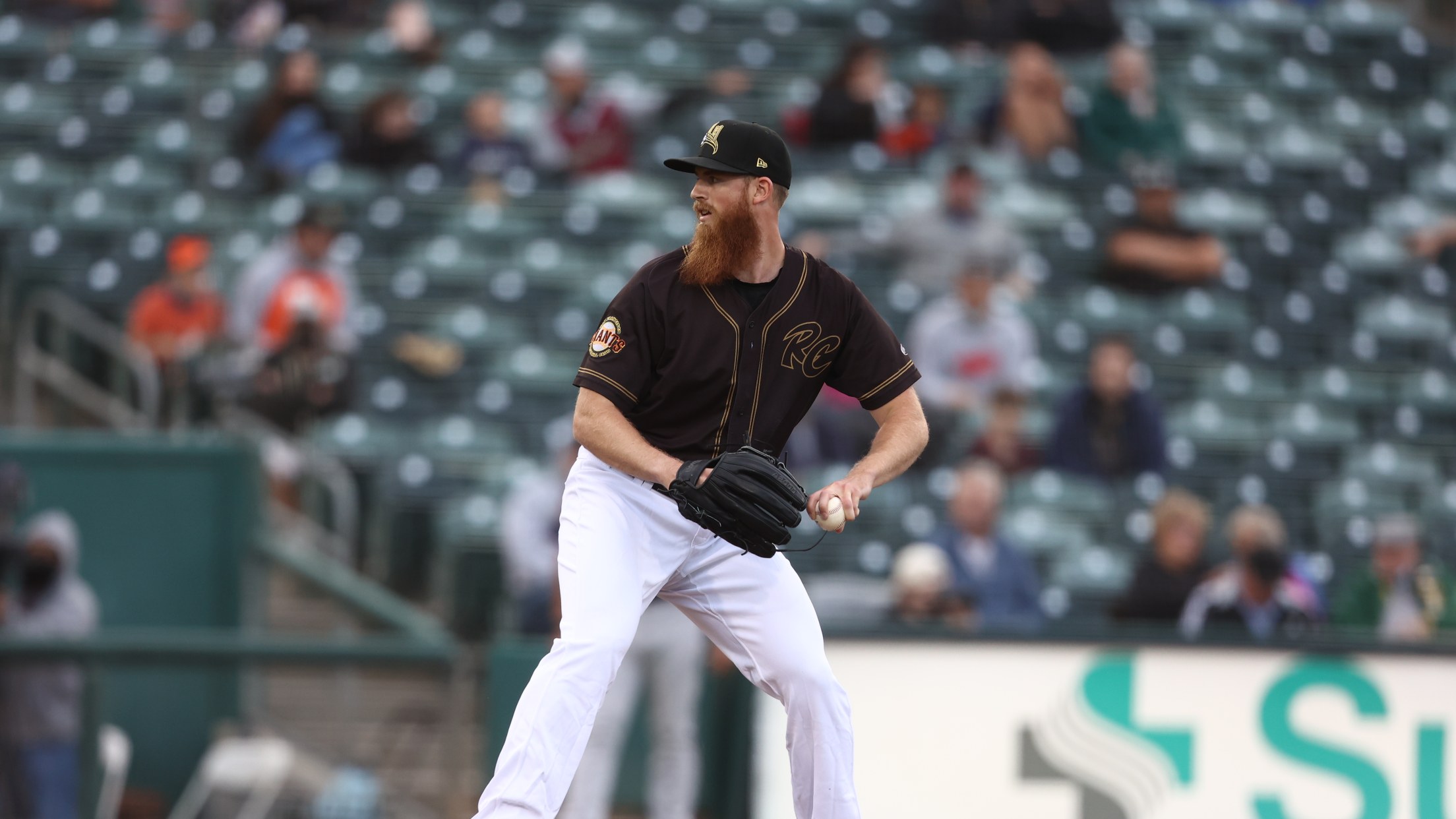 West Sacramento, CA. — The Sacramento River Cats (26-34) had their three-game winning streak snapped in their return home from a 12-game road trip, falling to the visiting Round Rock Express (29-32) on Thursday. Right-hander Matt Frisbee (1-5) struggled with walks and home runs, with four of his five earned
Additional 10 games added at conclusion of Triple-A West season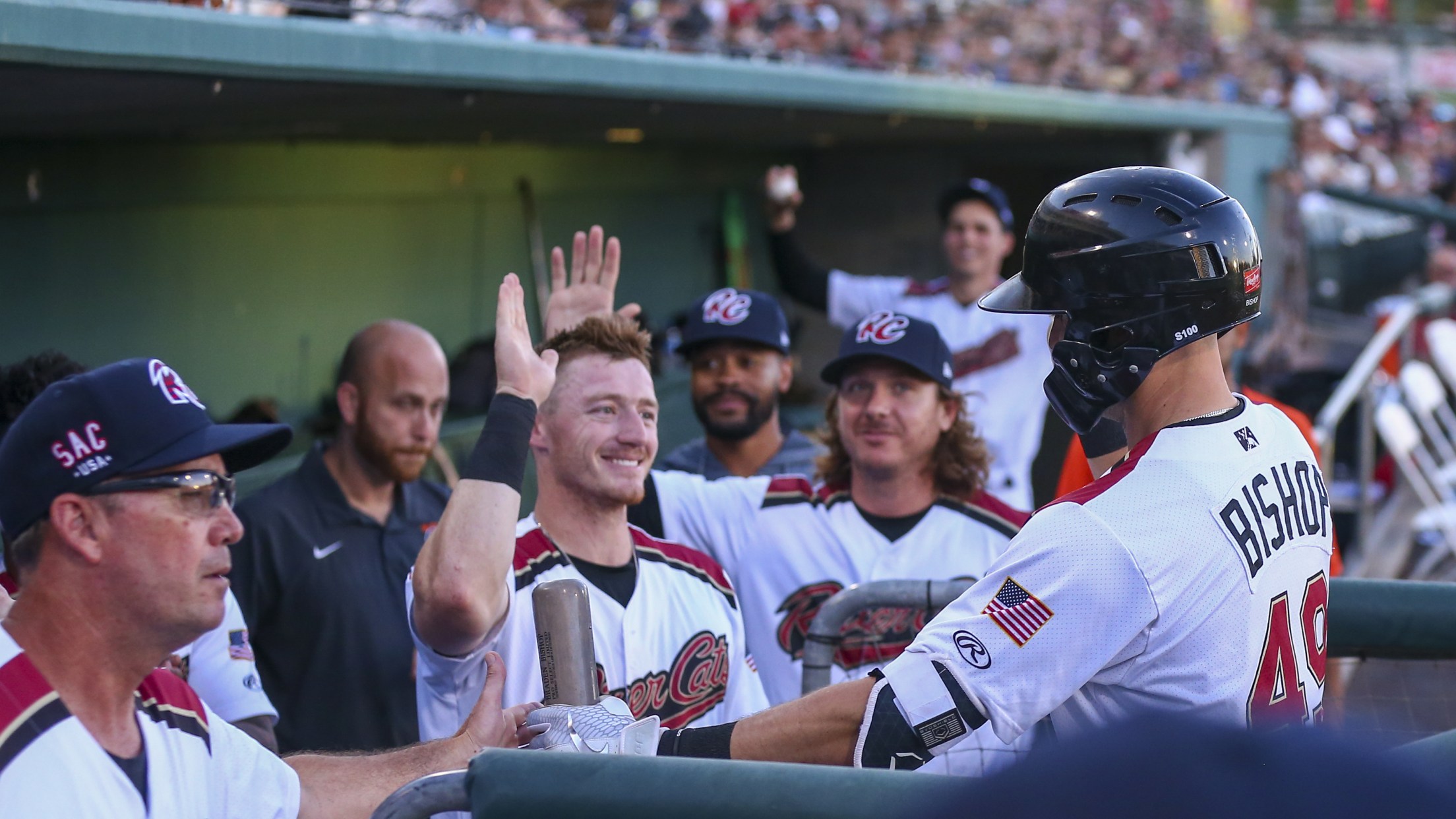 West Sacramento, Calif. – The Sacramento River Cats and all of Triple-A baseball will play 10 additional games this season, Minor League Baseball and Major League Baseball announced on Wednesday. Following Sacramento's originally-scheduled regular season finale on Tuesday, Sept. 21 against the Las Vegas Aviators, the River Cats will fly
Dubón's 4 hits, Alcántara's home run highlight offense as bullpen stifles Bees
River Cats 9, Bees 4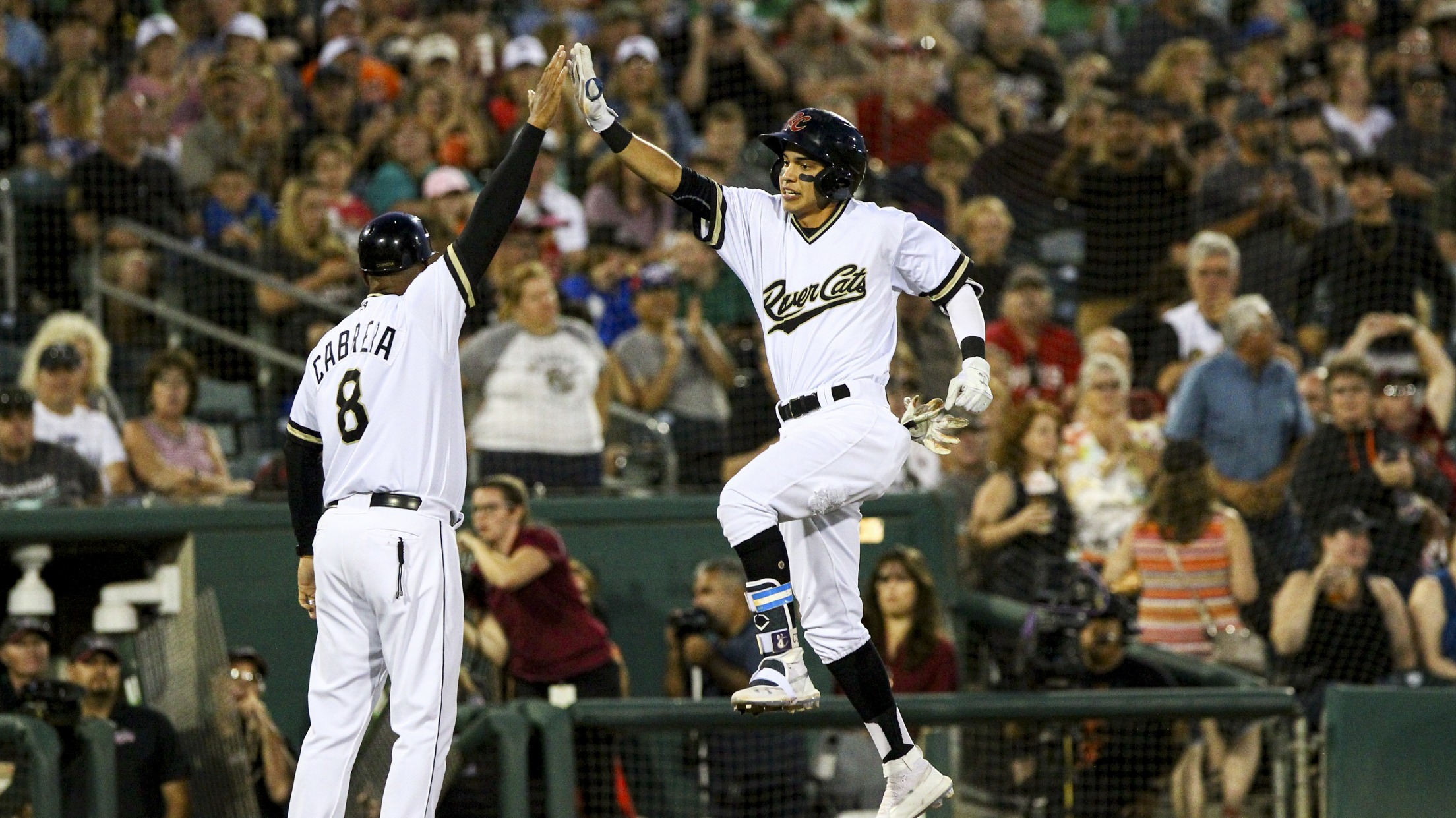 Salt Lake City, Utah — The Sacramento River Cats (26-33) overcame an early 4-0 deficit, defeating the Salt Lake Bees (29-30) with 15 singles and another home run from Arismendy Alcántara to split the series. The River Cats bombarded Salt Lake pitching with base-hits. Second baseman Mauricio Dubón led the
Settled In: After a rough first month, Castro has become an ace in the River Cats' bullpen
Get to know Sacramento right-hander Kervin Castro. Quotes from this article are from broadcaster Johnny Doskow's pregame interview with Castro, which was translated by teammate Silvino Bracho.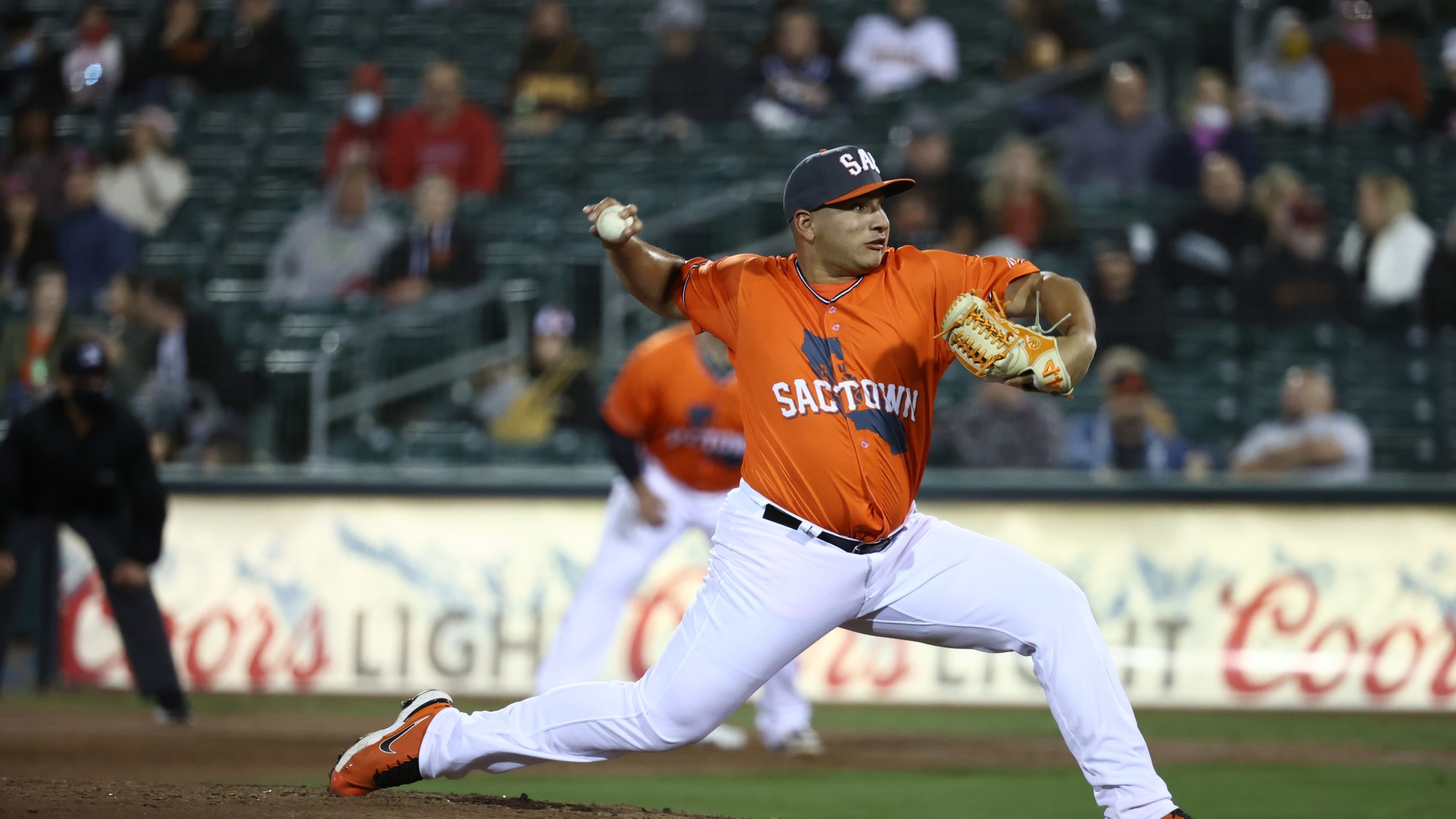 Sometimes it takes a few weeks of struggles to find out what you have in a prospect. Do they sink, or do they swim? Right-hander Kervin Castro, San Francisco's No. 25 prospect on MLB Pipeline, was battle-tested early on, and fortunately was up for the challenge. Despite just 89.2 career
Alcántara, Bishop shine offensively as River Cats strike out 13
River Cats 7, Bees 3
Salt Lake City, Utah — The Sacramento River Cats (25-33) downed the Salt Lake Bees (29-29) for the second straight game behind 13 strikeouts and a three-run home run by designated hitter Arismendy Alcántara. The River Cats stormed out to an early 2-0 lead in the first when center fielder
McCarthy, Tolman power River Cats to 14-run streak-breaking victory
River Cats 14, Bees 5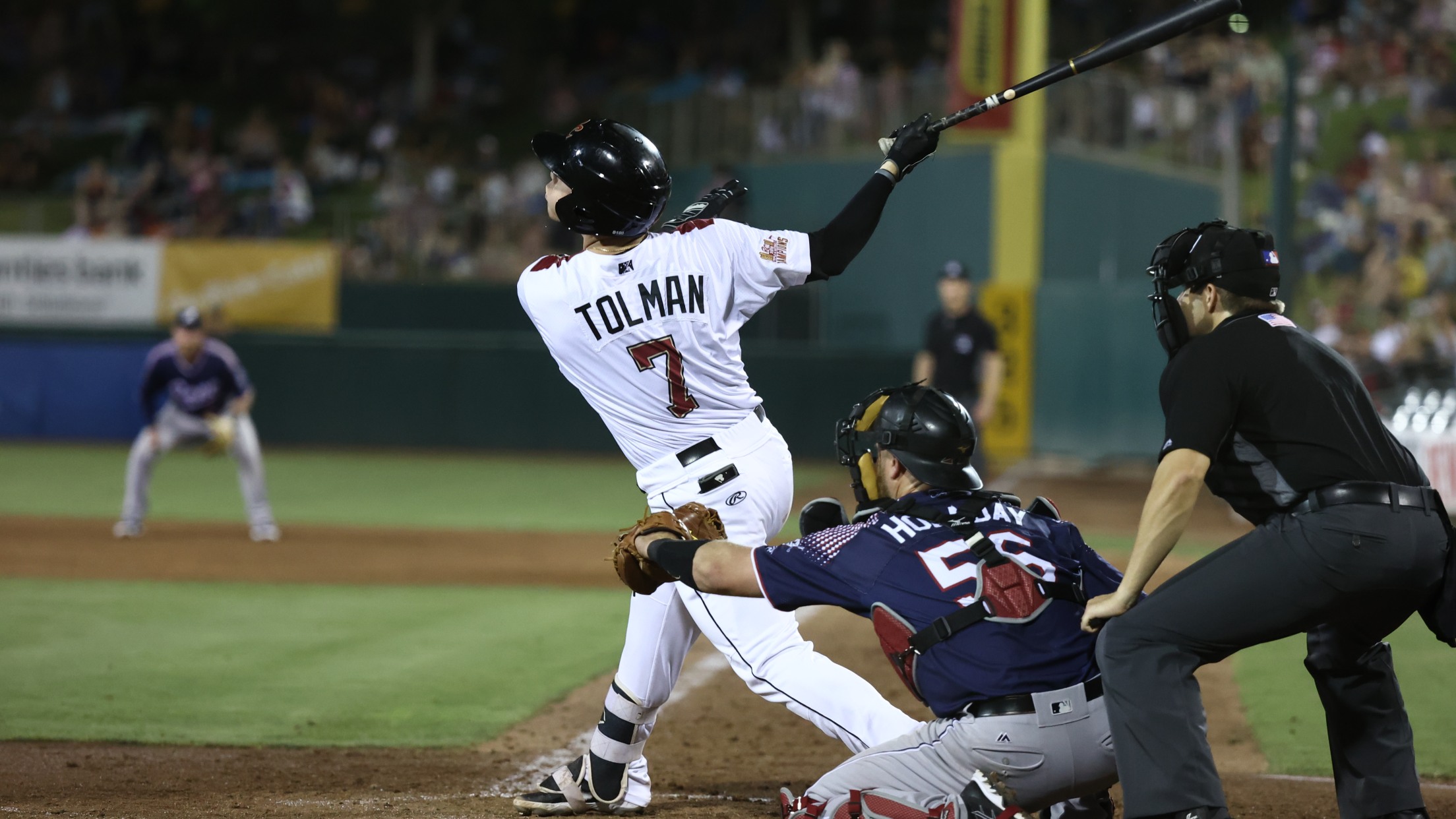 Salt Lake City, Utah — The Sacramento River Cats (24-33) were able to end their season-high six-game losing streak, defeating the Salt Lake Bees (29-28) with an offensive explosion led by first baseman Joe McCarthy's two home runs. One day after Arismendy Alcántara surpassed him for the team-lead in big
Alcántara goes yard again, River Cats drop 6th straight
Bees 4, River Cats 2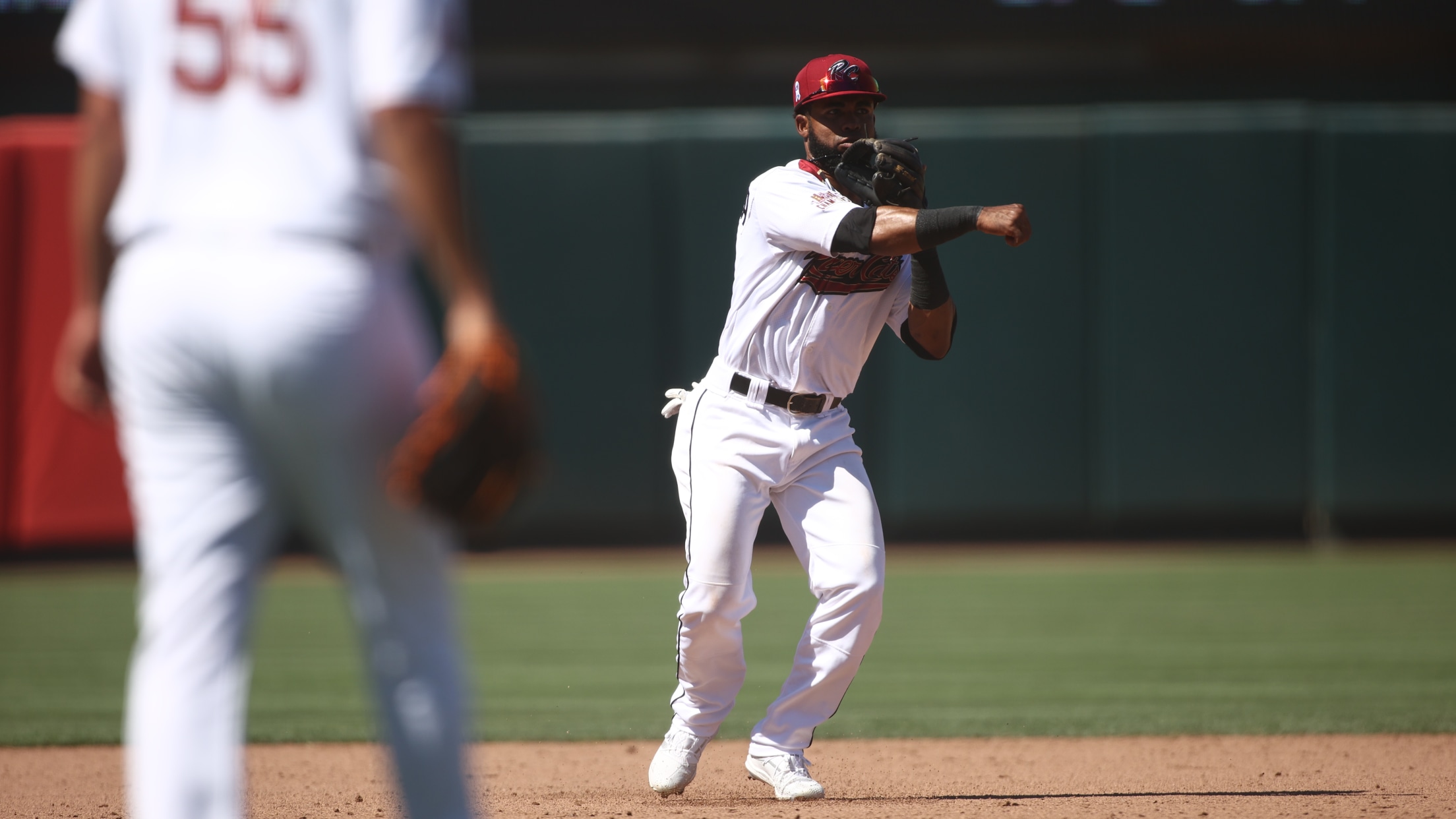 Salt Lake City, Utah — The Sacramento River Cats (23-33) could not overcome the early 4-0 deficit, falling to the Salt Lake Bees (29-27) on Saturday for their season-high sixth straight loss. The River Cats threatened at the end, bringing the tying run to the plate in the ninth inning
Alcántara homers for 2nd straight day as River Cats drop 5th in a row
Bees 10, River Cats 7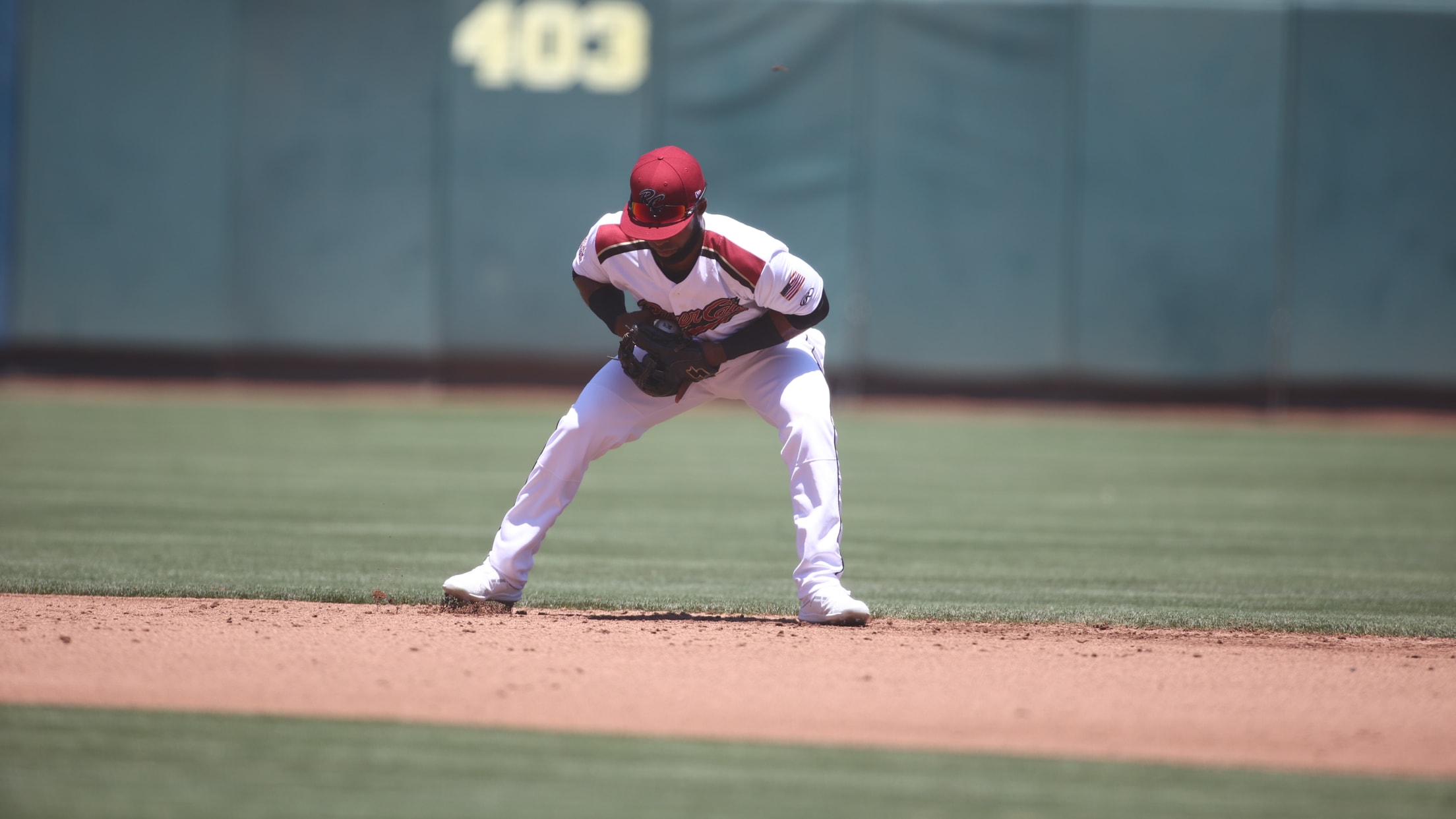 Salt Lake City, Utah — The Sacramento River Cats (23-32) once again surrendered double-digit runs, falling to the Salt Lake Bees (28-27) on a 105-degree Friday night at Smith's Ballpark. Despite the defeat, the River Cats' offense remained excellent. They're averaging 8.4 runs and have scored first in every contest
McCarthy, Alcántara homer as River Cats drop 3rd walk-off in 4 games
Bees 10, River Cats 9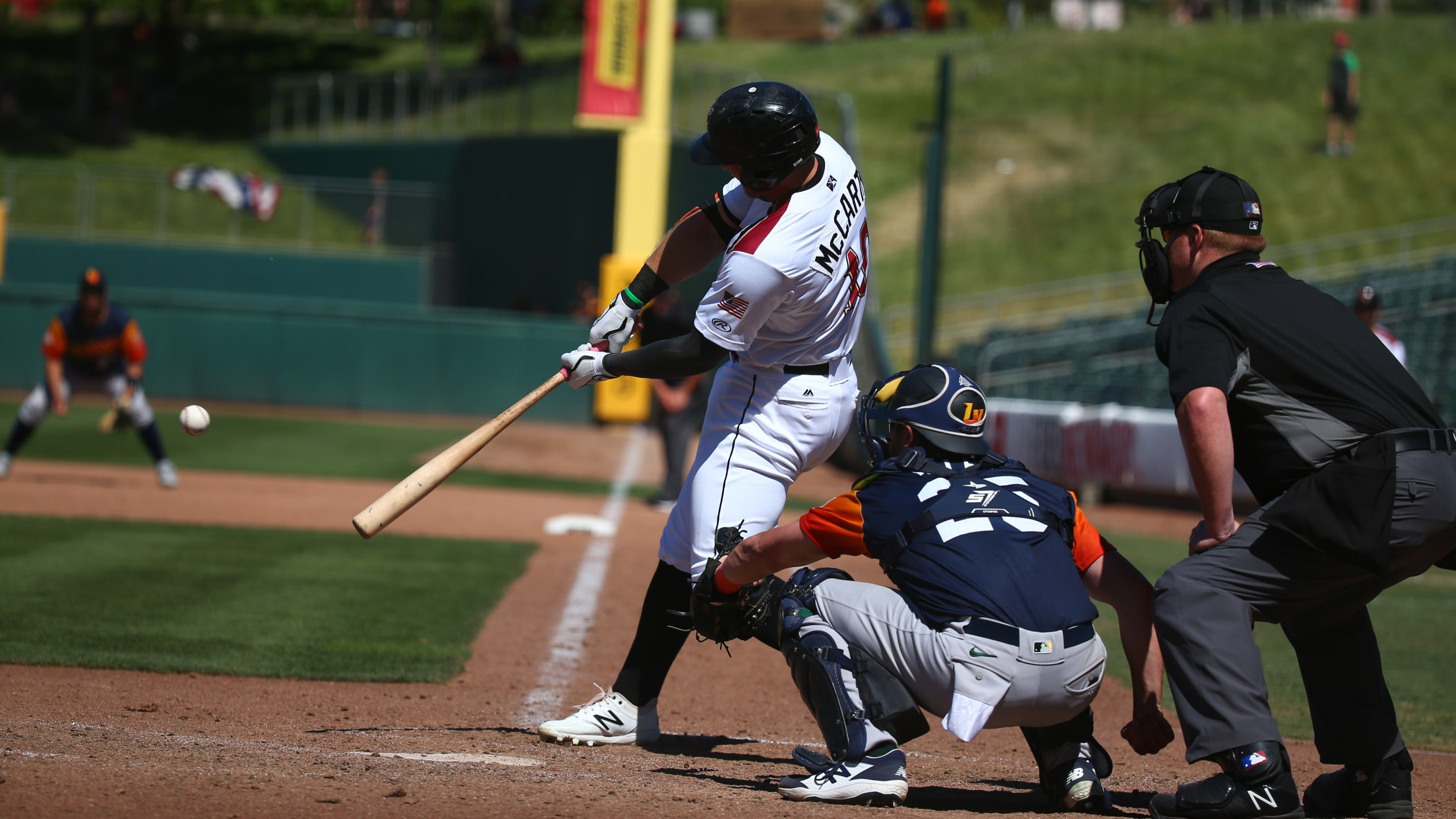 Salt Lake City, Utah — The Sacramento River Cats (23-31) fell in devastating fashion for the third time in four games, losing to the Salt Lake Bees (27-27) on center fielder Jo Adell's walk-off single in Thursday's series opener. After dropping the final three games of their last series in
McCarthy homers, Bart knocks in 2 in series finale defeat
Aviators 14, River Cats 9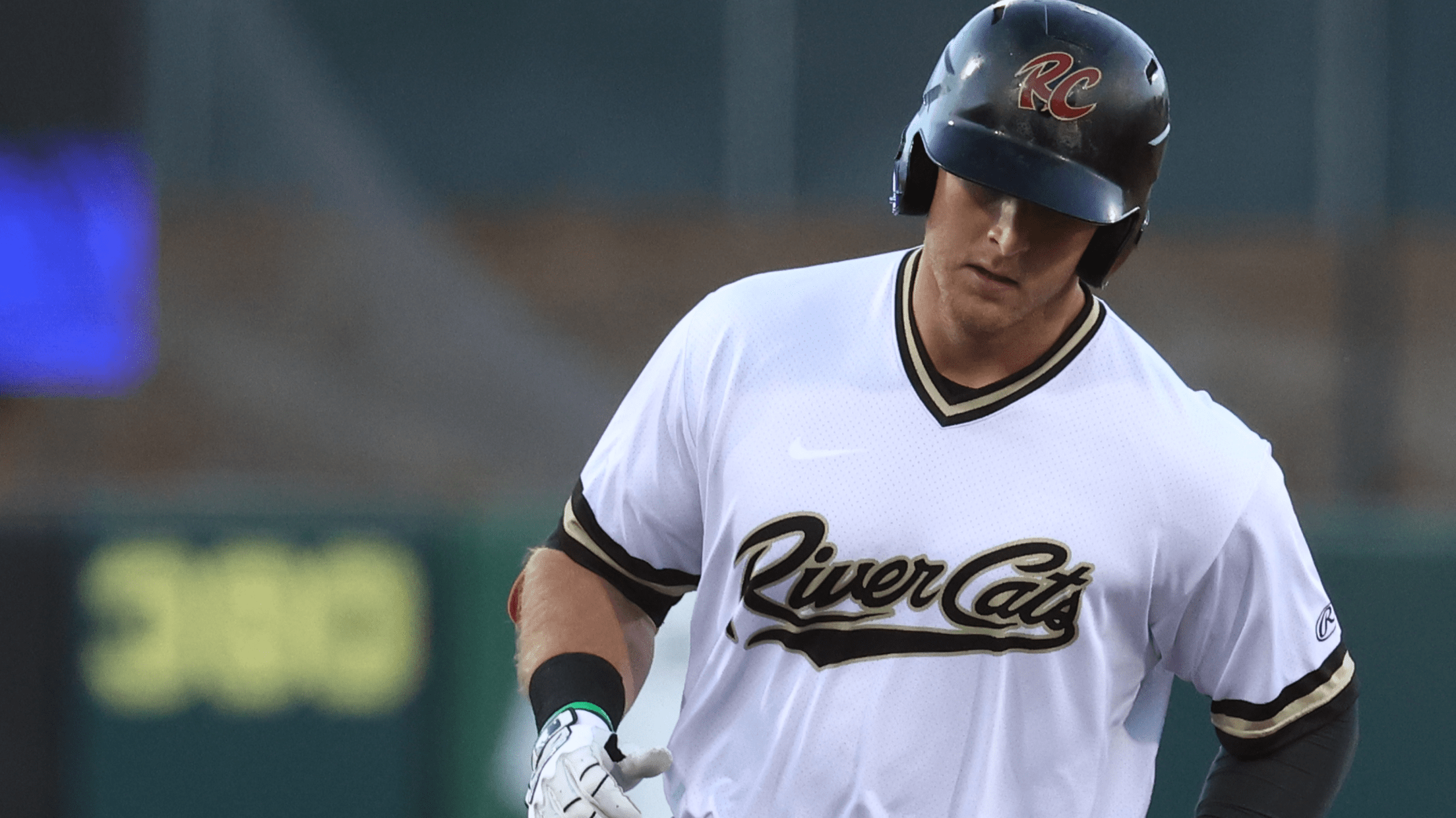 Las Vegas, Nev. — The Sacramento River Cats (23-30) were unable to clinch the series, falling to the Las Vegas Aviators (26-28) for the third straight game to split. After winning the first three games, and taking leads into the ninth inning in the next two contests, the River Cats
Alcántara goes yard twice, River Cats drop heartbreaker in walk-off fashion
Aviators 15, River Cats 14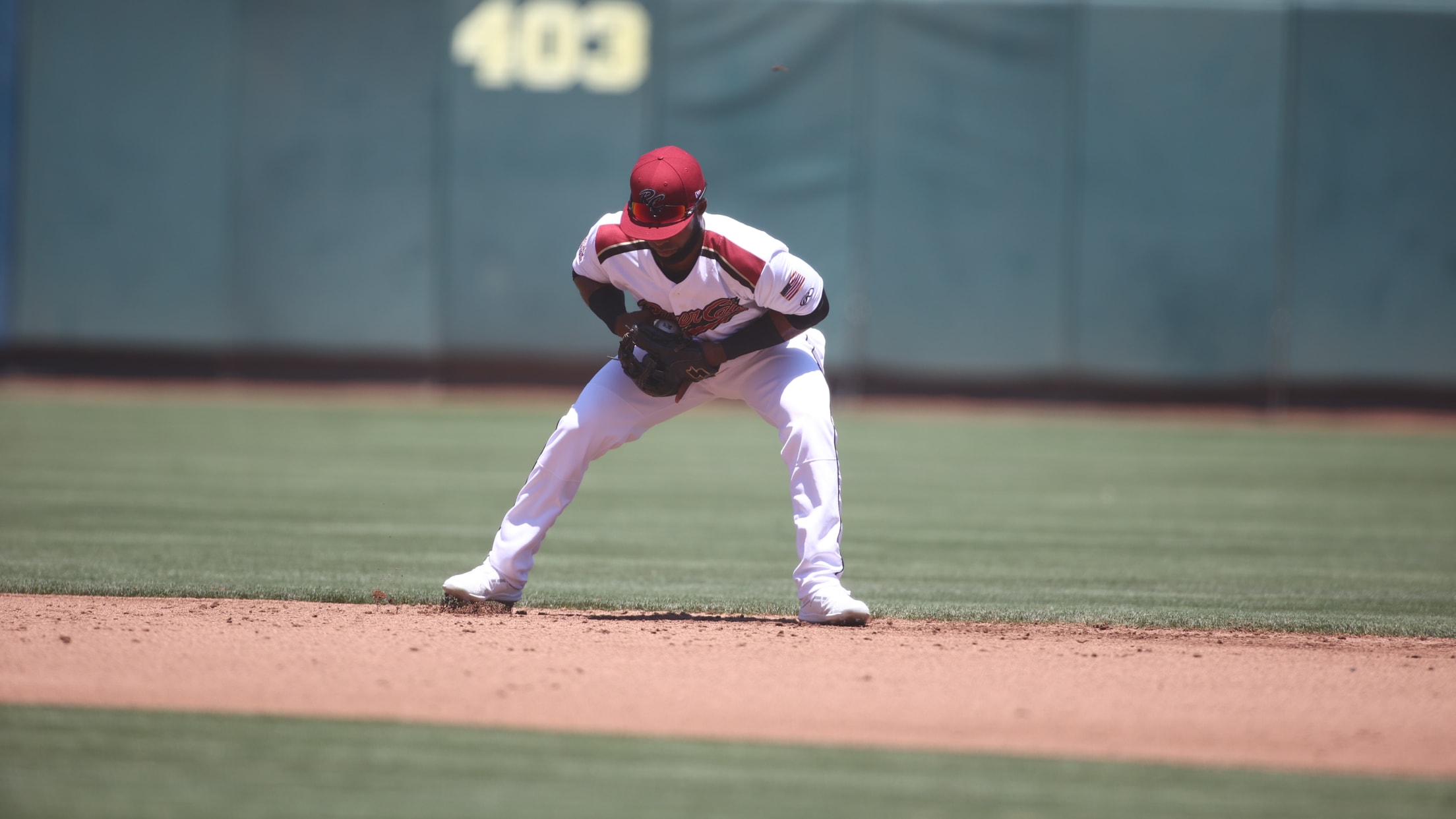 Las Vegas, Nev. — Despite holding a 14-11 lead with one out in the ninth inning, the Sacramento River Cats (23-28) could not hold on for their fourth straight victory, falling to the Las Vegas Aviators (24-28) in 10 innings. Left-hander Sam Selman, who entered the game with 8.1 straight
Vosler, Maris homer as River Cats blow out Aviators for 3rd straight win
River Cats 14, Aviators 8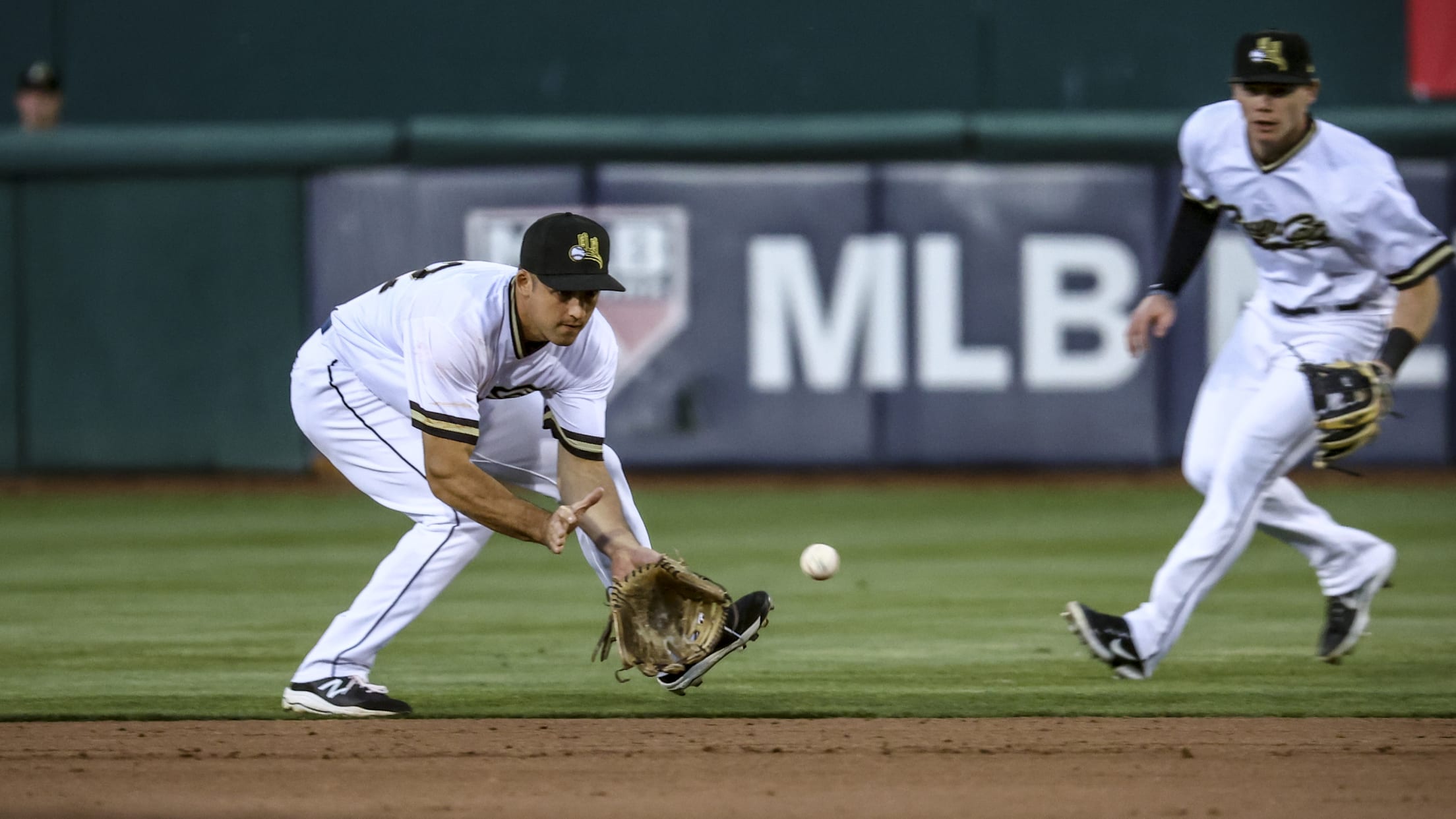 Las Vegas, Nev. — After going down 5-0 in the third inning, the Sacramento River Cats (23-27) stormed back with 14 straight runs to defeat the Las Vegas Aviators (23-28) in blow out fashion for the third straight game on Saturday. Sacramento started its barrage in the fourth on first
Sacramento offense stays hot as Dubón reaches base five times in blowout win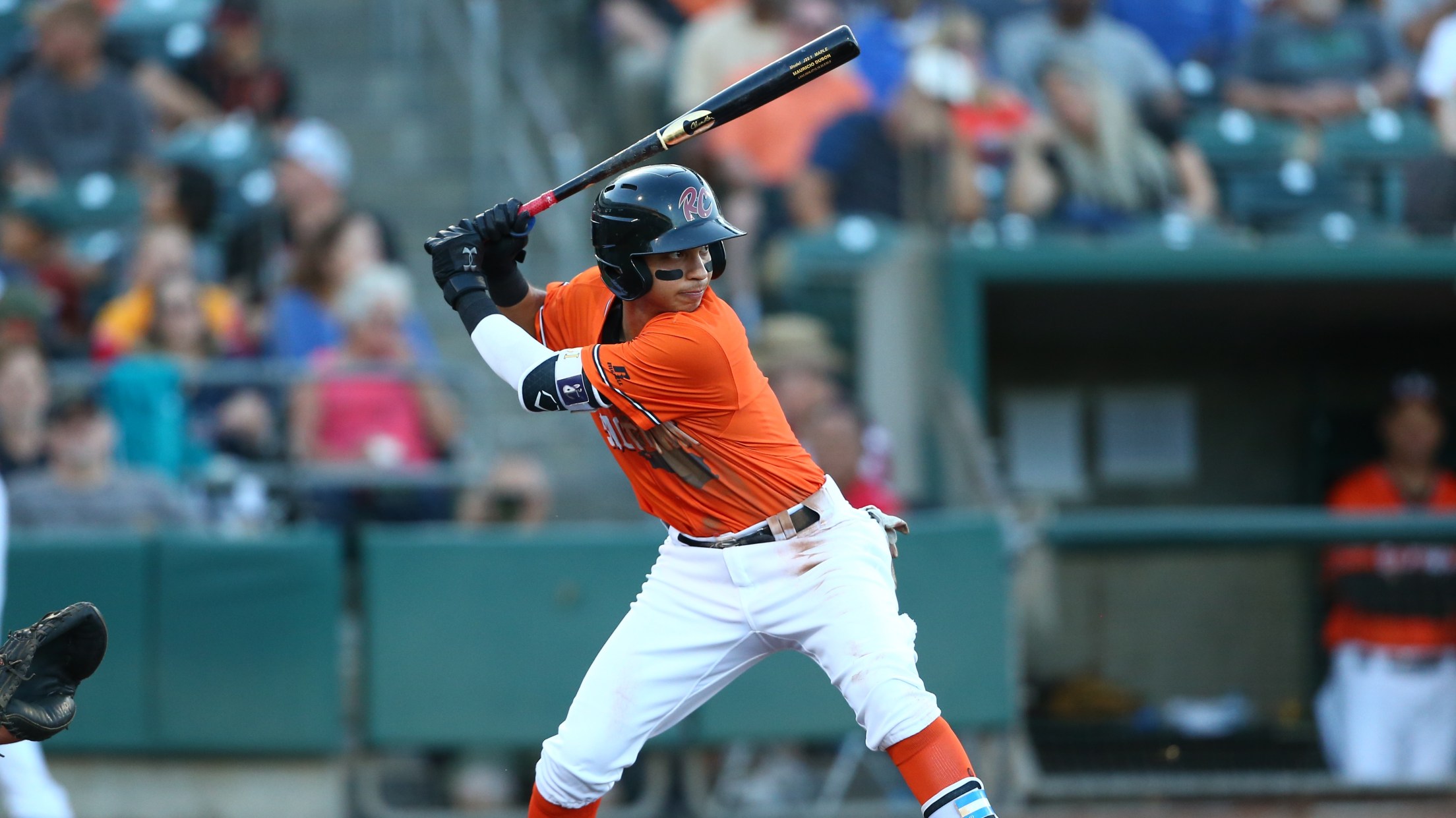 Las Vegas, Nev. — For the seventh consecutive game, the Sacramento River Cats (22-27) pounded out a double-digit hit total and used it to handedly defeat the Las Vegas Aviators (23-27). The River Cats have outscored the Aviators 22-5 in the first two games of this six-game series, and on
Pitching staff surrenders just two hits in win over Aviators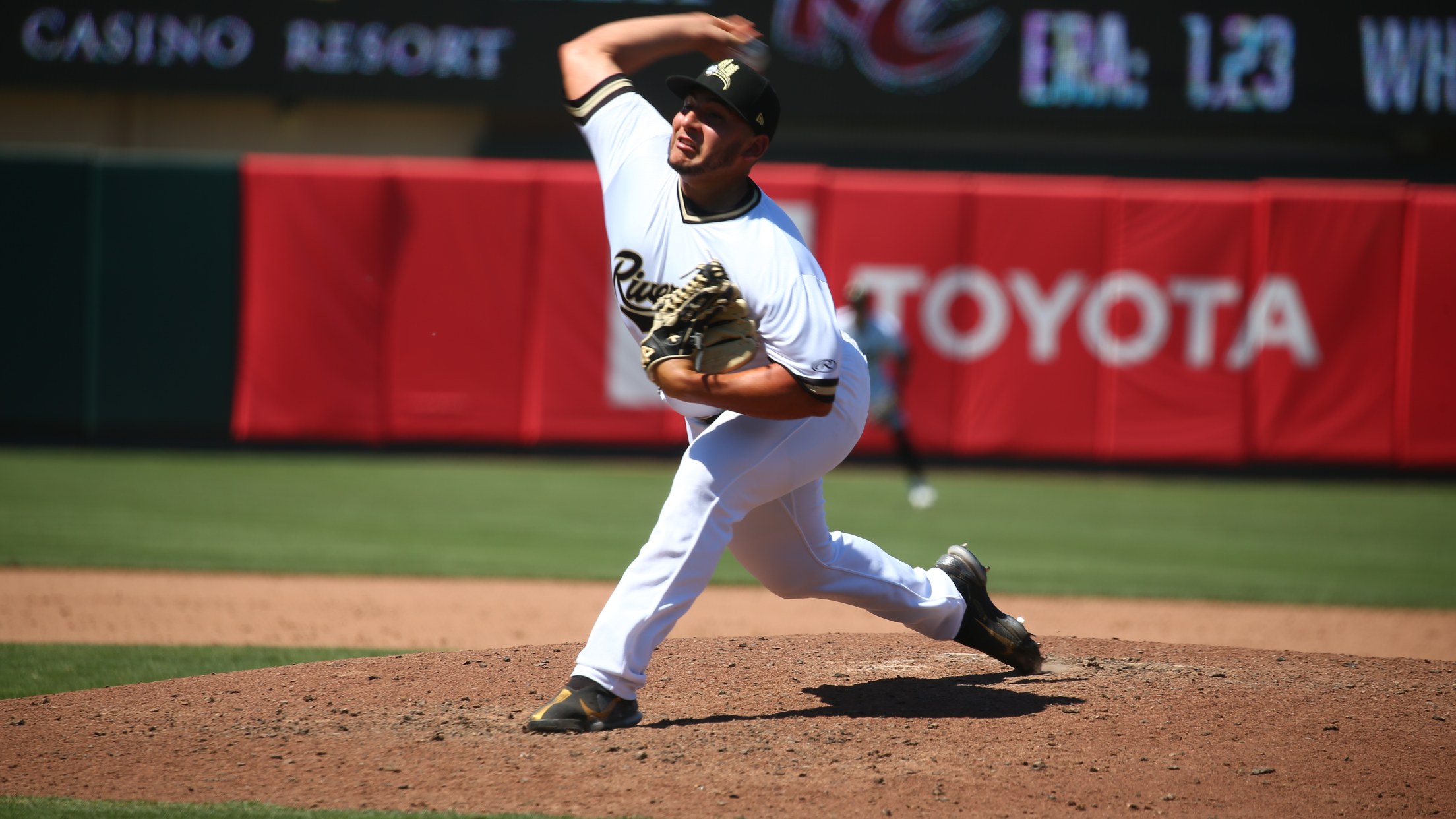 Las Vegas, Nev. — Pitching and hitting were both firing on all cylinders on Thursday as the Sacramento River Cats (21-27) knocked off the host Las Vegas Aviators (23-26) in game one of the series. Pete Kozma singled off Logan Webb in the first and Austin Allen singled off Gerson
River Cats homer five times in slugfest defeat
Aces 11, River Cats 8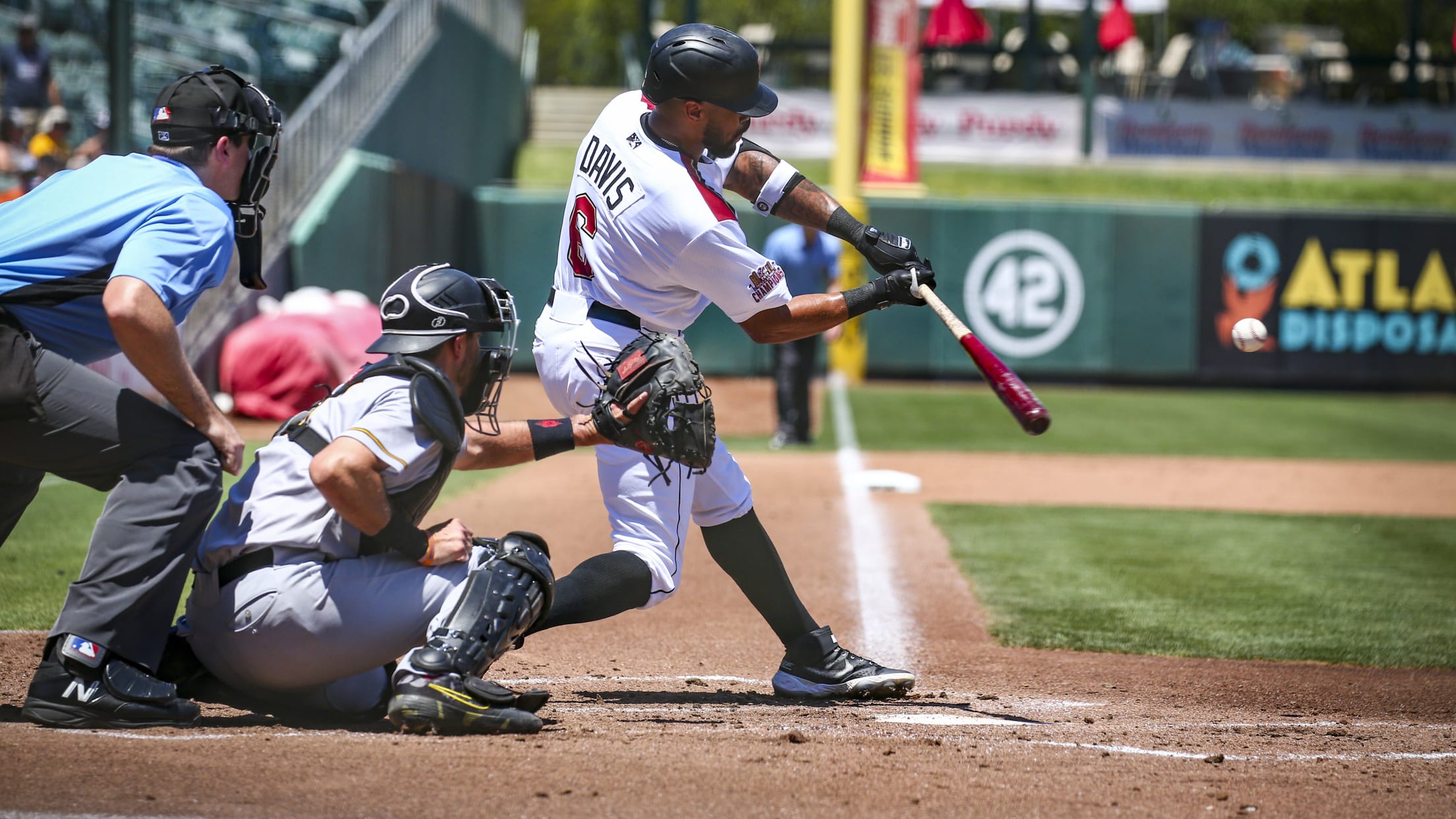 West Sacramento, Calif. — Tuesday's series finale felt more like a home run derby, as the Sacramento River Cats (20-27) fell to the first place Reno Aces (31-17) in a back-and-forth slugfest which saw 10 home runs. The first 18 runs of the ballgame scored via the home run, with
Vosler plates 3 as Sacramento's comeback bid falls just short to Reno
Aces 6, River Cats 5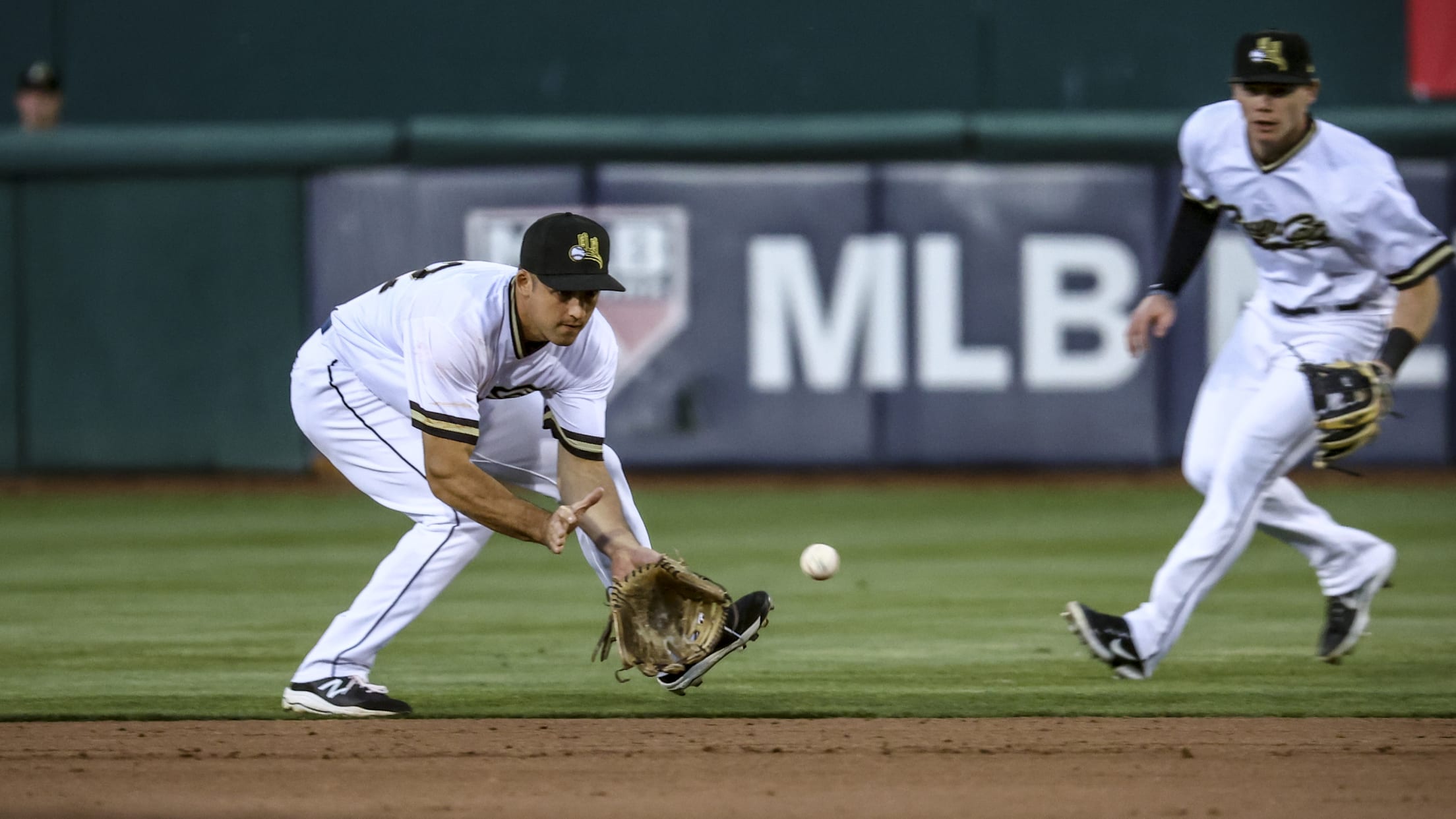 West Sacramento, Calif. — After slugging a season-high five home runs on Sunday, the Sacramento River Cats (20-26) allowed four homers in the game five defeat to the first place Reno Aces (30-17) on Monday. One mistake was enough to hand righty Matt Frisbee (1-3) the loss. With one out
Davis grand slam highlights blowout win over Aces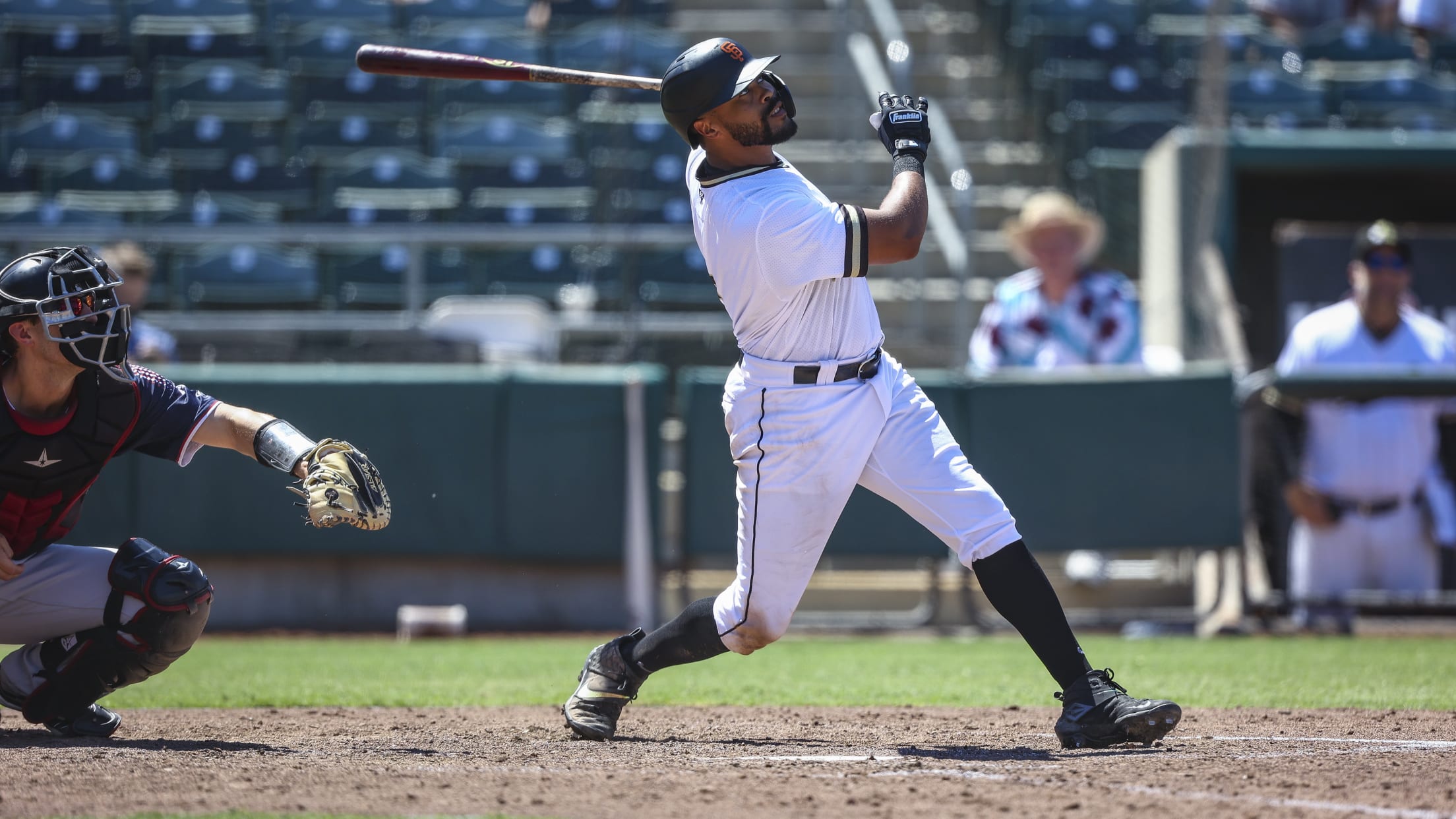 West Sacramento, Calif. — The Sacramento River Cats (20-25) used five home runs, including the team's fourth grand slam of the season, to rout the Reno Aces (29-17) on Sunday afternoon. Sacramento broke the game open quickly, wasting no time as they jumped out to a 4-0 lead on Reno
Alcántara's late hit lifts River Cats past Reno
River Cats 9, Aces 6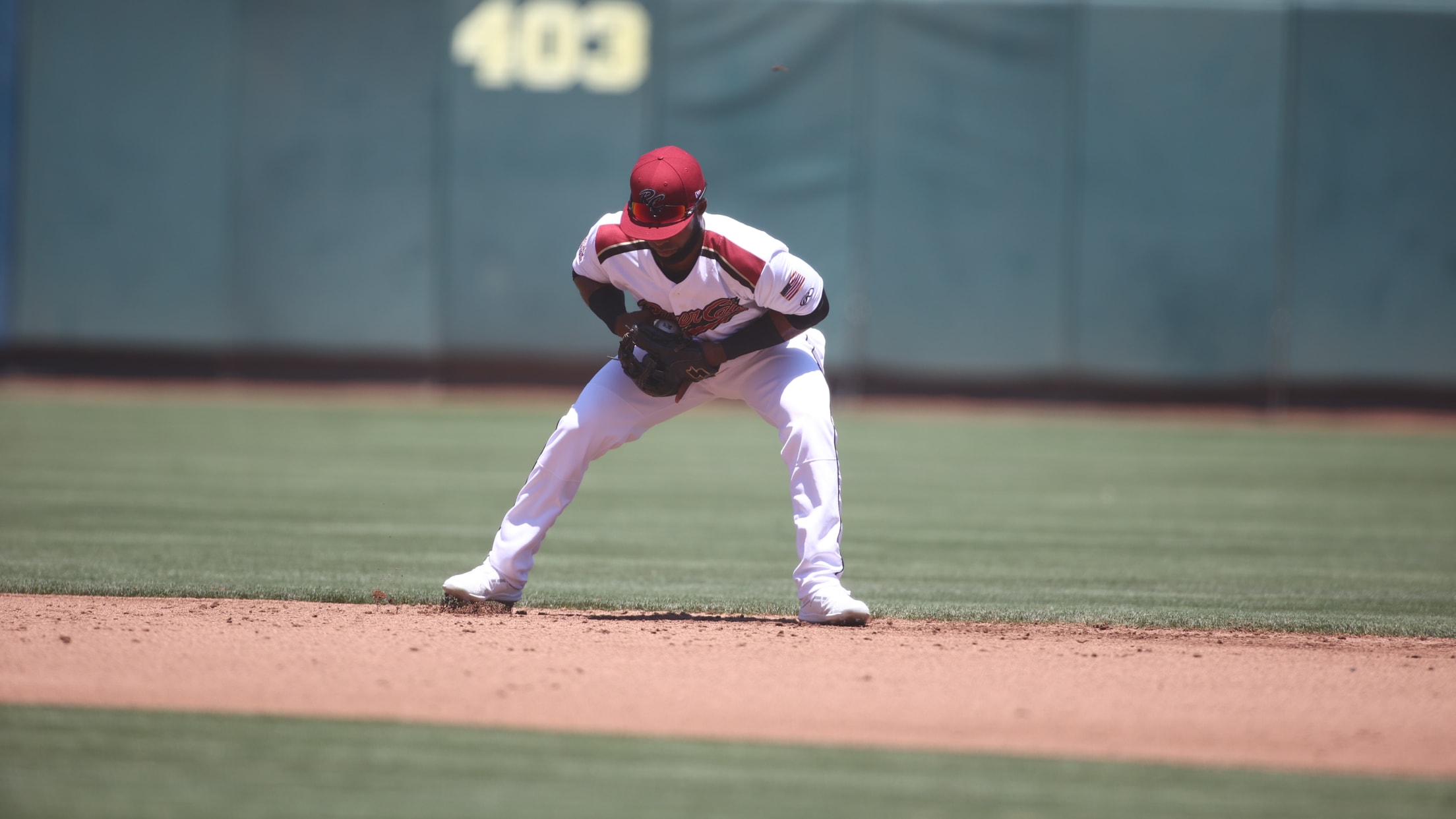 West Sacramento, Calif. — The Sacramento River Cats (19-24) were able to defeat the first place Reno Aces (28-16) thanks to Arismendy Alcántara's clutch single, and huge offensive days from both left fielder Jaylin Davis and third baseman Jason Krizan. Tied at four with the bases loaded and two outs
Robinson's pinch-hit homer highlights River Cats' shut out win
River Cats 8, Aces 0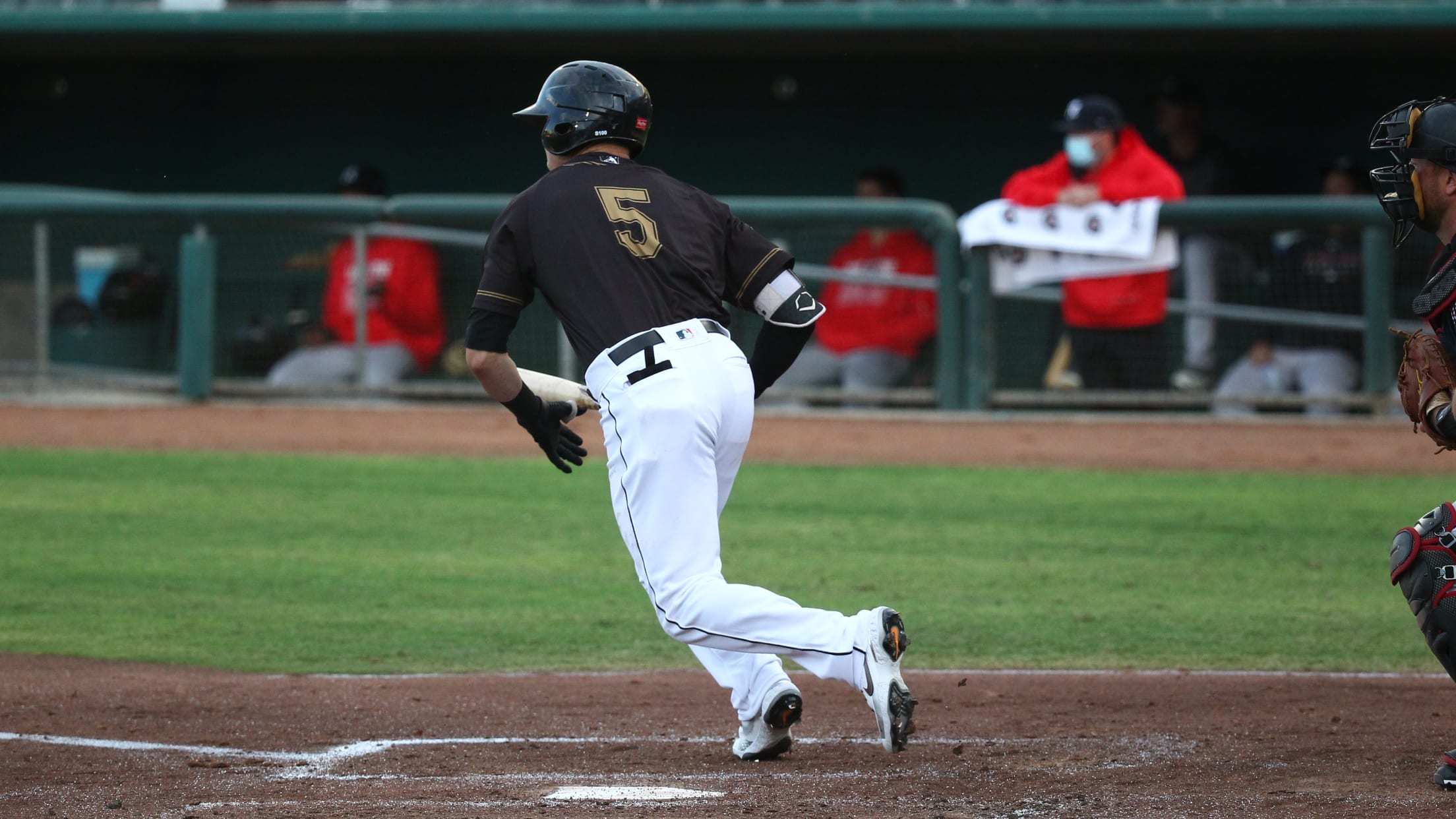 West Sacramento, CA. — The Sacramento River Cats downed the first place Reno Aces thanks to an excellent start by left-hander Scott Kazmir (2-0), and home runs by Drew Robinson and LaMonte Wade Jr. Up 4-0 in the sixth with one out and a runner on, Robinson stepped to the