Bees avoid sweep with a 3-2 win on Taco Tuesday
Tyler White extends hit streak to 10 games; Jon Kemmer blasts sixth homer in loss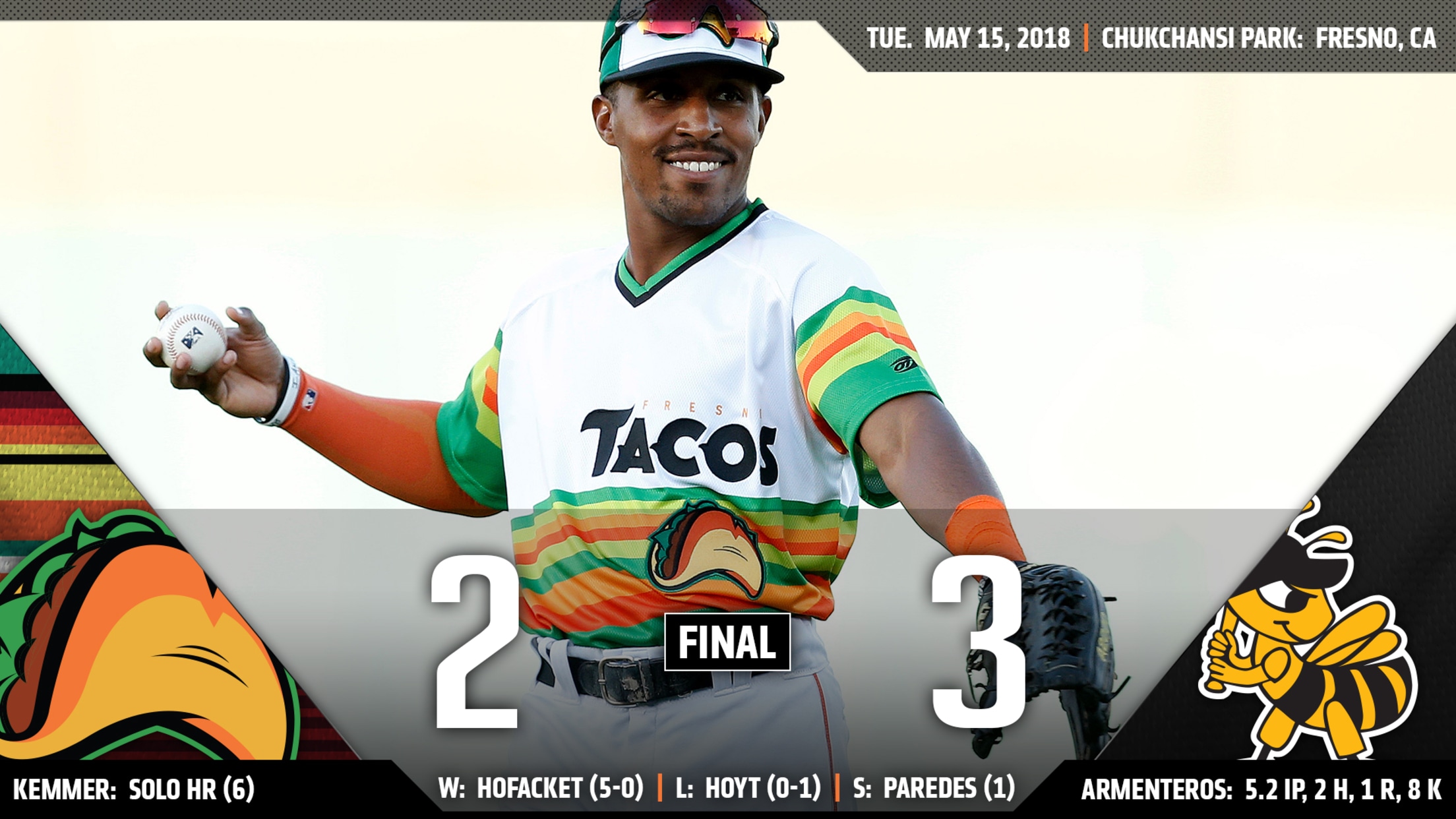 The Fresno Tacos (24-16) kept the brooms in the closet, falling to the Salt Lake Bees (23-17) 3-2 Tuesday morning from Chukchansi Park. Today's starters in Rogelio Armenteros and Osmer Morales kept hitters at bay, as both allowed one run in five and two-thirds innings. Armenteros punched out eight, tying
The Fresno Tacos (24-16) kept the brooms in the closet, falling to the Salt Lake Bees (23-17) 3-2 Tuesday morning from Chukchansi Park. Today's starters in Rogelio Armenteros and Osmer Morales kept hitters at bay, as both allowed one run in five and two-thirds innings. Armenteros punched out eight, tying a season-high.
Salt Lake grabbed a 1-0 lead in the top of the third from a Kaleb Cowart RBI single to center.
Jon Kemmer knotted the game at one in the bottom of the fifth after belting a solo shot to right. It was his sixth home run and 18th RBI of the season.
Tyler White (2-for-4) gave the Tacos a 2-1 advantage in the home half of the seventh after lacing a single into left, plating Antonio Nunez. With two singles, White extended his hit streak to a team-high 10 games and reached base for the 37th consecutive game. Nunez also bolstered his hit streak to a modest five games.
The Bees tied the game at two in the top of the eighth thanks to a double in the left-center gap by Jabari Blash. One inning later, David Fletcher drove in the go-ahead run for Salt Lake with a single to left.
A 3-2 lead was enough for Eduardo Paredes, who received three fly balls to end the game. It was his first save of the season.
James Hoyt (0-1) suffered the defeat, allowing the go-ahead run in the ninth while Adam Hofacket (5-0) enjoyed the win. He worked a scoreless eighth.
Kyle Tucker added a pair of hits in the loss. The Tacos fell to 4-5 in one-run affairs and 7-8 in May.
Fresno will enjoy an off-day on Wednesday before heading to El Paso for a four-game series against the Chihuahuas. First pitch is scheduled for 5:35 PT Thursday night from Southwest University Park. RHP Josh James (0-1, 5.40) gets the ball for the Grizzlies, while RHP Chris Huffman (2-3, 5.30) goes for El Paso.