Bees' Hermosillo hits for the cycle to beat Grizzlies
Tyler White 3-for-3 (3 RBI and 3 R) hits team-leading 7th homer; J.D. Davis 4-for-5 (4 RBI and 2 R) also goes deep in loss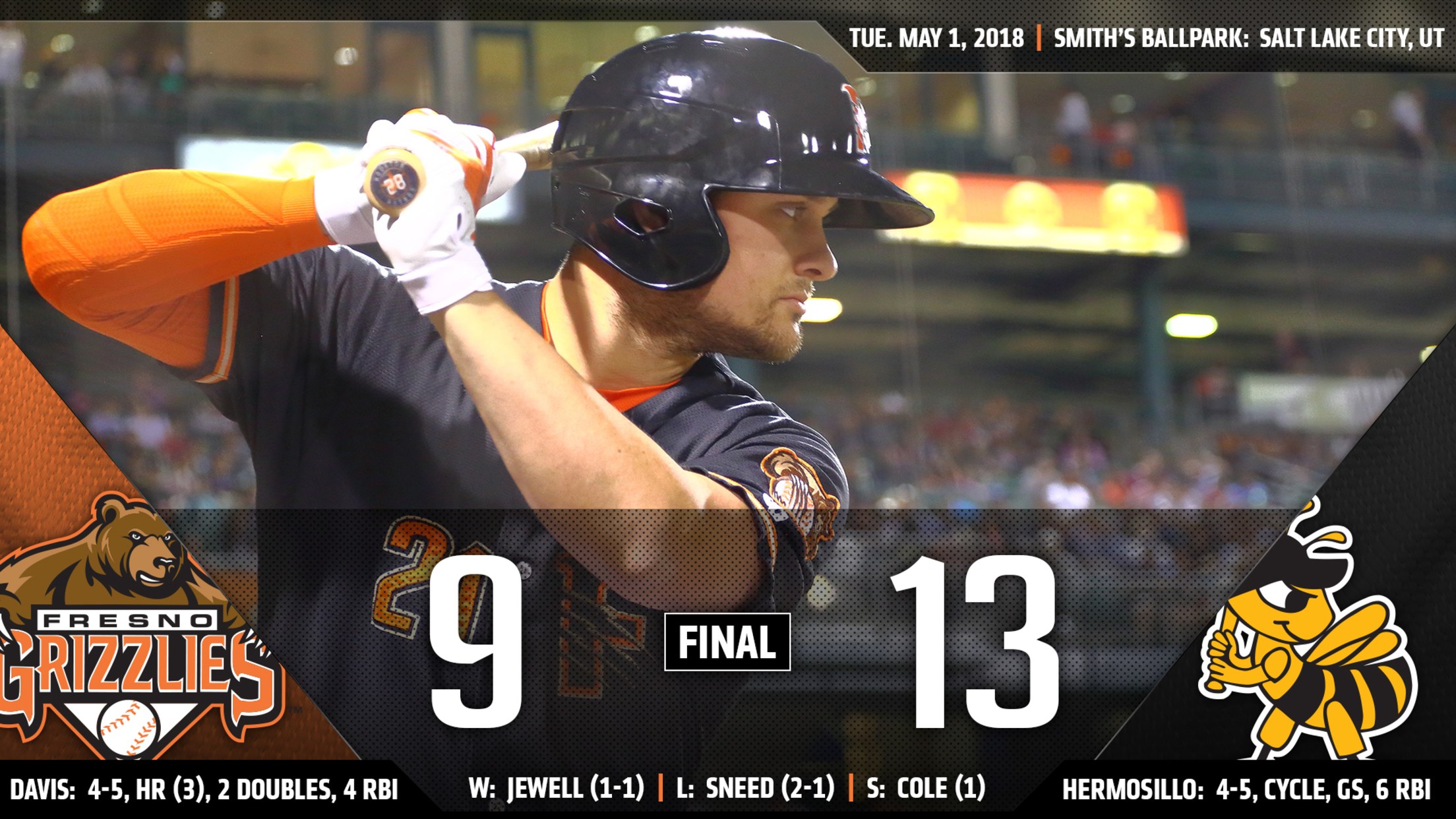 Michael Hermosillo (4-for-5) was the buzz surrounding Smith's Ballpark Tuesday night. His cycle and six RBI led the Salt Lake Bees (16-10) past the Fresno Grizzlies (17-9) 13-9. The Grizzlies finished with 15 hits, sending their total to 13-2 when having double-digit hits. Tyler White and J.D. Davis combined to
Michael Hermosillo (4-for-5) was the buzz surrounding Smith's Ballpark Tuesday night. His cycle and six RBI led the Salt Lake Bees (16-10) past the Fresno Grizzlies (17-9) 13-9. The Grizzlies finished with 15 hits, sending their total to 13-2 when having double-digit hits. Tyler White and J.D. Davis combined to go 7-for-8 with two homers, seven RBI and five runs in the loss.
Salt Lake jumped on the board in the bottom of the first when David Fletcher (2-for-2) belted a leadoff home run to left. The bomb ended Cy Sneed's scoreless streak at 16 innings. Sneed (2-1) would also suffer the loss after five and two-thirds innings. He scattered 10 hits, 10 runs (earned), issuing three walks and fanning seven.
White tied the game at one in the top of the fourth when he smashed a solo shot to left-center. It was his team-leading seventh longball of the season and his second-straight night with that feat.
Jabari Blash re-took the lead in the home half of the fourth when he crushed a two-run dinger to center field. His league-leading 10th big fly of the season made it 3-1 Salt Lake.
Fresno scraped together a six-run inning in the next half frame, batting through the order. First, Jon Kemmer bashed a solo homer to right-center. It was his fifth blast of the season. Then, White rocked a pitch to center, scoring a pair. Two more runs trotted home after a double by Davis and would score after switching places with Tim Federowicz (2-for-5).
The Bees cut the deficit to 7-6 in the bottom of the fifth after three hits and a sacrifice fly. Ryan Schimpf tripled and scored on a Fletcher single. Then, Hermosillo tripled, knocking in Fletcher. He would then cross the plate after a sacrifice fly to center.
Hermosillo continued his hot bat, pounding a grand slam to left-center in the bottom of the sixth. His fourth jack of the season gave the Bees a 10-7 advantage.
Salt Lake expanded the lead to 13-7 in the bottom of the eighth from a wild pitch and sacrifice fly. The other run was courtesy of Hermosillo's double, giving him the cycle.
The Grizzlies tried to mount a comeback in the ninth with a Davis two-run bomb, but the deficit was too much to overcome. Taylor Cole earned the save and finished off a 13-9 Salt Lake win.
Jake Jewell (1-1, win) pitched two-plus scoreless innings in the victory.
Game three of the four-game series will be played Wednesday night from Smith's Ballpark. Grizzlies' RHP Rogelio Armenteros (0-0, 5.12) battles fellow Bees' righty Ivan Pineyro (0-1, 4.85). First pitch is scheduled for 5:35 PT.