Betts collects six hits in Sea Dogs' sweep
No. 5 Red Sox prospect plates four, scores go-ahead run in nightcap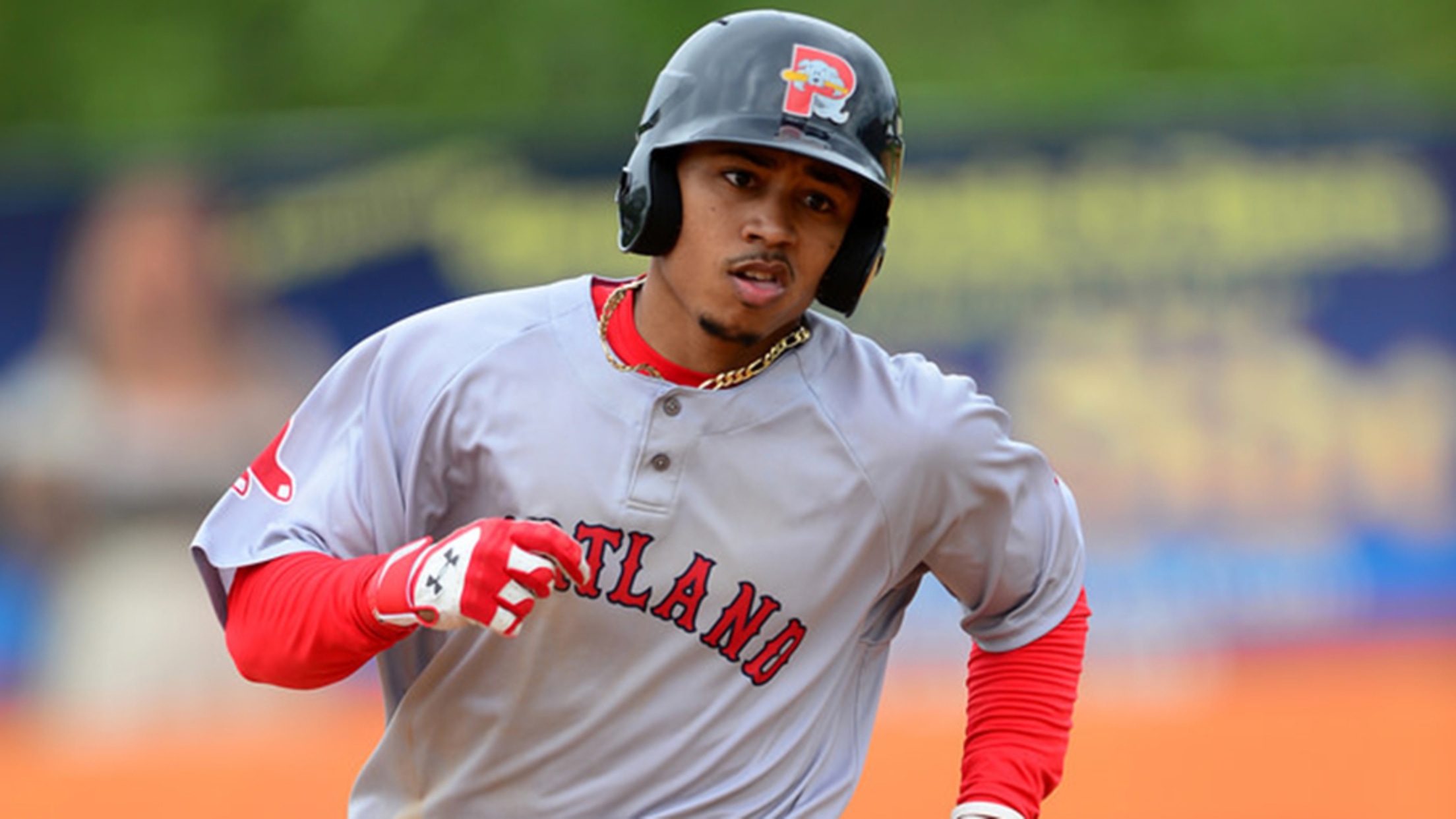 Mookie Betts leads the Eastern League with a .362 batting average and 56 runs scored. (Kevin Pataky/MiLB.com)
Following a 5-for-27 stretch, Mookie Betts just needed a little help from his friends. And after some advice from teammates and coaches, he did more than get by. During a long day and night that began and ended with him scoring runs, the fifth-ranked Red Sox prospect totaled six hits
Following a 5-for-27 stretch, Mookie Betts just needed a little help from his friends. And after some advice from teammates and coaches, he did more than get by.
During a long day and night that began and ended with him scoring runs, the fifth-ranked Red Sox prospect totaled six hits and four RBIs as Double-A Portland swept a day-night doubleheader at Trenton.
The Sea Dogs took the opener, 9-4, then rallied for a 4-3 victory in the nightcap.
"Just believing in myself [again]. I had a little small slump, lost a little confidence, but talking to some guys helped," Betts said after going 6-for-8 to get his batting average back up to a league-leading .362. "I just got some pitches to hit and put good swings on the pitches, and they found holes."
The 21-year-old, who's making the transition from second base to center field, led off the first game with a single and scored three batters later on a base hit by Matt Spring. He went 3-for-4 with a triple, a walk, a season-high four RBIs and three runs scored.
MLB.com's No. 52 overall prospect, tacked on three hits and two runs scored in the second game. With Portland trailing in the seventh and final inning, 3-2, he followed a one-out walk by Bo Greenwell with a double. Deven Marrero, Boston's 13th-ranked prospect, delivered a two-run single to put the Sea Dogs ahead for good.
"I just thought of it as we scored another run, not the winning run. I was just happy we scored," Betts said. "This team, it doesn't matter when or the circumstance, we always know we have a chance to win."
The 2011 fifth-round Draft pick also leads the league with 76 hits and 56 runs scored. He's also second with a .448 on-base percentage, 27 extra-base hits, 18 doubles and 22 steals. And he ranks third with a 118 total bases and fourth with a .562 slugging percentage.
The Sea Dogs' success has followed Betts'. The sweep gave Portland 23 wins in May, a franchise record for any month.
"We've just been having fun. When you're having fun, it doesn't matter -- of course, we don't like losing, but even then, we just enjoy the game," Betts said. "We're not down, we're having fun."
Mike McCarthy (4-2) picked up the Sea Dogs' latest "W," allowing three runs on five hits with three strikeouts in six innings. He retired 14 straight batters until the sixth, when Yankees top prospect Gary Sánchez slugged a long three-run homer.
"I love playing behind McCarthy because he's not a strikeout pitcher. He keeps us in the game," Betts said. "Even though he gave up a couple runs, he keeps us in the game and he kept the game close tonight."
Thunder reliever Fred Lewis (0-2) took the loss in Game 2 after yielding two runs on two hits in two innings.
Kelsie Heneghan is a contributor to MiLB.com. Follow her on Twitter @Kelsie_Heneghan.