Biloxi Bamboozles Generals In Extras
Late lead lost despite efforts of Payamps, Denker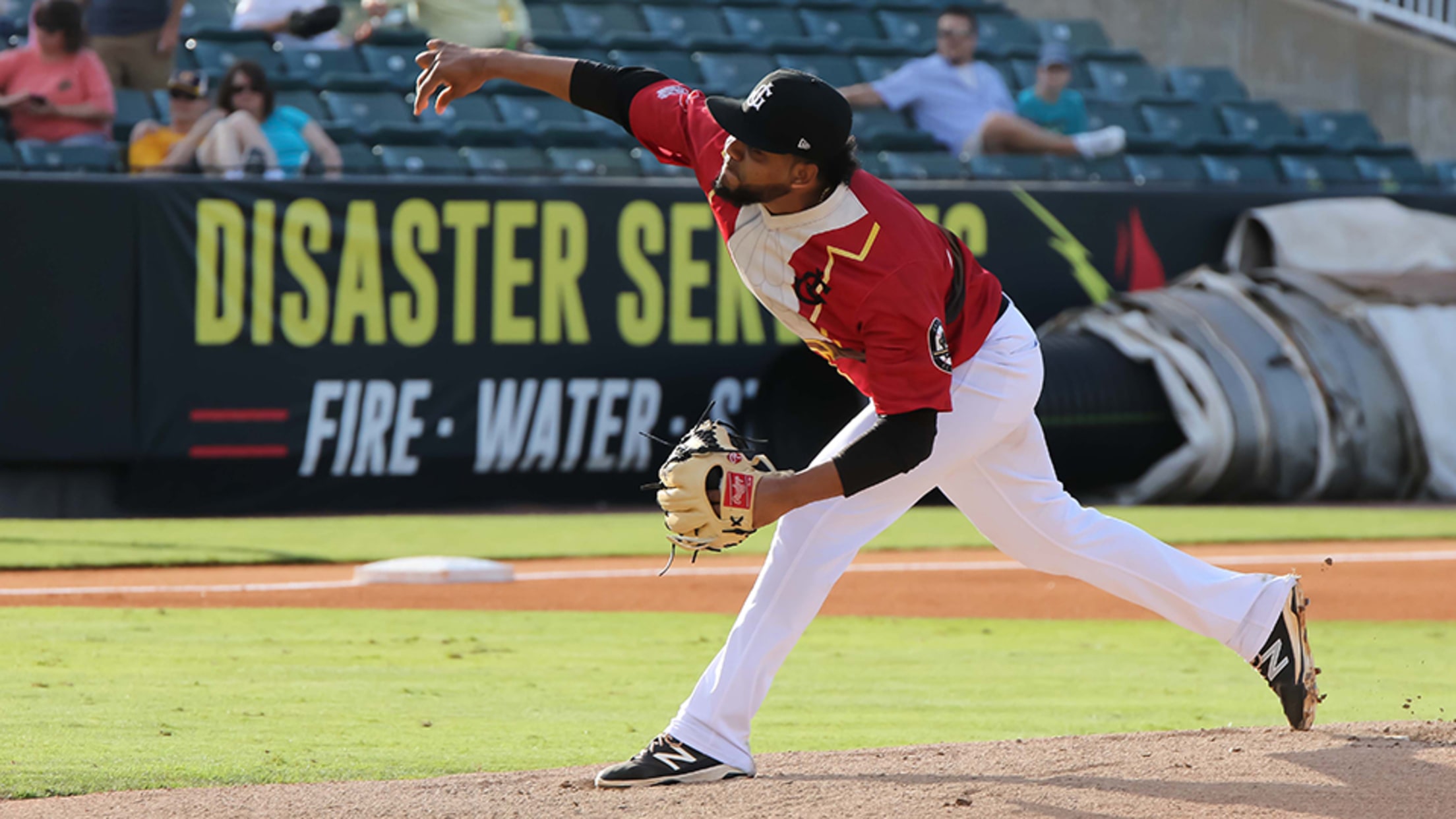 Joel Payamps held Biloxi to two runs in seven innings of work, but the Generals bullpen could not hold the lead, as Jackson fell 6-4 on Wednesday. (Cody Cunningham)
Jackson, Tenn. - Joel Payamps was superb, and Travis Denker was clutch. Still, the Jackson Generals could not hold on to a late 4-2 lead, beaten 6-4 by Biloxi in extra innings on Wednesday night.Denker's pinch-hit home run in the seventh inning gave the Generals the advantage after Payamps allowed
Jackson, Tenn. - Joel Payamps was superb, and Travis Denker was clutch. Still, the Jackson Generals could not hold on to a late 4-2 lead, beaten 6-4 by Biloxi in extra innings on Wednesday night.
Denker's pinch-hit home run in the seventh inning gave the Generals the advantage after Payamps allowed only 2 runs on the hill. The Shuckers returned fire with two runs in the eighth and two in the tenth to steal the series-opening win at The Ballpark at Jackson.
Gabe Speier (2-6, 4.85 ERA) took the hill for Jackson in the tenth inning, but he allowed Johnny Davis and Troy Stokes to reach quickly on a pair of singles. The Generals walked Clint Coulter to load the bases ahead of Gabriel Noriega, and the former General blooped a single into right field for a tie-breaking base hit. Victor Reyes booted the ball when he went to field it, allowing a second run to score on the play for a 6-4 Biloxi edge. Reyes partly atoned for the miscue by throwing out Coulter as he tried to race for third base, but damage had already been significantly done.
Try as they might, the Generals couldn't muster a comeback in the bottom half. Emilio Bonifácio led off with a double, but the next three Generals were retired to drop Jackson (23-28, 60-61) a game below a .500 winning percentage for the first time this year. The loss was also the Generals' sixth straight, tying a season-worst mark.
Payamps, starting on seven days' rest, acquitted himself efficiently after a tough second inning. A leadoff walk to Dustin DeMuth and a single to Jake Gatewood put two aboard for Biloxi, and the Shuckers (25-24, 61-57) scored soon thereafter. Following a groundout that moved the runners over, Javier Betancourt hit a spinner up the first base line that handcuffed first baseman Kevin Cron, preventing him from picking it up cleanly. Betancourt reached first safely, with DeMuth breaking the scoreless tie on the play. Gatewood came home on a Jacob Nottingham single thereafter, putting Biloxi ahead 2-0.
The Generals scratched across runs in the fifth and sixth innings to tie things up. A pair top-of-the-fifth singles from Marty Herum and Jamie Westbrook baited the Generals' hooks, and Daniel Lockhart reeled in Herum with a double two batters later tohalvethedeficit. A one-out double by Cron in the sixth brough tMichael Perez to the plate, and he delivered an RBI single with the infield drawn in to bring the Generals even at 2-2.
Payamps would go on to finish seven innings and leave with the score tied 2-2, retiring eleven of the last twelve hitters he faced. He walked only one while striking out three and allowing five hits, throwing 73% of his pitches for strikes. The outing marked his fourth quality start in his last five games, as well as his third in a row.
In the bottom of the seventh, a one-out walk to Lockhart brought the pitcher's spot to the plate. Denker batted in place of Payamps, who had previously recorded his first-ever hit as a professional off Biloxi started Corbin Burnes. The 32-year-old Denker wasted no time, bashing a Nick Ramirez offering over the center field fence to put the Generals up, 4-2. It was the first time Ramirez had allowed an earned run since July 12th, and it marked Denker's fifth homer overall, including his fourth in the season's Second Half.
The Shuckers answered in the eighth, helped by a leadoff walk to pinch-hitter Blake Allemand off Jackson reliever Mason McCullough. After two more singles loaded the bases, McCullough was replaced by Kirby Bellow, but a single by Clint Coulter that deflected off the glove of Marty Herum brought the Shuckers two equalizing runs.
Joey Krehbiel pitched a scoreless ninth for Jackson, bridging the game into extra innings. Emilio Bonifacio was the only General to record multiple hits in the contest. The Generals remain 8.0 games behind Montgomery (31-20, 61-53) in the North Division's Wild Card chase with 19 games to go.
The Generals' continue their series with Biloxi on Thursday with another 6:05 pm CT duel. Right-hander Brad Keller (8-9, 5.52 ERA) will pitch on Jackson's behalf against Biloxi right-hander Aaron Wilkerson (10-4, 3.04 ERA). Radio coverage will begin 15 minutes before first pitch on Willie 94 FM and 1390 AM, as well as the Jackson Generals Baseball Network via TuneIn Radio.
Game two comes on Thrifty Thursday at The Ballpark! General admission tickets are available for just $2, as are concession items like hot dogs, beer, popcorn, soda, and ice cream. Fun Zone access for kids will also by $2 only, and reserved seating will be discounted to a $6 price.
Friday, August 18 will feature the return of the Hub City Hippos, a fitting accompaniment to another Leaders Credit Union Food Truck Friday! The team's special alternate Hippos jerseys will be auctioned off at year's end with proceeds going to the Boys & Girls Club of Jackson thanks to Tennessee811!
Saturday, August 19 is Big Bang Theory Night, presented by Hunt Brothers Pizza with Postgame Fireworks! The Generals will be giving away t-shirts, and one lucky fan will win a trip to Wizard World Comic Con in Nashville. Jackson's special Superhero jerseys will be auctioned off, with proceeds going to Ashley Furniture's A Hope to Dream Foundation.
The final Fireworks Show of the year is August 26! Jackson's annual SEC Night with Postgame Fireworks is sponsored by WBBJ and Jackson Sports & Fitness. The Generals will be giving away tickets to a number of SEC Football games throughout the night. Early arrivers will take home a trucker hat, and the Memphis Grizzlies Caravan will be at the game with former Kentucky Wildcat and current Grizzlies player Andrew Harrison!
Make sure to get your tickets now to see the 20th season of professional baseball in Jackson, and the first for the team as an affiliate of the Arizona Diamondbacks! Call the team at (731) 988.5299, stop by The Ballpark or go online to JacksonGeneralsBaseball.com to secure your seats now!