Biscuits Unveil 2022 Promotional Schedule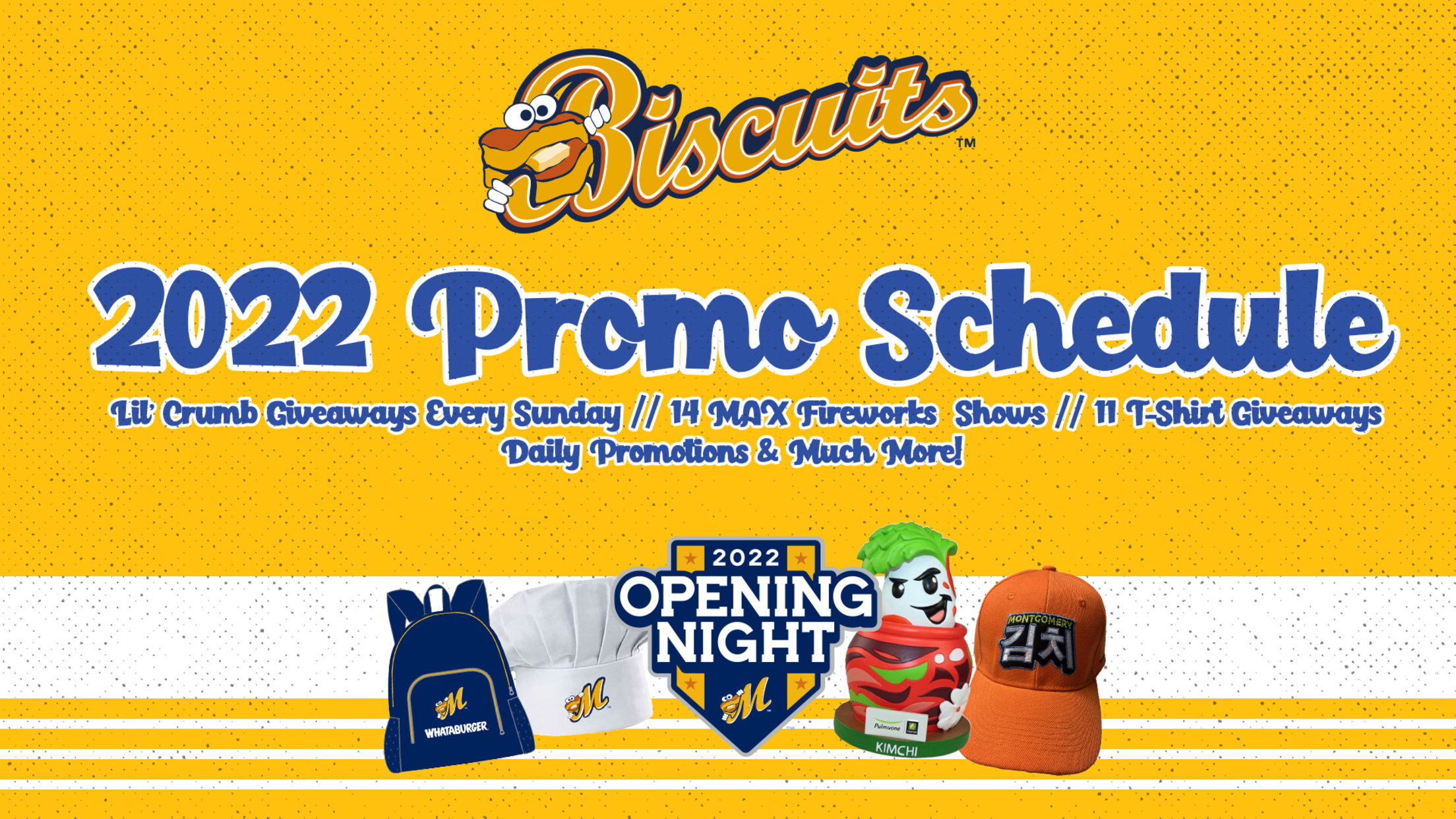 CLICK HERE TO VIEW FULL 2022 PROMO CALENDAR! Biscuit's baseball is set to return to Riverwalk Stadium on Tuesday, April 12th at 6:35pm with Opening Night featuring postgame MAX Fireworks! With the start of the season less than 40 days away, the Montgomery Biscuits are excited to announce the 2022
Biscuit's baseball is set to return to Riverwalk Stadium on Tuesday, April 12th at 6:35pm with Opening Night featuring postgame MAX Fireworks! With the start of the season less than 40 days away, the Montgomery Biscuits are excited to announce the 2022 promotional calendar featuring 29 giveaways, 14 MAX Fireworks shows, 12 Themed weekends, 11 t-shirt nights, and 5 specialty jerseys!
"We are ecstatic to get back to a full season of Biscuits Baseball in 2022!" said general manager, Mike Murphy. "We have worked hard this off-season to build a promotional schedule for our fans that will keep the excitement level high for all 69 home games from April through September."
New to 2022, each homestand will feature a themed weekend. Along with the nightly promotion, each Thursday through Sunday will feature a common theme. Themes include Foodie Weekend, Movie Weekend, Baking Weekend, 80's Weekend, Alabama Weekend and much more.
The promotional theme nights are highlighted by the return of the Montgomery Kimchi with a cap giveaway on April 29th and Kimchi bobblehead on July 8th presented by Pulmuone. The highlights continue with Marvel's Defenders of the Diamond Night on May 7th featuring Captain America themed jerseys, Star Wars Night on September 3rd, and two "Fan vs Food" Challenge nights on April 30th and June 25th.
"When creating these promotions we do not look at the season as one event but rather work to create 69 individual events." said Murphy. "The addition of theme weekends does not change this mindset, but rather gives us the ability streamline our messaging to our fans so they are always informed of what is going on at the ballpark."
The 2022 season will once again include consistent "Day of Week" promotions with some added flare. Tuesdays will once again focus on the Golden Biscuits Club with a special Early Bird all you can eat night on Tuesday May 3rd. Wow! Military Wednesdays will still feature food specials for active and retired Military members, as well as a new Craft Beer special with select brewery "tap takeovers" planned for each Wednesday night. Themed Weekends will kickoff each Thursday Night with a t-shirt giveaway for fans 15 and up along with revamped Thirsty Thursday half priced drink specials. Friday nights at the ballpark will feature an array of giveaway items for fans of all ages as well as in-game Ladies Night promotions. The always popular MAX Fireworks shows will highlight each Saturday Night of the Themed Weekends as well as Opening Night and July 4th! Family Funday Sundays will wrap each Themed Weekend with a youth giveaway, Lil' Crumbs Kids Club specials, and Bark in the Park, all beginning with the Vance Law Firm 3:33pm first pitch.
The 2022 AA-South season will begin on Friday, April 8th with the Biscuits visiting the Mississippi Braves, before returning to Montgomery's Riverwalk Stadium for the home opener on Tuesday, April 12th against the Tennessee Smokies. Single game tickets are available now along with season tickets, mini-plans, and group ticket offerings. For more information and to order your tickets visit BiscuitsBaseball.com or call the Biscuits front office at 334-323-BALL. For a full promotional calendar visit BiscuitsBaseball.com.