Bisons unveil 2021 playing schedule, Opening Day set for May 4 at Sahlen Field
Ticket availability to be announced at a later date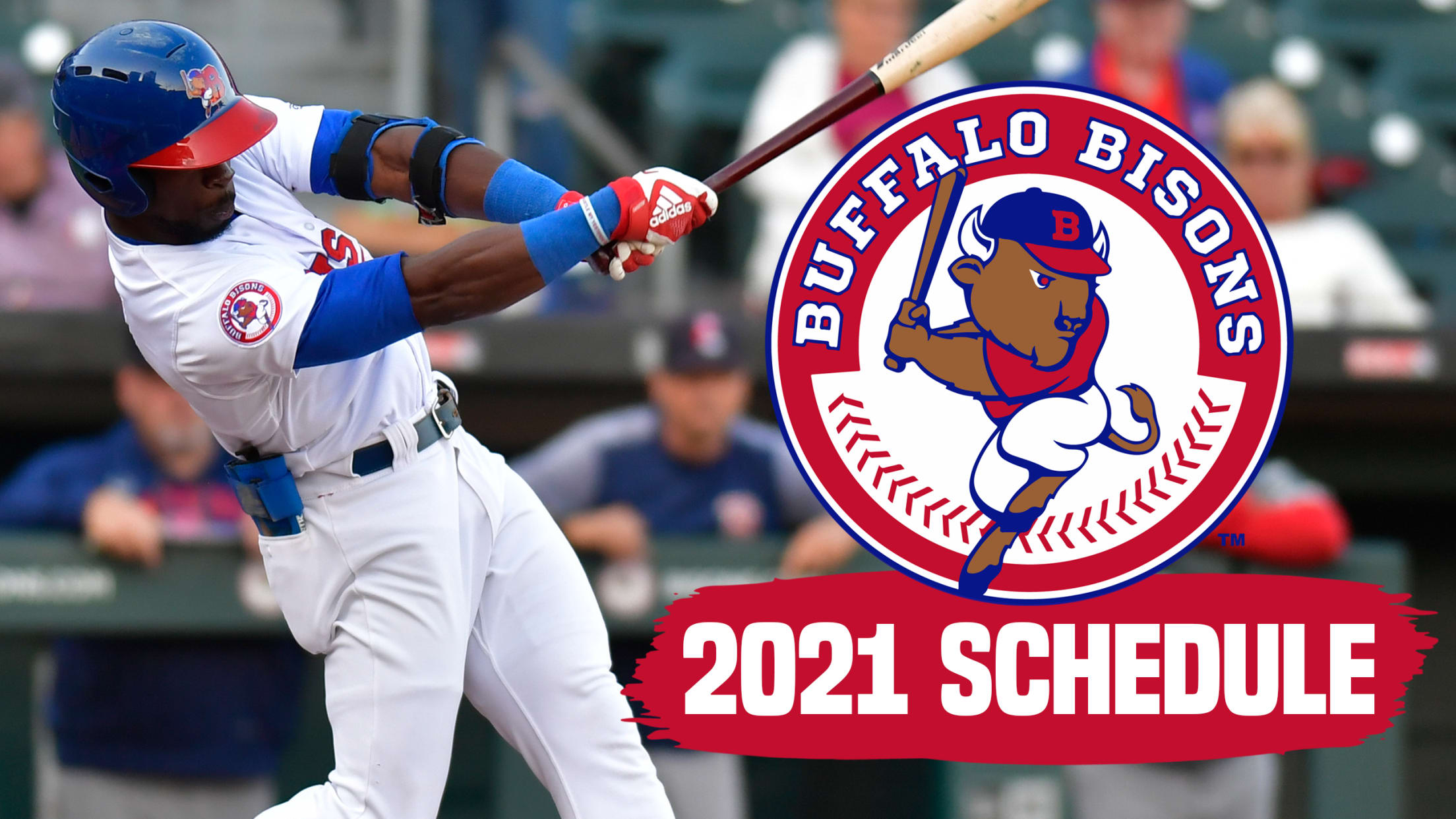 This story has been updated to reflect MLB's decision on March 2 to delay the start of the Triple-A season. The Bisons are now tentatively scheduled to open their season on May 4 against the Worcester Red Sox at Sahlen Field. A revised schedule will be revealed soon. The start
This story has been updated to reflect MLB's decision on March 2 to delay the start of the Triple-A season. The Bisons are now tentatively scheduled to open their season on May 4 against the Worcester Red Sox at Sahlen Field. A revised schedule will be revealed soon.
The start of the 136th season of Bisons baseball in Buffalo, Opening Day for the 2021 season is now set for Tuesday, May 4 as the Bisons host the Worcester Red Sox at Sahlen Field. Due to the ongoing pandemic and with the emphasis on player/staff health and wellness, all homestands and roadtrips during the 2021 season will include one opponent and be six games in length (lone exception is during shortened All-Star Game week).
At this time, no season tickets, ticket packages, individual tickets or group hospitality areas are available for purchase for the 2021 Bisons season. An announcement of ticket availability, ballpark capacity and additional ballpark safety and operational procedures will be made at a later date. Fans can visit this Bisons.com Ticketing Page for answers to some of the 2021 ticketing questions they may have. At this time, Sahlen Field and the Sahlen Field Box Office remain closed.
About the 2021 Schedule -to be updated soon!
The Bisons 2021 schedule is exclusively comprised of games against Northeast Division foes, the Rochester Red Wings, the Syracuse Mets, the Scranton/Wilkes-Barre RailRiders, the Worcester Red Sox and the Lehigh Valley IronPigs. The Bisons will make their first ever trip to Worcester on Tuesday, May 18, marking the club's first game in the state of Massachusetts since defeating the Pawtucket Red Sox at 'The Futures of Fenway' game 2-0 on August 18, 2012.
The schedule will include 12 home series, 11 of which are six games in length with a four-game set against Lehigh Valley, July 15-18, shortened because of All-Star Week. On three occasions the Herd will have back-to-back home series, including a 12-game stretch against Worcester and Rochester, May 4-16, a 12-game stretch against Syracuse and Scranton/Wilkes-Barre, June 1-13, and a 10-game stretch against Lehigh Valley and Syracuse, July 15-25.
The Bisons will have 33 weekend dates (Fri.-Sun.), accounting for almost half (47%) of their 70-game home schedule. A total of 24 of those weekend dates are in the summer months of June-September.
With the inclusion of a universal off day throughout the season (Mondays), the Bisons 142-game regular season will extend two weeks longer than in previous years. The team's final regular season game is scheduled for Sunday, September 19 in Rochester. Buffalo's final home game is set to be Sunday, September 12 against Syracuse.
The 2021 schedule is subject to change. Game times will be announced at a later date.