Bisons announce 2018 playing schedule
Opening Day at Coca-Cola Field set for April 12 vs. Indy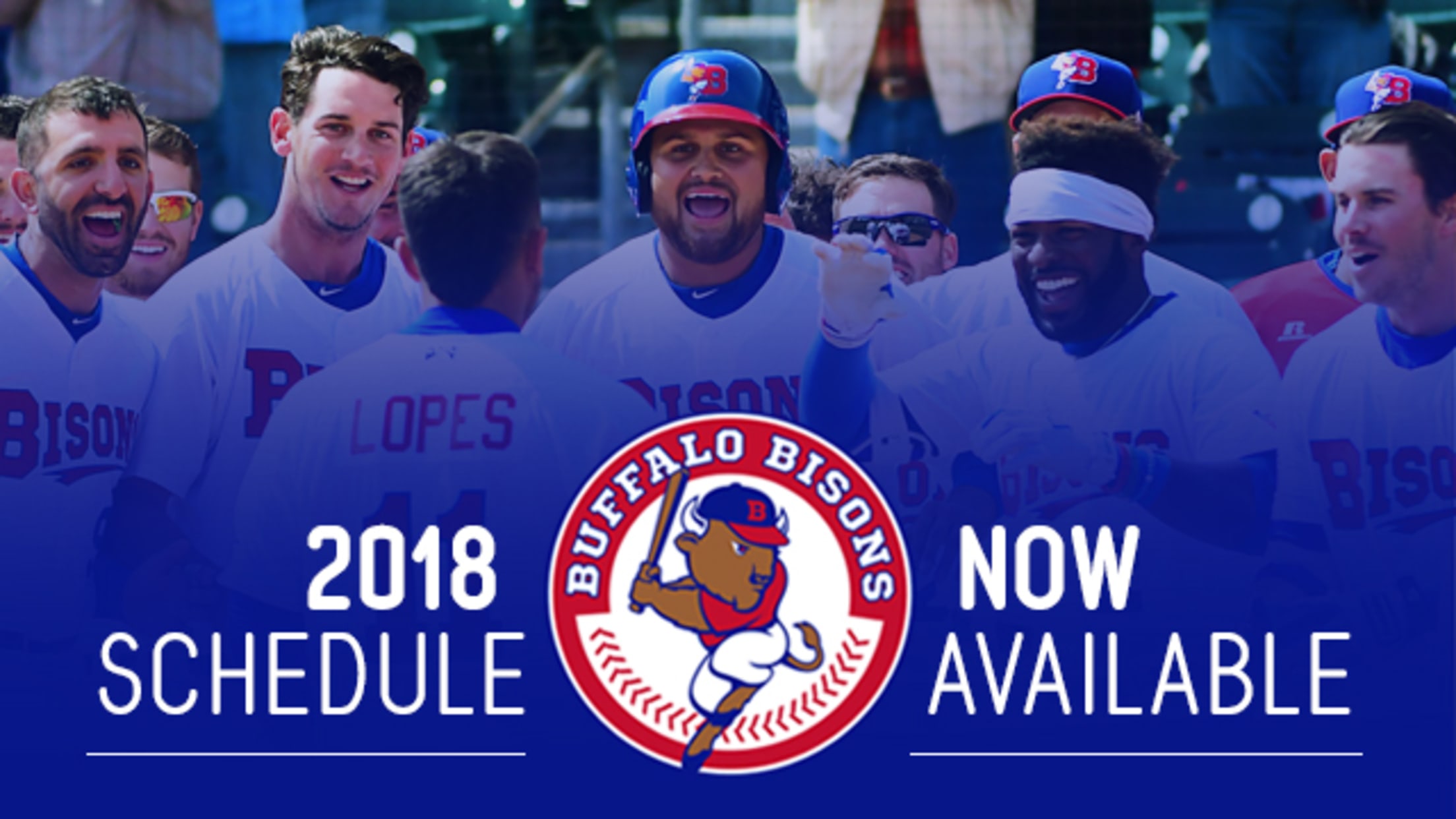 As Bisons' fans gear up for the final 10 home games of this summer at Coca-Cola Field, the team announced that more great events and exciting baseball action is right around the corner. The Bisons today revealed their 2018 playing schedule for the 31st season in downtown Buffalo.CLICK HERE to
As Bisons' fans gear up for the final 10 home games of this summer at Coca-Cola Field, the team announced that more great events and exciting baseball action is right around the corner. The Bisons today revealed their 2018 playing schedule for the 31st season in downtown Buffalo.
CLICK HERE to download a 2018 playing schedule PDF.
The Bisons will begin the 2018 season on the road in Rochester before returning for the 31st Home Opener at Coca-Cola Field, Thursday, April 12, 2018 against the Indianapolis Indians. All game times are to be announced.
"It's never easy to say good bye to baseball and all those fun summer nights at the ballpark at the end of one season. But knowing that another amazing year of Bisons baseball at Coca-Cola Field is on the horizon helps all of us stay warm and excited during those cold offseason days," said Mike Buczkowski, Vice President/General Manager of the Bisons. "With our schedule now in place, our team can get to work planning yet another fun-filled season of great sports and family entertainment at the ballpark."
The Bisons also announced the 2018 dates for many of their fan-favorite events. Along with the Home Opener, fans can plan for the return of School Kid Day game on Thursday, May 31 against Columbus. Now in its 11th year, Star Wars Night returns on Saturday, June 2 as the Herd hosts Charlotte. The 24th Annual KeyBank Independence Eve Celebration will be Tuesday, July 3 against Scranton/Wilkes-Barre and Superhero Night 2018 is also set for Saturday, August 11 against Toledo.
The 2018 season will end with Fan Appreciation Night on Monday, August 27 against Pawtucket. The Bisons will announce additional details on these events as well as their entire 2018 promotional schedule during the offseason.
2018 Schedule Details
The 2018 Bisons schedule will have only 10 April home games in 2018, a decrease of four from this past Spring. The slate of games will feature 33 home dates on either a Friday, a Saturday or a Sunday, nearly half (47%) of the team's 70-game home schedule. The club also has 43 home games from June-August, a game increase from the team's 2017 schedule.
In 2018, the International League has reduced the number of games for all teams from 142 down to 140. It's the second straight year the IL has reduced the schedule by removing one road game and one home game from all teams. No further schedule decreases are planned.
Great Baseball remains in 2017 - 10 HOME GAMES LEFT
The Bisons are back at Coca-Cola Field tonight as they celebrate Polish Festival Night at the ballpark, with a pregame Pavilion Party (5-7pm) and postgame fireworks, presented by Unyts. Buffalo takes on Indianapolis at 7:05 p.m.
The Bisons are home through Sunday, with marquee events such as Mystery Ball Night (August 16), presented by Keller Chevrolet, the final Honda fridaynightbash!® with Resurgence Brewing Happy Hour (August 18) and Superhero Night with over 50 characters from the WNY Superhero Alliance, presented by NCCC (August 19). Buffalo then returns home for the final homestand of the season, August 28-31, which includes their 30th Season Celebration Game (August 30), presented by Tops Friendly Markets, and Fan Appreciation Night, compliments of Aesthetic Associates (August 31).
CLICK HERE FOR 2017 TICKETS