WATCH: Bisons' Malacaro catches up with Patrick Kivlehan, Andy Burns
Find out what two fan-favorites have been doing while at home.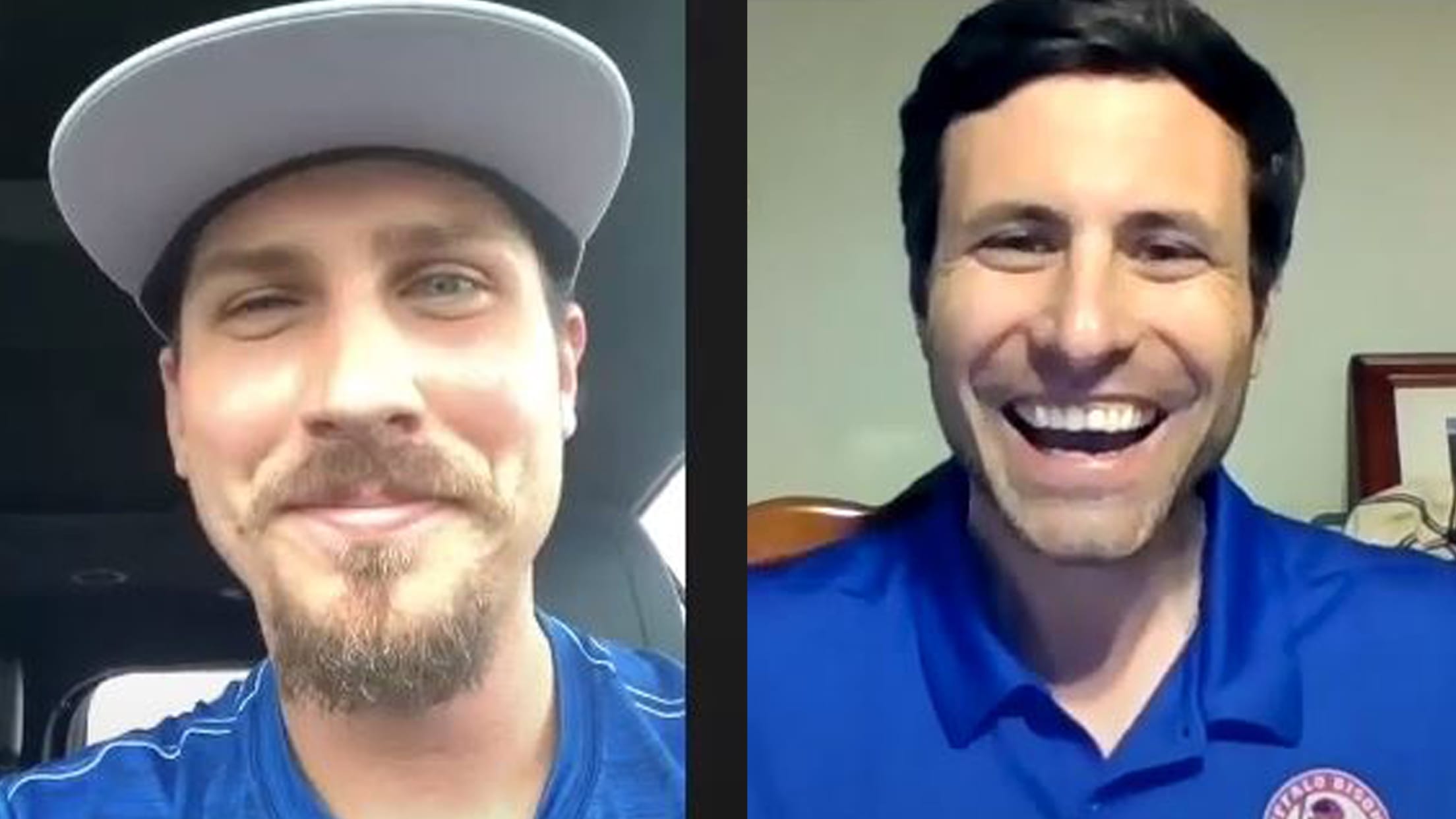 We know one of the biggest questions on the mind of Bisons' fans is: what have the players been up to the last two months? That's why we used technology and video chatted with Patrick Kivlehan and Andy Bruns, two of the catalysts of the Bisons 2019 offensive surge that
'Mystery Boxes' return, Youth, Adult options available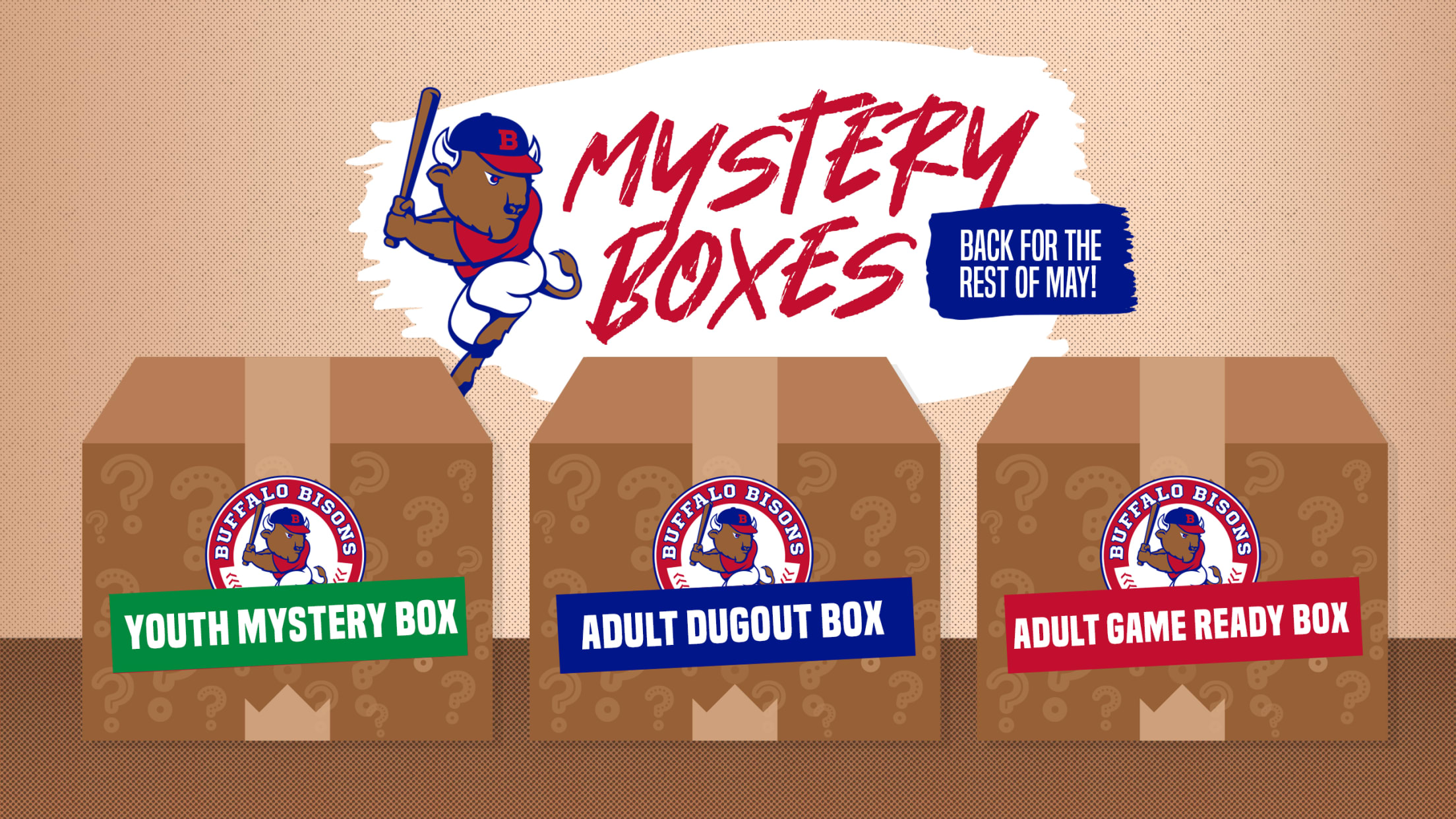 These days, we're having to do a lot of our shopping from home... and then it's just waiting for what we've ordered to arrive. Why not add a little mystery to what will be in that next box that arrives at your door? The Bisons are putting their popular 'Mystery
Sale of Camo T-Shirts to benefit VA's 'Homeless Veterans Program'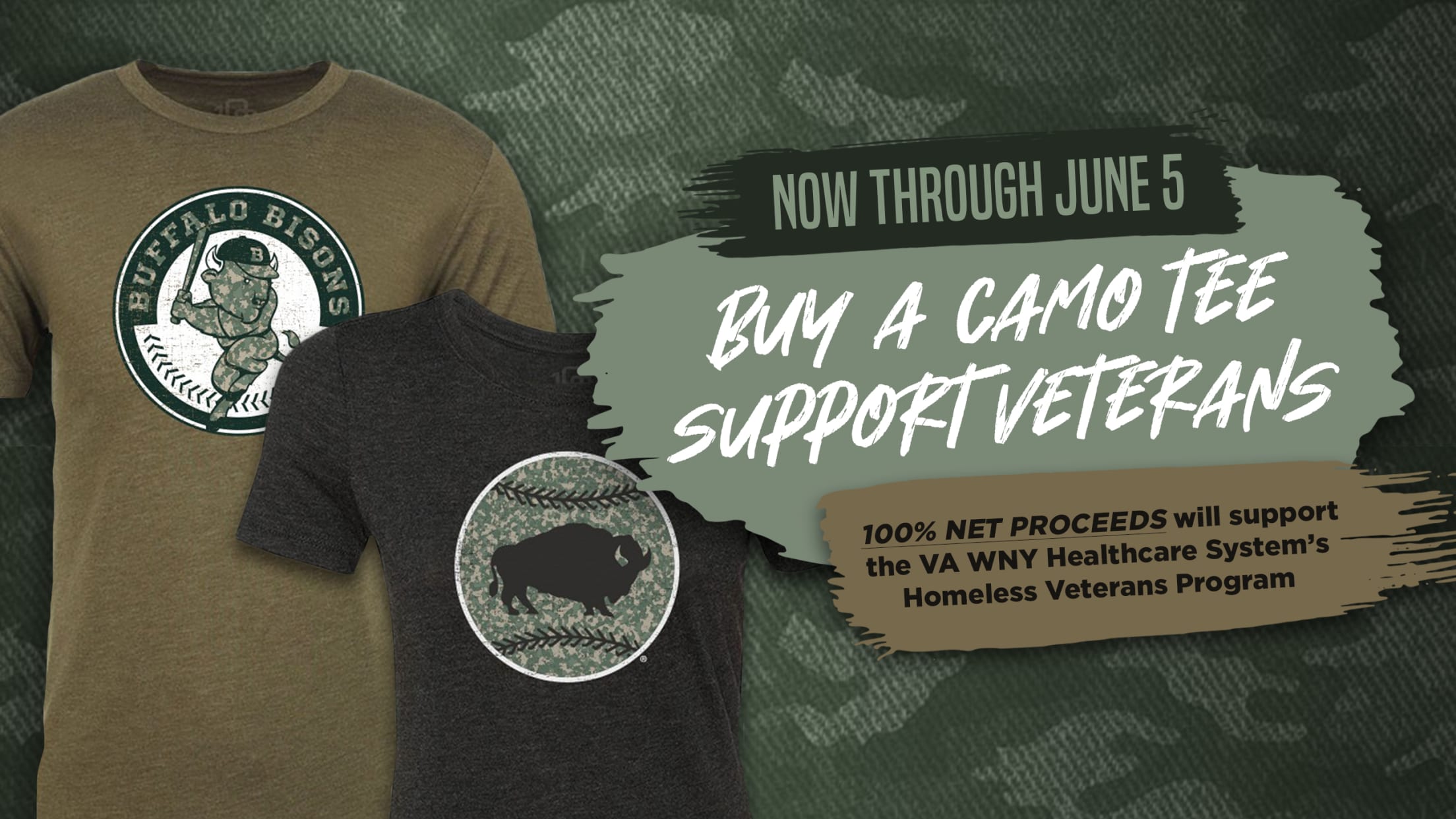 The Buffalo Bisons have partnered with the VA Western New York Heathcare System to help some of our brave servicemen and women who need it the most. The team is currently taking pre-orders for all new Men's and Women's Camo T-Shirts with 100% of the net proceeds to be donated
Buffalo Bisons Charitable Foundation donates $20,000 to City of Buffalo's COVID-19 initiatives
Donation provides meals to City's Public Works employees, supports Evergreen Food Pantry and sponsors reading program.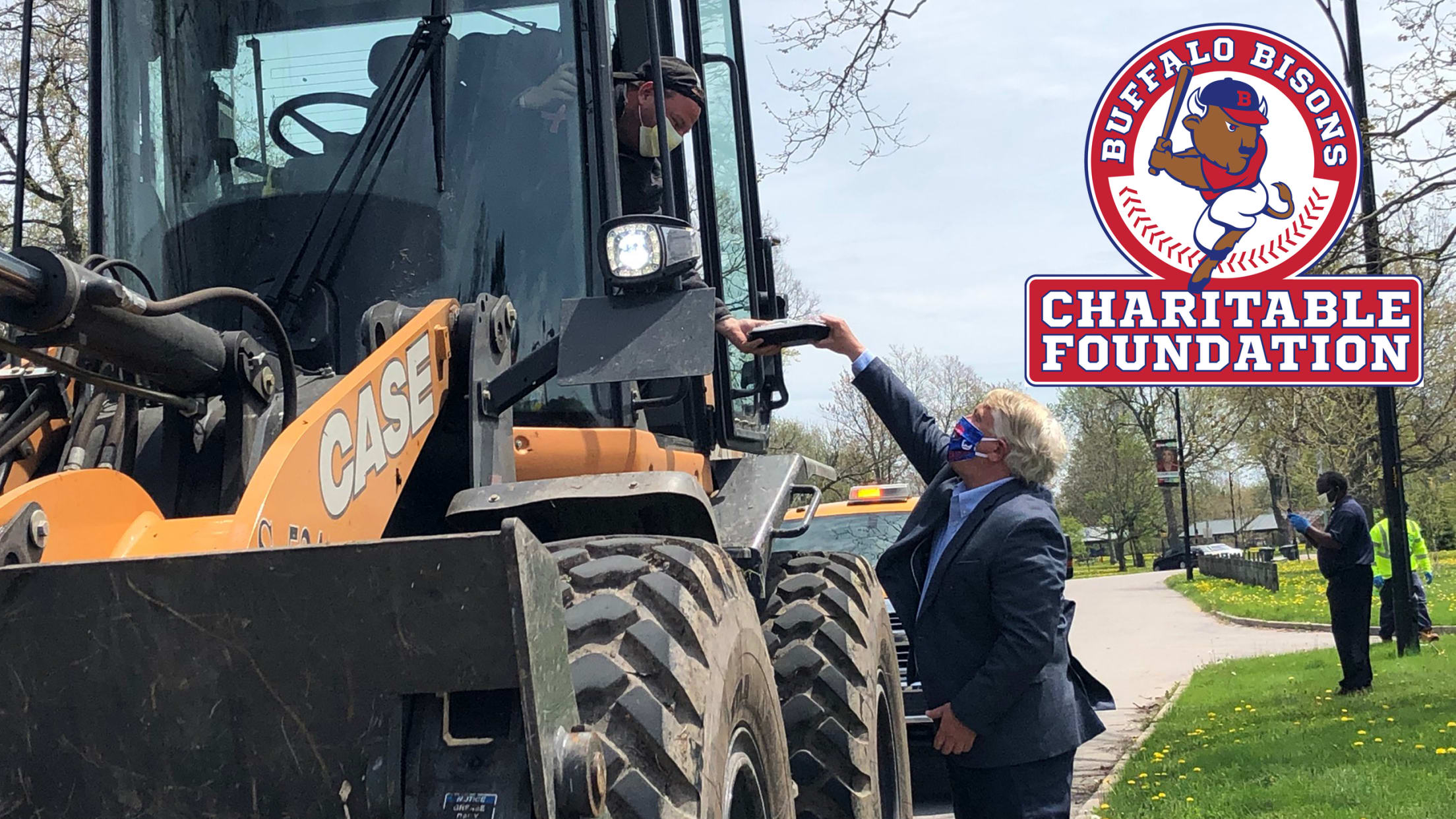 Mayor Byron W. Brown today thanked the City of Buffalo's hometown baseball team, the Buffalo Bisons, for donating $20,000 to assist the community during the COVID-19 emergency. The donation will provide funding to Evergreen Health for its food pantry and support a new COVID-19 testing site in one of the
Order some 'Buffalo Wings' and give to Charity
Net sales of Celery's book, Buffalo Wings gear to benefit Buffalo Bisons Charitable Foundation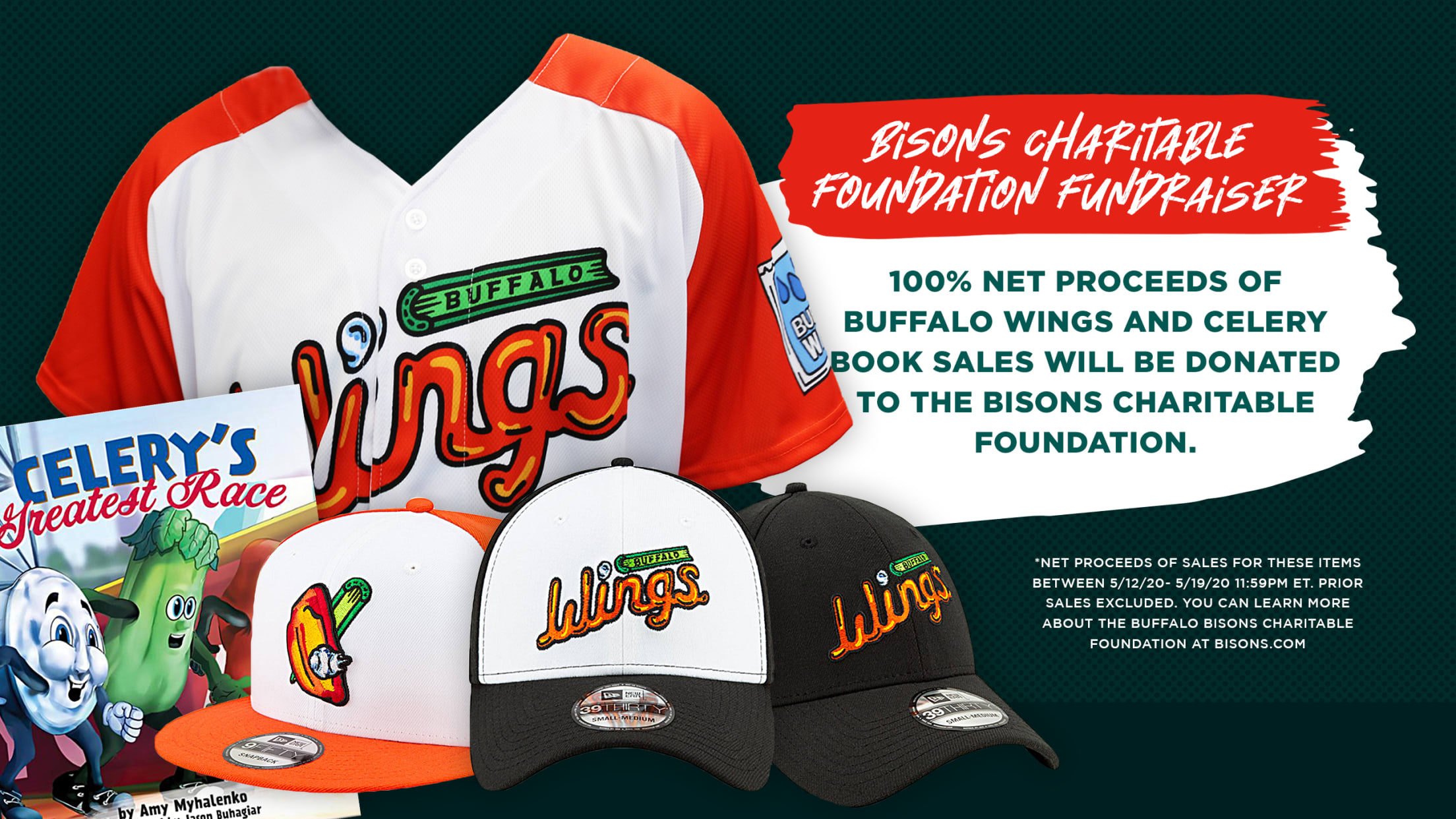 We've got a great combo for you. Some great 'Buffalo Wings' gear that also includes a charitable donation?... Order's Up!!! After making Buffalo Face Masks available for pre-order, we want to add another great way for Bisons fans to get some great new gear while also donating to the Buffalo
PRE-ORDER: Bisons' Face Masks for Adults, Youth
100% Net Proceeds of sales to benefit Buffalo Bisons Charitable Foundation
Show your love for the Herd while staying safe and supporting some great local causes. The Bisons are now taking pre-orders for Team-Branded Cotton Face Masks for only $10.00 in the Bisons.com Online Shop with 100% of the net proceeds benefiting the Buffalo Bisons Charitable Foundation.
PRE ORDER Your Bisons
Power Alley Podcast: Ryan Feierabend on pitching in Taiwan
Lefty Knuckleballer talks about pitching in front of empty stadiums and baseball overseas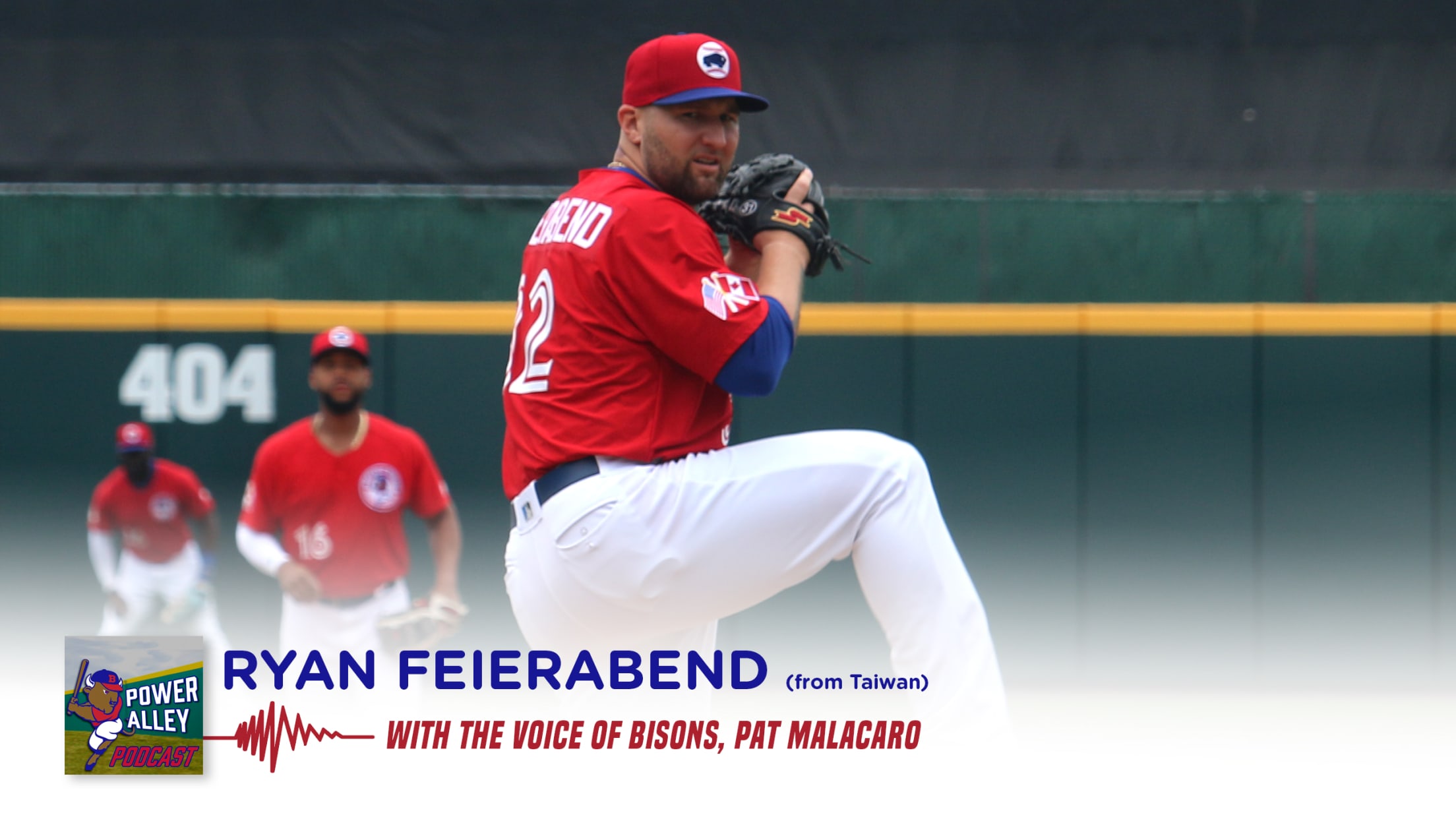 On the latest episode of the Power Alley Podcast, Pat Malacaro checks in with Ryan Feierabend. The lefty knuckleball pitcher signed with the Uni-President Lions in February and has been pitching in Taiwan in the CPBL since the start of their season.
LISTEN: Power Alley Podcast with Ryan Feierabend Feierabend
Bisons Mother's Day Sale includes 25% OFF
Receive a personalized Mother's Day ECard with purchase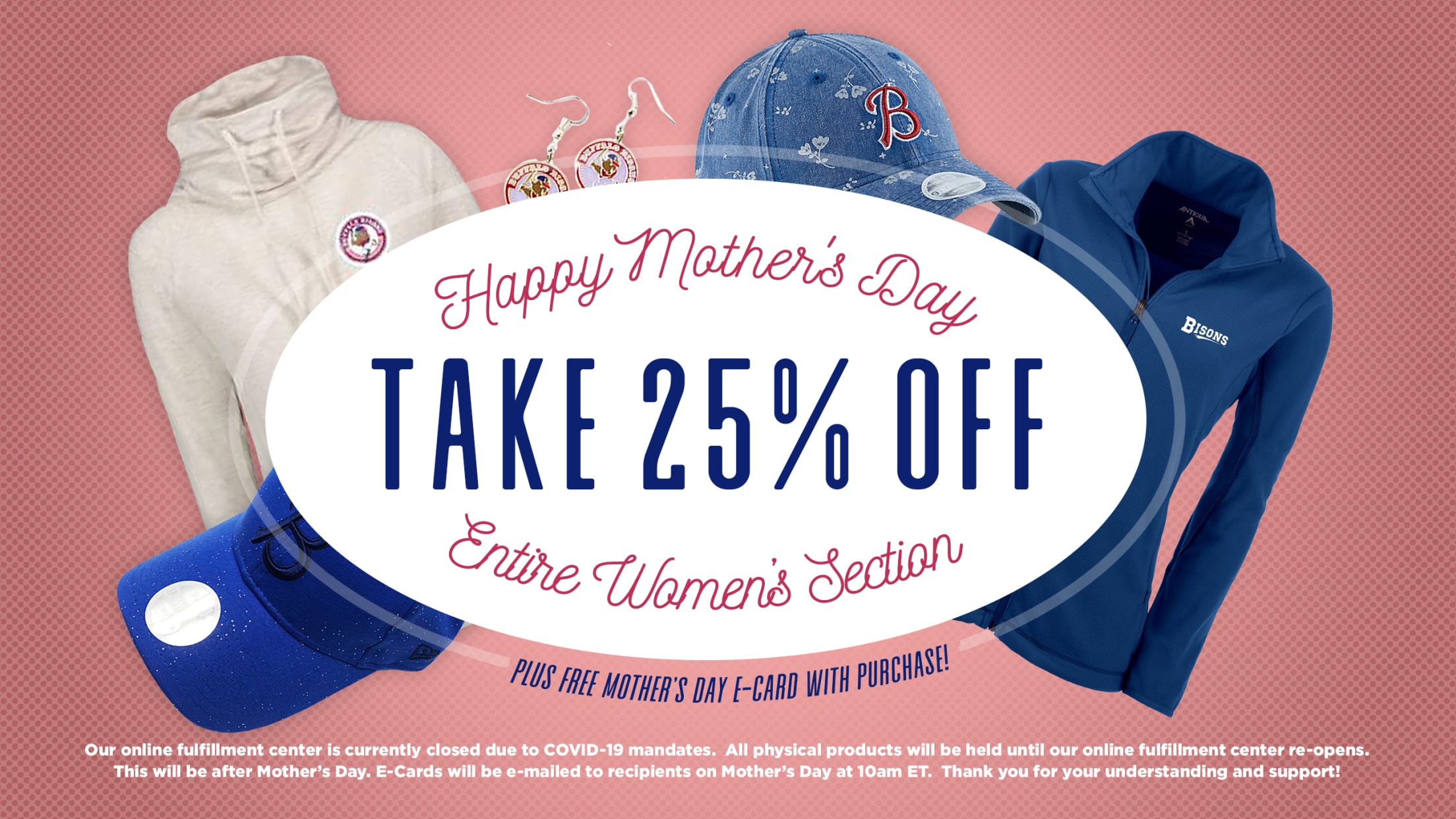 Moms were already superheroes, but this year more than ever we need to show them how much we appreciate all they do for us! Bisons.com is holding a very special Mother's Day Sale that not only includes a great discount on some awesome apparel that mom will love, but also
Nominate a 'Community All-Star' to be recognized by the Bisons
Help us build our own 'All-Star Team' of individuals sacrificing for our community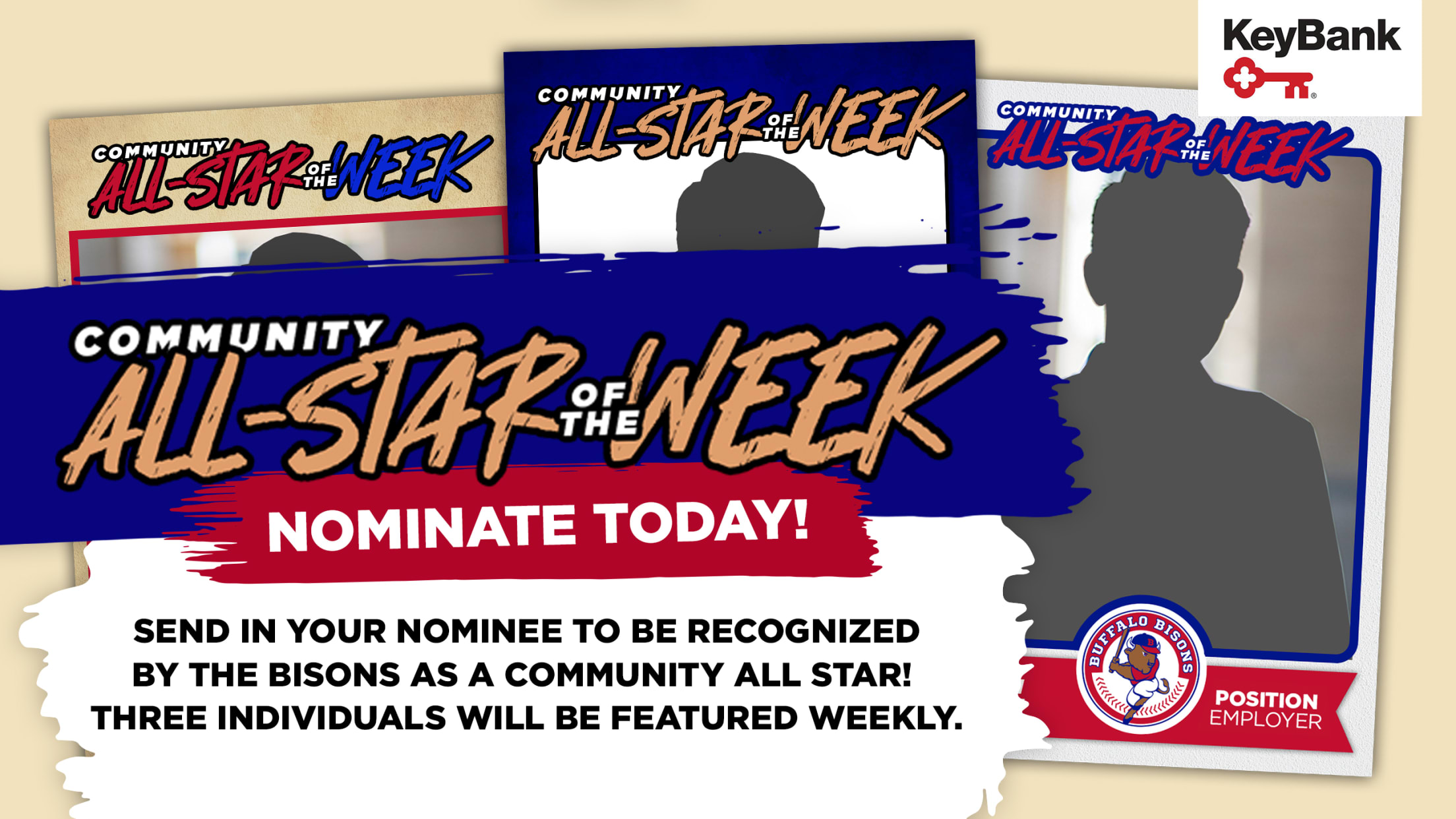 There may not be baseball yet this season, but when it does come time to gather once again at Sahlen Field to cheer on the Bisons, it will be because of another group of All-Stars... our Community All-Stars. The Doctors, the Nurses, the Public Servants, the Teachers, the Grocers, Fire/Police/EMS...
UPDATED: 5.26: Bisons to face IL foes in MLB The Show 20 championship tournament
Malacaro trades mic for controller to represent the Herd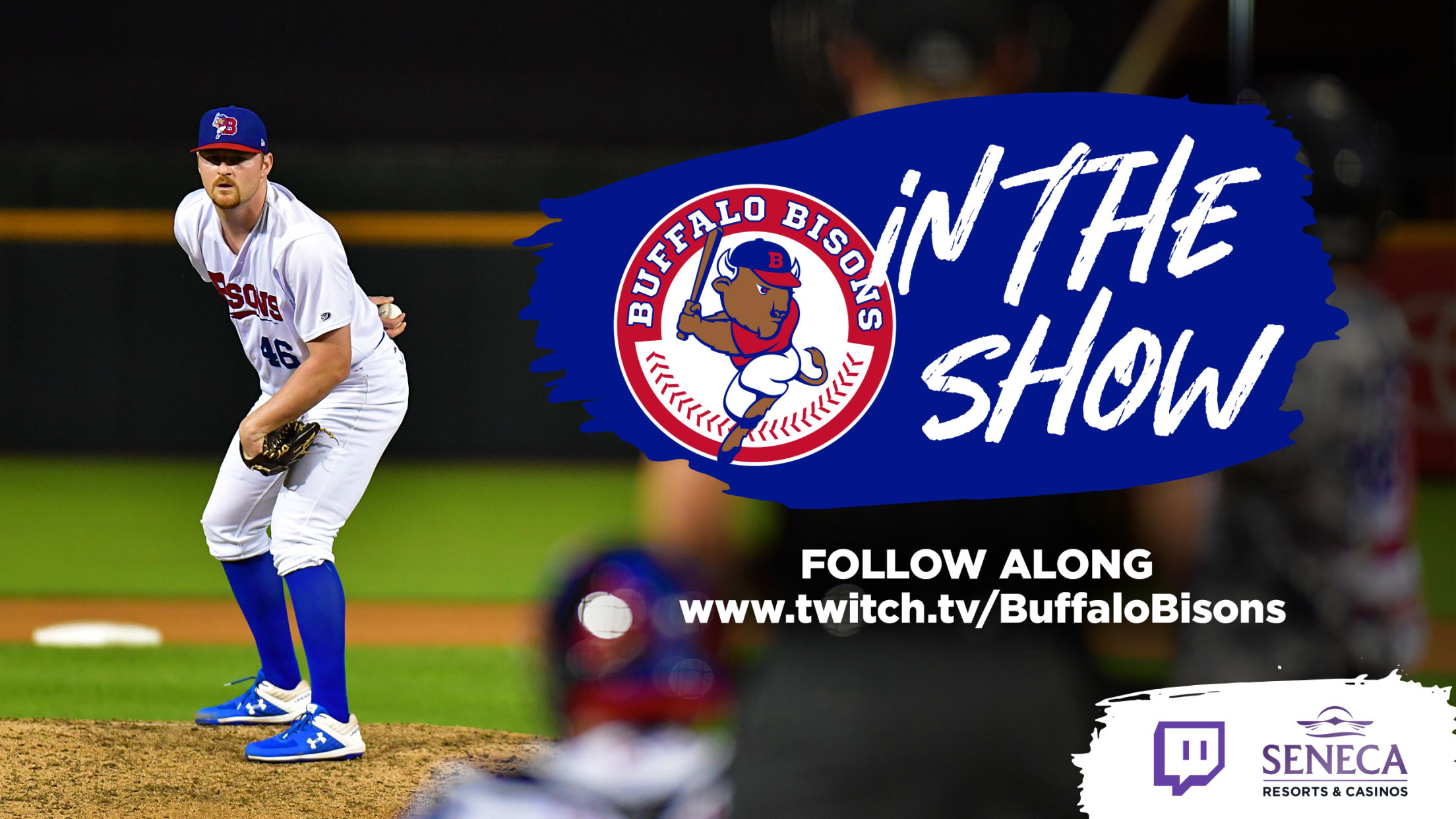 As the 2020 season remains on hold, the Buffalo Bisons are joining with several other International League teams to take part in an eSports tournament featuring MLB The Show 20 on PS4, presented by Seneca Resorts and Casinos…Nothing else comes close. Each team will play a series of three games
Bisons broadcasters come together to share memories
Hear stories from nearly 4 decades of Bisons games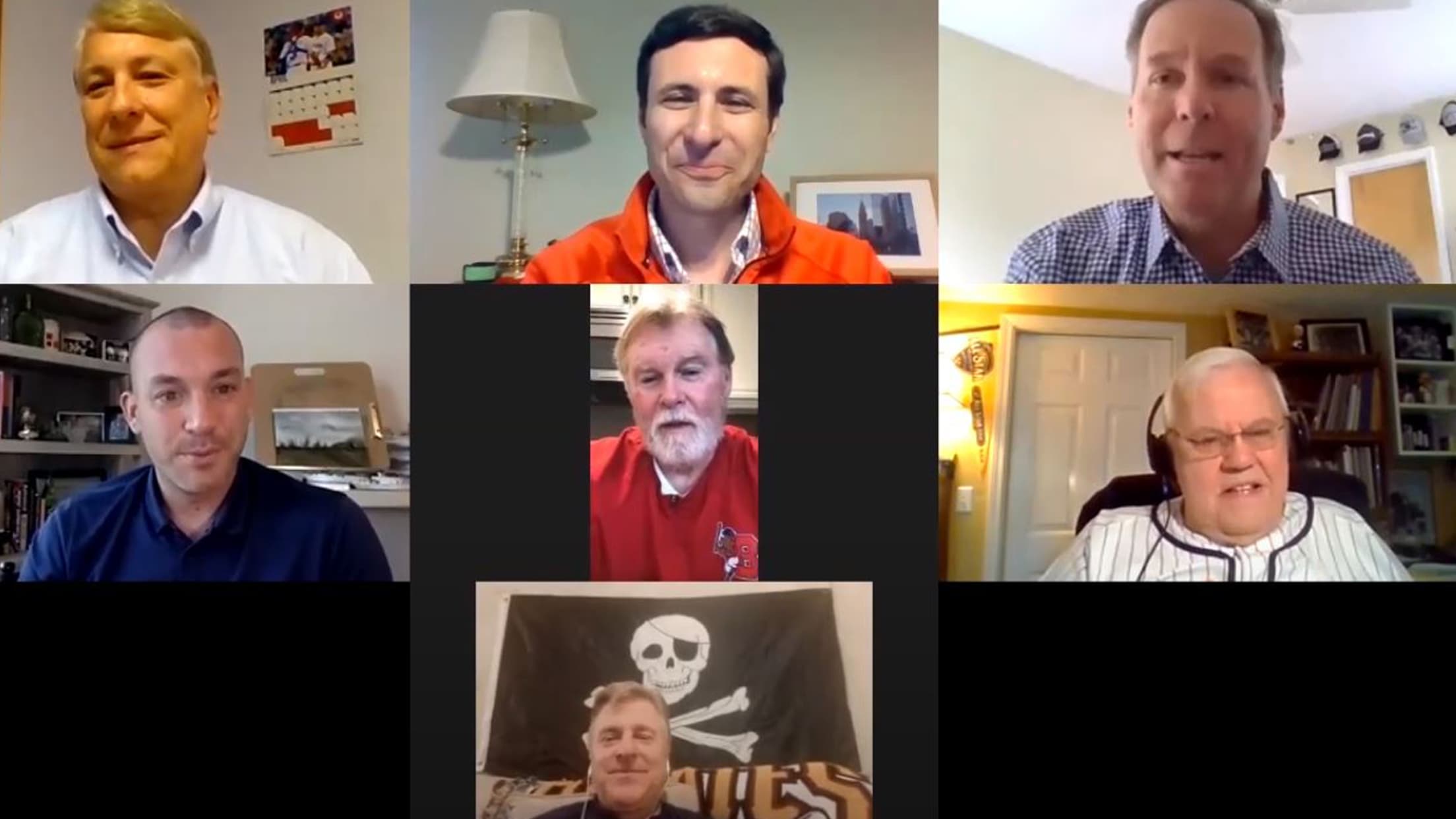 With the 2020 season still on hold, the Buffalo Bisons brought together several of the familiar voices from the team's modern era to reminisce about their time in Buffalo both on the air and off. Mike Buczkowski, President of Rich Baseball Operations, hosted the conversation that included all four 'Voices
Take a look back at 'Opening Day at Home'
Bisons fans celebrated Opening Day with the team on social media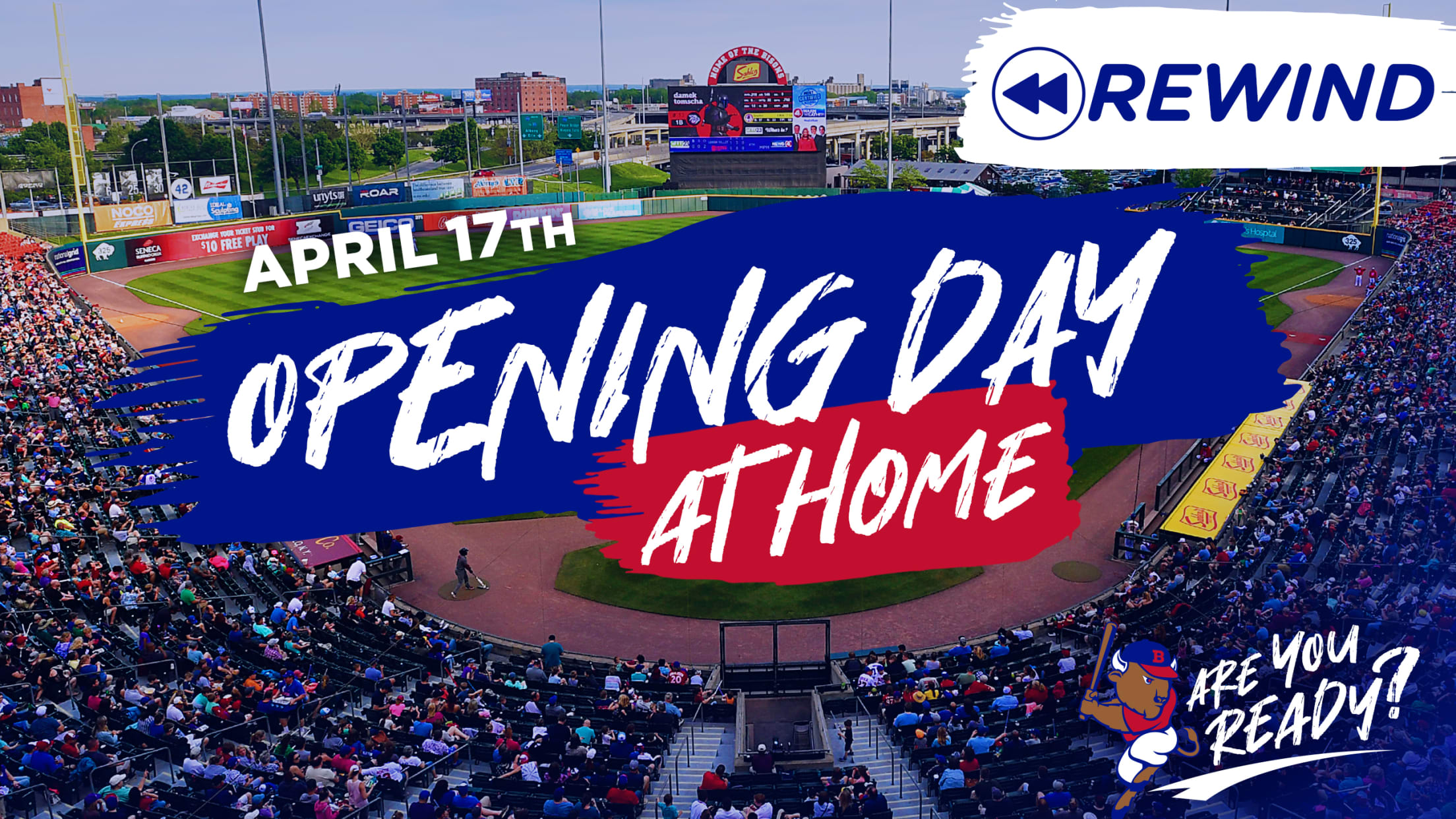 There's nothing quite like the feeling of returning to Sahlen Field for Opening Day of a new season. And while the unprecedented events of the last few months have forced the ballpark's gates to remain closed, that didn't stop the Bisons and their great fans from celebrating the greatest holiday
Bisons to celebrate 'Opening Day at Home' on April 17 on social media channels
Herd to stream 2019 Opener, encourage fans to host their own 'Opening Day' ceremonies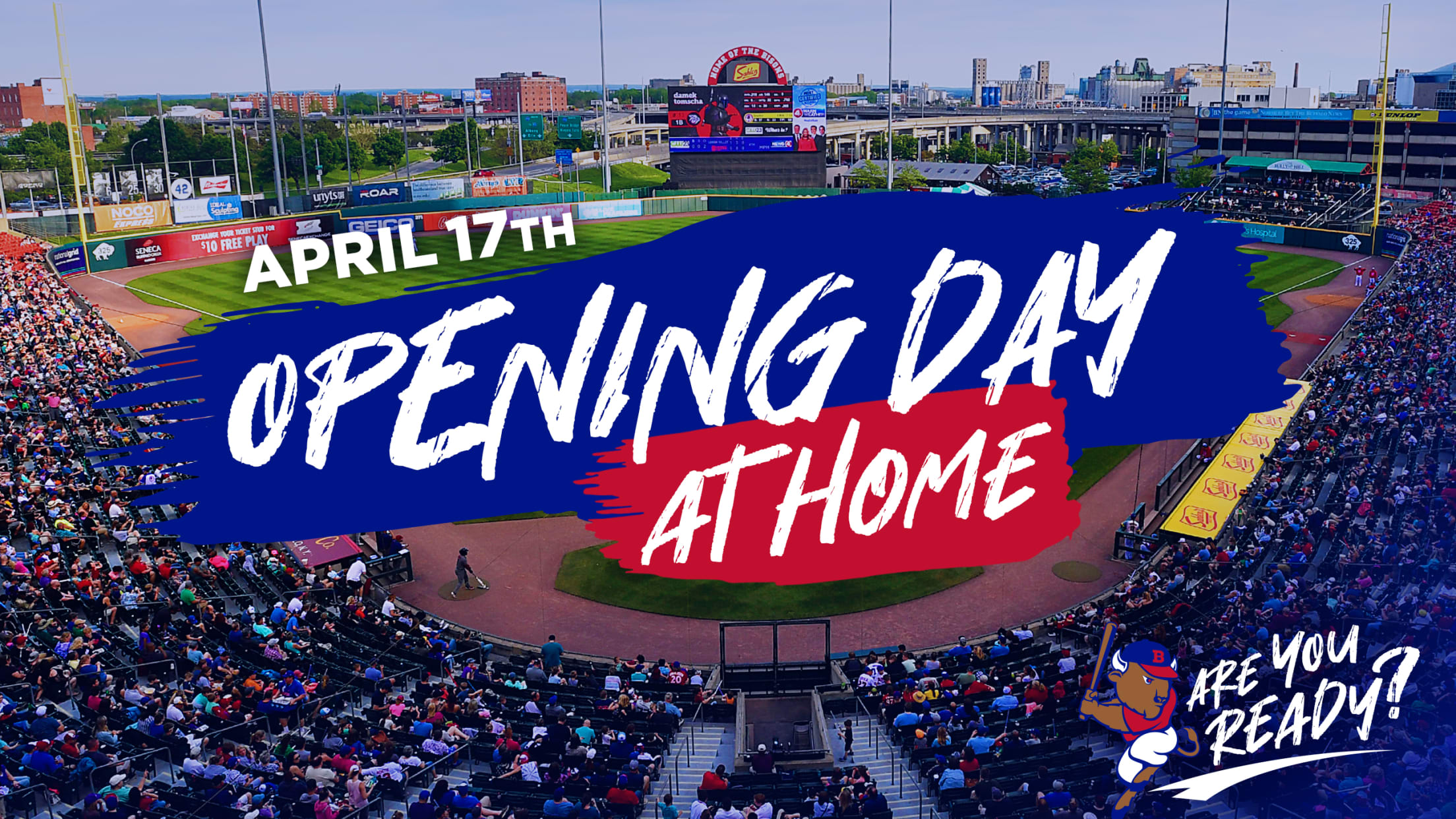 Even though the 2020 season at Sahlen Field will be delayed, the Buffalo Bisons are still encouraging their fans to celebrate with them the greatest holiday in all of sports with a special 'Opening Day at Home' on Friday, April 17. Throughout the day that was supposed to start the
All 2019 Bisons games FREE on MiLB.tv 
Get your baseball fix with over 6,500 minor leagues games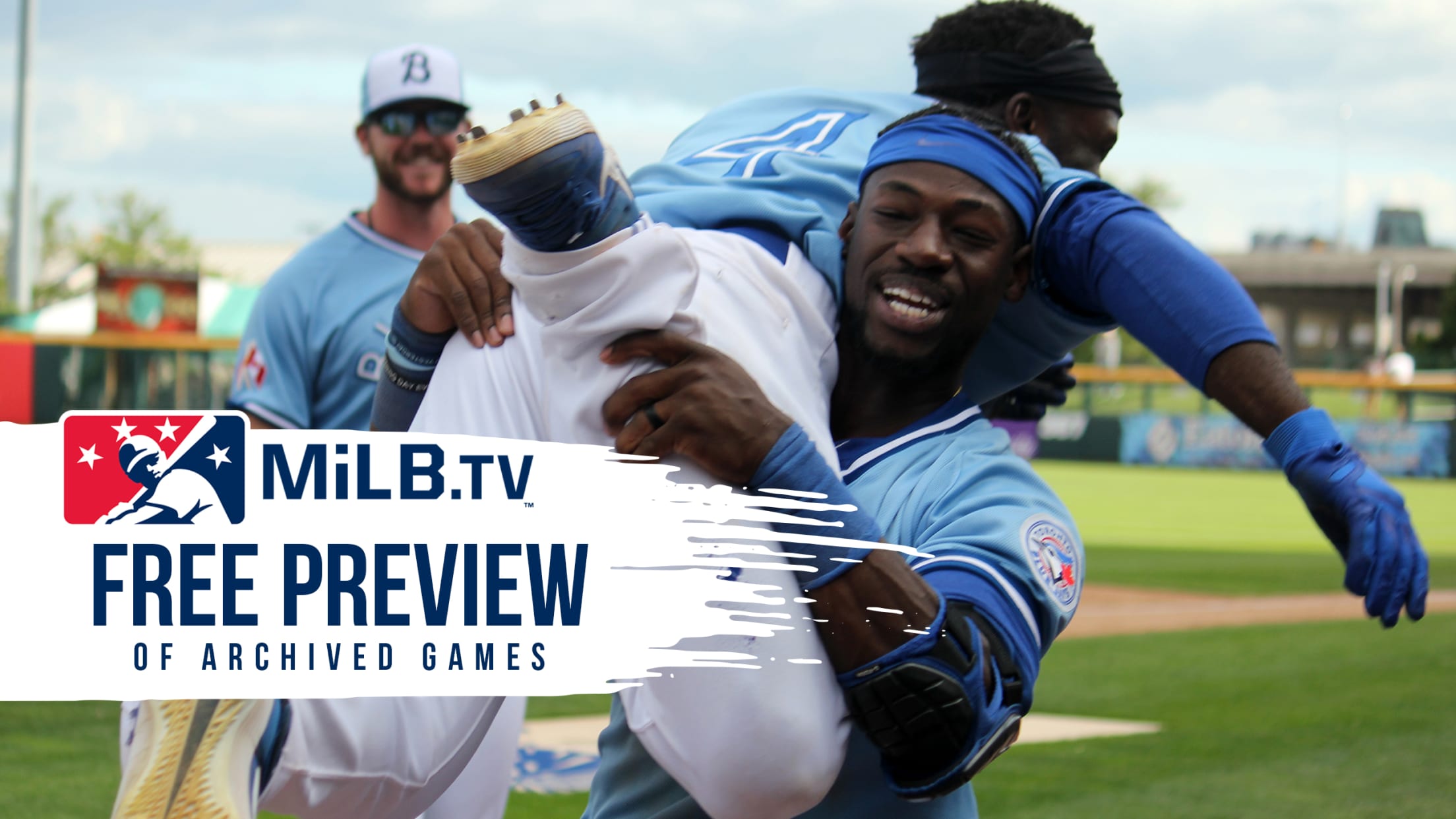 Just because ballparks around the country remains quiet for now, it doesn't mean you can't get your baseball fix! Minor League Baseball has announced that they have made all 6,500 MiLB.tv games from last season available for FREE for fans to view from home. That includes all 2019 Buffalo Bisons
Sahlen Field to remain temporarily closed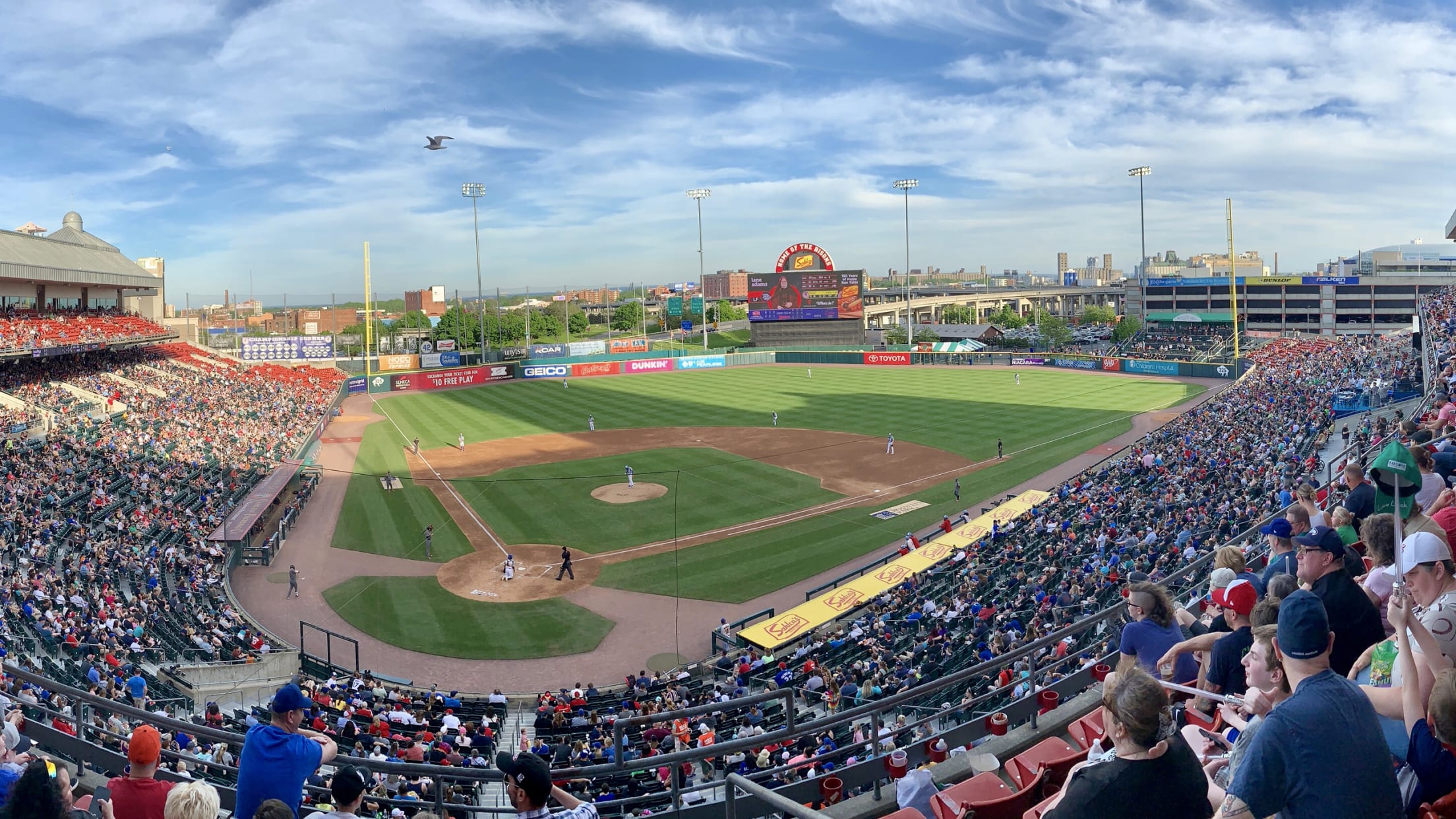 Bisons fans, Like you, we have been monitoring the coronavirus situation very closely and want to further communicate to you the following update from Sahlen Field. Effective starting Saturday, March 14, the Buffalo Bisons front office, ticket office, Consumer's Pub at the Park restaurant and the Batter's Box Gift Shop
Minor League Baseball delays the start of 2020 season
Statement from Minor League Baseball "In light of the current coronavirus outbreak, and after consultation with medical professionals and our partners at Major League Baseball, Minor League Baseball will delay the start of the 2020 Championship Season. We will continue to monitor the developments and will announce additional information about
All 2020 Single-Game Tickets on sale now!
Fans will pay no service fees, March 11-13
The greatest holiday in all of sports is just 39 days away. Opening Night at Sahlen Field will be a Honda fridaynightbash!® with fireworks on April 17 as the Buffalo Bisons host the Rochester Red Wings. Today, the team announced that all 2020 Single-Game Tickets will go on sale Wednesday,
Bisons to accept Canadian money 'at-par' for single-game tickets through May 3
Promotion good for any future single-game ticket purchased by May 3
For years, the Bisons baseball family has extended to the great fans of Southern Ontario and all of Canada and today the team is excited to announce that they will once again accept Canadian Money 'At Par' for the purchase of single-game tickets by Canadian residents through Sunday, May 3.
Kivlehan, Zeuch among 10 assigned to Blue Jays minor league camp
Toronto trims Major Leauge camp roster by 10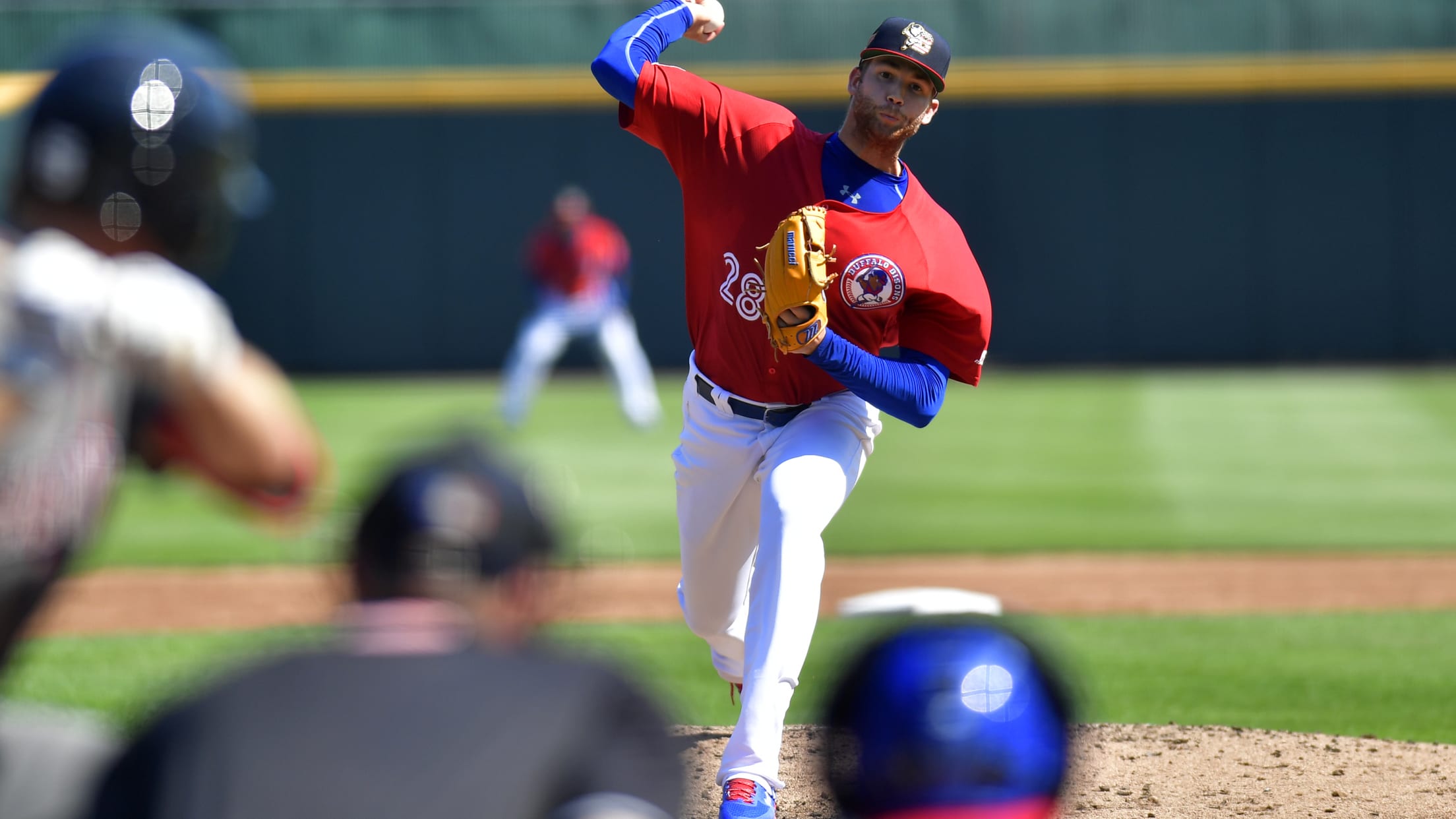 The Toronto Blue Jays trimmed their Major League spring roster by 10 players on Tuesday afternoon with a pair of 2019 Bisons being sent to the minor league side of camp. Reigning Bisons home run leader infielder Patrick Kivlehan was reassigned while RHP T.J. Zeuch was optioned by the big
UPDATE: March 14 Open Interviews CANCELED
Be a part of the Bisons ballpark team this season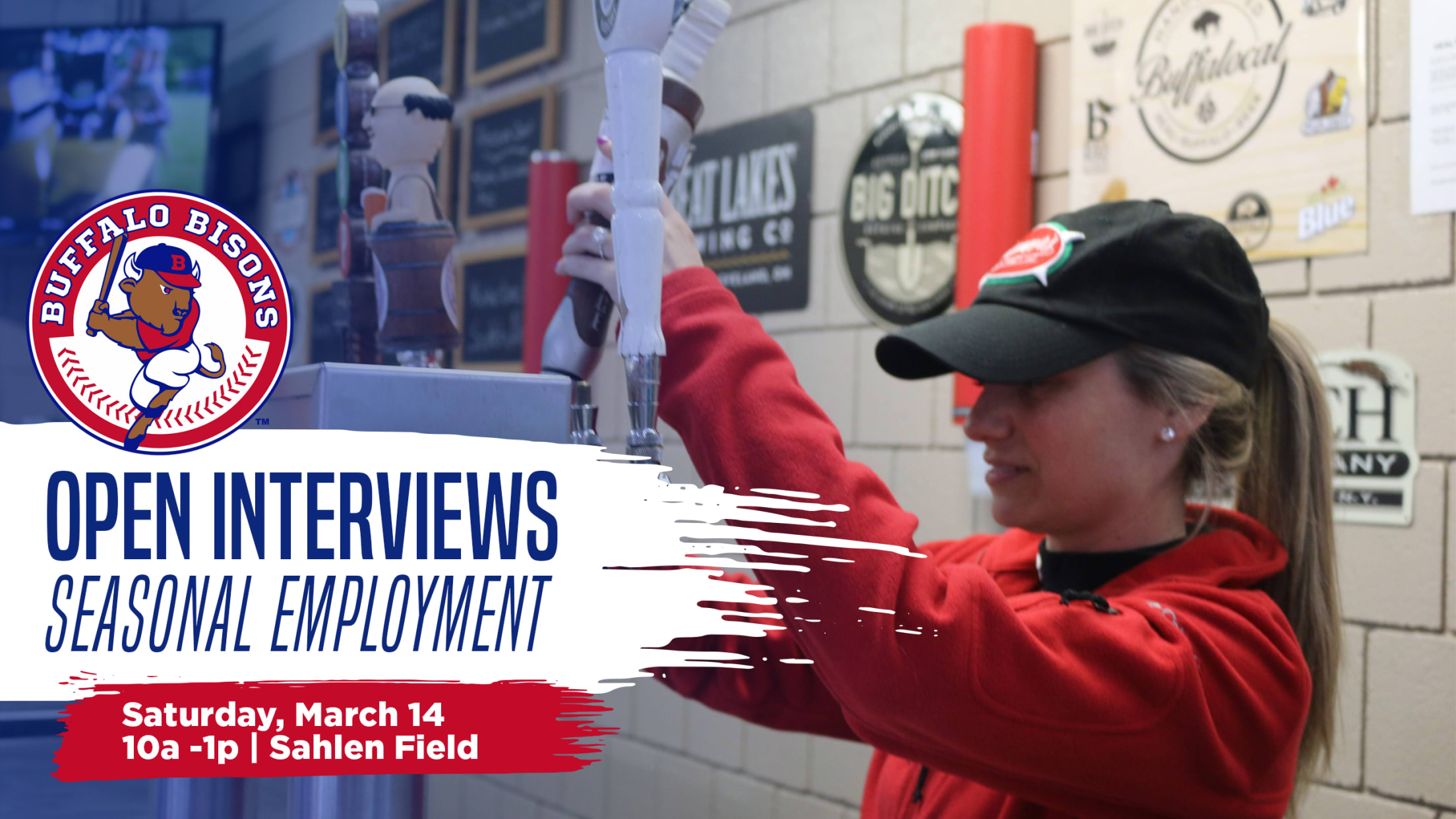 UPDATE: Please note that the Open Interviews for seasonal employment scheduled for Saturday, March 14 HAVE BEEN CANCELED. Interested candidates can still apply for positions online by visiting the Bisons.com employment page. For more information, applicants can also call (716) 846-2084.
Anthony Sprague named general manager of the Buffalo Bisons
Bisbing, Lundquist, Cerabone & Fiscella also receive promotions within Bisons front office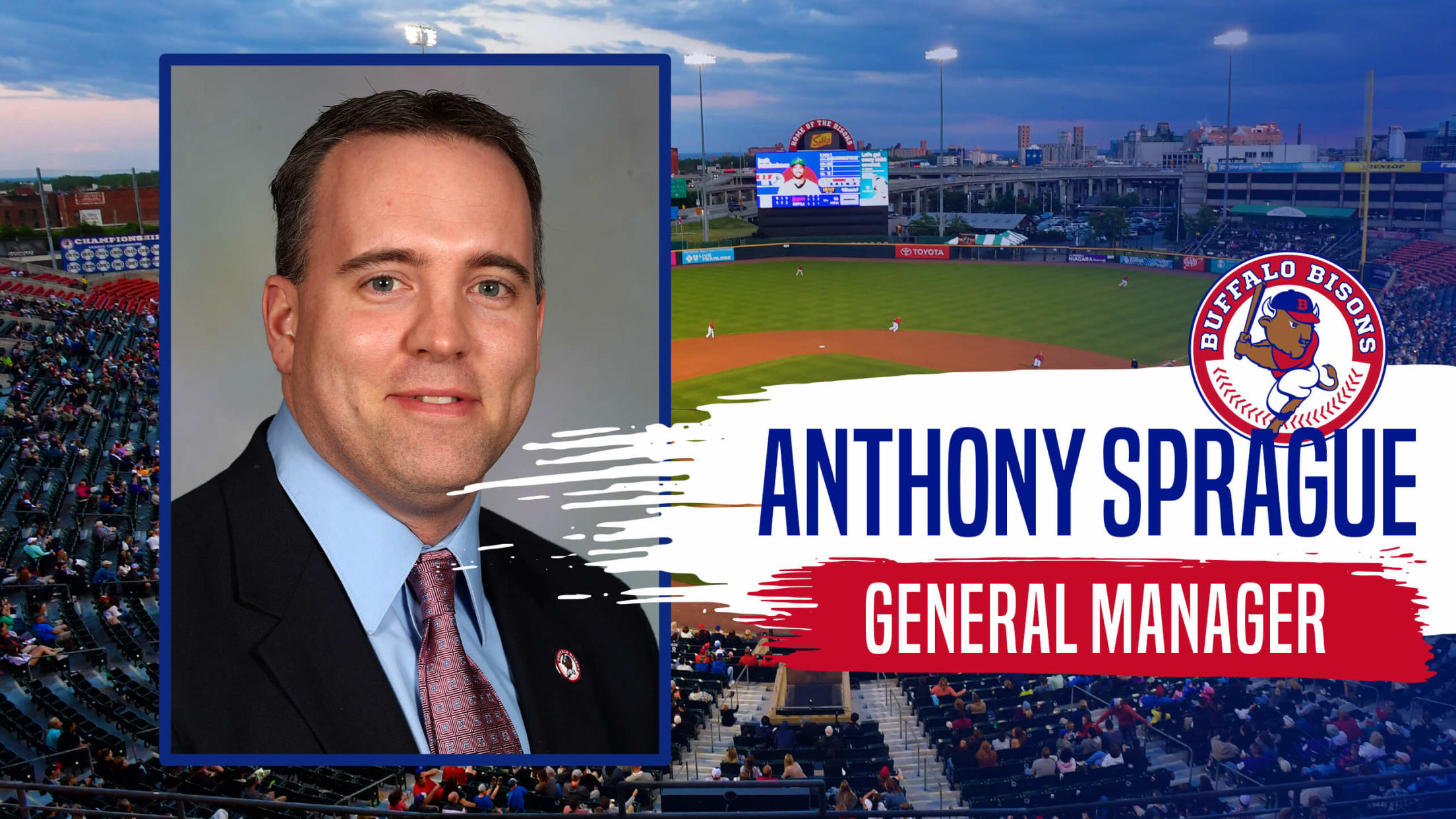 Rich Baseball Operations today announced that Anthony Sprague has been named General Manager of the Buffalo Bisons. Approaching his 19th season with the organization, Sprague becomes just the third General Manager in the club's modern Triple-A era and only the 20th in the 136-year history of the franchise.Sprague takes over
March 21 Open House postponed
Details on the FREE family event are to be announced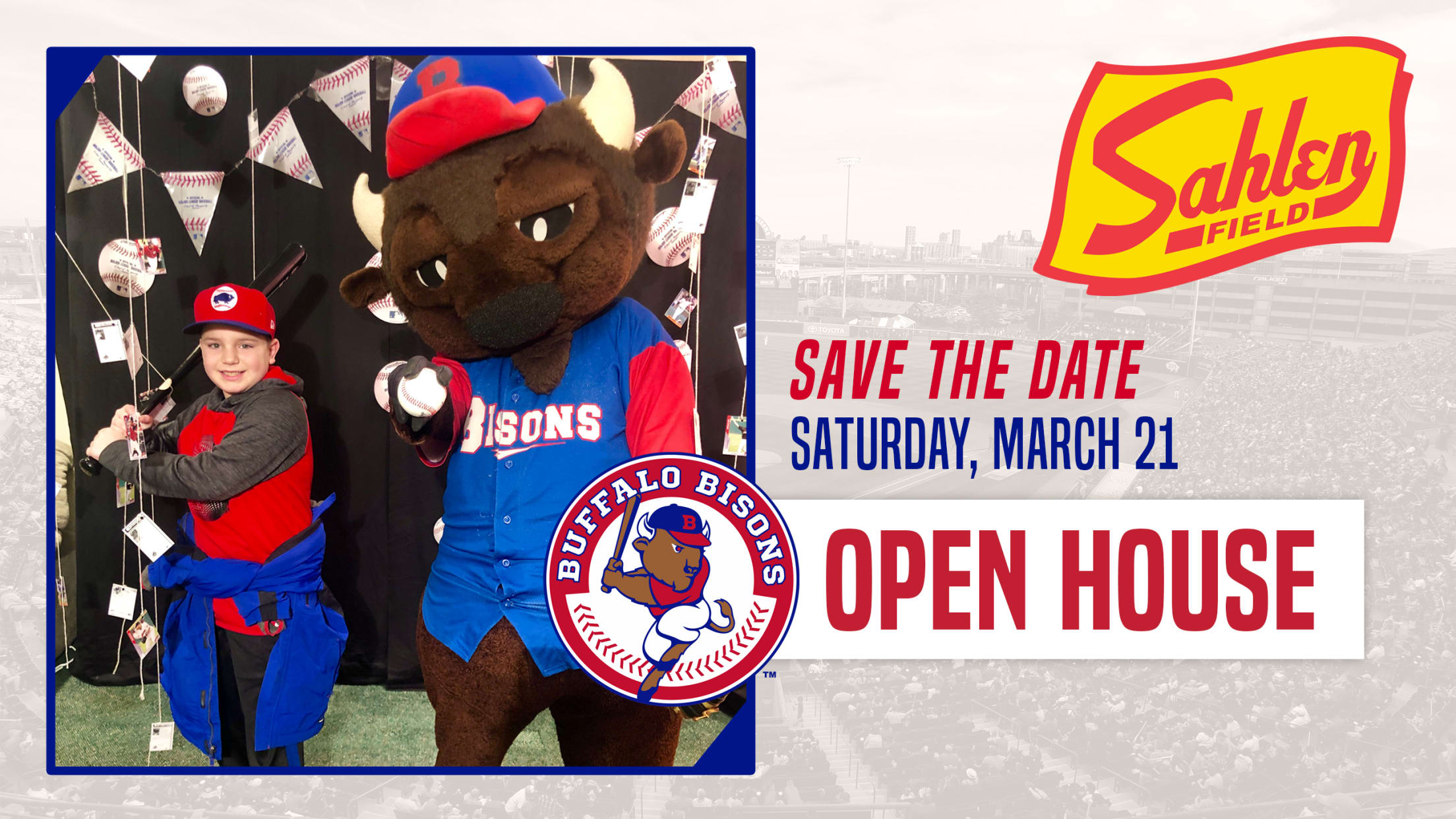 UPDATE: The safety of our fans, players and ballpark staff is and will always be our top priority. This year's Family Day Open House scheduled for Saturday, March 21 at Sahlen Field has been postponed.
Power Alley Podcast: Manager Ken Huckaby thoughts entering camp
New Bisons manager has his coaching staff set for 2020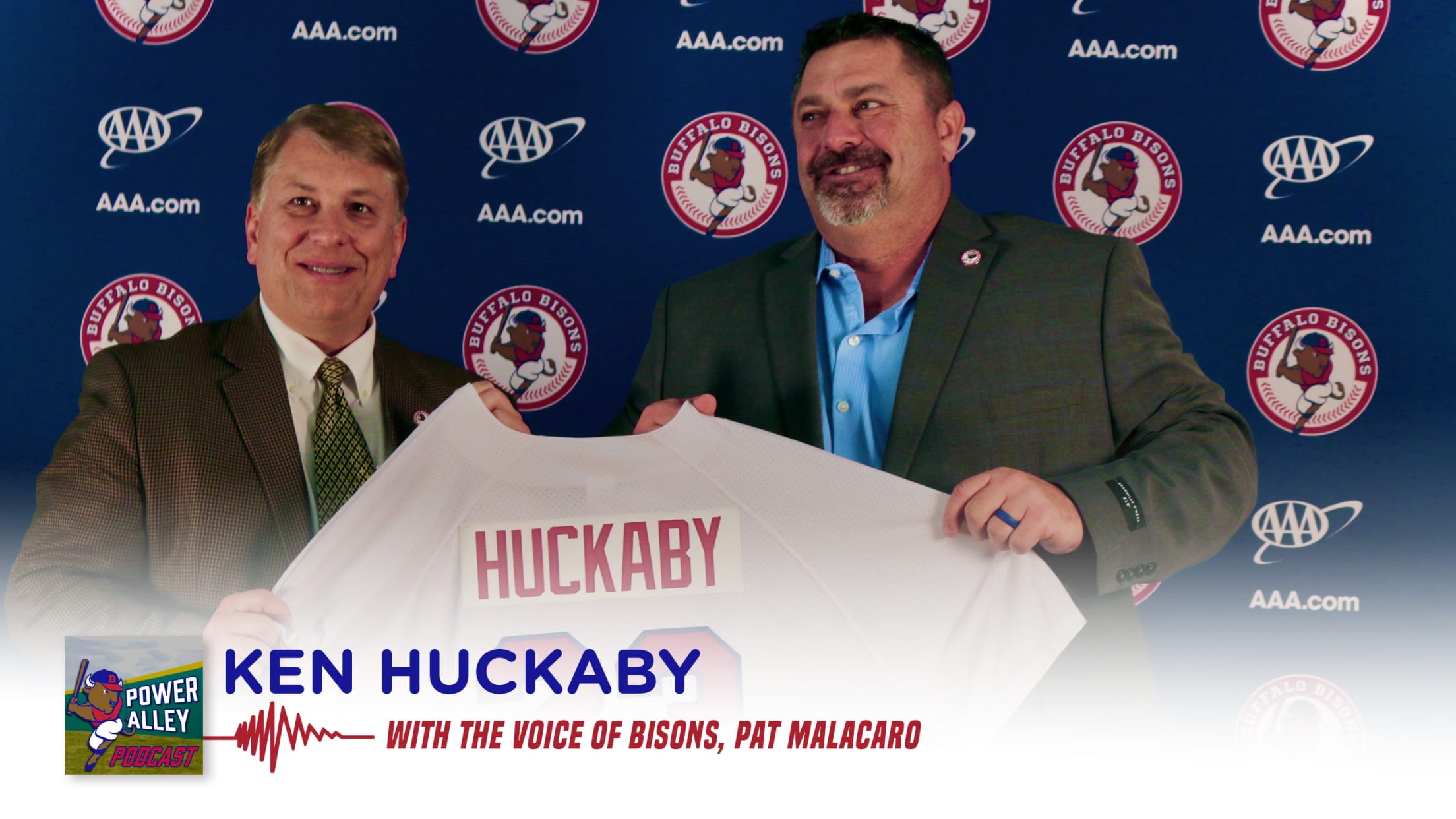 On the latest episode of the Power Alley Podcast, the Voice of the Bisons Pat Malacaro chats with manager Ken Huckaby ahead of the start of Spring Training this week.>>>LISTEN NOWThe two discuss the coaching staff that was announced last week, including hitting coach Corey Hart and pitching coach Jeff
Bisons announce 2020 Promo Schedule
Star Wars Night, Hockey Night, Bo Bichette Bobbleheads, 6 Dog Days and lots of Fireworks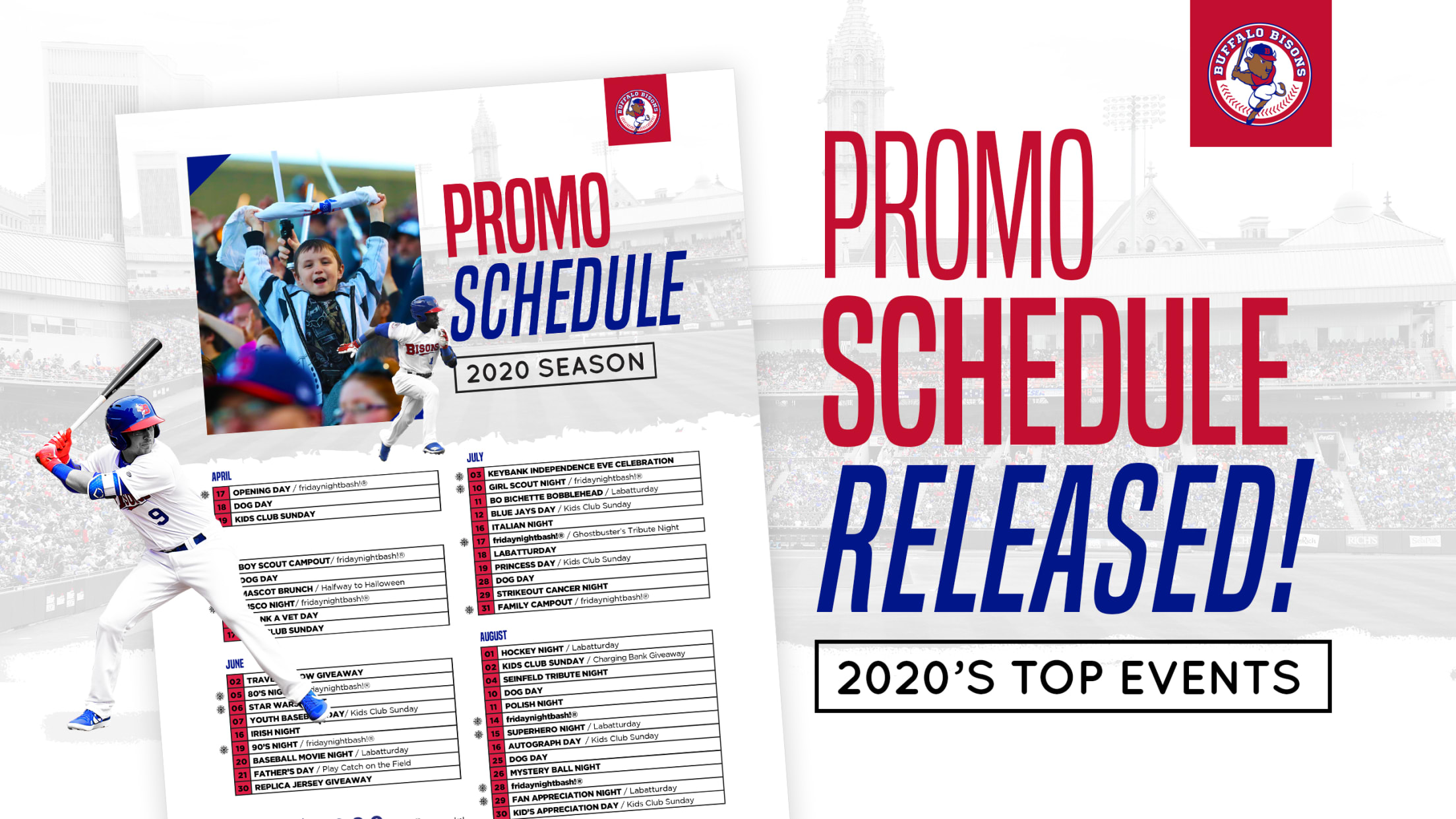 The Buffalo Bisons today unveiled their preliminary 2020 Promotional Schedule with a lineup filled with fun events, great giveaways and plenty of fireworks that will ensure Sahlen Field is once again the home of the absolute best sports and family entertainment experience!The countdown to the start of the 2020 season
'The Herd' is back: Game-of-the-Month Memberships include even more benefits
Get tickets & exclusive perks with savings over 40%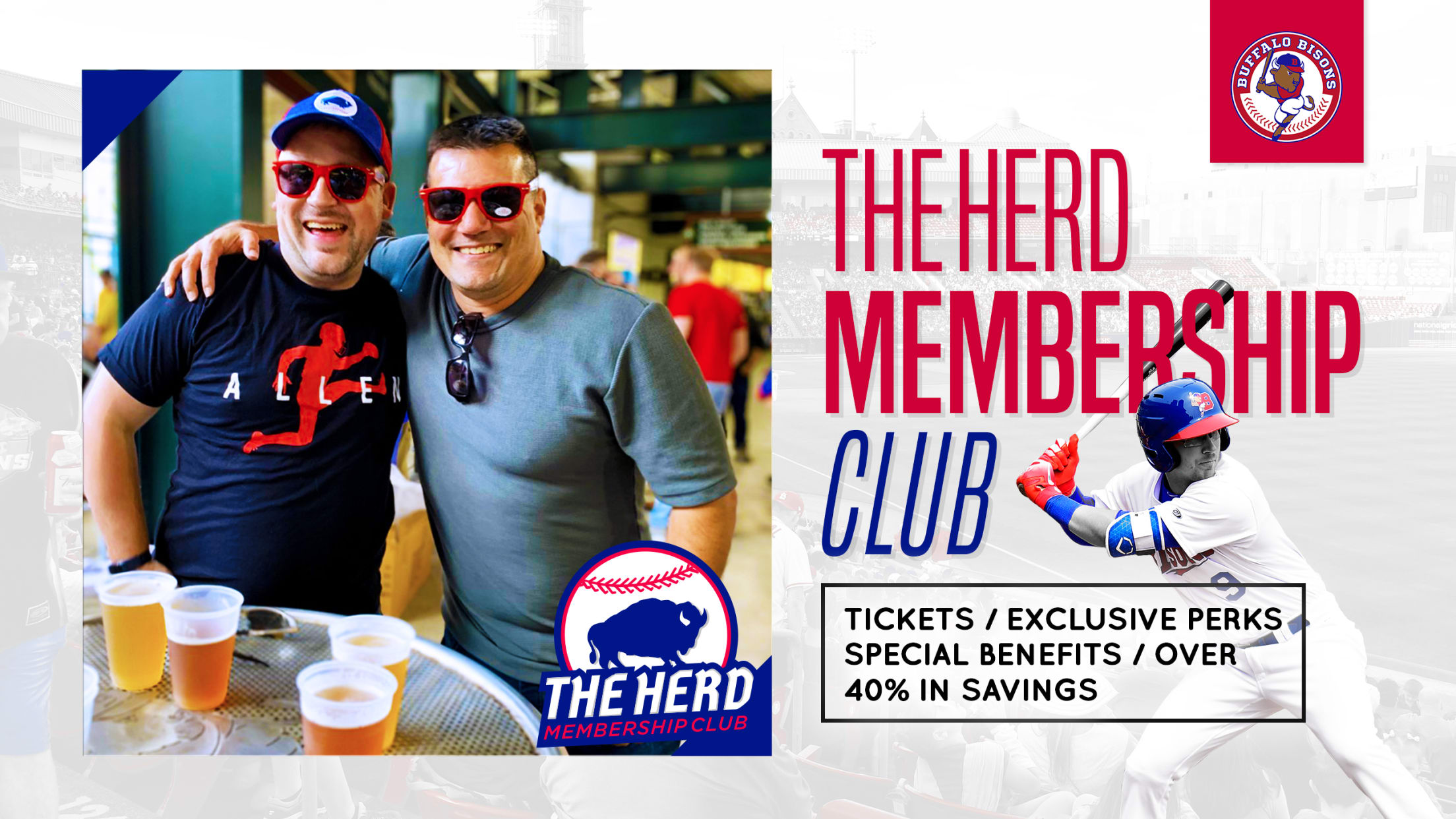 Back by popular demand, the Bisons are offering their fans a unique way to save money while attending their favorite events throughout the 2020 season.'The Herd' Ticket Membership Club is the best way for you to get to games at Sahlen Field each month of the season, enjoy exclusive ballpark