Blue Jays out-battle Reds, 12-7, in finale
Scantlin and Willems combine to drive in five, as Jays sweep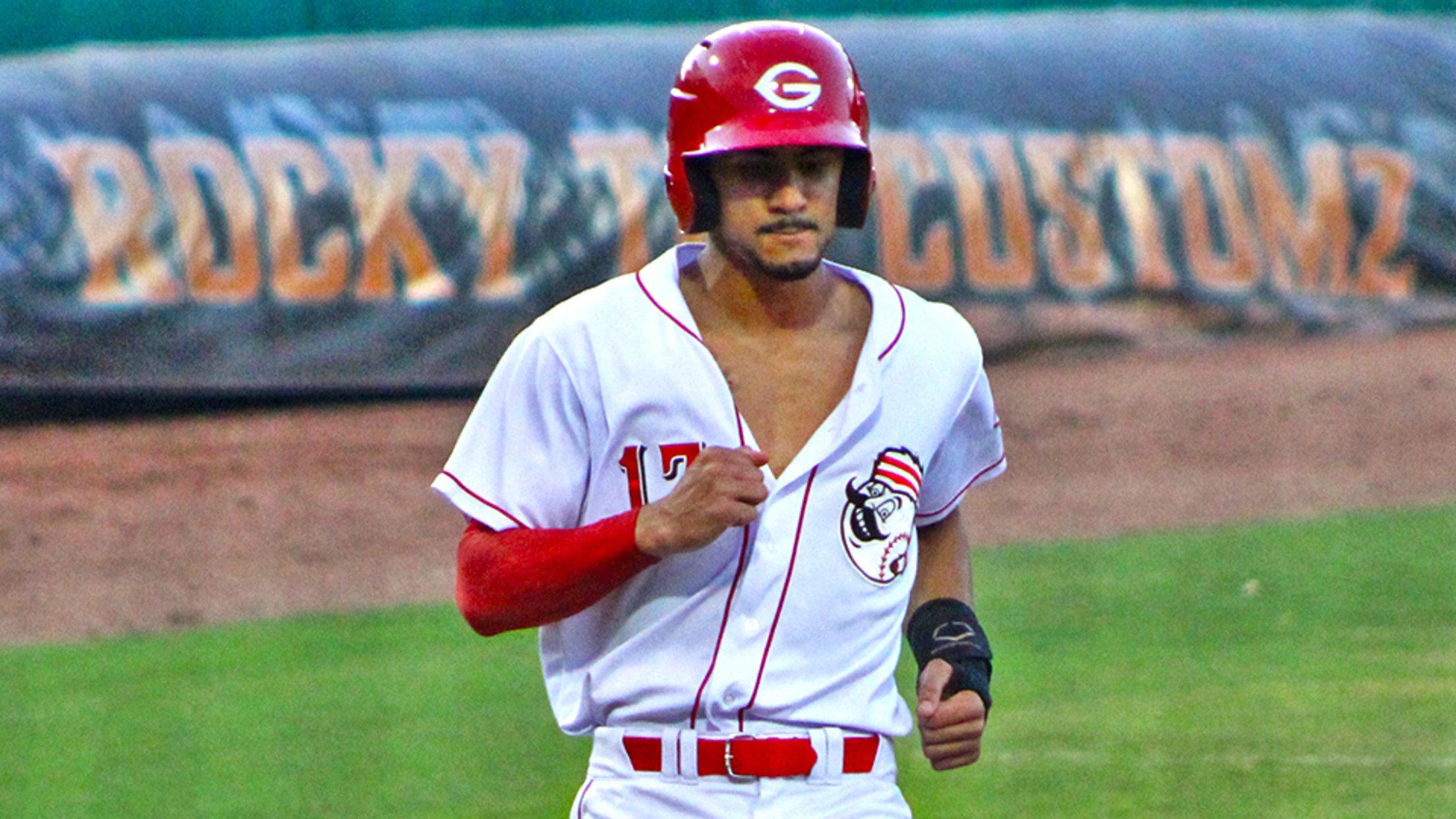 LF Nate Scantlin reached base four times, tripled twice, and drove in three runs, but the Greeneville Reds lost the finale to the Bluefield Blue Jays, 12-7, on Wednesday night at Bowen Field. (Tracy Painter / Greeneville Reds)
BLUEFIELD, W.V. -- LF Nate Scantlin and 2B Jonathan Willems combined to register four hits and drive in five runs, but the Bluefield Blue Jays out-slugged the Greeneville Reds, 12-7, to complete the series sweep on Wednesday night at Bowen Field.With the loss, Greeneville drops to 16-30 on the season. Bluefield's victory improved their overall
BLUEFIELD, W.V. -- LF Nate Scantlin and 2B Jonathan Willems combined to register four hits and drive in five runs, but the Bluefield Blue Jays out-slugged the Greeneville Reds, 12-7, to complete the series sweep on Wednesday night at Bowen Field.
With the loss, Greeneville drops to 16-30 on the season. Bluefield's victory improved their overall mark to 29-19.
Greeneville jumped out to an early 1-0 lead on an RBI triple by Scantlin (2-3, 2 R, 2 3B, 3 RBI, 2 BB) in the top of the first, but the advantage did not last. After a fielding error, a stolen base, and a walk, RF D.J. Neal (2-5, 3 R, HR, 3 RBI, SO) ripped a single to right, tying the game at one. A throwing error on the play allowed another man to score from first, putting the Jays ahead, 2-1. DH Hagen Danner (2-4, R, 2 2B, RBI, SO) added a bloop RBI double with two outs to extend Bluefield's advantage to 3-1.
In the second, the Blue Jays went on a long ball tear. LF D.J. Daniels (1-3, R, HR, RBI, SO) smashed the first pitch of the inning for a solo home run to left - his second of the year - to make it a 4-1 contest. With one on and one out, Neal made his presence felt again by ripping a liner over the right-field wall for a two-run shot - his second of the campaign - to give Bluefield a 6-1 cushion. Two batters later, SS Luis De Los Santos (2-5, R, HR, RBI, 2 SO) cracked a solo shot to left - his fifth dinger - stretching it to a six-run affair.
Willems (2-5, 2B, 2 RBI, SO) made the Jays pay for a pair of walks to begin the third, blasting a two-run single up the middle to trim the Reds deficit to 7-3. However, Bluefield answered back with four of their own.
The Jays would load the bags courtesy of a double, a bunt single, and a hit-by-pitch. After a run-scoring fielder's choice by CF Dom Abbadessa (1-5, 3 R, RBI, SO), 3B Rafael Lantigua (1-3, 2 R, 2B, 2 RBI, BB) banged a two-run two-bagger to left-center, putting Bluefield ahead by seven, 10-3. The 20-year-old would complete the four-run frame by scoring on a throwing error following a wild pitch.
Once again, Greeneville refused to go quietly, scoring the game's next four tallies. The Reds put the first two men of the inning on base thanks to a dropped third strike wild pitch and a fielding error. Scantlin then roped another three base-hit over the centerfielder's head - scoring both runners - to scoot the squad within six, 11-5. 1B Rylan Thomas (1-4, 2B, RBI, BB, 2 SO) then added a ringing RBI double off the right-field wall to make it an 11-6 contest.
C Rob Boselli (1-3, R, 2B, BB, SO) started the fifth with a double down the left-field line and scored on a fielder's choice off the bat of 3B Claudio Finol (1-4, 3 R, RBI, BB), pulling the Reds back to a four-run affair, 11-7.
That was as close as the G-Reds would get, as Bluefield scored the game's final tally in the bottom of the sixth on a single and throwing error that came off the lumber of De Los Santos.
Neither starter had a particularly sharp evening. RHP Felipe Castaneda (2.2 IP, 4 H, 3 R, 3 ER, 5 BB, 3 SO) walked five in a no-decision for the Jays, while RHP Ricky Karcher (2.1 IP, 8 H, 10 R, 7 ER, 2 BB, 2 SO) suffered his third defeat for Greeneville. LHP Nicolas Medina (2.0 IP, 3 H, R, ER, 2 SO) collected his third win of the year in relief for the Blue Jays.
Despite the rough beginning, the Greeneville bullpen performed admirably on Wednesday. RHP Daniel De La Fuente (3.2 IP, 2 H, 2 R, 2 BB, 5 SO) struck out five and issued two unearned runs in his Appalachian League debut. 21-year-old RHP Connor Bennett (2.0 IP, H, 3 SO) punched out three over two spotless frames to close out the game.
The Reds will look to get back to their winning ways on Thursday, as they hit the road for Bristol to continue their six-game road swing against the Pirates. RHP Josiah Gray (1-1, 3.09 ERA) - Cincinnati's No. 21 prospect according to MLB.com - is slated to toe the slab for Greeneville in the series-opener. The Bucs are projected to counter with RHP Colin Selby (0-2, 3.26 ERA).
The G-Reds Pre-Game Show will kick off the broadcast at 6:45 p.m. ET, leading up to the 7:00 p.m. ET start at Boyce Cox Field. Thursday evening's contest can be heard on GreenevilleReds.com or via the TuneIn Radio and MiLB First Pitch apps.
Following the six-game road trip, the Redlegs will begin a three-game series against the Elizabethton Twins on Sunday, August 12. It will be a Sunday Funday at the ballpark with first pitch scheduled for 5 p.m. ET.
Single-game tickets are still available and can be purchased online at GreenevilleReds.com or by calling the Reds' Ticket Office at (423) 609-7400.