Lindgren Continues Pitching Mastery As Blue Wahoos Split Twinbill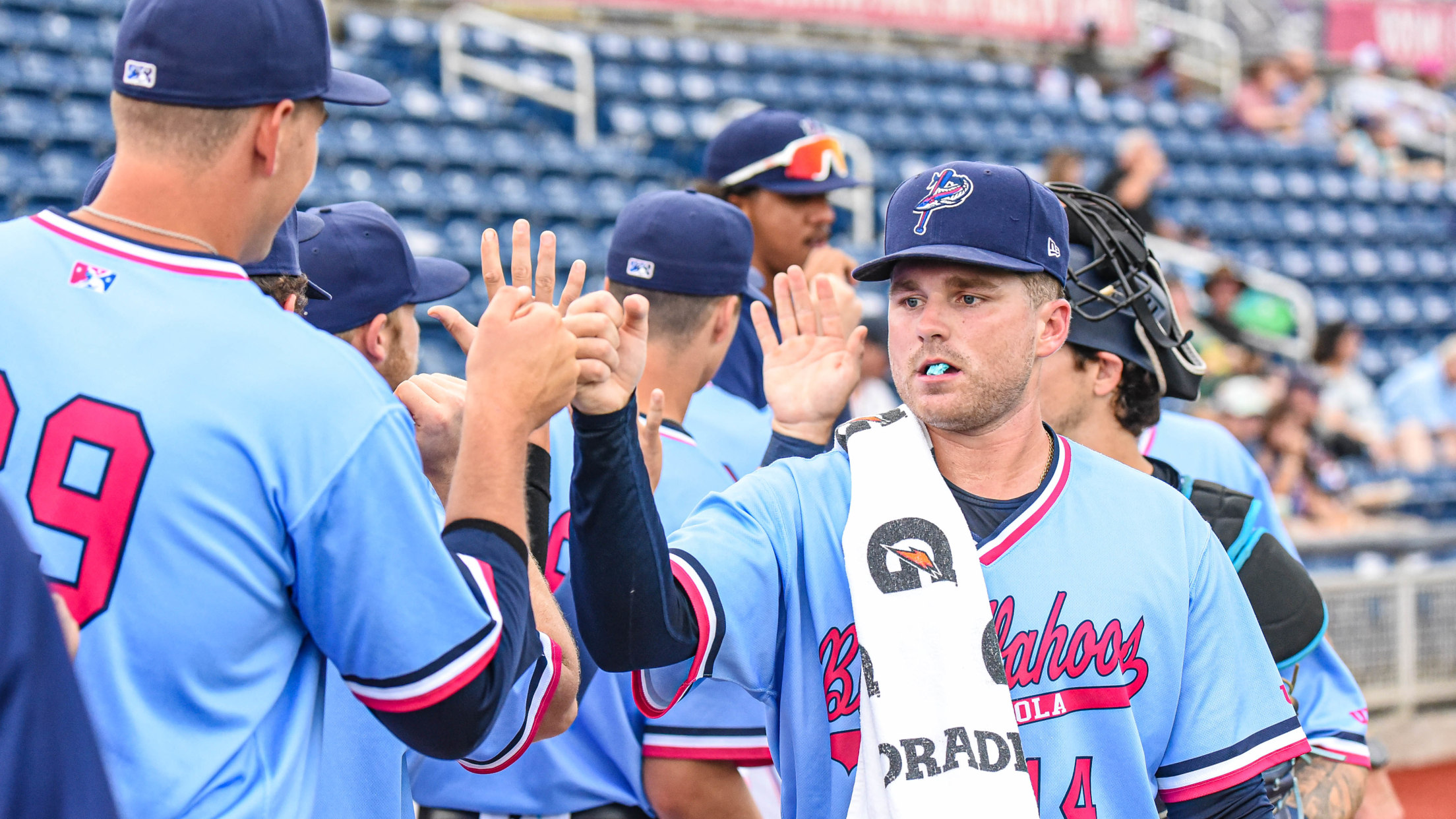 Blue Wahoos pitcher Jeff Lindgren (14) gets congratulated by teammates Saturday folloiwng his 2-0 shutout win in Game 1 of a doubleheader against the Montgomery Biscuits at Blue Wahoos Stadium. (Daniel Venn)
The first game of Saturday's doubleheader began a half-hour late, but Jeff Lindgren quickly made up the time. In delivering his fifth consecutive quality start, Lindgren had one of his finest outings for the Blue Wahoos, after handcuffing Montgomery Biscuits hitters in a masterful 2-0 complete game win in seven
The first game of Saturday's doubleheader began a half-hour late, but Jeff Lindgren quickly made up the time.
In delivering his fifth consecutive quality start, Lindgren had one of his finest outings for the Blue Wahoos, after handcuffing Montgomery Biscuits hitters in a masterful 2-0 complete game win in seven innings at Blue Wahoos Stadium.
Lindgren, 25, who continues to show a durability and dependability, breezed through the innings on four hits, finishing a game that last only one hour-37 minutes as the swiftest, non-nine inning, home game in eight years. In Minor League Baseball doubleheaders are twin 7-inning games and this Saturday was the makeup of Wednesday's postponement.
In the second game, the Blue Wahoos had opportunity for another potential walk-off win, following J.D. Orr's one-out walk in the team's final at-bat, but Biscuits reliever Justin Sterner got the final two outs to preserve Montgomery's 5-4 win and doubleheader split.
The second game featured the Blue Wahoos wearing throwback Navy baseball uniforms, along with a special stars and stripes hat, plus an overflow, sellout crowd which stayed for fireworks.
It continued the Blue Wahoos Saturday tradition of sellouts on fireworks nights.
This was the Blue Wahoos third fireworks show of the week. The largest display of the season awaits Sunday when the Blue Wahoos stage their Fourth of July special event, following a game that begins at 6:05 p.m.
Pensacola needs a win Sunday to split the first series of the second half schedule.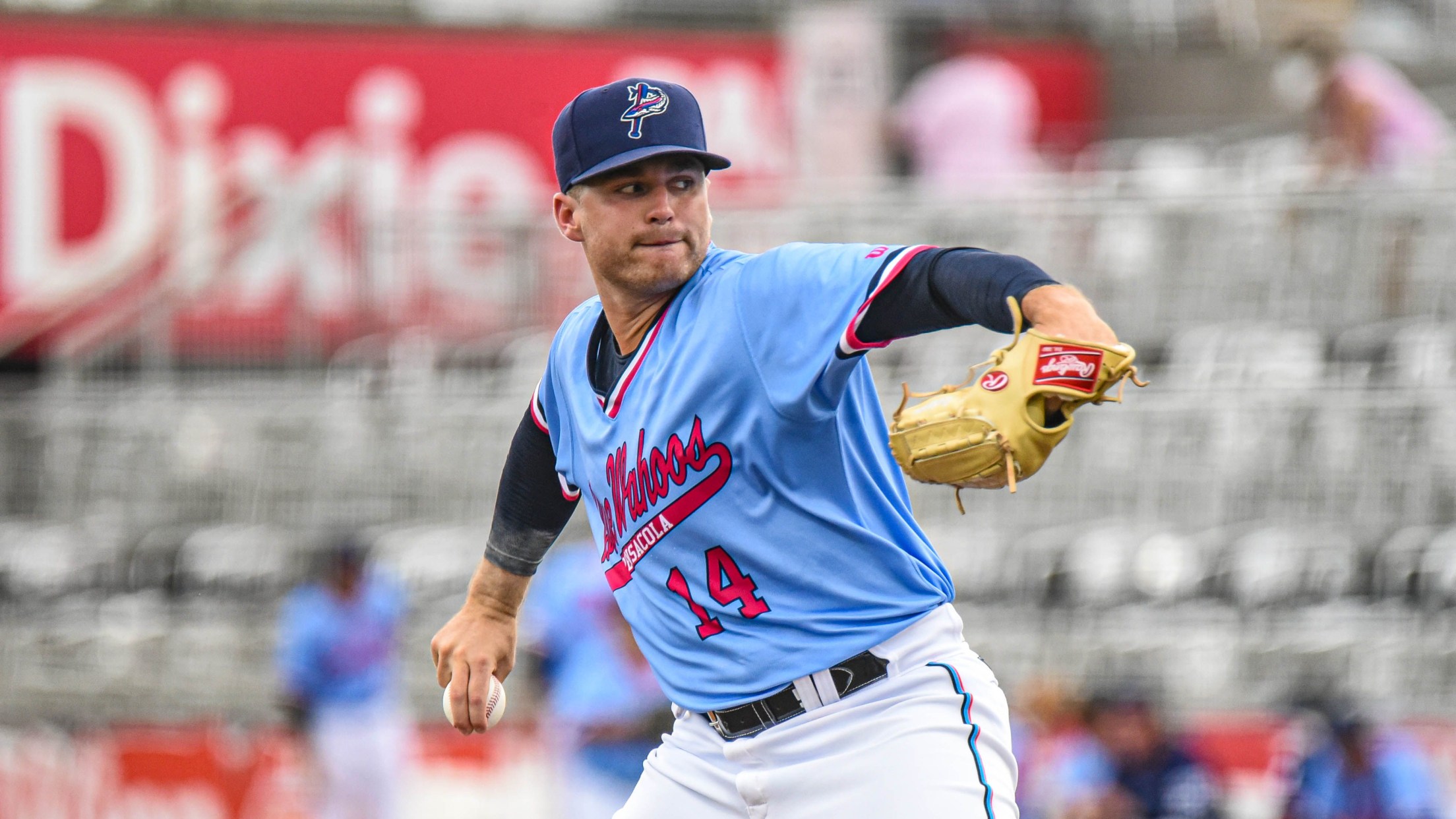 Lindgren gave the Blue Wahoos a much-needed lift after facing just 26 batters and throwing 91 pitches in his seven innings. He did not allow Montgomery to have multiple baserunners in any inning. He struck out five and walked only two batters in keeping the game moving.
The Illinois State graduate has now allowed three or less runs in seven of his nine starts with the Blue Wahoos. He has been terrific in his last five outings. In professional baseball, a pitcher qualifies for a quality start by working six or more innings and yielding three or less runs.
Saturday, he continued to make big pitches to end innings.
The Blue Wahoos got their runs in the third inning after Victor Victor Mesa led off with a walk. He stole second base and scored on Troy Johnstone's single. J.D. Osborne followed with an RBI double and that proved to be all Lindgren needed.
In the second game, Zach King, a former Vanderbilt star, had a rough debut for the Blue Wahoos, following his promotion from the Beloit Sky Carp – the Miami Marlins High-A affiliate.
The leap in level to Double-A became a learning experience. The Biscuits forced an early exit in the third inning when the first five batters reached base against King and it led to the Biscuits four-run rally that proved decisive.
King gave up a two-run homer in the first inning to Kameron Misner, who was a teammate with him last season in Beloit when Misner was part of the Marlins organization.
But the Blue Wahoos answered with four runs in the bottom of the first. Their first four batters reached base. Johnston's RBI single drove in Devers. Paul McIntosh followed with an RBI single that was misplayed in the outfield, allowing a second run to score and McIntosh to go to third base.
Norel Gonzalez then hit a sacrifice fly to score McIntosh.
But from that point, the Blue Wahoos had only three more base runners in the game. In the bottom of the seventh, following Orr's walk, Thomas Jones flew out and pinch-hitter Griffin Conine struck out looking with Orr on second base to end the game.
GAME NOTABLES
--- The Blue Wahoos honored Arthur Davison during the second game as the Blue Wahoos Employee of the Month. The popular Davison has worked the stadium in a maintenance role and has always engaged fans with a friendly smile and helpful ways.
--- The fireworks show was provided by game sponsor Pepsi.
--- In the second game, the Blue Wahoos paid tribute to the role that baseball played during wartime eras by wearing the Navy uniforms for the third and final time this year. An auction ended for sale of the jerseys with proceeds going to sponsor Andrews Institute's program to help wounded veterans.
While all branches of the U.S. Armed Forces obviously had major roles in World War II, the Navy tribute was to Naval Air Station-Pensacola where Baseball Hall of Fame legend Ted Williams was stationed in becoming a U.S. Marine pilot and played on an Navy All-Star team at Bronson Field near NAS-Pensacola that had several other major league players on the squad.
Team members from the Blue Wahoos made two visits to NAS-Pensacola earlier this season to watch the Blue Angels perform and meet NAS-Pensacola commanding officer Terry Shashaty.
--- The National Anthem before Saturday's second game was performed by the Blue Anchor Belles, who are wives of sailors at NAS-Pensacola.
--- Among the tables set up on the stadium concourse was one by the Century Correctional Institution, which is seeking employees at its facility. There were representatives from the facility and bicycle was raffled. The prison is in need of getting its staff up and presented its pitch for a high-paying job.
BLUE WAHOOS HOMESTAND FINALE
WHO: Montgomery Biscuits vs. Blue Wahoos
WHEN: Sunday, 6:05 p.m.
WHERE: Blue Wahoos Stadium.
TICKETS: www.bluewahoos.com/tickets.
RADIO: ESPN-Pensacola (99.1 FM and 1330 AM and WYCT 98.7 HD4).
TV: YurView (check provider) and MILB.tv (streaming) through www.milb.com/live-stream-games with subscription discount using BLUE WAHOOS.
PROMOTIONS: A special start time on Sunday at 6:05 to allow for the annual Blue Wahoos Fourth of July enhanced fireworks show. Team will wear stars and stripes Fourth of July hats and kids can run the bases family toss in the outfield following the fireworks show.