Bombs Away! Blue Wahoos Big Blasts, Hock's Clutch Relief Lead To Wild 9-8 Win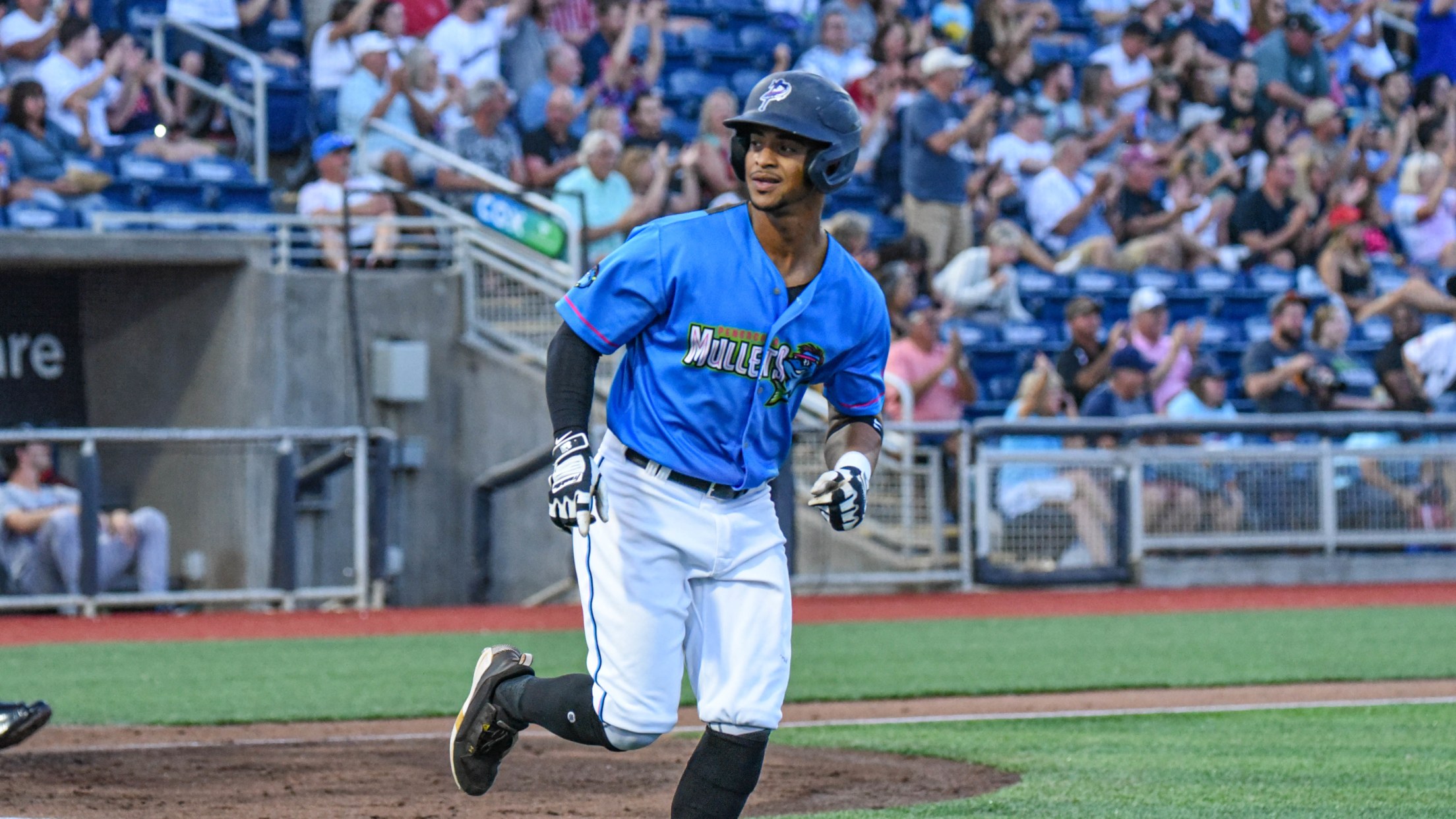 Blue Wahoos infielder Ray-Patrick Didder reacts to teammates in home dugout as he heads around the bases following a dramatic grand slam in the second inning that changed Thursday's game. (Daniel Venn)
Just a dozen games into their home schedule, the Blue Wahoos are already seasoned on wild games at their ballpark. "We have seen some crazy things, especially here in Pensacola, with how the wind is going and how the ball is flying, so it's just that never-give-up mentality," said catcher
Just a dozen games into their home schedule, the Blue Wahoos are already seasoned on wild games at their ballpark.
"We have seen some crazy things, especially here in Pensacola, with how the wind is going and how the ball is flying, so it's just that never-give-up mentality," said catcher Santiago Chavez.
That perspective was spot on Thursday night.
In a game that featured six home runs, the Blue Wahoos unleashed the biggest bombs and held on with their ace closer for a 9-8 win against the Rocket City Trash Pandas in front of 4,101 delighted fans at Blue Wahoos Stadium.
Trailing 4-0, the Blue Wahoos erased that deficit with one swing from Ray-Patrick Didder in the second inning, then twice built four-run leads before Colton Hock sealed the win clutch pitching, getting the final three outs with the tying run on base.
After a third straight win in this series against the top team in the Southern League, the Blue Wahoos (15-15) have evened their record for the first time this season. They are now tied for first place with the Montgomery Biscuits, the Tampa Bay Rays affiliate, who have lost four in a row.
"We are hot," said top slugger Jerar Encarnacion. "And we got to keep going."
The team is hot, Encarnacion is volcanic.
After going 4-for-4 in Wednesday's win, the 6-foot-5 outfielder from the Dominican Republic collected three more hits Thursday, highlighted by a moon shot homer in the fifth inning that traveled 472 feet over the left-center wall and exited his bat at 115 mph, according to the video recording.
He's raised his average to .366 with eight homers and 17 RBI.
"I feel blessed. I feel good. It is just fantastic. I like it," he said, continuing his quest to answer more questions in English without an interpreter.
Also feeling good was Didder, who came up with the bases-loaded and two outs in the second inning. On a 2-0 fastball, he drove it over the left-field wall for a game-tying grand slam that instantly changed the game.
"I had been swinging at bad pitches and giving the pitcher the advantage," he said. "After that first at-bat (strikeout). I just talked to myself about making that (next) pitch a strike. (Pitcher) got a fast ball up and I just made a good swing."
Two innings later, Chavez staked the Blue Wahoos to a 7-4 lead with his three-run homer. It followed last week being with the Miami Marlins on the taxi squad when a need for a backup catcher arose.
Though he didn't play, he got a taste of the big league life.
"You get to see how those guys work on a daily basis and get to see how those guys prepare," said Chavez, who is bilingual.
"It is kinda fun to be in that environment. It is way different. That kind of pushes me to keep working and try to get to that spot."
In another nod to how enforcing a timing clock is speeding up the game, the teams combined for 17 runs, 19 hits and four pitchers apiece, but the game took just two hours, 25 minutes to complete.
When it started, Blue Wahoos lefthander Will Stewart struggled in the first inning, giving up three runs but avoiding more damage with two more runners in scoring position when ending the inning.
He gave up a leadoff homer in the second inning, then did not allow another hit until exiting after five innings. It earned him a season-first win.
"I was just trying to help him get back in stride," said Chavez, who had the team's other multi-hit game, going 2-for-4. "His pitches were not as low as he usually throws and I was doing my best to get him back in the strike zone with that nasty movement he has on the ball."
Rocket City (18-12) hit a trio of home runs, but each one was a solo shot.
In the eighth inning, the Trash Pandas, Bryce Teodosio had a 2-run single that cut the Wahoos lead to one-run.
But in the ninth, Hock was summoned and he recorded his fourth save after allowing a two-out walk.
"It's important to stay in the grind," Chavez said. "And having our closer (Hock), I feel good in those situations."
GAME NOTABLES
--- The Blue Wahoos hosted Col. Kevin J. Boyce, commanding officer of Marine Aviation Training Support Group (MATSG-23) at Naval Air Station Pensacola.
He was recognized before the game and threw out a first pitch.
--- The National Anthem was performed by the Gulf Breeze Elementary School chorus.
--- Among the groups in attendance Thursday were the Pensacola High baseball team and the Pensacola Yacht Club.
--- It was another "Thirsty Thursday" promotion, featuring $2 and $4 draft beers on the concourse.
WANT TO GO?
WHAT: Blue Wahoos Weekend Homestand
WHO: Rocket City Trash Pandas vs.Blue Wahoos
WHEN: Friday Through Sunday. Game times are 6:35 p.m., Friday; 6:05 p.m. on Saturday and 4:05 p.m. on Sunday.
WHERE: Blue Wahoos Stadium
PROMOTIONS: Friday is Giveaway Friday with the early-arriving fans receiving a commemorative 10th anniversary poster and former Blue Wahoos player, fan favorite Travis Mattair signing autographs and meeting fans before the game.
Saturday is post-game fireworks.
Sunday is Family Sunday with kids running the bases and families playing catch in outfield after game.
TICKETS: Online at www.bluewahoos.com/tickets, or by phone at 850-934-8444. Or visiting box office at the stadium on Monday through Friday from 10 a.m. to 5 p.m.
RADIO: ESPN-Pensacola (99.1 FM and 1330 AM and WYCT 98.7 HD4).
TV: YurView (check provider) and MILB.tv (streaming) through www.milb.com/live-stream-games with subscription discount using BLUE WAHOOS.