BlueClaws Open Golden Ticket Sweepstakes to Upcoming Major Announcement (It's Good, We Promise)
Young fans can enter to win a "Golden Ticket" that includes attendance at event & 2021 BlueClaws Season Tickets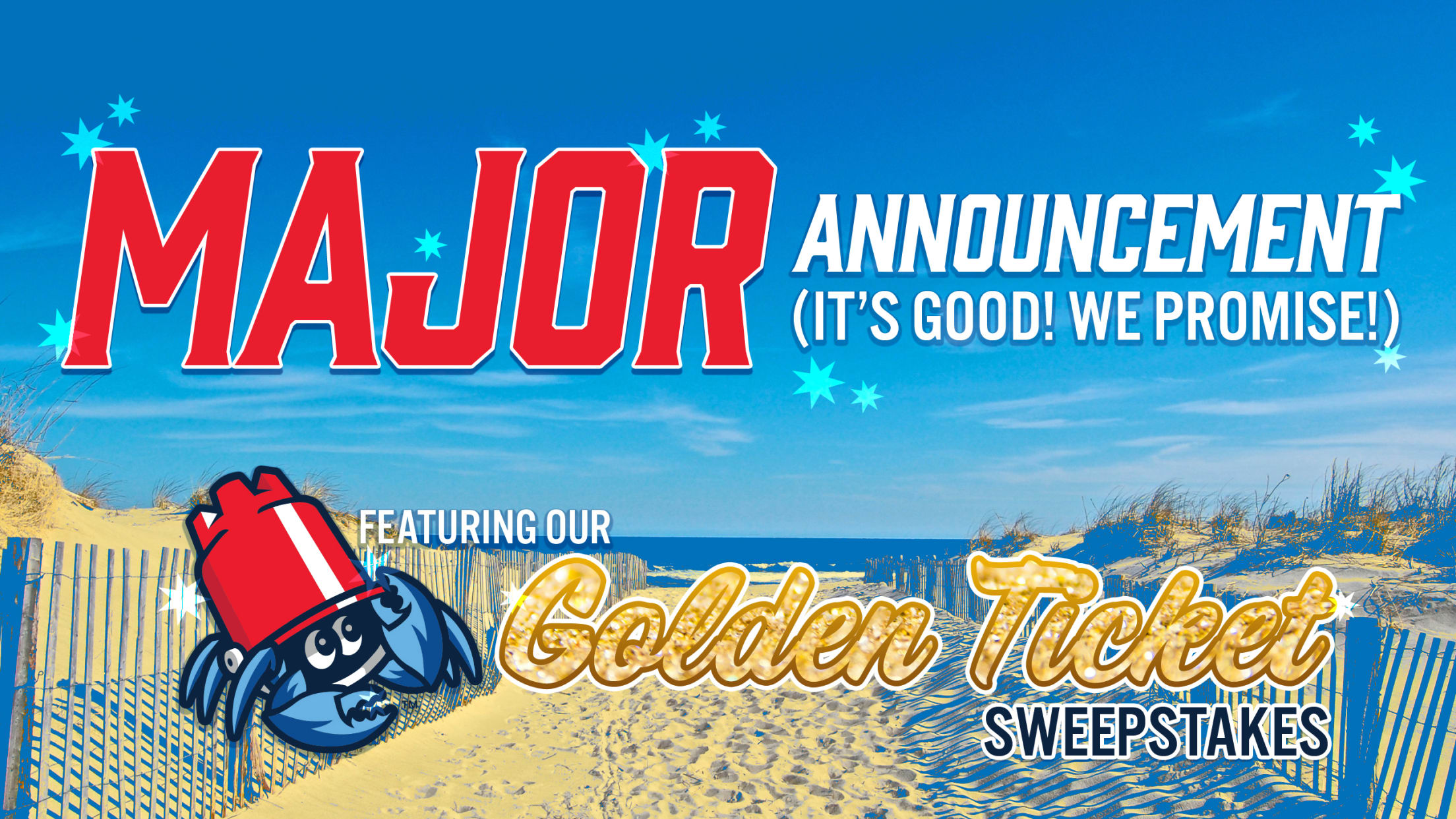 JERSEY SHORE, NJ – Something big is coming to the Jersey Shore; we promise, it's good news! The BlueClaws will make a Major Franchise Announcement on Wednesday, October 21st and have launched a program through which four lucky fans will earn admission to the VIP event in Asbury Park and
JERSEY SHORE, NJ – Something big is coming to the Jersey Shore; we promise, it's good news!
The BlueClaws will make a Major Franchise Announcement on Wednesday, October 21st and have launched a program through which four lucky fans will earn admission to the VIP event in Asbury Park and one grand prize winner will earn a special package headlined by 2021 BlueClaws season tickets.
The announcement will take place at an invitation-only event at the historic Convention Hall in Asbury Park on October 21st at 5:30 pm.
"We are very excited to share the news, something that has been in the works for some time," said BlueClaws Team President Joe Ricciutti. "But we promise, it's an announcement that everyone around the Shore can get behind!"
Fans can enter the VIP Sweepstakes online by clicking here. Only online entries will be accepted. There is no cost to enter, and entries close on Wednesday, October 14th. Four winners will be selected, and each of the four will win tickets (for child and parent) to the October 21st event at Convention Hall.
The four winners will be introduced to the crowd and one will win a grand prize that includes 2021 BlueClaws season tickets, tickets to all public in-stadium events in 2021, a BlueClaws jersey with their name on the back, and a ceremonial first pitch on Opening Night 2021 (date TBA). Each will also actively participate in the event.
Winners will be contacted on October 15th.
"The four winners will forever be a part of BlueClaws history," said Ricciutti. "We can't wait to welcome them on October 21st."
The BlueClaws are the Jersey Shore's top stop for affordable, family entertainment. In 19 seasons of play, they have drawn over 7.7 million fans to FirstEnergy Park. In 2018, the team added a mini golf course, boardwalk game area, and Biergarten to the ballpark.
-BlueClaws-