Braves Send Five to Alternate Training Site in Gwinnett
Bryse Wilson, Kyle Wright among former Stripers to begin 2021 at Coolray Field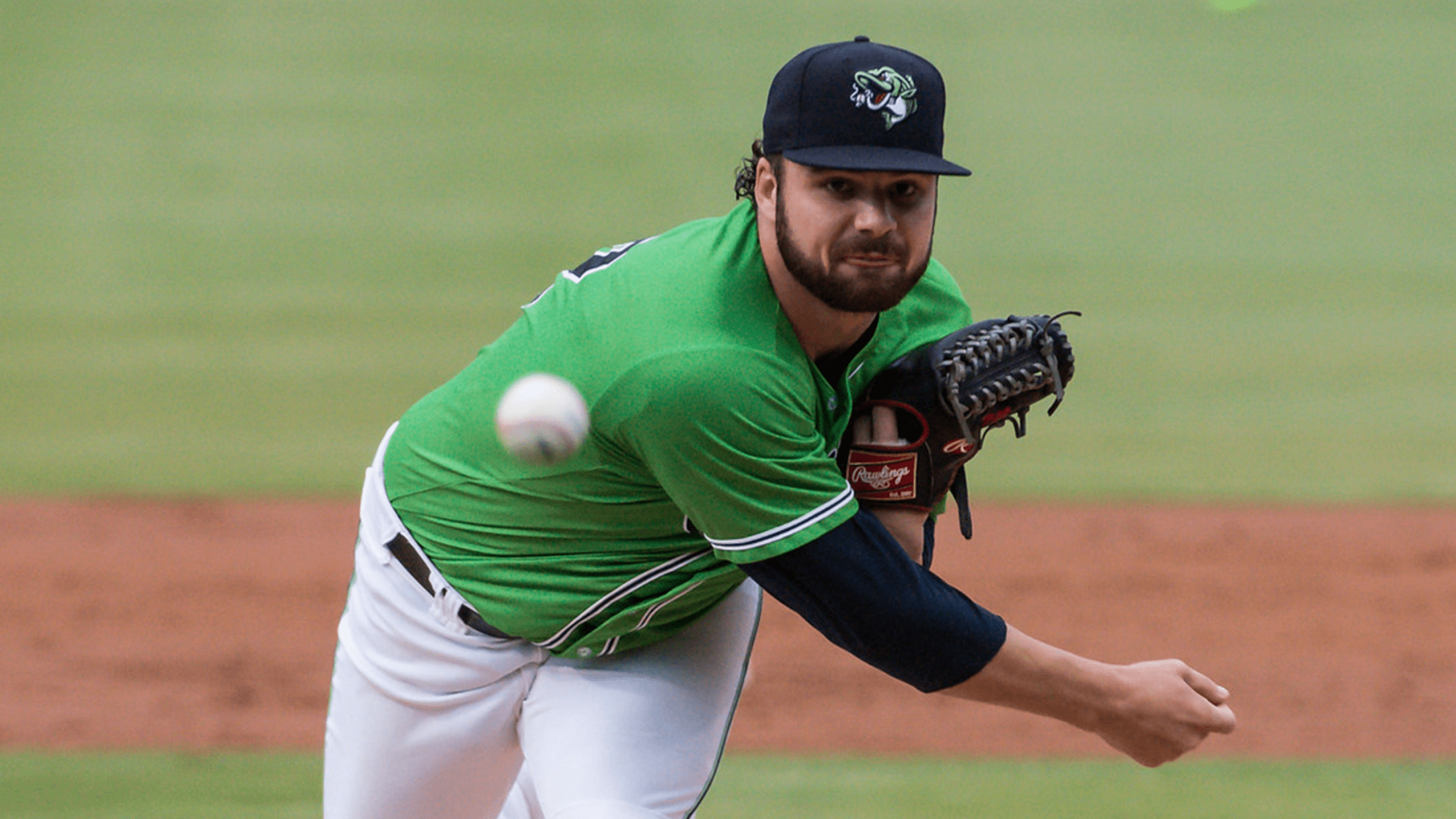 Bryse Wilson went 2-0 with a 1.98 ERA in four appearances with Atlanta this spring. (Bernie Connelly / Gwinnett Stripers)
In a series of transactions announced since March 25, the Atlanta Braves have sent five players to their Alternate Training Site roster. Coolray Field, home of the Gwinnett Stripers, will host the Alternate Training Site in April before the Triple-A East season begins on May 4. Atlanta optioned pitchers Jacob
In a series of transactions announced since March 25, the Atlanta Braves have sent five players to their Alternate Training Site roster. Coolray Field, home of the Gwinnett Stripers, will host the Alternate Training Site in April before the Triple-A East season begins on May 4.
Atlanta optioned pitchers Jacob Webb and Kyle Wright and outfielder Guillermo Heredia on March 25. On March 26, the Braves optioned Bryse Wilson and outrighted outfielder Abraham Almonte.
Webb was impressive in a battle for a bullpen spot, going 1-0 with a 1.50 ERA, 0.67 WHIP, and .182 BAA over six relief appearances. The 27-year-old right-hander has seen extensive time with both Atlanta (4-0, 1.06 ERA, two saves in 44 games) and Gwinnett (2-3, 4.07 ERA, 12 saves in 40 games) over the past three seasons, but was limited by a right shoulder strain to just eight regular-season outings and three Postseason games in 2020.
Wright made five starts, going 0-1 with a 4.50 ERA, 1.31 WHIP, and .220 BAA. He fired 7.0 scoreless, three-hit innings over two starts from March 5-11 before allowing five earned runs over 7.2 innings in his final two starts from March 16-22. The 25-year-old Wright is 2-7 with a 6.22 ERA over 19 career games (12 starts) with the Braves since 2018, and is coming off a 2020 in which he made his MLB Postseason debut (1-1, 9.45 ERA in two starts). He has been excellent in parts of two seasons with Gwinnett, going 13-5 with a 3.83 ERA and a 1.17 WHIP in 28 games (25 starts).
Kyle Wright gets Nelson Cruz with the slider pic.twitter.com/Q9nrOjDhUI

— FOX Sports: Braves (@FOXSportsBraves) March 22, 2021
Heredia, claimed off waivers from the New York Mets on February 24, hit .240 with no extra-base hits, three runs scored, and one stolen base in 14 games for the Braves this spring. The 30-year-old from Matanzas, Cuba has batted .239 with 46 doubles, one triple, 19 home runs, 121 runs, 80 RBIs, and seven stolen bases in 397 big-league games with the Seattle Mariners (2016-18), Tampa Bay Rays (2019), Pittsburgh Pirates (2020), and Mets (2020).
Wilson was stellar in four appearances (three starts), going 2-0 with a 1.98 ERA, 1.39 WHIP, and .288 BAA to solidify his bid to join the Braves' rotation. Though the 23-year-old was optioned to the Alternate Training Site on March 26, he is eligible to rejoin Atlanta on April 11 and could be utilized when the Braves need a fifth starter. Wilson has pitched for both the Braves (3-1, 5.91 ERA in 15 games, seven starts) and Stripers (13-7, 3.71 ERA in 26 games, 24 starts) over the past three seasons and was named Gwinnett's Pitcher of the Year in 2019 (10-7, International League-best 3.42 ERA in 21 starts). He delivered the signature start of his MLB career in his Postseason debut last year, a 6.0-inning one-hitter in Atlanta's 10-2 win over the Los Angeles Dodgers in Game 4 of the NLCS.
Almonte, signed by the Braves as a free agent on October 30, 2020, batted .156 with three doubles, one triple, three runs, one RBI, and one stolen base in 17 games this spring. The 31-year-old switch-hitter has had a well-traveled career since signing with the New York Yankees out of the Dominican Republic in 2005. He has played for Seattle (2013-14), San Diego (2014-15, 2020), Cleveland (2015-17), Kansas City (2018), and Arizona (2019) over an eight-year Major League career, batting .237 with 58 doubles, 13 triples, 18 homers, 141 runs, 97 RBIs, and 25 stolen bases in 376 games.
The Braves have also added three players to their 40-man roster since March 26, selecting the contracts of shortstop Ehire Adrianza, infielder Pablo Sandoval, and pitcher Nate Jones from Gwinnett. None of the three have previously played for the Stripers, though Sandoval was briefly a member of the Alternate Training Site roster at Coolray Field in 2020. Atlanta opens the season this Thursday, April 1 with a 3:05 p.m. game at Philadelphia.
The Gwinnett Stripers begin the Triple-A East campaign on Tuesday, May 4 at Charlotte and host Opening Night at Coolray Field on Thursday, May 11 vs. Louisville.