Braves' World Series Roster Features 21 Gwinnett Alums
NLCS Most Valuable Player Eddie Rosario one of 12 Stripers from 2021 on the roster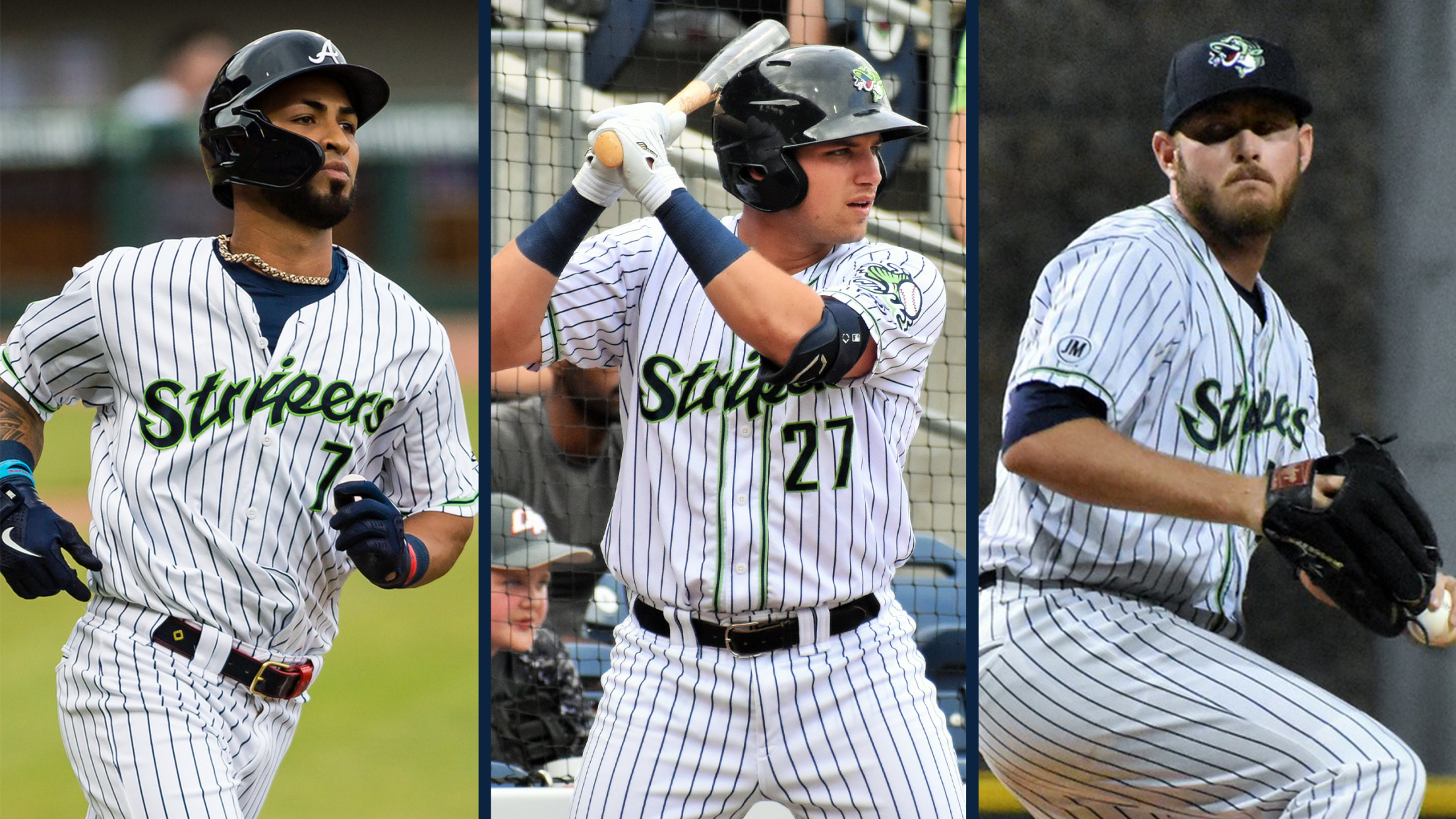 Before they were National League champions, Eddie Rosario, Austin Riley, and Tyler Matzek all played for the Stripers. (Will Fagan (left), Josh Conner (center, right))
For the first time since 1999, the Atlanta Braves will play on Major League Baseball's biggest stage, the World Series. In advance of Game 1 of the best-of-seven series against the Houston Astros, the Braves today announced their 26-man roster. In addition to three members of the coaching staff (manager
For the first time since 1999, the Atlanta Braves will play on Major League Baseball's biggest stage, the World Series. In advance of Game 1 of the best-of-seven series against the Houston Astros, the Braves today announced their 26-man roster.
In addition to three members of the coaching staff (manager Brian Snitker, assistant hitting coach Bobby Magallanes, and bullpen catcher Jose Yepez), 21 players on Atlanta's World Series roster have worn a Gwinnett uniform in the past.
The group includes:
Pitchers (10): Ian Anderson (2019, 2021), Jesse Chavez (2021), Max Fried (2017-18), Luke Jackson (2017-18), Dylan Lee (2021), Chris Martin (2021), Tyler Matzek (2019), A.J. Minter (2017, 2019, 2021), Charlie Morton (2009), and Kyle Wright (2018-19, 2021)
Catchers (2): William Contreras (2021) and Travis d'Arnaud (2021)
Infielders (5): Ozzie Albies (2016-17), Orlando Arcia (2021), Freddie Freeman (2010, 2013, 2015, 2017), Austin Riley (2018-19), and Dansby Swanson (2017)
Outfielders (4): Adam Duvall (2019), Terrance Gore (2021), Guillermo Heredia (2021), and Eddie Rosario (2021)
Your 2021 Atlanta Braves #WorldSeries roster:#BattleATL pic.twitter.com/5JkIdKwuHs

— Atlanta Braves (@Braves) October 26, 2021
Below is a deeper look at five former Gwinnett players having the biggest impact on the Braves' title quest so far:
Eddie Rosario (2021)
Rosario is Atlanta's breakout star of this MLB Postseason, and the recently-crowned Most Valuable Player of the National League Championship Series against Los Angeles. The 30-year-old from Guayama, Puerto Rico has put together a torrid stretch when the Braves have needed it most, batting .474 with a double, triple, three home runs, six runs, 11 RBIs, and 1.313 OPS in 10 playoff games. His two-out walk-off single in Game 2, near-cycle and two-homer effort in Game 4, and decisive three-run blast in Game 6 of the NLCS have made him an instant Atlanta sports legend.
Acquired from Cleveland in exchange for Pablo Sandoval on July 30, Rosario made his Braves organization debut with the Stripers during a rehab assignment in August. While working his way back from a right abdominal strain suffered during his final days with the Indians, he homered four times and tallied 16 RBIs over a 13-game stretch with Gwinnett from August 11-26. After a sluggish 1-for-20 start in his first six games, Rosario got his timing back and hit .290 with all four homers – including a grand slam on August 18 at Louisville – and a 1.054 OPS over his final seven games.
☢️ ROSARIO 9TH INNING NUKE ☢️

Eddie Rosario sends a solo shot over the fence to give us the lead in the 9th inning. Rosario is now 3-4 on the night 🔥

Stripers: 2 Sounds: 1 pic.twitter.com/pBVlP6xrSN

— Gwinnett Stripers (@GoStripers) August 25, 2021
Early signs of Rosario's knack in the clutch came during that Gwinnett stint. All four of his long-balls provided winning margins, including a ninth-inning solo clout in the Stripers' last-at-bat 3-1 win on August 24 at Nashville.
Tyler Matzek (2019)
No pitcher may have been more important to the Braves' NLCS triumph than Matzek, whose gutsy Game 6 performance (four strikeouts over 2.0 perfect innings) allowed Atlanta to withstand a Dodgers comeback attempt and hang on for a 4-2 victory. In nine Postseason games overall, the left-hander is 2-0 with a 1.74 ERA, .118 BAA, and 17 strikeouts over 10.1 innings.
Matzek's rise to dominance following a rollercoaster career has been one of the Braves' best feel-good stories of the Postseason. The former Colorado Rockies first-round pick made his MLB debut in 2014, but found himself completely out of affiliated baseball by 2017. A stint with the Texas Airhogs of the independent American Association in 2019 helped him get on the Braves' radar, and he was signed to a minor league contract on August 15 of that year.
His first steps back to the Majors came in Atlanta's minor league system. Following one scoreless outing with Double-A Mississippi on August 17, Matzek was promoted to Gwinnett on August 21. He largely struggled with the Stripers, yielding runs in four of five outings for a 9.00 ERA, 1.50 WHIP, and .270 BAA. In two outings during the Governors' Cup Playoffs against Columbus, however, he turned things around, producing a 2.70 ERA, 0.60 WHIP, and .167 BAA in 3.1 innings.
Just two years later, Matzek has established himself as Snitker's go-to guy in the biggest of pressure situations. In 16 Postseason outings with the Braves since 2020, he is 3-0 with a 1.42 ERA, .154 BAA, and 31 strikeouts over 19.0 innings.
Austin Riley (2018-19)
After a regular season that should garner him consideration for the NL Most Valuable Player award, Riley has continued to come through in key moments for the Braves during the Postseason. In 10 games overall, he is batting .250 with two doubles, two homers, six runs, five RBIs, and a .752 OPS.
Though not nearly as hot as Rosario, Riley delivered three of the Braves' biggest hits in the NLCS. In Game 1 he nearly singlehandedly lifted Atlanta to a 3-2 victory over the heavily-favored Dodgers, drilling a game-tying solo homer off Tony Gonsolin in the fourth and lining a one-out walk-off single off Blake Treinen to send Ozzie Albies racing to the plate in the ninth. In Game 6, Riley helped set the tone early with a two-out RBI double scoring Albies for a 1-0 lead in the first inning. The Braves never trailed after that on their way to the NL Pennant.
RILEY AIN'T DONE YET! 😎

He slams another homer and gives Gwinnett a 3-0 lead over the Tides! pic.twitter.com/1h5UbUTtyy

— Gwinnett Stripers (@GoStripers) April 6, 2019
Riley first debuted with Gwinnett in 2018 and returned for more seasoning in 2019, combining to hit .286 with 30 doubles, 27 homers, 80 runs, 88 RBIs, and an .878 OPS over 119 games. He holds the Gwinnett record for most RBIs in a single game with eight, coming during a legendary four-hit, three-homer performance on May 13, 2018 vs. Norfolk. He is also one of just four players with a 10-homer month in Gwinnett history having slugged 10 in only 13 games in May 2019, the same month that culminated with his big-league debut.
Freddie Freeman (2010, 2013, 2015, 2017)
The reigning NL Most Valuable Player shook off an uncharacteristic 0-for-8, seven-strikeout start to the NLCS to bat a solid .286 with one double, two homers, four runs, four RBIs, and a 1.063 OPS in the six-game series. Overall this Postseason, Freeman is batting .294 with two doubles, three homers – including his NL Division Series-clinching solo shot against Milwaukee on October 12 – six runs, six RBIs, and a 1.072 OPS in 10 games.
Freeman's time in Gwinnett has been well-documented in many stories over the years, and in April 2020 he was voted by the fans as Gwinnett's Player of the Decade for 2010-19.
Gwinnett Rewinder with @FreddieFreeman5 📽️ pic.twitter.com/rtiM4rapRQ

— Gwinnett Stripers (@GoStripers) March 20, 2020
On his path to becoming the cornerstone of the Braves franchise, a 20-year-old Freeman hit .319 with 35 doubles, two triples, 18 home runs, 73 runs scored, 87 RBIs, and an .898 OPS in 124 games in 2010, earning the International League Rookie of the Year award. Subsequent rehab stints in 2013, 2015, and 2017 have boosted his career average with Gwinnett to .326 and his career OPS to .913.
A.J. Minter (2017, 2019, 2021)
Minter went from a guy trying to right the ship during a mid-season Triple-A stint to one of Atlanta's most reliable bullpen arms in October. In five games this Postseason he has yet to allow a run, holding opponents to a paltry .087 average while striking out 11 in 7.1 innings. Four of those outings came during the NLCS, including a 2.0-inning, four-strikeout effort in Game 6 after the early exit of starter Ian Anderson.
The 28-year-old left-hander was a member of the Braves' Opening Day roster in 2021, but found himself optioned to Gwinnett on July 19 after a rough patch that saw him post a 5.93 ERA in 19 games from June 2 to July 18. Back in a Stripers uniform for the first time since 2019, Minter was lights out, going 6-for-6 in save chances over 7.1 scoreless, hitless innings spanning seven outings from July 21 to August 8. Recalled by Atlanta on August 10, he immediately returned to form and produced a 1.89 ERA, 0.84 WHIP, .152 BAA, and 20 strikeouts over 19.0 innings in his final 19 regular-season appearances.
Over parts of three seasons in the Gwinnett bullpen, Minter has gone 3-4 with a 3.38 ERA, .228 BAA, and 11 saves (11-for-13) in 44 outings.
2021 World Series Begins Tonight
Game 1 of the 2021 World Series between the Braves and Astros is tonight at Minute Maid Park in Houston, first pitch set for 8:09 p.m. For continuing coverage of former Stripers players in the MLB Postseason, follow @GoStripers on Twitter, Facebook, and Instagram.