Brignac's homer helps lift Grizzlies over Isotopes 8-5
Fresno ties season-long 6-game win streak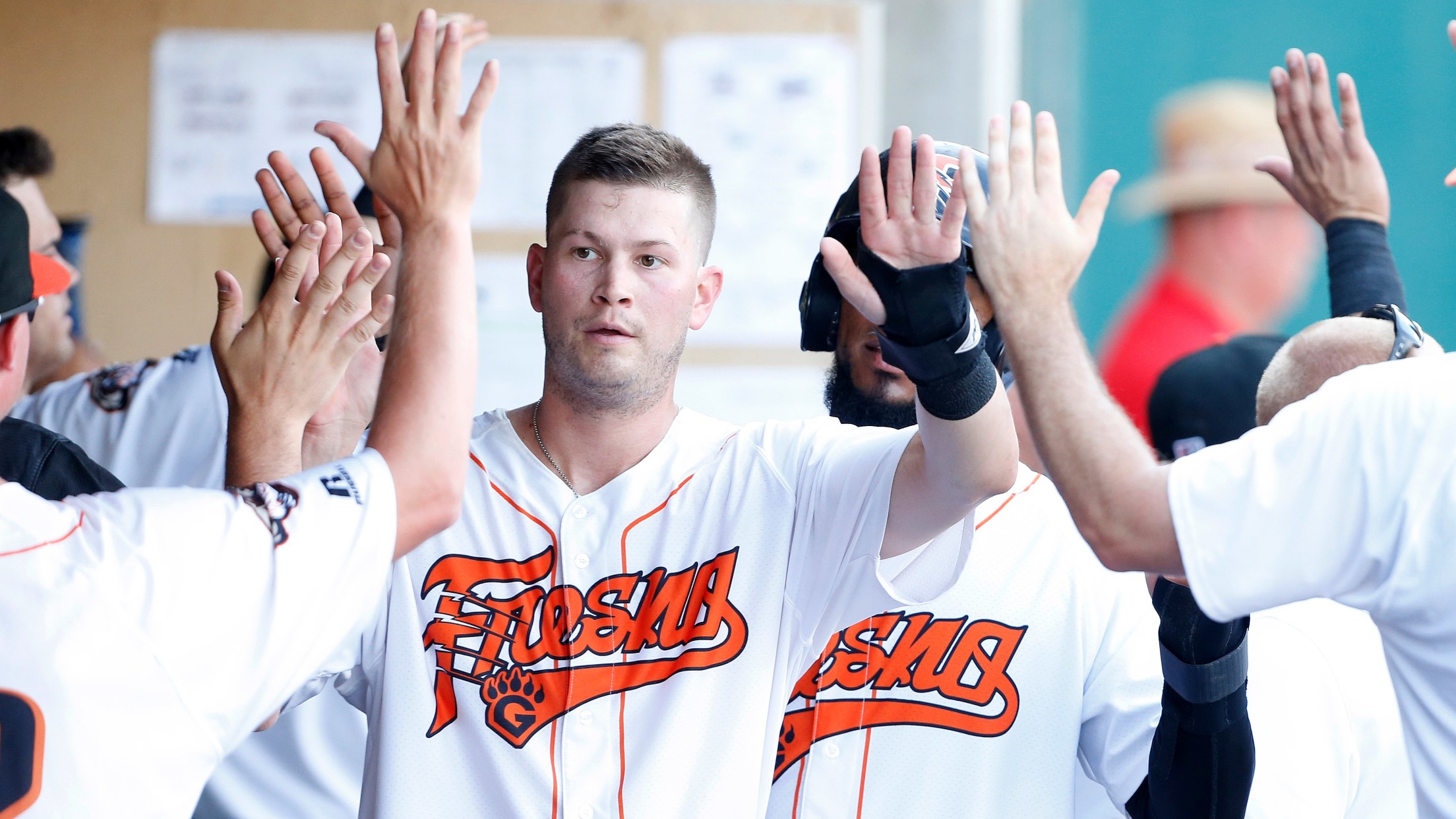 (Kiel Maddox)
The Fresno Grizzlies (41-38) have won six straight games following an 8-5 victory over the Albuquerque Isotopes (38-40) Wednesday night. It matches Fresno's longest win streak of the season, also at home from May 28 to June 3. The Grizzlies also won three against Albuquerque in that span.The Isotopes took
The Fresno Grizzlies (41-38) have won six straight games following an 8-5 victory over the Albuquerque Isotopes (38-40) Wednesday night. It matches Fresno's longest win streak of the season, also at home from May 28 to June 3. The Grizzlies also won three against Albuquerque in that span.
The Isotopes took a 1-0 lead early in the first inning. Ryan McMahon (4-for-4) knocked a base hit that scored Rosell Herrera who reached on an error. The Grizzlies then went ahead 2-1 in the bottom of the frame. Tony Kemp led off the inning with a double and scored on Derek Fisher's first triple of the season. Colin Moran (3-for-3) then hit a RBI single to score Fisher.
The Grizzlies extended their lead to 4-1 in the second. Reid Brignac (2-for-3) hit his eighth home run of the season and third off Albuquerque starter Barry Enright. Max Stassi (walk) scored on the two-run shot to right. The Fresno lead became 7-1 in the third. A Stassi RBI single scored Moran, and a two-run single from Alejandro Garcia scored A.J. Reed and Stassi.
In the fifth, the Isotopes cut the Grizzlies' lead to 7-4. Herrera hit a two-run double to score Rafael Ynoa (2-for-4) and Daniel Castro who both singled to get on. Herrera himself then scored when Dustin Garneau reached on a Fresno error. McMahon hit a solo home run to right in the seventh to make the score 7-5. It was his sixth homer of the season.
Fresno increased their lead to an 8-5 final following the stretch. Moran led off the bottom of the seventh frame with his first triple of the season, joining Fisher on the day they were both selected to the 2017 Triple-A All-Star Game. Moran then scored on a Teoscar Hernández base hit. The single extended Hernandez's hit streak to a personal season-long 12 games. He has also hit safely in 14 out of his last 15 games.
Albuquerque righty Enright (4-2) suffered the loss allowing seven runs on six hits and three walks with two strikeouts through 2.2 IP. Grizzlies starter Trent Thornton (5-2) earned the win through five innings, allowing four runs (three earned) on seven hits and a walk with four strikeouts. Reliever Kevin Comer picked up his third save of the season in a four-batter ninth with two punch-outs. Fresno pitchers combined for 12 strikeouts on the night, with the relievers racking up eight.
The Grizzlies and the Isotopes will close out the four-game series at Chukchansi Park on Thursday at 7:05 p.m as Fresno looks to sweep their first series of the season. LHP Sam Howard (1-0, 6.28) will be on the mound for Albuquerque to face RHP Joe Musgrove who will play his first game of 2017 with Fresno.