Broadcaster Farber chases his dream to NBA
Former Minors commentator now voice of Charlotte Hornets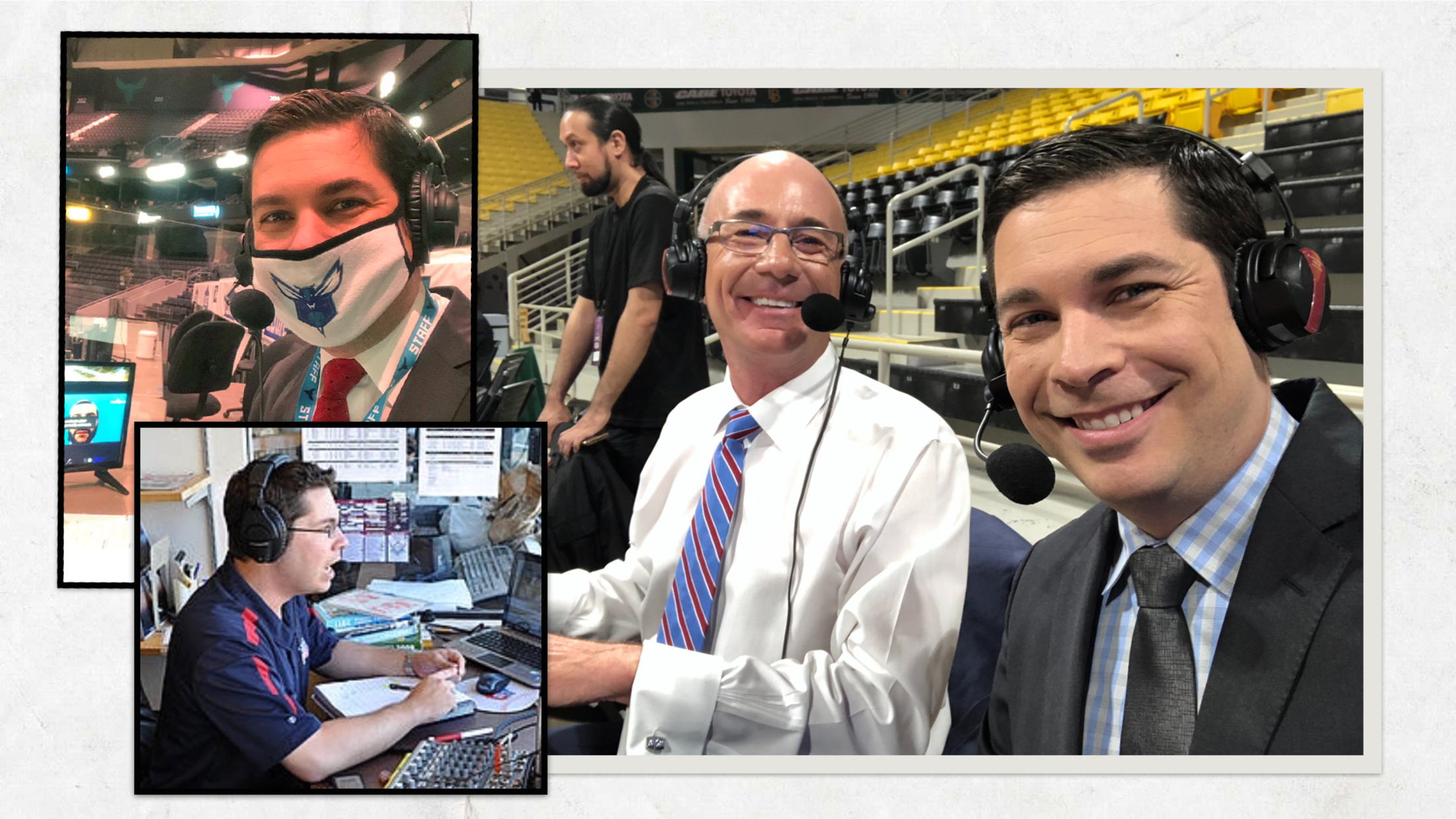 Former Minor League broadcaster Sam Farber (right) with Dave Miller ahead of the Big West Conference Tournament in March 2020. (Courtesy of Sam Farber)
If life in the Minor Leagues teaches a broadcaster anything, it's this -- learn to roll with the punches. Sam Farber spent years absorbing that lesson, and now, having reached one of the dream destinations of a sportscasting career, he's grateful for it. All of it. After ascending through the
If life in the Minor Leagues teaches a broadcaster anything, it's this -- learn to roll with the punches.
Sam Farber spent years absorbing that lesson, and now, having reached one of the dream destinations of a sportscasting career, he's grateful for it. All of it. After ascending through the grind of the Minor Leagues, high school and collegiate athletics, sports talk radio and more, Farber is the new radio voice of the NBA's Charlotte Hornets.
"It's been very fast," Farber recently said from Charlotte. "There's been a lot to do, but in those (quiet) moments, I've thought a lot about all the things that I've been through and where I've been and the opportunities that came to me by luck or hard work, or more often than not, both. I've always dreamt of bits like this being a destination, but I've always felt at the same time like I had my dream job already. I got to watch sports for a living, and it didn't matter so much where it was or what our listenership was or any of those things. I was doing what I wanted, so it's very fulfilling to be here at this point and to have this opportunity."
Farber's career didn't start when he put on a headset to call Class A Advanced Inland Empire 66ers games or events for the Big West Conference. Instead, his sportscasting education began during his undergraduate days at George Washington University.
"While I was there, I just got a lot of opportunities," he said. "We had some outstanding administrators who were really invested in letting us explore things in radio and in sports radio in particular. While I was a student, I was already doing Double-A games with the Bowie Baysox, who were nearby in the Eastern League."
Farber graduated from GWU before trading coasts and heading to graduate school at the University of Southern California. In SoCal, he broadcasted for Cal State Northridge, and upon graduation from USC, embarked on his full-time career. In 2009, he took a position as the No. 2 broadcaster with the Colorado Springs Sky Sox, then the Triple-A affiliate of the Rockies, and one year later, started his stay with Inland Empire.
"Minor League Baseball, I think, is just the best experience a young broadcaster can have in terms of needing to do a little bit of everything and be in control of every element of the broadcasts," Farber said. "You get a lot of reps, a lot of experience, and it just put me on the right path."
For four years with the 66ers, beginning in 2010, Farber learned the ins and outs as a lead broadcaster in the Minors, calling games of young prospects such as Kenley Jansen, Kole Calhoun, Randal Grichuk and more. Farber finished his time with the 66ers on the highest possible note.
"The last year I was in Minor League Baseball was a championship season for Inland Empire and just a great group of guys," he said of 2013. "Even though I don't necessarily miss riding the buses per se, there's just something special about being with a team and embedded with them in that way for as long as a season is. It's truly special."
Time in the Minors gave Farber lifelong connections and foundational lessons for his career laid on the bedrock of hard work.
"It's a competitive industry, and we're all hoping to net that dream job or get that dream opportunity," he said. "Whenever a press release comes up and says so-and-so got this or that or is working this game, there's that twinge that automatically comes to every broadcaster like, 'Man, I wish I was calling that game. I want to do that.' But you're also rooting for each other. And you honestly want to help each other and see each other succeed, because there are many, many very talented broadcasters out there who for whatever reason were able to bypass the Minors, but there's a lot of us that have paid dues. You root for those guys and girls -- I'm glad we're seeing more women now too in the Minors -- you root for those people to have their hard work and perseverance pay off. I truly believe the Minors is a unique place to get the kind of real-world broadcasting experience that you're not going to get from doing it on the fly."
Thank you Southern California.
It's been a pleasure and a privilege. #AllFly pic.twitter.com/L4RSvRrOpK

— Sam Farber (@SamFarberLive) December 10, 2020
Friendships made along the way fit that bill.
"Good buddies of mine -- Donny Baarns was in the Cal League with me, Zack Bayrouty was in the Cal League with me, Joe Ritzo was in the Cal League with me -- all three of them have gotten big league opportunities in the last two years, and you just root for them," he said. "Ryan Radtke, I was with in Triple-A, saw him a couple of times. He's gotten a lot of stuff with Westwood One. You root for those guys because they are uber-talented, they've paid their dues and they deserve it. You know there are only so many jobs, and not everybody's going to be lucky enough to get one, but you're excited when your friends that you know have earned it get the chance."
Spending time in the Minors often occurs in a broadcaster's formative years, and that was true for Farber as well.
"When I left San Bernardino, I was married, and it was time to see if I was going to sink or swim in the business," he said.
After roughly a year working on the assignment desk at Fox Sports 1, Farber was offered a full-time position with The Beast 980, a new all-sports station in Los Angeles and radio home of the NBA's Clippers.
"They hired me to be mostly a reporter/update anchor/sometimes show host," he said. "It was really a lifeline for my career and gave me an opportunity to work full-time in sports without having to sweat so much about game-to-game issues. While that was happening, I started to get gigs with Fox Sports West and ESPN doing high school football and college basketball, and that's where I was right until this opportunity came up -- or right until the pandemic came up."
Amidst the NBA's shortened offseason this year, the Hornets found themselves in need of a broadcaster; as they had been just a couple of years earlier when Farber first applied for the gig. Though he didn't get the job that time, he fostered relationships with people in the organization and put himself in the running again in 2020.
"It was a very lengthy process which I really credit the Hornets for," he said. "I think there's a lot of teams out there that really do their due diligence to work hard to find the right fit. I think that's something that's appreciated by Minor League broadcasters because you want to feel like you're getting an honest look and have an honest chance. I know that there were a lot of people that went through the process with the Hornets, and I just kept making it level to level, had good interviews, felt good about everything, and here I am."
On Dec. 9, Charlotte made the move official: Farber was their new voice. He and his family moved cross-country from Orange County to the Queen City – a foray made all the more challenging by the pandemic -- ahead of the NBA's preseason. Speaking just prior to the Hornets' regular-season opener, he had time to describe his own preseason feeling.
"When the ball goes up, I think I'm going to treat it like any other game," Farber said. "At the end of the day, whether you're in Rookie ball or you're in the big leagues, most guys I talk to, their prep is pretty much the same as it was. They work just as hard. It's ingrained in you. It's not like, 'OK, now I'm in the Majors, so I'm going to start doing something differently.' You certainly have more resources, and you have more information readymade for you at your disposal with the great work the leagues do. That helps, but in terms of making your own boards and game notes and doing the interviews and the legwork, that's all the same."
From the Minors to the NBA, Farber wouldn't change his journey.
"I'm partial to the Minors," he said. "I root for those people who have ridden the buses like me and worked their way up and held on to that dream."
Tyler Maun is a reporter for MiLB.com and co-host of "The Show Before The Show" podcast. You can find him on Twitter @tylermaun.