Newman occupies unique media role in Frisco
Broadcaster handles assistant radio duties in addition to TV work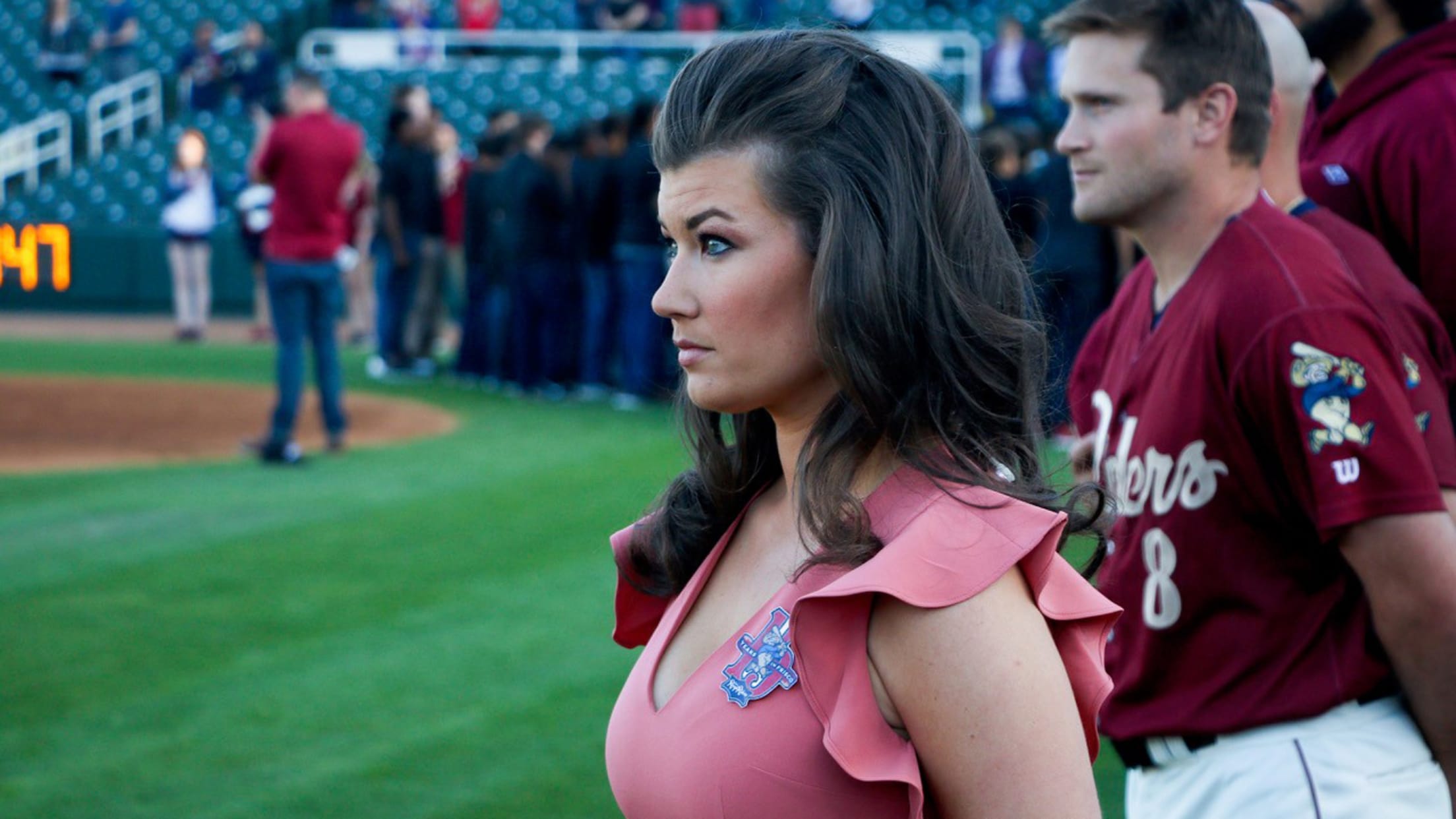 Broadcaster Melanie Newman will work as sideline reporter for 11 televised Frisco games this season. (Frisco RoughRiders)
For most Minor League broadcasters, the jitters of a new season come around once a year. Melanie Newman had to double up. "It was all the nerves of trying to get everything done for Opening Day but then having all the stuff that comes with a TV game on top
For most Minor League broadcasters, the jitters of a new season come around once a year. Melanie Newman had to double up.
"It was all the nerves of trying to get everything done for Opening Day but then having all the stuff that comes with a TV game on top of it," Double-A Frisco's broadcasting and communications assistant said this week. "Once I got through having my first Opening Day on a regional network, I reset.
"And the minute that that game was over, all the nerves of, 'OK I'm returning to the [radio] booth tomorrow' took over."
Newman is occupying one of the most unique roles in the Minors in 2018. In addition to being Frisco's No. 2 radio broadcaster, she also works as the sideline reporter on the RoughRiders' televised games on Fox Sports Southwest. Only select teams across the Minors have local TV coverage, and even fewer on a regional sports network that also features games of its parent club. Frisco has that. And it has Newman, one of just three women broadcasting in the Minor Leagues.
As Frisco opened its season with a 5-2 loss to Tulsa on April 5, Newman was perched in a camera well next to the visiting dugout, providing in-game reports and commentary, from weighing in on Major League news to introducing the 2018 RoughRiders to fans tuned in to see their new squad. One day later, she was in the Frisco radio booth alongside lead voice Ryan Rouillard.
"I'm not here to mess around," Newman said. "I hate saying it, but some people, they're doing this because they got this job, but they'd love to be on Entertainment Tonight. Me, I don't know what to do outside of baseball. Everybody's like, 'What's your backup plan?' There isn't one. I've put 12 years of my life into this. This is it."
Frenetic road to the Texas League
Frisco is the latest stop on a lengthy sports media resume for Newman that began back before there were even paychecks involved.
"That was how our family spent time, at [sporting] events. Dad [Mike] was more football, but I latched intellectually to baseball," the Atlanta-area native said. "In high school, I got heavier involved with writing and photography, and I thought that's what I wanted to do and pursue. I was in with the baseball team and kept [the scorebook] and did all their videography and stuff like that."
When she wasn't keeping book or taking photos or video at Etowah High School, Newman was doing public address announcing, running concessions or helping with field maintenance -- a never-ending carousel of duties that may have laid her groundwork for the Minors, years down the road.
While in college at Troy University, an adviser asked Newman if she had ever been interested in broadcasting, and the work started to flow.
"My first play-by-play was actually women's volleyball," she said. "I had that for three years, and it was a blast. I did some stuff with baseball and softball, and then football and basketball was mostly [sports information] work, running stats and all that kind of stuff."
From Troy came an offer that changed Newman's career trajectory: the chance to do sidelines reporting for television coverage of the 2012 Atlantic Sun Conference baseball tournament.
"I told my dad I wasn't going to take it," Newman recalled. "I didn't see added value when I watched it. It's not anything against those women at the time, because obviously now that I'm in it, I see how hard it is, but I hate the dumb questions on, 'Oh, this guy's 0-for-4.' I wanted to do desk work. I wanted to do hosting. My dad said, 'You're being given the opportunity to change what you hate. That's a mistake if you pass that up.'
"I owe that phone call everything."
Newman excelled in her new role and began traveling a frenetic road. From her start with ASUN, she moved to a position with a summer collegiate league team in Kilgore, Texas, and then to her first MiLB job with Double-A Mobile in 2014, with media relations work for the Arizona Fall League and big league Spring Training mixed in along the way.
After starting as the BayBears' on-field host, Newman gradually took over pregame interviews and postgame analysis on radio in 2014. The following year, she handled on-field hosting for home games, radio for away games, pregame and postgame radio duties, sales, social media, mascot and player events and, of course, every Minor League front office member's favorite task -- tarp pulls. The ancillary responsibilities helped give her the ability to explore her broadcasting passion more in depth.
"In Mobile, we were the only [Southern League] team that didn't have a video feed, so we were solely audio," she said of her first Minor League play-by-play setting. "You're remembering to say, 'It's a beautiful purple-pink sky with the sun setting. The MGM Casino is in the background. Mobile is in blue, Biloxi is in white,' that whole nine."
That's not to say she ever gave up on TV.
"I latched on to sideline reporters once I started figuring out that role, so Sophia Minnaert with the Brewers was one of my favorites just for her seamless bilingual ability. It's beautiful. She was always awesome. I always loved [Dodgers reporter] Alanna Rizzo.
"It's the whole sideline, sit-down [position], developing those pieces because baseball is an emotional sport. No one is a fan of the Rangers because so-and-so came out and hit .300. It's either that one moment at a game that you remember, or you attach to or you have the same background as a player, or you identify with that. That's why I love Minor League Baseball, because those stories haven't been told yet."
Newman left Mobile and in 2016 began working with the Commissioner's Office helping to implement and monitor Major League Baseball's various pace-of-play initiatives in the AFL, Spring Training and regular season games back home in Atlanta. All along, she nabbed broadcasting gigs wherever she could find them, including with the Atlantic Coast and Big South Conferences.
Following the 2016 season, Newman saw a job posting about Frisco's open No. 2 broadcast position but not until after the application deadline had passed. A year later, when the position opened again, she was determined not to miss out.
On the air, under the lights
Rouillard is a Washington state native, a University of Oregon product and a broadcaster molded by the childhood influence of legendary late Mariners voice Dave Niehaus. The East Coast had Mel Allen and Red Barber. California had Vin Scully. The Pacific Northwest had Niehaus.
Now in his third year with the RoughRiders and second as the team's lead radio voice, Rouillard is embracing his role in Frisco's evolving communications and broadcasting department.
"From my understanding, as the process was going along, the whole concept was to kind of make it a more dynamic position and basically to save us from having two of me, if that makes sense," he said before the 'Riders' game in San Antonio on Tuesday. "Yeah, there's going to be some overlap, but at the end of the day, I think we were hoping to tap in to different skill sets and make it more of a digital media operation along with the generic broadcast and game notes and stat packs, all of that."
Newman fit Frisco's model. The RoughRiders boast an impressive digital media content arm, 11 TV dates and a monthly program -- "Riders Insider" -- on Fox Sports Southwest, all of which feature Newman. For TV games like Opening Day, she's at field level as part of a three-person broadcast team with play-by-play voice Jared Sandler and color analyst Mike Bacsik.
"The great thing is the producer that we're working with [Kurt Deichert], he's very pro involving me," she said. "I have an open feed with him the entire time, and I basically just make sure that I stay listening to the guys. If I get something off their conversation, I'll just tell Kurt, and he'll buzz over to the guys and say, 'Hey, throw it to Melanie.'"
For every non-televised home game -- eight so far -- Newman is in the radio booth for the first time since she left Mobile after the 2015 season. Rouillard takes play-by-play for six innings while Newman handles the third, fourth and seventh. Throughout, the two fuse an expansive array of knowledge into the broadcast.
"I think the fun part is that we're not just clones of each other," said Rouillard, who will handle road broadcasts solo until Newman begins traveling with the team in June. "I'm hoping that our audience will come to appreciate that as well. It should make for the perfect storm of opinions and views and perspectives."
Their work is far from over when the final out is recorded. That's when the broadcast team breaks down its call.
"We do pretty much go over something every night," Rouillard said. "The thing that stands out to me is that whenever we do our nightly feedback, she's very receptive to everything. There's nothing in the way of defensiveness there. She's very open to everything that's being said, and if you listen the next day and the day after, I start to hear those things we were talking about the night before starting to go into action on-air."
That's no accident.
"He'll make notes as we go through and say, 'OK, I noticed you said this tonight. That was good,'" she said. "Or, 'Let's lose this phrase.' Just little things like that, which is super helpful. When they're on the road, I've got their games, but I try to play other Major League games that are going on to try to pay attention to things that they may do or not do."
She's been practicing and learning for a long time. Her parents once found an old recorder at home, and on the tape inside was the voice of a three-year-old Melanie running around the house providing play-by-play of what her family members were doing.
"This past home series against the Hooks, I feel like I finally have the rust off," she said. "I feel more comfortable. My cadence is finally there, and I'm working on monitoring my inflection and my tone and pitch in certain calls and just trusting that what I'm watching, I know what's going on. When I export that from my brain to my mouth, it comes out exactly the way that I'm watching it."
Looking forward to ordinary
While Newman continues climbing the broadcasting ladder, she knows she's currently in a role few others can claim. Clearwater's Kirsten Karbach and Lexington's Emma Tiedemann are the only other female radio voices in the Minors.
"At one point ... I had someone ask me, 'who do you look up to? Who are your role models?'" she said. "And at the time, I listed men. I was told almost immediately, 'you need to have females on that list.' I never really understood why because, like, Steve Berthiaume with the Diamondbacks, he took me under his wing. He and his wife Cindy [Brunson, currently with the Pac-12 Networks and formerly of ESPN's SportsCenter] have been like family to me. [D-backs pre- and postgame host] Mike Ferrin and 'Gub' [D-backs radio voice Greg Schulte] and all those other guys, they're awesome. Bob Rathbun, he's with the [Atlanta] Hawks, but he had the Braves and Tigers before that and was in Norfolk [with the Triple-A Tidewater Tides] forever.
"At least the girls that I know, we are not asking to be treated differently."
Newman, like many baseball fans, tuned into the Colorado Rockies telecast on Monday as Jenny Cavnar, a member of the Rockies' broadcast team since 2012, became the first woman to handle play-by-play duties on a Major League broadcast in 25 years.
"It was such an amazing feeling," Newman said. "I still remember when they made the headlines using her for radio play-by-play [in 2015] and just how positive and uplifting the Rockies have been about wanting to have her involved and believing in her ability.
"That's the ideal situation that you want with a professional team, is to not even analyze anybody by their gender. ... We're ready for the day when something like this isn't even breaking news. It's just a thing, because anybody can do it. It's not special because it's a female. Some people got upset about that and said it should always be special, and I understand it, but at the end of the day, there's no other way to say it but that it shouldn't be. This should be an everyday occurrence, not out of the ordinary."
Cavnar recently reached out to Newman on Twitter to offer her congratulations on the Frisco job and offer her support in a difficult industry.
"Watching her [Monday] night," Newman said, "it drove it home to not have that closed mind to the fact that I'm just as capable to be in a booth, to have those calls to have those opportunities if that door opens up."
Tyler Maun is a contributor to MiLB.com. Follow him on Twitter @TylerMaun.