Buchanan Designs OKC Dodgers Team Store Growth
Oklahoma native enters third season with focus on retail progress for Triple-A team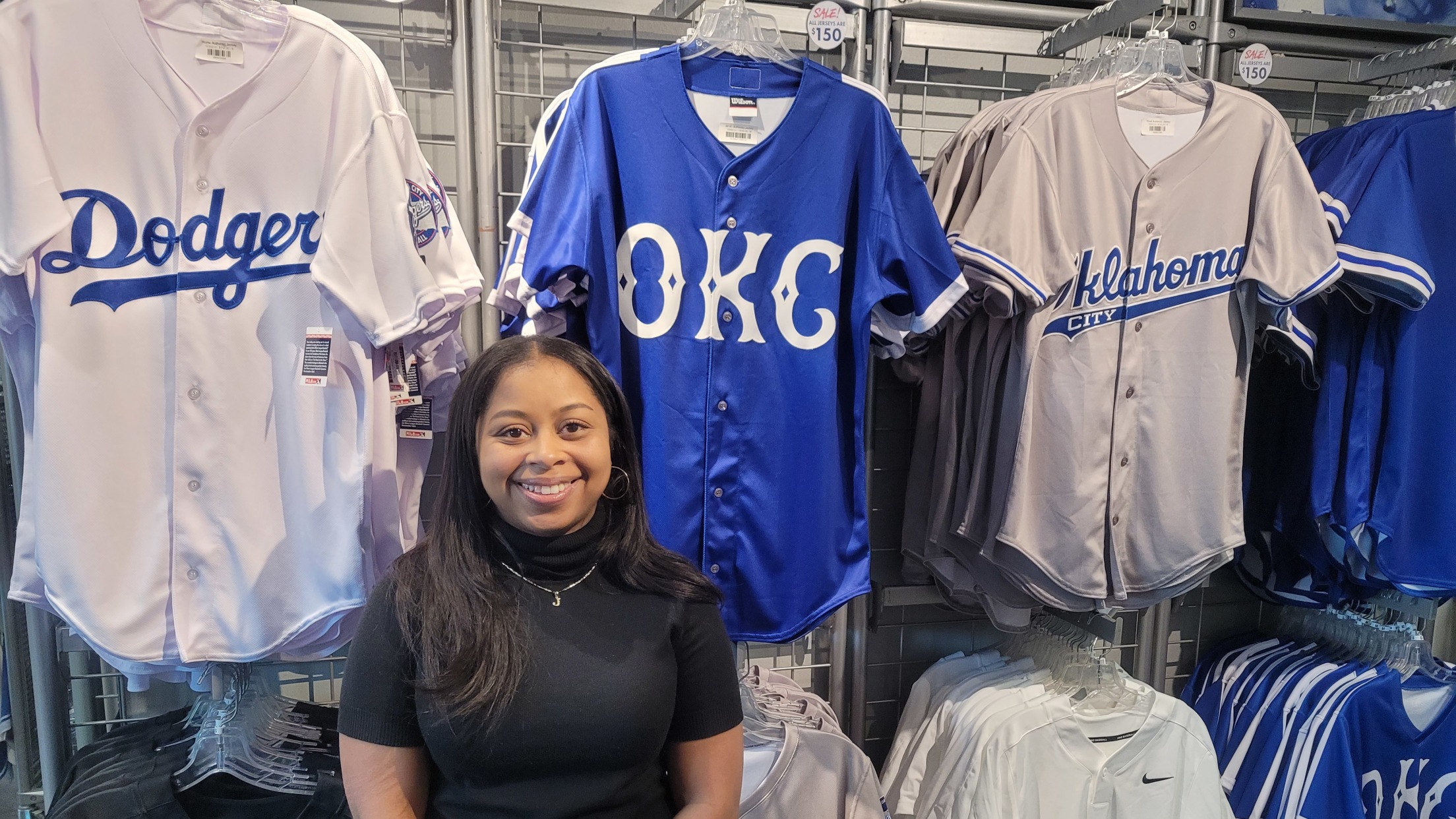 As part of Black History Month, the Oklahoma City Dodgers are highlighting recent or current members of the OKC Dodgers organization who have made significant contributions on or off the baseball field. Learn more about Black History in the Minors here. OKLAHOMA CITY — Fans flock to the Oklahoma City
As part of Black History Month, the Oklahoma City Dodgers are highlighting recent or current members of the OKC Dodgers organization who have made significant contributions on or off the baseball field.
Learn more about Black History in the Minors here.
OKLAHOMA CITY — Fans flock to the Oklahoma City Dodgers Team Store during games at Chickasaw Bricktown Ballpark in search of a fun souvenir or to browse the latest offerings and styles in team apparel.
From team jerseys and hats, to drinkware, T-shirts, mini plush mascots and more, the OKC Dodgers Team Store offers a wide variety of options to entice all who walk through the doors.
That is one of the goals OKC Dodgers Director of Merchandise Jasmine Buchanan strives to continually achieve as she preps for her third season with the organization — for the Team Store to offer broad appeal. As the start of the 2023 baseball season approaches, she also aims to keep the store looking fresh and full throughout the season as she works to grow the organization's merchandise revenue each year.
The OKC Dodgers Team Store has already experienced an 80 percent growth in sales over Buchanan's first two seasons. In 2022, the store more than doubled the number of items sold in 2019 prior to her arrival.
"That is the most rewarding for me, just to see the growth and the change and hopefully I can continue to do that," Buchanan said.
The Watonga, Okla., native and graduate of the University of Central Oklahoma, started with the OKC Dodgers in January 2020, and has worked in retail for about 13 years. Buchanan started as a part-time merchandiser at Macy's while attending college. She later worked as a department manager for Old Navy and then as retail sales manager for Girl Scouts Western Oklahoma before joining the OKC Dodgers.
The start of the COVID-19 pandemic quickly brought new challenges and the cancelation of the 2020 baseball season. As she learned a new business and organization, impacts from the pandemic altered global supply chains. Buchanan said processing and shipping times have nearly tripled for some items over the last couple of years, which has caused many merchandisers to alter how they approach their businesses.
Buchanan now bulk orders at the start of the baseball season to have plenty of merchandise in stock during the busiest time of year and then keeps the extra items in storage to maintain a full store and offer new items throughout the six-month season.
"You just can't get stuff as quickly as you used to, and so making sure that we are as heavy as we can be to start so that we're not ever empty in here during the season," Buchanan said.
The OKC Dodgers Team Store — located on the west side of Chickasaw Bricktown Ballpark along South Mickey Mantle Drive — opens at 10 a.m. on weekdays, and once the season begins, Buchanan typically starts her days fulfilling online orders. Throughout her shift, she pulls sales reports from the previous evening, adjusts inventory, then restocks and refills items so the store is prepped for the influx of shoppers anticipated during that night's game. She has a gameday crew in charge of retail during home games, but gladly fills in as needed and sometimes works until the fifth or sixth inning of games making for extra-long days that stretch well into the summer evenings.
During the offseason, Buchanan does extensive research to learn about what new items might be available or popular for the next season. She collaborates with other Minor League Baseball teams to see what they are selling and having success with and also learns about vendors' top-selling items. Merchandise that has been popular in OKC also plays a key factor into future purchasing decisions.
Customer demographics cross the spectrum for the OKC Dodgers Team Store, so appealing to a broad range of individuals, different age groups, as well as both first-time and frequent guests are also considerations for the upcoming season.
Buchanan then picks from vendors' style guides to create new OKC Dodgers merchandise or submits her ideas to vendors to bring her creations to life.
Ultimately customers decide what is a hit with any new looks or items Buchanan adds to the range of products available in the store.
"You kind of just have to use your best judgment and then go from there, but it can definitely be tough because you're just not sure if they're going to like it or not like it. And so it's a lot of trial and error," Buchanan said. "(Some people say) you just get to shop all day in the offseason and I really kind of do, but it's a lot of fun."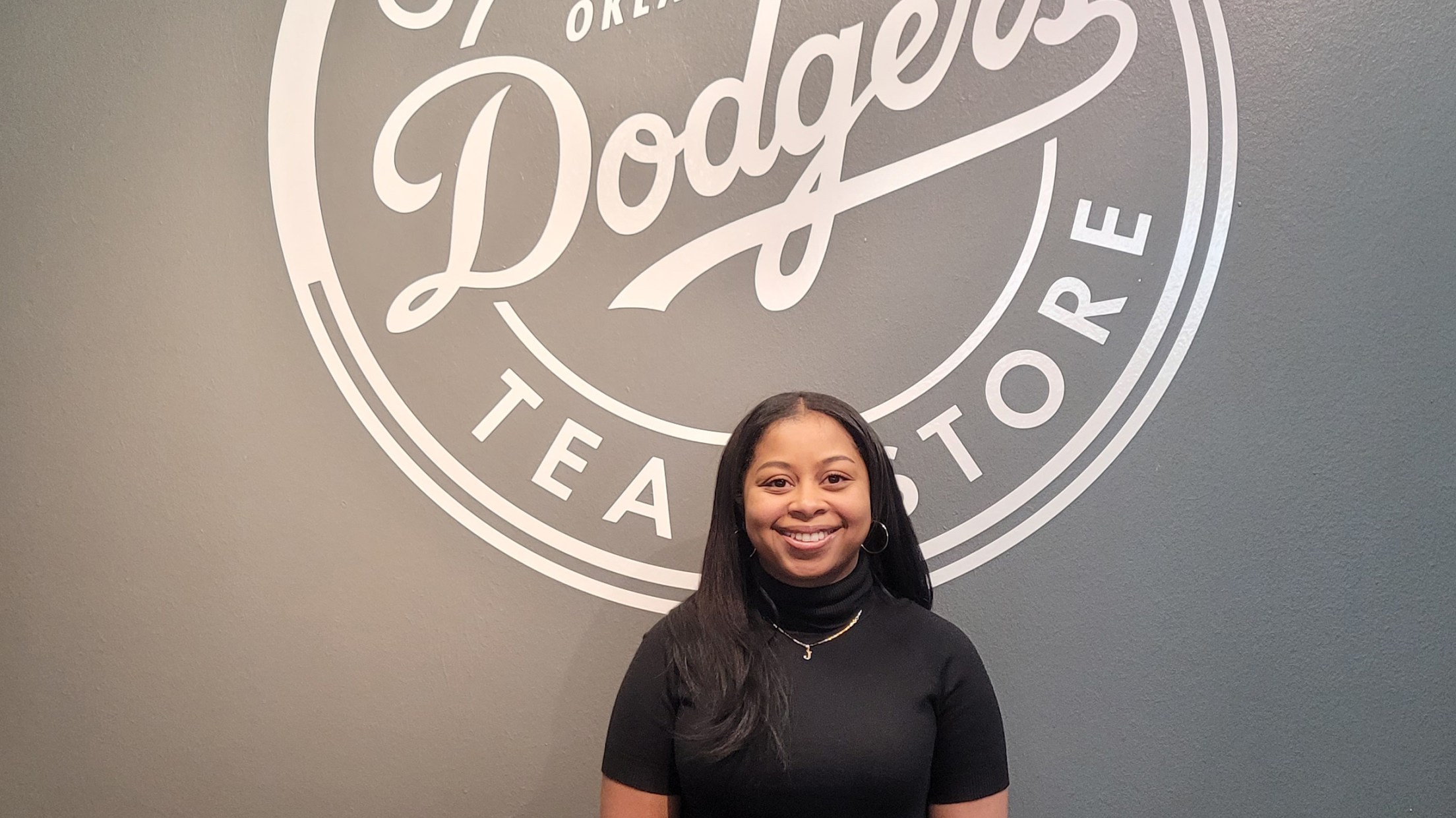 Baseball caps rank as the store's most popular items and Buchanan has worked to increase the variety of caps available for purchase.
"I've learned just the more variety of caps that we can have, the better," Buchanan said. "Not everybody is a fan of the flat bill that the players wear, and so bringing in more adjustables and snapbacks — that's really been the biggest change for us. Just having more of a variety."
Prior to Buchanan joining the OKC Dodgers, the team's merchandise purchasing was handled by the Los Angeles Dodgers through a partnership with the retail operation. The Los Angeles Dodgers became the Major League affiliate of the OKC Dodgers starting with the 2015 season.
"We saw success in this partnership especially early when navigating the new brand in 2015," said Mitch Stubenhofer, Vice President of Operations for the OKC Dodgers. "After the 2019 season, we decided to recruit for an individual to oversee the local buying for OKC who could also manage the full retail operation.
"What we got with Jasmine was not just a buyer, but a strong passionate leader in the retail space who has taken our retail operation to new heights. Jasmine's attention to details, focus on trends and maintaining strong relationships with vendors has put OKC back at the top as one of the top retail operations in Minor League Baseball."
Buchanan said several items sold in the Team Store last year ended up on Minor League Baseball's top product list. She also noted that vendors have created style guides of OKC Dodgers gear, which they typically only do for about the top 30 teams.
"I can tell more vendors are paying attention to us and starting to notice us more," Buchanan said. "They're beginning to reach out more…I'm sure we've moved up on that ladder as far as our rankings."
To update the look of the OKC Dodgers Team Store, Buchanan rearranges merchandise at least once or twice a month, emphasizing items that correspond to upcoming theme nights the team has planned, such as throwback OKC 89ers Nights or Copa de la Diversión games where the team takes the field as Cielo Azul. Nike serves as a key inspiration for Buchanan, as she enjoys seeing how the brand's merchandise flows throughout its retail spaces and tells a story.
"We do have repeated shoppers and so we want them to buy every time that they come in and so just trying to keep it fresh," she said. "You don't want the store to look the same every single month or week when people come in. So we're constantly moving around."
As the OKC Dodgers Team Store continues to grow its sales, ways to increase retail space are also in the works.
Typically in addition to the Team Store, two kiosks are set up on the concourse for OKC Dodgers games. This season, a location will be added inside the Oklahoma Fidelity Bank Club to reach individuals on the suite levels. The online team store (okcdodgers.milbstore.com) is always open as well.
Buchanan enjoys receiving feedback from fans and fellow staff members about how the team's merchandise has evolved, grown and improved
She said the greatest compliment she can receive is someone noting how good the merchandise available in the Team Store looks.
"A lot of the time, I am the one that kind of designs those and puts it together," Buchanan said. "So anytime we get good feedback on stuff that comes in that makes me feel great."