Bullpen Carries Kernels to 5-3 win
Cedar Rapids surges past Peoria during series opener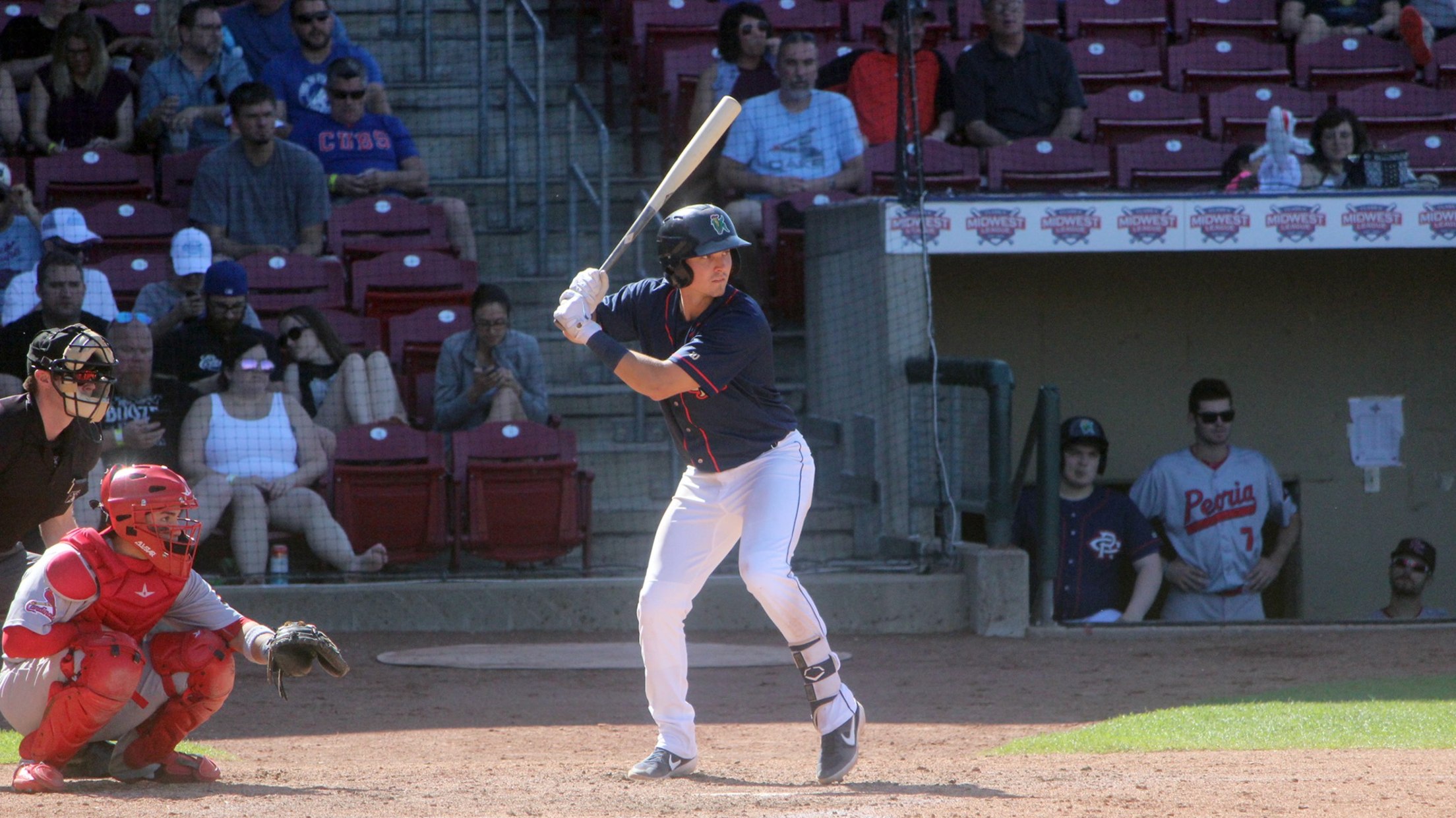 PEORIA, ILL. -- Five unanswered Cedar Rapids Kernels runs and a scoreless night from the bullpen highlighted a 5-3 victory Friday against the Peoria Chiefs at Dozer Park. Carlos Suniaga, Jose Martinez, Moises Gomez combined for seven innings without any hits or runs allowed to help Cedar Rapids (31-29) win
PEORIA, ILL. -- Five unanswered Cedar Rapids Kernels runs and a scoreless night from the bullpen highlighted a 5-3 victory Friday against the Peoria Chiefs at Dozer Park. Carlos Suniaga, Jose Martinez, Moises Gomez combined for seven innings without any hits or runs allowed to help Cedar Rapids (31-29) win the series opener at Peoria (26-33).
Cedar Rapids rallied from a three-run deficit to force a 3-3 tie within the fourth inning. Jared Akins and Chris Williams drew back-to-back one-out walks before Jacob Pearson brought in Akins with an RBI single. Andrew Bechtold added an RBI groundout that plated Williams, and Gabriel Maciel delivered a game-tying single to drive in Pearson.
Celestino provided the final two runs in the 5-3 Kernels triumph. His hustle double led off the eighth inning, and he scored the go-ahead run during a Chris Williams triple. In the ninth, Celestino produced a sacrifice fly that allowed Gabe Snyder to come home.
A high pitch count led to an early departure from Tyler Palm, but a trio of Kernels relievers dominated the final seven frames. Suniaga posted five consecutive strikeouts in his season-high three shutout innings pitched. Martinez (3-1) tossed three scoreless innings of his own to earn his third consecutive victory. Gomez recorded a perfect ninth inning for his first save.
Peoria tagged Palm for three runs to take a 3-0 lead in the second inning. With two outs and the bases loaded, Delvin Perez hit a three-run double to bring in Bryce Denton, Brandon Benson, and Brendan Donovan.
Evan Sisk (1-4) gave up the final two runs and took the loss for the Chiefs. Alvaro Seijas did not factor in the decision despite throwing a quality start over seven innings.
Coming up, Cedar Rapids will play Peoria at 6:35 p.m. CT Saturday in the second contest of a five-game, four-day series. Kernels right-hander Josh Winder (4-1, 2.98) is expected to start against Chiefs left-hander Diego Cordero (2-5, 3.53). Broadcast coverage with Chris Kleinhans-Schulz will be available on 1450 KMRY AM and 93.1 KMRY and also online at www.kmryradio.com and www.kernels.com.
The final Kernels homestand in the first half of the 2019 season begins June 11 and runs through June 16. Fans can purchase tickets for all Cedar Rapids Kernels home games by visiting www.kernels.com, going to the Kernels Ticket Office, or calling (319) 896-7560. The Kernels Ticket Office is open from 10:00 a.m. to 5:00 p.m. Monday through Friday and from 10:00 a.m. to 2:00 p.m. on Saturdays. On Sundays when the Kernels have a home game, the Kernels Ticket Office will open at 11:00 a.m.
The Cedar Rapids Kernels are the Midwest League affiliate of the Minnesota Twins.