Bumgarner dominates in epic 2-0 River Cats win
Bumgarner strikes out eight in first rehab start, Calixte chips in with inside-the-park home run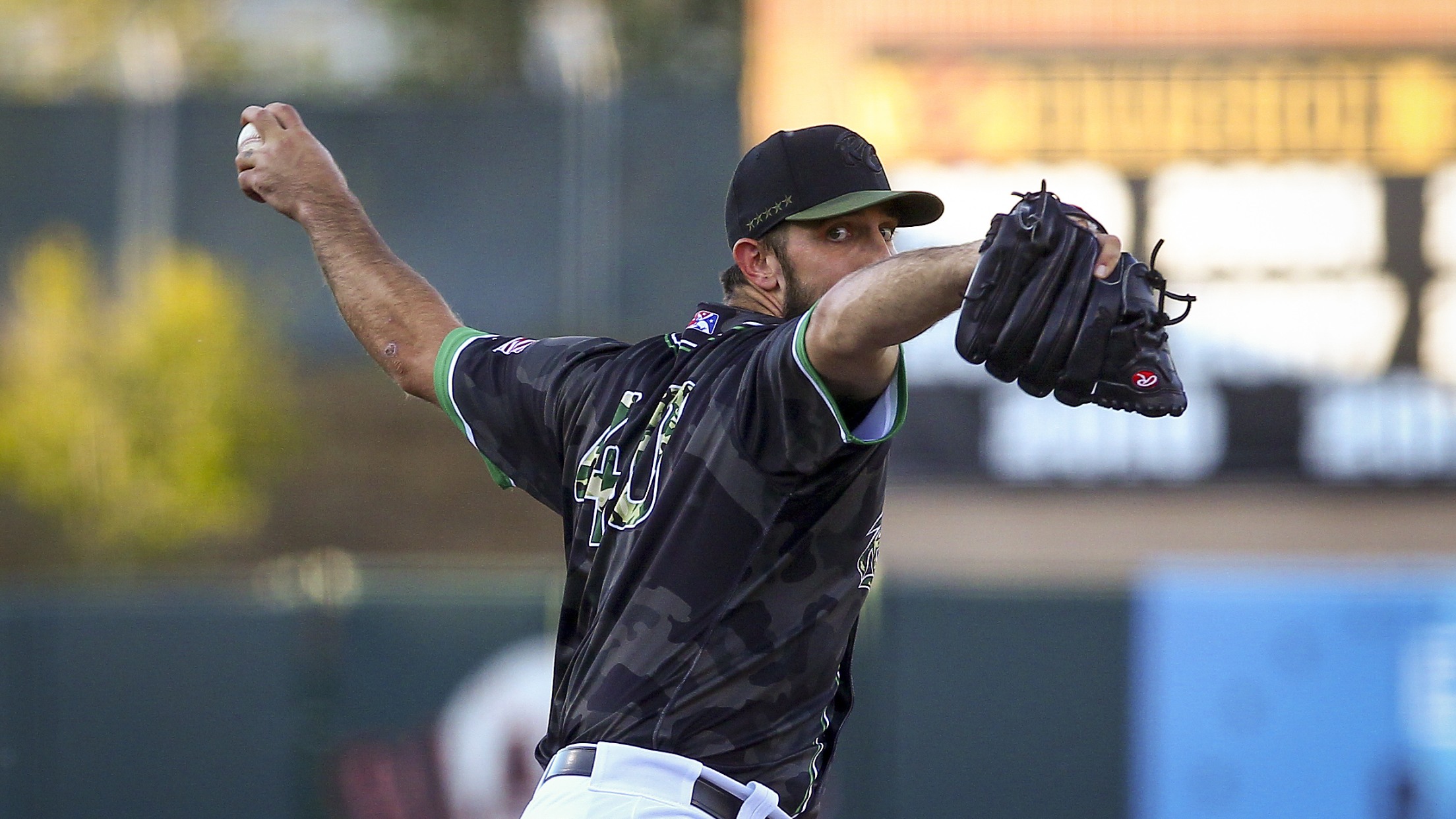 San Francisco Giants pitcher Madison Bumgarner made a rehab start for The Sacramento River Cats on May 26,2018, Bumgarner pitched 3.2 innings striking out 8. He made 47 with 31 strikes. He went 1 for 1 at the plate with a single in the 3rd inning. Photo; Reid Thompson/ River Cats (Ralph Thompson)
WEST SACRAMENTO, CA - A packed house was on hand at Raley Field to see Madison Bumgarner lead the Sacramento River Cats (24-26) to a thrilling 2-0 victory over the Albuquerque Isotopes (26-24). Four Sacramento pitchers combined on a two-hit shutout, and Orlando Calixte put an exclamation point on the
WEST SACRAMENTO, CA - A packed house was on hand at Raley Field to see Madison Bumgarner lead the Sacramento River Cats (24-26) to a thrilling 2-0 victory over the Albuquerque Isotopes (26-24). Four Sacramento pitchers combined on a two-hit shutout, and Orlando Calixte put an exclamation point on the win with an eighth inning inside-the-park home run.
Bumgarner was making his first appearance of 2018 and he looked smooth and crisp throughout. He struck out eight batters, walked one, and did not allow a hit in 3.2 innings pitched. After the game Bumgarner said, "I feel pretty good about the way everything's working. Obviously we'll see how I feel tomorrow and how I bounce back." He reached his pitch limit in the fourth inning after throwing 47 pitches (31 strikes). Bumgarner also picked up a single on the only pitch he saw in the third inning. "It was the first pitch I've seen in a while, so I was a little tardy," said Bumgarner.
Tyler Rogers came on to relieve Bumgarner in the fourth, and Mark Melancon tossed a perfect fifth in his second rehab appearance with Sacramento. Tyler Beede came into the game in the sixth and took the River Cats the rest of the way. He threw the final four innings, allowing no runs on two hits and three walks with four strikeouts. The Giants prospect was visibly fired up after finishing each of the final two innings as he earned his second win of the season.
The River Cats got all the offense they would need when Ronnie Freeman hit a sacrifice fly in the second inning to take a 1-0 lead. The biggest hit of the night though came in the bottom of the eighth inning when Orlando Calixte hit a line drive to right field that got past the right-fielder and rolled to the wall. Calixte turned on the jets to race around the bases for an inside-the-park home run, making it 2-0 and sealing the victory.
The River Cats take on the Isotopes again on Sunday for the third game of this five-game series. Sacramento will send lefty Matt Gage (2-3, 7.20) to the mound and will go up against right-hander Jeff Hoffman (2-3, 4.42). First pitch is set for 5:05 p.m. Catch all of the action live online at rivercats.com, on the MiLB First Pitch app, and on the air on Money 105.5 FM.
Additional Notes
• Orlando Calixte's inside-the-park home run was the first such round-tripper since Darren Ford hit one on August 5 of 2015 in Fresno against the Grizzlies.
• 14,014 fans were on hand tonight at Raley Field for the first sellout of the 2018 season and the 93rd sellout in River Cats history.