Calixte, Gillaspie lead River Cats to win in return
Duo combine to go 3-for-7 with two runs, three RBI in 5-2 win over Reno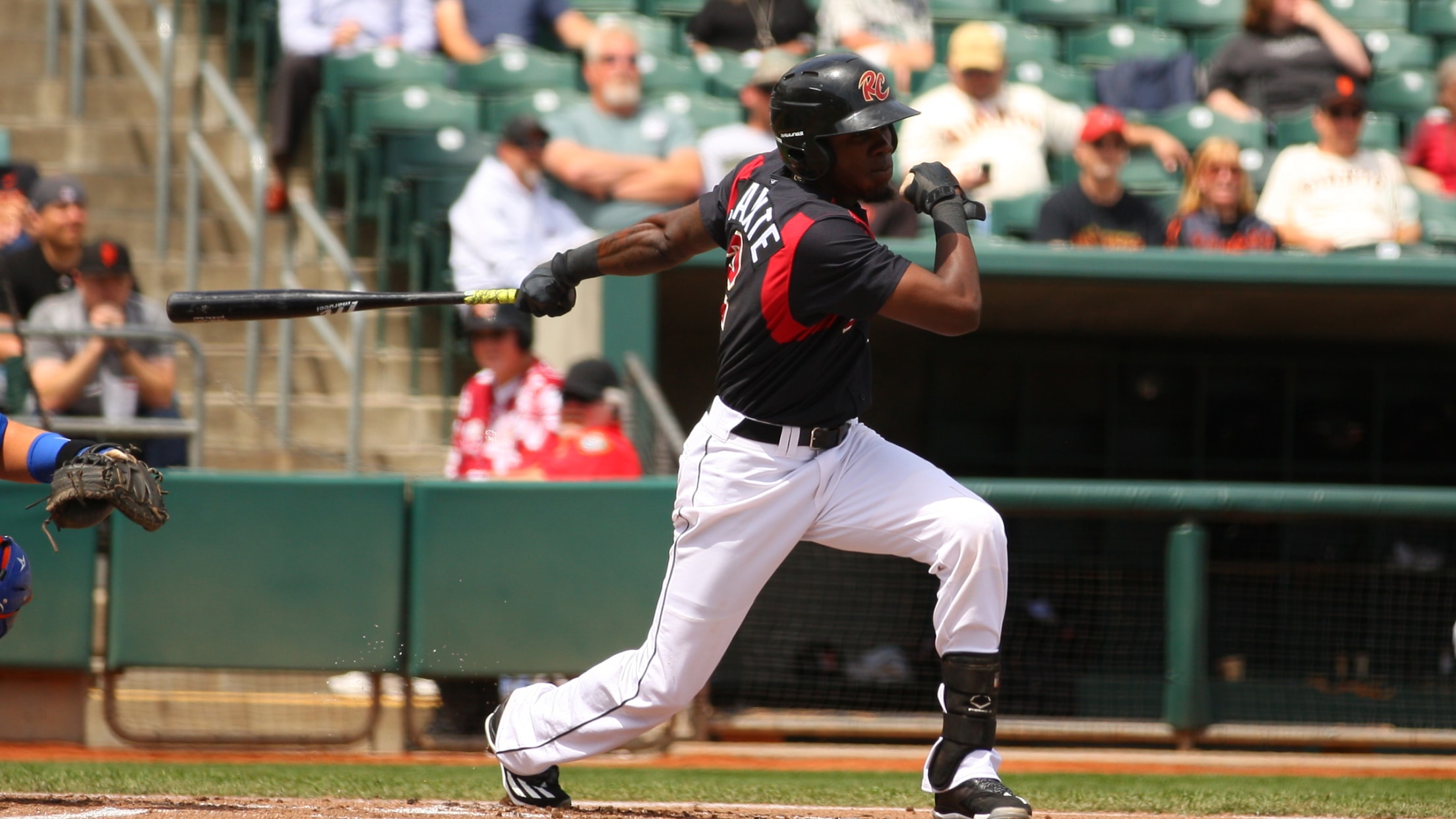 (Helmut Steinwender)
Orlando Calixte and Conor Gillaspie made their returns to the River Cats lineup Saturday night, helping lead the Sacramento River Cats (24-37) to a 5-2 win over the Reno Aces (39-24) at Raley Field. 
Orlando Calixte and Conor Gillaspie made their returns to the River Cats lineup Saturday night, helping lead the Sacramento River Cats (24-37) to a 5-2 win over the Reno Aces (39-24) at Raley Field.
Sacramento took an early 3-0 lead in the second inning and never looked back, getting a bases-loaded walk from Tim Federowicz and a two-run single from Calixte. After Reno got a run of their own in the third, the River Cats responded by scoring two more runs to take a 5-1 lead. Seven of the eight River Cats position players had a base hit in tonight's win.
The final Aces run came off starter Roberto Gomez who made his third spot-start of the season tonight. He threw a season-high 74 pitches (43 strikes) and held the best offense in the Pacific Coast League to two runs. From there on, the bullpen closed the door with left-hander Kraig Sitton picking up the win, his team-leading fifth of the season. Submariner Tyler Rogers relieved Sitton in the seventh and earned his third hold followed by Steven Okert who earned his first save in the ninth.
The River Cats will send right-hander Dan Slania (0-7, 7.85) to the hill for the third and decisive game of the series. Left-hander Aaron Laffey (2-0, 3.99) will get the ball for Reno. First pitch is set for 1:05 p.m. (PT) and the game can be heard live online at rivercats.com and on the air on ESPN 1320.
Postgame Notes
Calixte: Second baseman Orlando Calixte made his first start with Sacramento since May 28…Calixte finished with the only two-hit performance of the night and also collected two RBI.
Gillaspie: Conor Gillaspie played all nine innings at third base in his rehab start with the River Cats tonight…was Gillaspie's first game with Sacramento since May 23…went 1-for-3 with a run and an RBI, his first with Sacramento this season.
Stepping up: Right-hander Roberto Gomez went a season-high 4.2 innings, allowing two runs (one earned) on two hits while walking three…in each of his three starts, Gomez has increased his outing by one inning…the River Cats are 3-0 when Gomez starts on the mound.
Turn two: The River Cats tied a season-high by turning three double plays tonight…Sacramento is now second in the PCL with 68 double plays turned this year…Jae-Gyun Hwang has been involved in a team-most 34 of them.
***
The Sacramento River Cats are the Triple-A affiliate of the three-time World Champion San Francisco Giants. The team plays at Raley Field in West Sacramento, consistently voted one of the top ballparks in America. River Cats Season Tickets, Mini-Plans, and Flex Plans can be purchased for the 2017 season by calling the River Cats Ticket Hotline at (916) 371-HITS (4487). For more information about the River Cats, visit www.rivercats.com. For information on other events at Raley Field, visit www.raleyfield.com.