Canzone's Late Blast Powers Soddies in Frisco
Canzone, Garrett collect three hit nights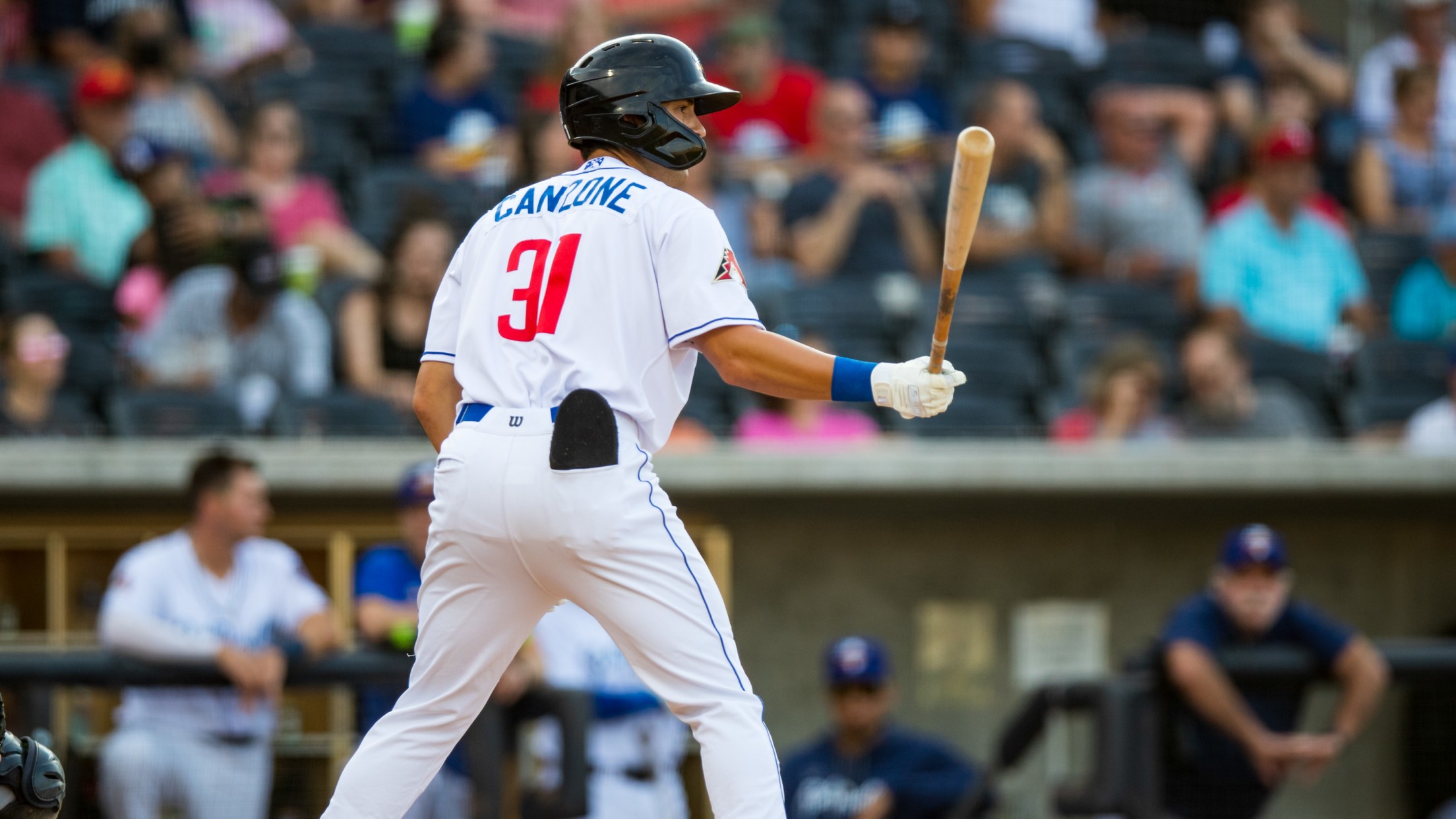 Dom Canzone belted his second Double-A homer, a two-run shot in the eighth inning. (John Moore)
Frisco, Texas — Despite falling behind 3-0 after three innings, the Soddies rallied for a 9-4 win against the Frisco RoughRiders on Saturday evening. With the game tied at 4-4 in the eighth, Dom Canzone blasted a go-ahead two-run homer to cap a three-hit performance. The Sod Poodles have won
Frisco, Texas — Despite falling behind 3-0 after three innings, the Soddies rallied for a 9-4 win against the Frisco RoughRiders on Saturday evening. With the game tied at 4-4 in the eighth, Dom Canzone blasted a go-ahead two-run homer to cap a three-hit performance.
The Sod Poodles have won five of their last seven contests. Amarillo has the opportunity for a series win in the six-game set in Frisco on Sunday.
Coming off his seven-inning no-hitter on Sunday at HODGETOWN, right-hander Luis Frias gave up two early home runs at Riders Field. Anderson Tejeda's solo shot in the first inning gave Frisco a 1-0 lead, while Josh Jung's two-run shot in the third made it 3-0. Frias settled down in his outing, tossing seven innings of four-run ball en route to his fifth Double-A victory.
The Soddies responded in the top of the fourth against Frisco starter Ronny Henriquez, as Canzone hit an RBI single to put Amarillo on the scoreboard.
In the sixth, Amarillo rallied again. Buddy Kennedy hit an RBI double, while Canzone brought Kennedy home with a run-scoring hit to right field. The game was tied at 3-3.
In the seventh, the Soddies took a lead against reliever Tai Tiedemann. After a one-out double from Dominic Fletcher, outfielder Stone Garrett stepped in and laced a go-ahead single to left. In the bottom of the frame, Frisco first baseman Sam Huff belted a game-tying solo homer to left to tie the score at 4-4.
Canzone struck again in the eighth against RoughRiders righty Fernery Ozuna. Geraldo Perdomo walked with one out, which Canzone followed with a line drive two-run homer that just sailed over the center field wall.
Amarillo tacked on three more runs in the ninth against Ozuna, including RBI hits for Garrett and Kennedy. Both collected their second run-scoring hits, while Garrett secured a three-hit night. Eight of the nine batters in Amarillo's lineup recorded a hit.
Soddies lefty Tyler Holton spun two scoreless frames after Frias' seven innings to earn his first pro save.
The Sod Poodles and RoughRiders complete their six-game series on Sunday evening. Amarillo sends lefty Tommy Henry to the hill, while Frisco uses lefty Cole Ragans. First pitch is at 6:05 p.m.
Pregame coverage on Amarillo's NewsTalk 940 AM, Mix 94.1 FM, and the Sod Poodles Radio Network begins at 5:45 p.m. with Sam Levitt.