Cardinals announce Happy Half-Hour, weekly promotions for 2021 season
Great Southern Bank Schedule Update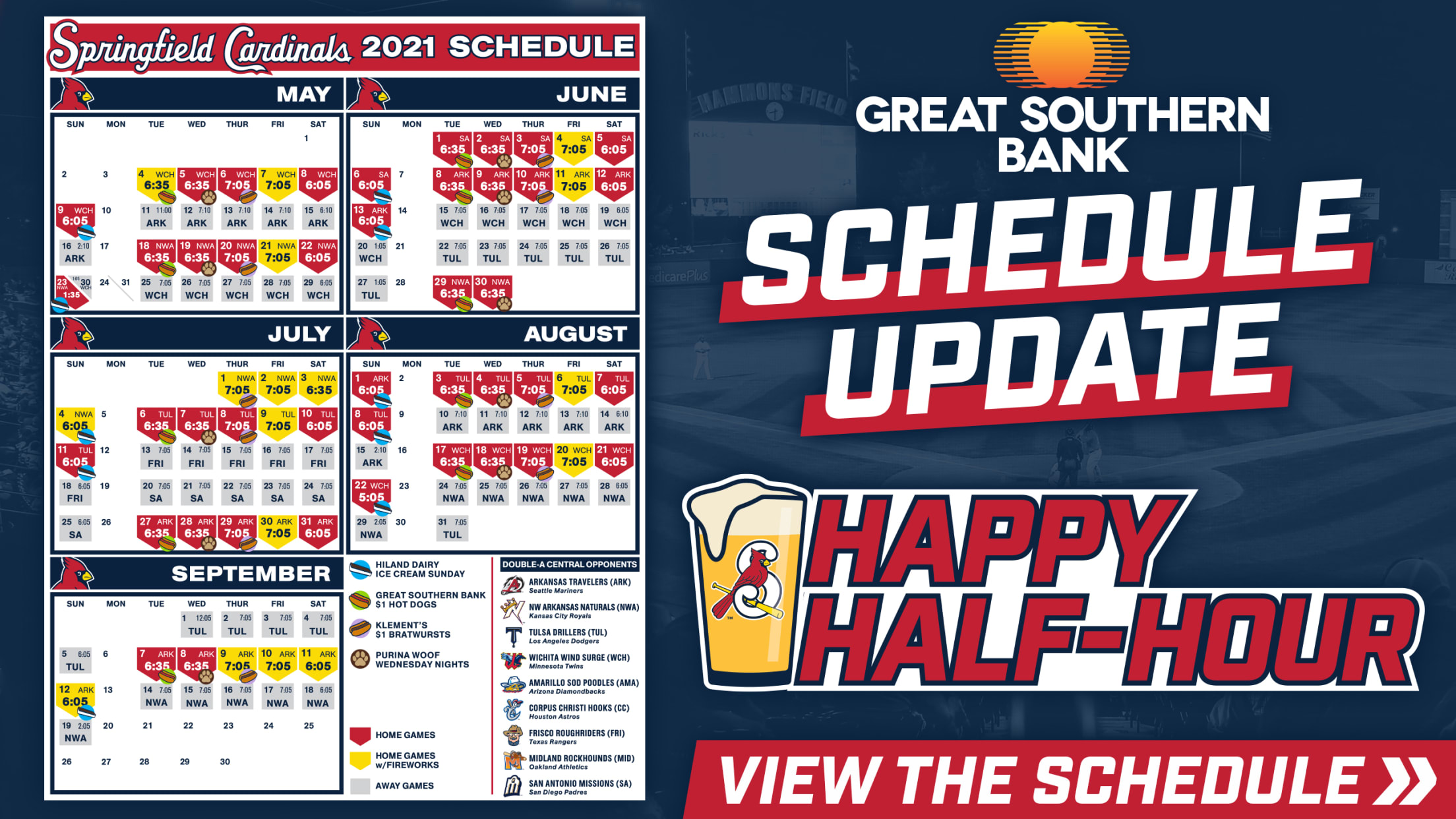 SPRINGFIELD, Mo. -- The Springfield Cardinals have announced this year's weekly promotions with the latest Great Southern Bank Schedule Update. All new for 2021 is the Cardinals Happy Half-Hour before EVERY home game this season! For the first 30 minutes after gates open (gates open one hour before scheduled game
SPRINGFIELD, Mo. -- The Springfield Cardinals have announced this year's weekly promotions with the latest Great Southern Bank Schedule Update.
All new for 2021 is the Cardinals Happy Half-Hour before EVERY home game this season! For the first 30 minutes after gates open (gates open one hour before scheduled game time), all fans (21+) can enjoy drink specials on all adult beverages from Hammons Field concessions locations.
Fan favorites including Great Southern Bank $1 Dog Day (Tuesdays), Klement's $1 Bratwurst Night (Thursdays), Friday Fireworks every Friday and Hiland Dairy Ice Cream Sunday & Kids Run the Bases each Sunday are all set to return in 2021. Plus, every Wednesday in 2021 will be a Purina Woof Wednesday with dogs invited to the ballpark in general admission sections.
DOWNLOAD THE LATEST GREAT SOUTHERN BANK SCHEDULE UPDATE
In total, the Cardinals schedule includes 60 Happy Half-Hours, 10 Great Southern Bank $1 Dog Days, 10 Purina Woof Wednesdays, 10 Klement's $1 Bratwurst Nights, 10 Friday Fireworks Nights, and 10 Hiland Dairy Ice Cream Sundays and Kids Run the Bases.
The Cardinals will have bonus fireworks nights on Opening Day (May 4), for Freedom Week (July 1-4) and for the final four home games of the season (9/9-9/12).
Keep an eye out for more information on this year's Promotional Giveaway Items coming soon! To view this year's weekly promotions online, visit springfieldcardinals.com/promotions.