Cardinals Prospect Primer: Weaver's dream
'Focused' righty hoping to stick in St. Louis after 2016 stint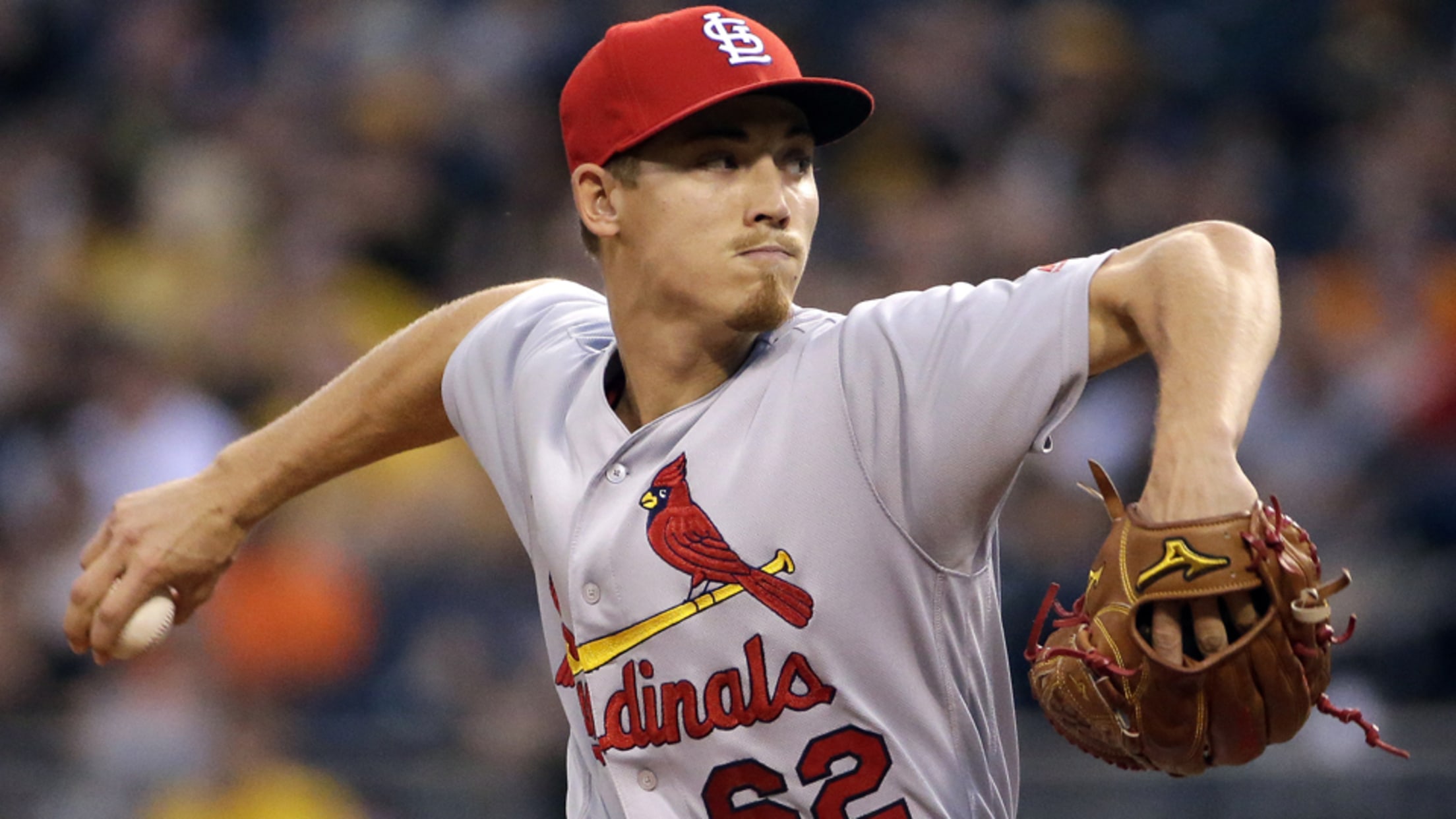 Luke Weaver has 192 strikeouts in 197 2/3 career Minor League innings. (Gene J. Puskar/AP)
Some players are on the verge of stardom, others are entering a crucial phase of their development and still others are getting their first tastes of full-season ball. With the 2017 season approaching, MiLB.com takes a look at the most intriguing prospects from each MLB organization.Major League-ready: Luke Weaver, RHPIn
Some players are on the verge of stardom, others are entering a crucial phase of their development and still others are getting their first tastes of full-season ball. With the 2017 season approaching, MiLB.com takes a look at the most intriguing prospects from each MLB organization.
Major League-ready: Luke Weaver, RHP
In each of the last two years, Weaver's season has been delayed by injury. But both times, he bounced back from the tardy start -- and all the potential problems inherent in that -- to be unbelievably dominant when he did get on the mound.
"To his credit, one of the great pluses for him is that he's extremely focused," said Gary LaRocque, the Cardinals' director of player development. "He is a battler on the mound, he stays within himself well, he likes to challenge hitters and when you add it all up, he's done a real good job with meaningful innings as he's moved through the system."
Following his rookie campaign in 2014, the first-round pick has gone 15-8 with a 1.48 ERA, 180 strikeouts and 31 walks in 188 1/3 innings as he climbed to Triple-A Memphis in just his second full season. His numbers weren't as strong in the Majors after he earned his first callup in August, but with an above-average fastball and plus command, MLB.com's No. 68 overall prospect should be turning heads in The Show in no time.
"He continues to prepare himself, he understands contrast, he understands how to add and subtract," said LaRocque. "So he's got a really good presence on the mound, and as he moves forward, the big key is to just continue to perform at that high level. Whichever league he's been in, historically he's shown he can do it pretty well, so we're pleased for him."
Shining star: Harrison Bader , OF
Bader went from zero to Triple-A very quickly. After being selected in the third round of the 2015 Draft, the University of Florida product swiftly moved to Class A Peoria and finished the season with a .311 average, 11 homers and 32 RBIs in 61 games. Then when it came time for his first full season, he bypassed Class A Advanced Palm Beach and went straight to Double-A Springfield.
"He hit to the level of that league in the first month," LaRocque said. "Where you normally might see an adjustment period, his aggressiveness and the success he had right away was understanding and learning his strike zone at an upper level was very clear."
Bader moved onto the Pacific Coast League mid-season and finished the campaign with 19 total homers to rank third in the St. Louis system. With 43 extra-base hits, the Cardinals' No. 5 prospect slugged .452 while only making four errors in the outfield. Through his first 15 games at big league camp, Bader went 12-for-33 (.364) with two homers and seven RBIs as he gave St. Louis a taste of what's to come.
Full-season debutant: Dakota Hudson , RHP
Hudson's first taste of pro ball was brief, but he made a lasting impression. The first-round pick last June began his career in the Gulf Coast League and was quickly bumped up to the Class A Advanced Florida State League.
Across the two levels, Hudson held opponents to one earned run on 10 hits and seven walks with 19 punchouts in 13 1/3 innings for a cool 0.68 ERA. Then the Cardinals brought the Mississippi State product up to Springfield to get a taste of the Texas League playoffs, all before the age of 22. In that high-pressure situation, Hudson retired all four batters he faced and secured a save in the semifinals.
"He's got good stuff, he's got a very good presence on the mound, he too has very good contrast, he understands how to set up hitters and now it's just a question of executing, which means he's just got to get on the mound and get quality innings in," LaRocque said. "I look for him to have a very competitive year."
Loudest tool: Sandy Alcantara , RHP
At the age of 20, Alcantara commanded each level he pitched at last season with a plus-plus fastball that can overpower hitters. The Dominican Republic native led the organization with 153 strikeouts in 122 2/3 innings over 23 starts.
LaRocque said the biggest challenge for the 6-foot-4 hurler has been developing his fastball command, which has shown improvement. Alcantara showed it off this spring during his first taste of big league camp. After a rough debut, the right-hander hasn't allowed an earned run in 6 2/3 frames across three appearances.
"In his first game, he was appropriately nervous. And then in the second game, he settled down and looked much better," LaRocque said. "So part of that learning curve is understanding how to do it when the lights get brighter. And he's starting that process now at a very, very young age."
Back and healthy: Marco Gonzales , LHP
Last season, we also dubbed Gonzales as "Back and healthy," but then came Tommy John surgery in April. Almost 12 months later, his rehab is rolling along and the 25-year-old is ready for Take Two.
"He did a good job in his rehab," LaRocque said. "I think everything is on track for him -- a lot of times it's just reestablishing that feel and that rhythm when you get back at it, and I think he'll do that well. We're glad he's at the point where he can move forward with it now, and he's done a good job with the whole process."
The Gonzaga University product made his Major League debut about a year after the Cardinals selected him in the first round of the 2013 Draft, but injuries have slowed him down since. With an above-average changeup leading his arsenal and strong fastball command, Gonzales could quickly return to Busch Stadium this year after some healthy innings with the Triple-A Redbirds.


Others to keep an eye on: The Cardinals will be without top prospect Alex Reyes this season after he underwent Tommy John surgery in February. ... First-rounder Delvin Perez began his career in the GCL last season; the highly regarded shortstop should make a splash as he climbs the system this year. ... Catcher Carson Kelly continues to work on shutting down runners as he makes another case for being Yadier Molina's heir. ... Outfielder Magneuris Sierra, who hit .307 with Peoria in 2016, will have his bat tested when he goes to the pitcher-friendly Florida State League this season.
Kelsie Heneghan is a contributor to MiLB.com. Follow her on Twitter @Kelsie_Heneghan.