Carolina Baseball History Spotlight: Bert Simmons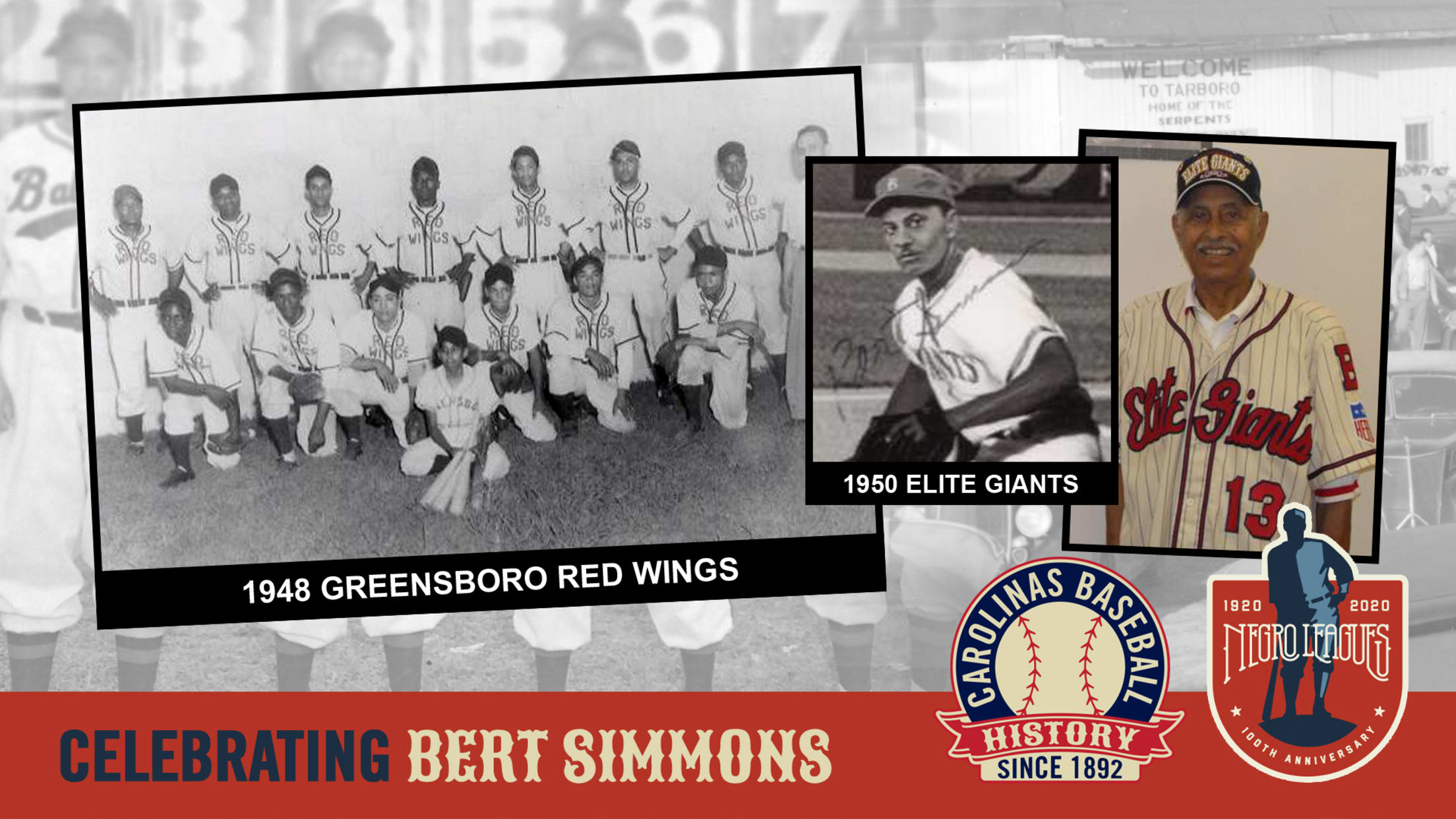 Hubert "Bert" Simmons was born in 1924 in Tarboro, NC. The two-way player who played infield and pitched earned a reputation during his baseball career for being a pitcher who had a mastery of the knuckleball. Simmons grew up exposed to baseball, even earning a job working at the local
Hubert "Bert" Simmons was born in 1924 in Tarboro, NC. The two-way player who played infield and pitched earned a reputation during his baseball career for being a pitcher who had a mastery of the knuckleball. Simmons grew up exposed to baseball, even earning a job working at the local pro baseball games of the Tarboro Serpents of the Coastal Plain League in the late 1930s. In 1941 he joined the all-black semipro team Raleigh Tigers and played for two seasons before joining the US Army in 1943.
After completing his military duty at the end of WWII, Bert attended NC A&T where he played on their baseball team making the All-Conference team twice. The team won three championships during Simmons four years on the team. While earning his college degree, he also played summer ball for the Greensboro Red Wings and Asheville Blues of the Negro Southern League from 1946-1949. After graduation, he joined the Negro American League Baltimore Elite Giants, playing one season in 1950.
When the Elite Giants moved to Tennessee in 1951, Simmons remained in Baltimore playing for independent Negro Leagues. Outside of baseball, he eventually became a beloved school teacher in the Baltimore community. After retiring from the game, he served on the Negro League Baseball Players Association Board of Directors, became involved with the Baltimore Orioles, and founded the Negro Leagues Baseball Museum of Maryland (which is now named in his honor after his passing in 2009 - the Hubert V. Simmons Museum of Negro Leagues Baseball Inc).
In 1978, Simmons was elected to the NC A&T State University Sports Hall of Fame. In 2008, the Orioles selected Bert in the MLB honorary Negro Leagues Draft, making Simmons the team's Negro League representative. He called the Orioles' selection his "greatest honor in baseball."
For more visit: cbhistory.com
Sources:
Negro League Baseball Museum
Negro League Baseball Players Association
Simmons Museum of Negro Leagues Baseball Inc
The Baseball Sociologist
Black College Nines
Baseball Happenings Podcast
WYPR Radio
The Baltimore Sun