Flying Tigers' Mize magnificent again
No. 16 overall prospect yields a hit in career-high seven frames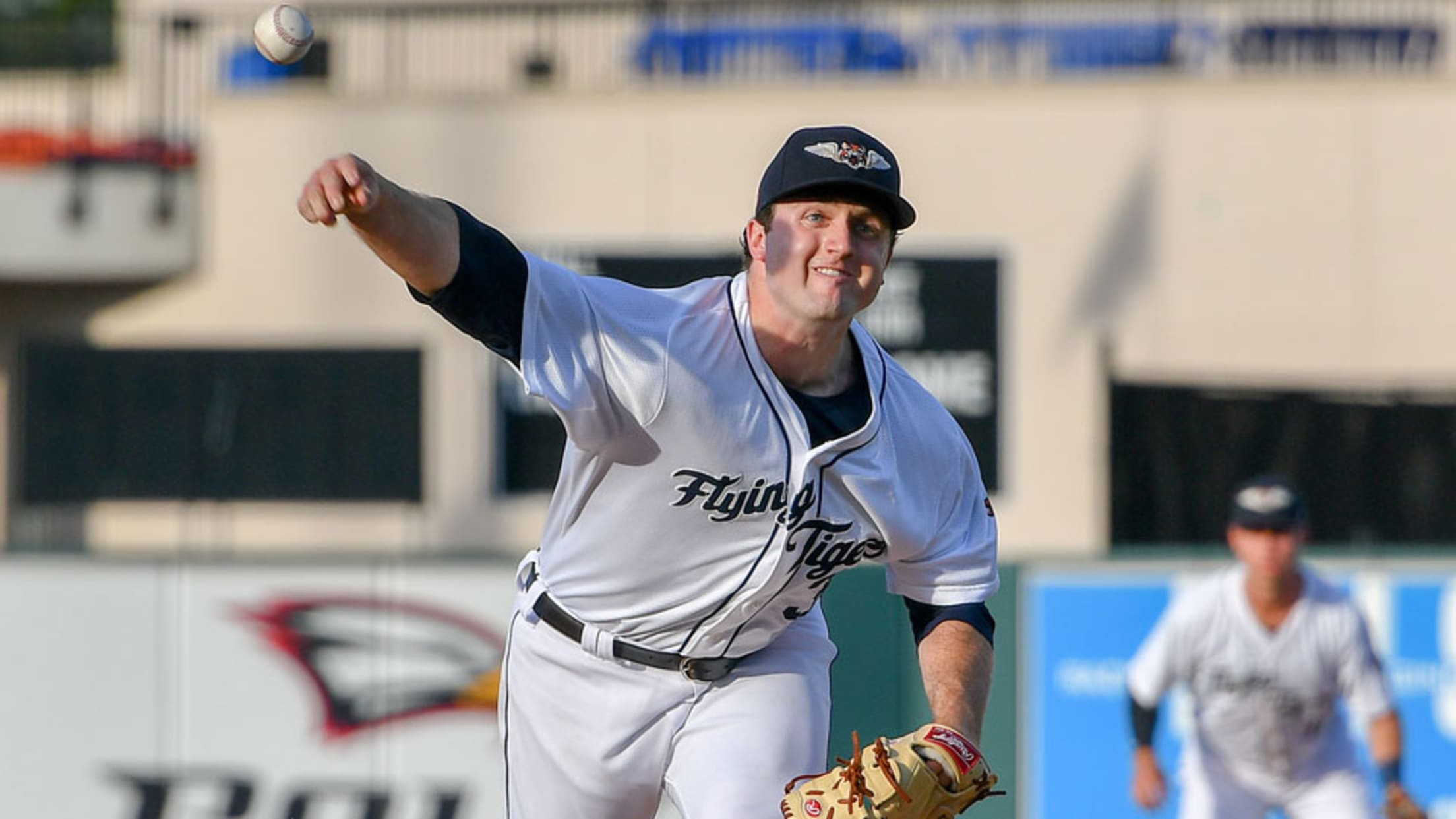 Casey Mize averaged 12.2 strikeouts per nine innings in his final season at Auburn in 2018. (Tom Hagerty/MLB.com)
Minor League hitters beware: for the most part, the leash is off Casey Mize, who can't seem to stop one-upping himself. The top Tigers prospect delivered a career-best seven scoreless innings Wednesday for Class A Advanced Lakeland. He faced one batter over the minimum, allowing one hit and one walk and striking
Minor League hitters beware: for the most part, the leash is off Casey Mize, who can't seem to stop one-upping himself.
The top Tigers prospect delivered a career-best seven scoreless innings Wednesday for Class A Advanced Lakeland. He faced one batter over the minimum, allowing one hit and one walk and striking out out six as the Flying Tigers walked off with a 1-0 win over the Palm Beach at Publix Field at Joker Marchant Stadium.
All three of Mize's starts this season have proven to be the longest outings of his professional career. The Tigers kept a tight leash on the No. 1 overall pick following last year's Draft, as the right-hander never threw more than 52 pitches in a game and totaled 13 2/3 innings in five outings. He's already surpassed that mark, respectively hurling five, six and seven frames in his first three starts of 2019.
Flying Tigers pitching coach Jorge Cordova said the only difference between the first two outings and his third was a slightly higher pitch count. Mize threw a career-high 82, 53 for strikes.
"As a matter of fact, if his pitch count was a little bit higher, he would have went eight or nine innings today," Cordova said. "He was very effective. He was working ahead in the account. He was attacking the zone. He was using excellent sequences. The hitters couldn't figure him out. He was unpredictable."
Gameday box score
MLB.com's No. 16 overall prospect has turned in two scoreless efforts and gave up one earned run in the other for a 0.50 ERA.
Against Palm Beach, Chase Pinder led off the game with an infield single. Mize did not allow another knock the rest of the way and retired nine in a row before walking Zach Kirtley on four pitches -- the first free pass he's issued this season -- to begin the fourth inning. The Auburn product promptly induced a double-play grounder from Cardinals No. 30 prospectNick Dunn, set down the next 10 Cardinals and ended his start by fanning 22nd-ranked Luken Baker.
All night, Cordova said, Mize varied his attack. It also helps that he can consistently throw all four pitches in his repertoire for strikes.
"He went three times through the lineup and they didn't know what to expect because early in the game he was attacking with fastballs and then he was putting them away with off-speed pitches," the pitching coach said. "And then late in the game he was attacking the zone with the breaking balls and then finishing them out with fastballs up in the zone. ... When you do that, hitters don't know what to do; they don't know how to react. Obviously, his stuff is way, way above average, so it was easier for him to put away hitters tonight."
The 21-year-old ranks third in the Florida State League with 21 punchouts and second in ERA behind Fort Myers' Bryan Sammons, who sports a perfect 0.00 mark. His 18 innings top the circuit, as does his WHIP (0.39) and opponents' batting average (.105). If Mize's future outings mirror his first three, a ticket to Double-A Erie -- and perhaps beyond -- seems inevitable. But Cordova isn't privy as to when that time may come.
"That's the Detroit Tigers' decision," he said. "Obviously, with that stuff, it's going to play in the big leagues."
A former top pick making the big leagues isn't necessarily groundbreaking. But Cordova feels that the Springville, Alabama, native has a the makeup that helps him block out any expectations. His preparation before starts is commendable and he has an advanced knowledge of how to keep hitters off-balance.
"Casey's a well, well-matured kid. He knows what he wants," Cordova said. "He has the whole package to be a big league pitcher."
Mize participated in his first Spring Training this year and struck out two in two innings in a pair of appearances. After a layoff that dated back to Aug. 16, the right-hander told Cordova he was a little rusty and it showed -- he had difficulty locating his glove-side fastball [in to lefties, away to righties].
"But tonight he seemed like he was commanding that pitch really good, especially to lefties. They were having a really tough time when he was locating the fastball," Cordova said. "That's the difference, man. When you have a good feel for all four pitches and you can command your glove-side fastball, it's very tough for them to put a good swing against you."
The 6-foot-3, 220-pounder's polished nature doesn't mean he's unwilling to seek guidance. Lately, he and Cordova have been working on keeping his upper body closed throughout his delivery.
"He has a tendency -- a little bit -- to fly open just a little bit too early in his delivery, which is normal for a young guy," Cordova said. "He is learning how to command, how to throw ball wherever he wants to throw the ball in any count. It's no major work we're doing because Casey is very smart about it. He has a pretty good idea of who he is."
Mize didn't factor in the decision Wednesday after exiting a scoreless game. Austin Athmann provided the lone offense by blasting a walk-off solo homer with two outs in the ninth.
Cardinals starter Perry DellaValle dueled Mize throughout. The right-hander scattered eight hits over eight scoreless innings, striking out eight and walking one.
Chris Bumbaca is a contributor to MiLB.com. Follow him on Twitter @BOOMbaca.