Castellanos blasts Myrtle Beach 7-5
Red Sox take third come-from-behind win from the Pelicans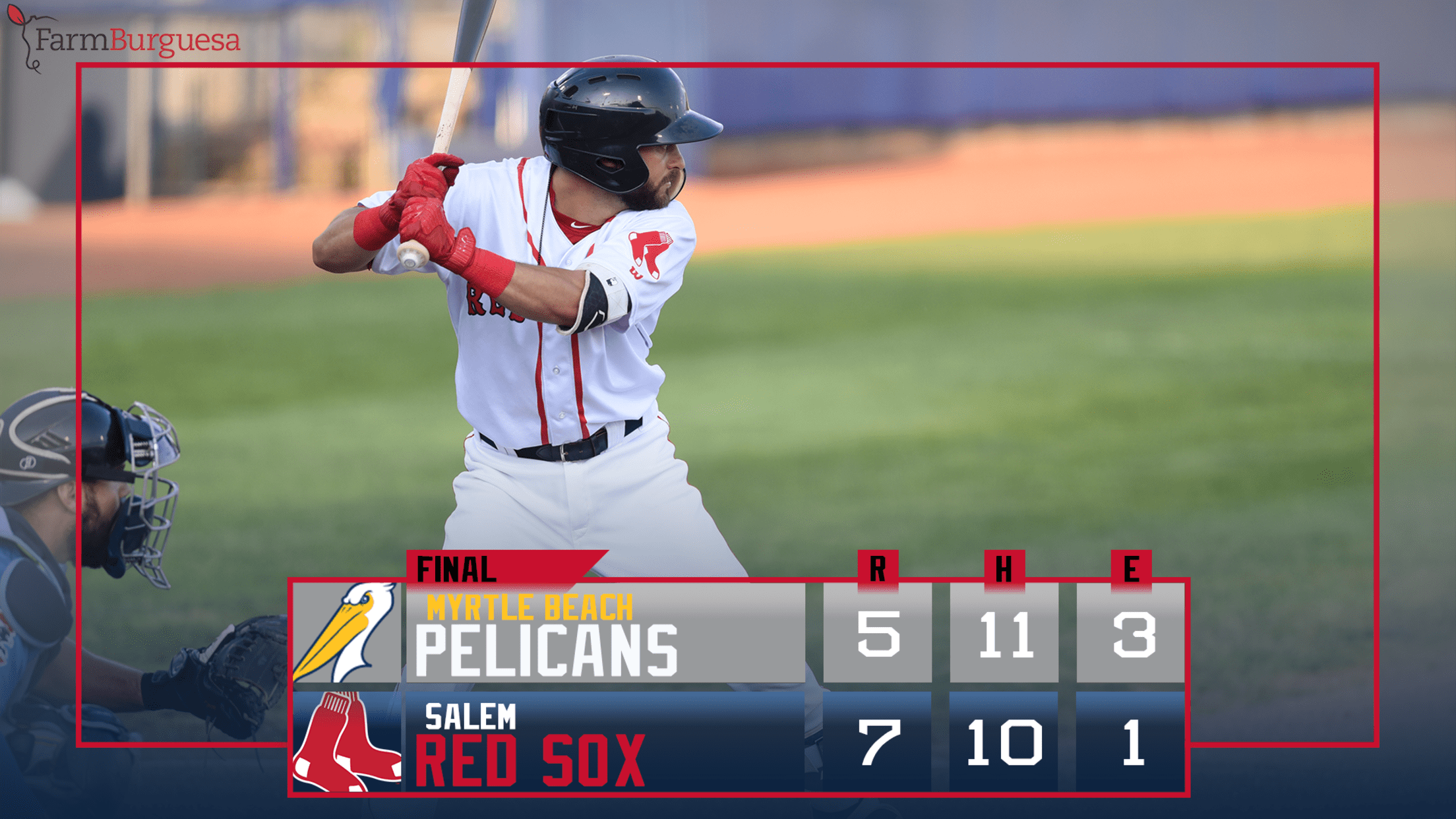 SALEM, Virginia (July 27, 2019) - Pedro Castellanos blasted two jacks to push the Salem Red Sox over the Myrtle Beach Pelicans 7-5 Saturday night at Haley Toyota Field.How it Happened * The Pelicans jumped to an early 3-0 lead after a trio of singles. Miguel Amaya scored one on
SALEM, Virginia (July 27, 2019) - Pedro Castellanos blasted two jacks to push the Salem Red Sox over the Myrtle Beach Pelicans 7-5 Saturday night at Haley Toyota Field.

How it Happened
* The Pelicans jumped to an early 3-0 lead after a trio of singles. Miguel Amaya scored one on a single before Grant Fennell drove home two with a double in the first inning.
* Nick Lovullo led-off the bottom of the frame with a single before Pedro Castellanos blasted a home run to cut the lead 3-2.
* Delvin Zinn knocked an RBI single to extend Myrtle Beach's lead, 4-2 in the second inning.
* Jagger Rusconi and Korby Batesole laced a pair of singles in the second inning before the Red Sox wreaked havoc on the Pelicans. Nick Lovullo pushed a hard ball past the shortstop to reach safely and score Rusconi. Ryan Fitzgerald repeated the performance to bring home Batesole and tie the game 4-4.
* Lovullo and Fitzgerald pushed back-to-back singles and Castellanos cleared the bases again on his second home run for Salem's first lead, 7-4, in the fourth inning.
* Myrtle Beach scratched one more run when Cam Balego doubled in the eighth inning to cut the lead 7-5.
* Andrew Schwaab shut down the ninth inning to secure the win and nab his ninth save.
Standout Sox
* Pedro Castellanos: 2-for-4, 5 RBI, 2 R, 2 HR
* Nick Lovullo: 2-for-5, 2 R
* Andrew Schwaab: 1.0 IP, 1 H, 0 R, 0 ER, 0 BB, 3 K - S (9)

Noteworthy
* Castellano's two-homer performance makes him the fourth player this season with a multi-home run. He joins Dylan Hardy, Marcus Wilson and Edgar Corcino in the feat.
What's Next
Salem Red Sox vs Myrtle Beach Pelicans Sunday, July 28, 2019. First pitch is scheduled for 2:05 PM EST.
RHP Dylan Thompson vs. RHP Erich Uelman
Listen: SalemSox.com, TuneIn Radio, ESPN Blacksburg WKEX 1430 AM/94.1 FM, WGMN 1240 AM/93.3 FM
Watch: MiLB.TV
The Salem Red Sox are the Advanced-A affiliate of the Boston Red Sox and call Haley Toyota Field in Salem, Virginia home. The team was founded in 1968 and purchased by Fenway Sports Management in December of 2007. For more information on the Salem Red Sox, please visit SalemRedSox.com or contact Melanie Newman at [email protected].