Catching Up With: Thomas Eshelman
Former Thresher Seeking Final Rotation Spot with Phillies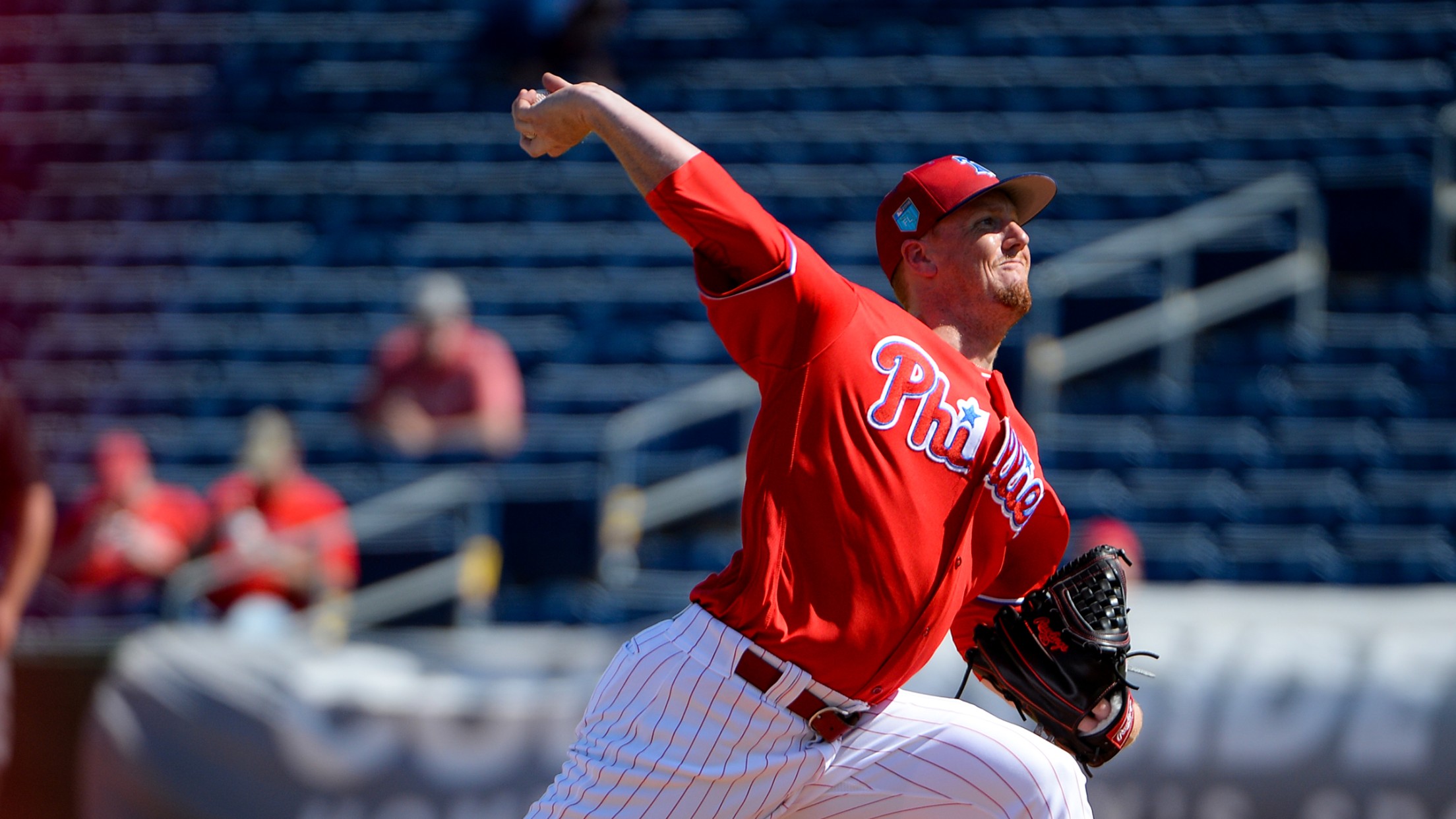 (MILES KENNEDY)
Two short years ago Thomas Eshelman arrived in Clearwater, set to begin his first Spring Training in minor league camp for the Philadelphia Phillies.Acquired along with four others in the Ken Giles trade, Eshelman had been the Houston Astros' second round selection in the 2015 draft. The right-hander debuted with
Two short years ago Thomas Eshelman arrived in Clearwater, set to begin his first Spring Training in minor league camp for the Philadelphia Phillies.
Acquired along with four others in the Ken Giles trade, Eshelman had been the Houston Astros' second round selection in the 2015 draft. The right-hander debuted with the Threshers the following season, posting a 3.34 ERA in an All-Star first half.
After last year's stellar showing in Lehigh Valley, Eshelman has earned the opportunity to join the big league club this spring as a non-roster invitee, with a chance to battle for the final spot in the Phillies starting rotation. His first outing resulted in a pair of hitless innings against the New York Yankees on February 26, followed up by a 1.1 inning stint at home on March 3 against the Orioles, in which he permitted one run and struck out two.
"It's been awesome," Eshelman says of the experience. "The guys here are unbelievable."
With new manager Gabe Kapler at the helm, the Phillies feature a young camp with an average age of just 25.5 on the 40-man roster.
"I think the vibe in the clubhouse has been really nice," Eshelman says, "The veteran guys are helping out the younger guys, and it's been great. This coaching staff brings a lot of positive energy to the team and it's rubbing off on us."
Eshelman has also relished the opportunity to learn from the Phillies coaches and guest instructors, such as former Phillies closer and World Series champion Brad Lidge.
"If you've been around this organization long enough you'll see that '08 World Series slider that he threw," Eshelman says. "So I asked, 'What's your grip on that?' and he showed me.
"I mean hopefully it's as good as his one day, but I'm just going to continuously work on it throughout the spring, and hopefully it translates."
Along with the slider, Esheman's repertoire includes a fastball, curveball, and changeup, with above-average command of each.
In 23 starts combined between Reading and Lehigh Valley last season, the 23-year-old issued only 18 walks in 150 innings. Eshelman's 0.89 BB/9 ratio was by far the lowest in the International League, and ranked second amongst all hurlers in full-season baseball.
After five starts in Reading to open 2017, Eshelman joined Lehigh Valley on May 8 and surrendered only one earned run over his first three Triple-A starts, earning the International League's Player of the Month honors for May. He would finish the year with a 2.23 ERA - the second-best in the IL.
"I think pitching with confidence is a big part of this game, and I think just the ability to learn from people around me - coach (Steve) Schrenk in Reading and Lundy (Dave Lundquist) in Lehigh.
"Even my catchers, they would call great games for me and they would just understand who I am as a strike-thrower and work off of that. I think that was a big part of my game, understanding what pitch to throw at a certain time."
Eshelman also attributed his breakout season to an increased comfort level, and a better understanding of what it takes to succeed in professional baseball.
"I think that my first couple of years I was trying to do a little bit too much," Eshelman says. "I was trying to pitch beyond expectations.
"I think that I've been within myself now, understanding what I need to do to help my game and help my team win that day. The mental side of the game has been the biggest leap forward."