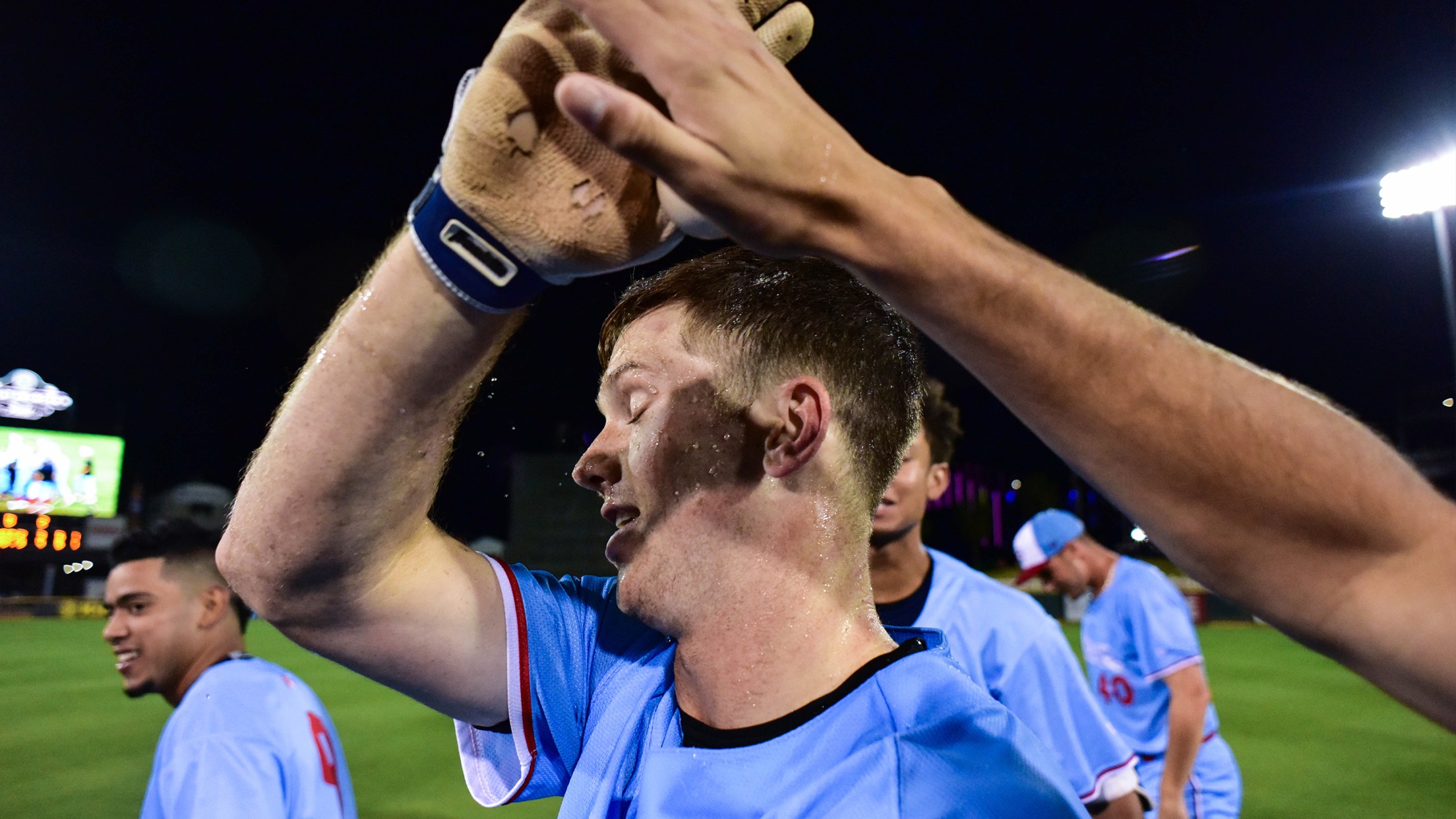 Stephen Wrenn notched a solo home run and two-run double Saturday night. (Charlie Blalock)
MIDLAND - Corpus Christi and Midland combined for nine runs in the 10th inning Saturday night, with the Hooks holding on for a 7-6 win before 4,353 fans at Security Bank Ballpark.Lost in the late frenzy was a strong start by Corbin Martin, who scattered one run and five hits
MIDLAND - Corpus Christi and Midland combined for nine runs in the 10th inning Saturday night, with the Hooks holding on for a 7-6 win before 4,353 fans at Security Bank Ballpark.
Lost in the late frenzy was a strong start by Corbin Martin, who scattered one run and five hits over six innings of work. Martin fanned six and did not issue a walk, throwing 65 of 95 pitches for strikes.
The 22-year-old from Hempstead, TX exited in line for his seventh Double-A victory, as Stephen Wrenn handed the Hooks a 2-1 advantage with a solo home run to left field in the sixth.
Justin Ferrell preserved the edge by tossing two scoreless innings of relief.
Ralph Garza entered to work the ninth, and was greeted by Seth Brown, who lined a lead-off triple over the head of Wrenn in center field. Following a strikeout, Tyler Ramirez lifted a sac fly to left field, leveling the score at 2.
Chas McCormick coaxed a walk from Jarret Martin to begin the 10th. Ryne Birk followed with a sac bunt, pushing the automatic runner to third and McCormick into second. Nolan Blackwood was then summoned to pitch. After falling behind Eduardo de Oleo, 2-0, the Hounds elected to walk him intentionally, loading the bases.
Pinch-hitter Carmen Benedetti pushed a single past the drawn-in second baseman, Eli White, allowing two runs to score. Following a free pass to Andy Pineda, Wrenn smacked a two-run double to right field, putting the Hooks in front, 6-2. Josh Rojas cracked a soft grounder to the right side, sending Pineda home to complete the five-run frame.
Garza struggled with command in the home half, allowing two walks and an RBI single which ended his night. Kit Scheetz promptly induced a weak grounder back to the hill, which appeared to be a double-play ball, but his throw home was wide, allowing two runs to score. With the Hooks' lead down to two runs, Richie Martin cued an RBI single to the left side of the diamond. On the play, shortstop Alex De Goti attempted to cut off Nate Mondou at third, but his throw sailed into foul ground.
The sequence staged RockHounds at second and third with no outs, and the Hooks desperately clinging to a 7-6 lead.
Scheetz proceeded to strikeout Brown, and then walked right-handed Tyler Marincov intentionally. The lefty struck out Ramirez before handling Jonah Heim's softly-hit chopper a few feet from the hill to end the game.
Corpus Christi aims for a series win Sunday afternoon with Akeem Bostick on the hill. Logan Shore is slated to pitch for Midland.