Charleston wins the Low-A East championship
Brecht posts six zeros to lead the RiverDogs to their first title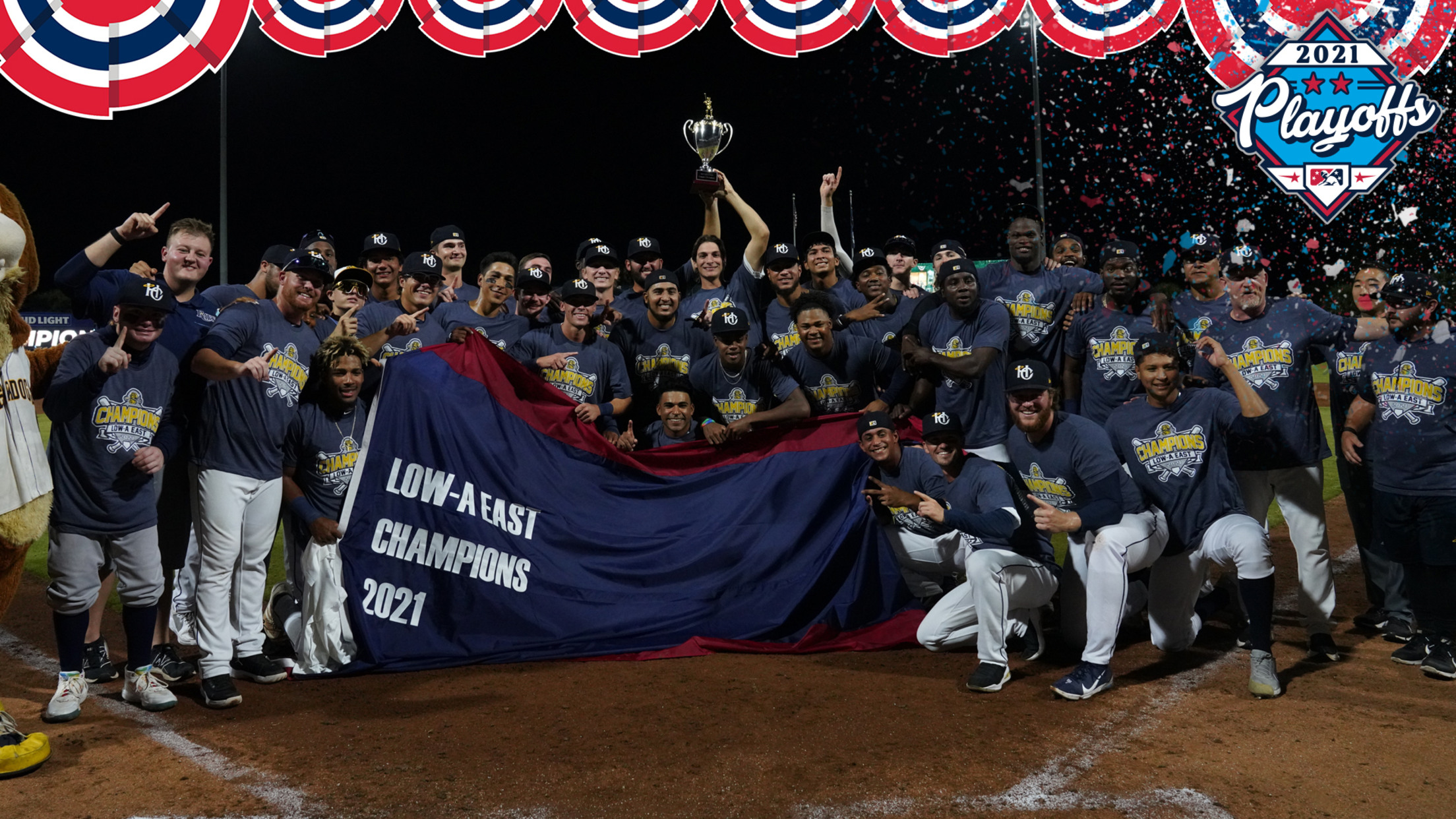 Charleston wins the pennant. (Charleston RiverDogs)
For the first time in the organization's 41-year history, the Charleston RiverDogs are league champions. Charleston took Game 5 of the Low-A East finals in dominant fashion on Sunday, winning 9-2 over Down East and limiting the Wood Ducks offense to four hits. Starter Ben Brecht tossed six scoreless frames
For the first time in the organization's 41-year history, the Charleston RiverDogs are league champions.
Charleston took Game 5 of the Low-A East finals in dominant fashion on Sunday, winning 9-2 over Down East and limiting the Wood Ducks offense to four hits. Starter Ben Brecht tossed six scoreless frames and fanned five while earning the championship clinching win.
At the plate, Rays No. 26 prospect Osleivis Basabe and third baseman Ben Troike each had three hits to lead the way to Charleston's first ring.
In their inaugural year as a Tampa Bay Rays affiliate, the RiverDogs finished 82-38 (tied with High-A Bowling Green for the most wins in the Minor Leagues) and battled through five games with the Wood Ducks after leading the series 2-0.
A quiet start to the game saw Charleston and Down East each record a single hit until the RiverDogs opened up the scoring in the bottom of the third. Troike singled, catcher Michael Berglund walked and shortstop Basabe moved them over with a sac bunt to set up Troike scoring the game's first run on a wild pitch. Three-hitter Matt Dyer tripled to score Berglund and put Charleston up by two.
The RiverDogs' offense was held in check in the fourth but exploded for five runs in the fifth. Troike led the inning off with a double, Basabe reached on a walk and a single from center fielder Garrett Hiott put Charleston up by three.
A walk by Dyer loaded the bases and another walk by right fielder Beau Brundage brought home the RiverDogs' fourth run, setting up a bases-clearing triple by designated hitter Willy Vasquez to push the lead to seven.
Charleston tacked on two more in the sixth on an RBI single from Basabe and a sacrifice fly from Hiott to score Berglund.
Down East plated two in the ninth on a fielder's choice error by Dyer and an RBI single by first baseman Cristian Inoa, but it was too little too late as 22-year-old Ian Leatherman was called on to close the series out and delivered the first ring in Charleston's history.