Chicago's Madrigal out with separated shoulder
No. 4 White Sox prospect could return before September, club says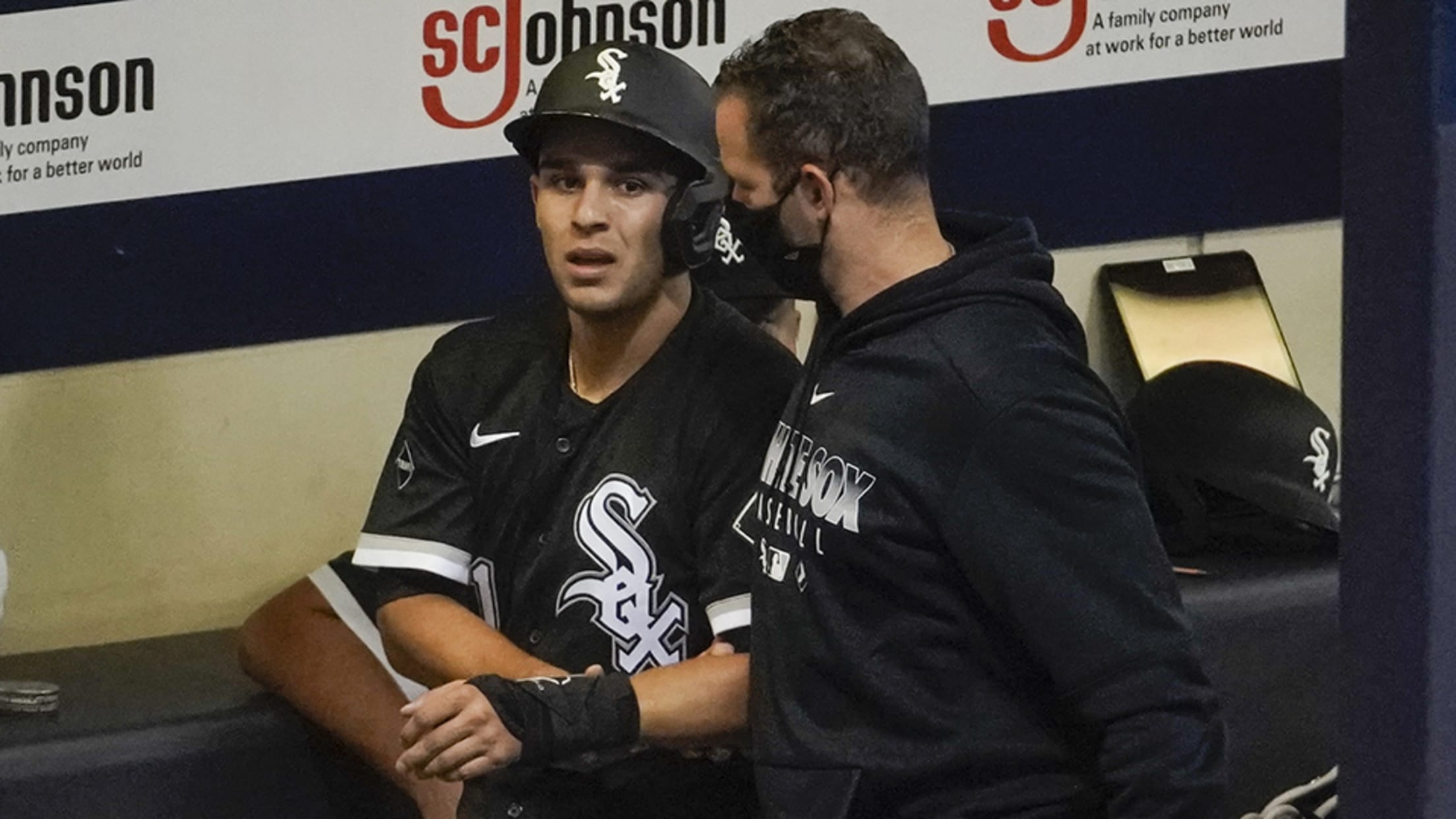 Nick Madrigal is helped into the clubhouse after injuring his arm during the third inning of Tuesday's game. (Morry Gash/AP)
Days after erupting at the plate in the first big game of his young big league career, Nick Madrigal's rookie season took an unfortunate turn. The No. 4 White Sox prospect left Tuesday's game against the Brewers with a left shoulder injury, according to the team. He departed quickly after
Days after erupting at the plate in the first big game of his young big league career, Nick Madrigal's rookie season took an unfortunate turn.
The No. 4 White Sox prospect left Tuesday's game against the Brewers with a left shoulder injury, according to the team. He departed quickly after pulling up in pain following a slide into third base. On Wednesday, the club provided an update that stated Madrigal had suffered a separation of that left shoulder. General manager Rick Hahn told reporters, including MLB.com's Scott Merkin, that the Sox are hopeful Madrigal could return by the end of August, though offseason surgery might be required as well.
Madrigal led off the third inning on Tuesday with a single to right field off Milwaukee starter Brandon Woodruff in his first plate appearance of the day. Chicago's top prospect Luis Robert then rocked a base hit into center.
The speedy Madrigal rounded second and dug toward third as Brewers center fielder Avisaíl García came up throwing and zipped the ball to third baseman Brock Holt. Madrigal slid in feet first, but his left arm made hard contact with the dirt, causing immediate pain and prompting a swift departure from the diamond.
"I know he was holding his wrist. I thought the same thing when he was coming off, and it was his shoulder. He jammed his shoulder," White Sox manager Rick Renteria told reporters after the game. "He went feet-first. Came around there pretty hard, ended up jamming his shoulder, so he irritated it. Right now, he's just got some left shoulder soreness, which is the same for Eddie Encarnación. They'll be re-evaluated [Wednesday] and we'll see where they're at."
The injury came on the heels of a stellar performance Sunday in which Madrigal logged four hits, including the first of his Major League career. MLB.com's No. 45 overall prospect appeared in five games after the team brought him in from its alternate site in Schaumburg, and he was batting .294/.333/.294 prior to his exit.
Over two seasons in the Minor Leagues, Madrigal put together a .309/.371/.398 slash line, scoring 101 runs and driving in 71 in 163 games. His best season was 2019, when he batted .311/.377/.414 with the first four homers of his professional career while climbing three levels.
Jordan Wolf is a contributor to MiLB.com. Follow him on Twitter: @byjordanwolf.