Chiefs Drop Series Opener to Kane County 3-2
Billings and Trosclair record multi-hit games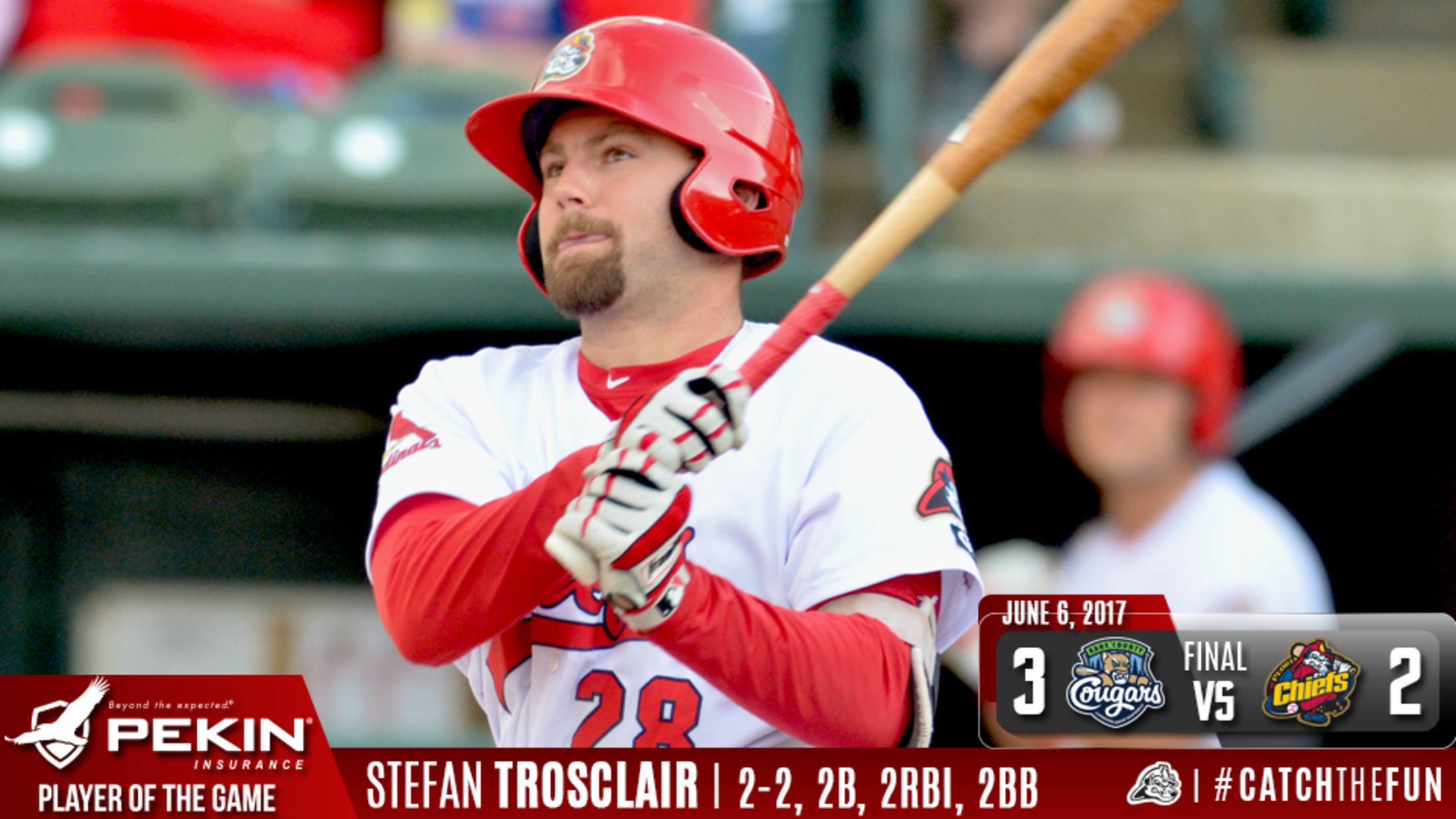 Peoria, IL - With St. Louis Cardinals infielder Kolten Wong in Peoria rehabbing, the Chiefs fell on Tuesday in the opener of a three-game series to the Kane County Cougars 3-2. The Chiefs are now 24-33 on the year and Wong is expected back in the lineup on Wednesday for
Peoria, IL - With St. Louis Cardinals infielder Kolten Wong in Peoria rehabbing, the Chiefs fell on Tuesday in the opener of a three-game series to the Kane County Cougars 3-2. The Chiefs are now 24-33 on the year and Wong is expected back in the lineup on Wednesday for game two of the series with first pitch at 7:00pm. Batting in the lead off spot, Wong went 0-3 with a walk, hit by pitch, a run scored, and a steal.
The Chiefs got on the board immediately, taking a 2-0 lead, in the bottom of the first inning against Kane County starter Sam McWilliams. Wong led off the inning by getting hit by a pitch and Shane Billings reached on a bunt single. With runners one first and second and nobody out, Stefan Trosclair doubled to the wall in right center field to plate both Wong and Billings to give Peoria a 2-0 advantage.
Peoria threatened again in the third when Billings singled to left with one out to give him his third consecutive multi-hit game. Trosclair followed with a single to put runners on the corners with just one out, but Andrew Knizner lined out to second and JR Davis grounded out to short to end the inning.
McWilliams worked his way out of a bases-loaded one-out jam in the fifth. Wong and Billings drew back-to-back one-out walks and pulled off a double steal. McWilliams intentionally walked Trosclair to load the bases with just one out, but Knizner struck out and Davis grounded into a fielder's choice to end the inning with no runs.
Kane County scored three runs in the sixth to take a 3-2 lead. Chiefs starter Bryan Dobzanski struck out Billy Endris to lead off the inning but then allowed six consecutive singles to Grier, Wilson, Karaviotis, Hernandez, Herrera, and Manny Jefferson. The bases were loaded with just one out when Herandez singled home Grier for the Cougars' first run of the game. Herrera followed with a single of his own to right field to score Wilson but Dylan Carlson threw out Karaviotis at home for the second out. Jefferson's single brought home Hernandez to give Kane County the 3-2 lead. After the six singles in a row, Eric Carter replaced Dobzanski on the mound, ending his night after 5 2/3 innings. Carter faced just one batter in the sixth and got Luis Alejandro Basabe to fly out to Nick Plummer in center to end the inning.
Dobzanski (1-5) went 5 2/3 innings allowing three runs on nine hits while striking out five and walking just one. Carter retired all four batters he faced throwing 1 1/3 innings while striking out one. Dewin Perez threw two scoreless innings striking out one and giving up three hits.
Notes… The Chiefs are 9-10 overall in series openers and 3-6 at home this year… Wong is the second Major League rehabber this year for the Chiefs with the other being pitcher Tyler Lyons… He was also the first St. Louis Cardinals infielder to rehab in Peoria since Jhonny Peralta May 20-25, 2016… Billings extended his hit streak to three games with a first inning bunt single… It is the third straight game and 12th overall that Billings had a multi-hit game… Billings' seventh inning single makes it his second three-hit game in a row… Trosclair's single in the third gave him his 13th multi-hit game of the year… Dobzanski's strikeout of Endris to lead off the sixth inning gave him 100 for his career… Carlson's two outfield assists tonight give him nine on the year, which is tied for most in the Midwest League… Peoria finishes the first half by playing 9 of its final 12 games at home… Five of the Chiefs final 12 games will be played against Kane County with two more in this series and three at Kane County next week… The Chiefs host game two of a three-game series against Kane County on Wednesday with a 7:00 p.m. first pitch… The Chiefs send RH Mike O'Reilly (3-1, 2.08) to the mound against Kane County LH Mack Lemieux (0-1, 5.14)… Wednesday will be a Sam's Club Javier Báez Emoji T-shirt giveaway to the first 1,000 fans (Ages 13 & up)… Wednesday is also a Bang for you Buck Wednesday featuring $1 Hot Dogs, Soda, and Nachos… Wednesday will be Social Media Night at Dozer Park… The broadcast can be heard, starting with the Pre-Game Show at 6:45 p.m. on www.peoriachiefs.com/listenlive which also has downloads for a free app on the iPhone, iPad, Blackberry and Android…The broadcast is also available on the Peoria Chiefs Network in the Tune-In Radio App.