Chiefs Fall 3-2 Friday
Yepez Collects Four Hits in Loss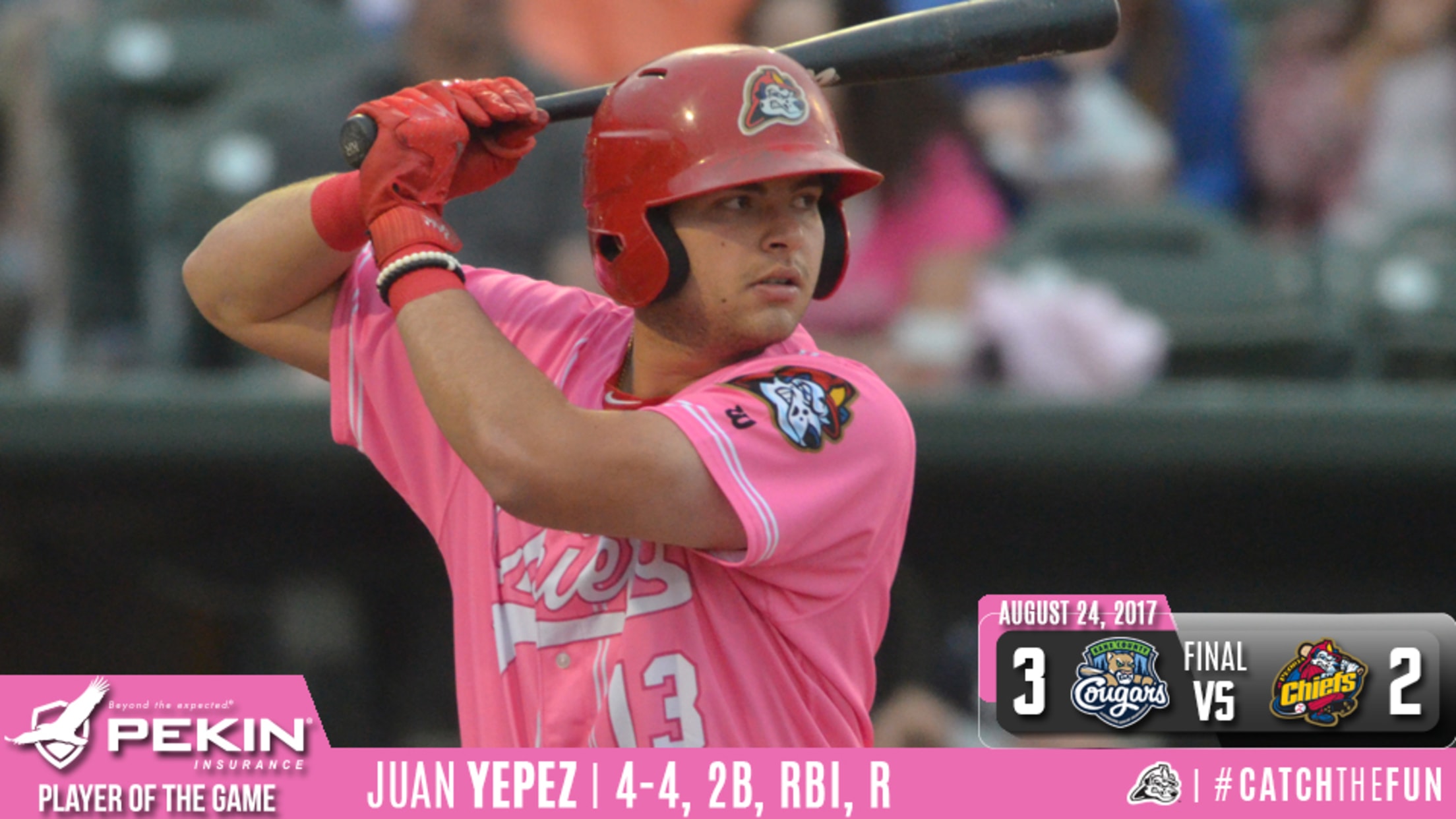 Peoria, IL - The Peoria Chiefs gave up two runs in the top of the eighth inning and despite scoring one, left the bases loaded in the bottom of the inning in a 3-2 loss to the Kane County Friday night. The loss drops the Chiefs to 31-30 in the
Peoria, IL - The Peoria Chiefs gave up two runs in the top of the eighth inning and despite scoring one, left the bases loaded in the bottom of the inning in a 3-2 loss to the Kane County Friday night. The loss drops the Chiefs to 31-30 in the second half and their Wild Card lead is down to two games over Clinton with nine games to play.
Kane County got on the board in the first inning against Chiefs starter Evan Kruczynski. Luis Silverio led off with a single to left and Adam Walton doubled to the right-center field gap. Nick Plummer made a diving catch in center field on a fly ball hit by Marcus Wilson, but Silverio scored from third to give the Cougars a 1-0 lead.
The Chiefs were held scoreless by Kane County starter Riley Smith until the seventh inning. Juan Yepez led off with a single to left and Matt Fiedler followed with a single to center, giving the Chiefs runners at first and second. J.R. Davis grounded into a double play that moved Yepez to third, and Mick Fennell connected for a double to right that brought home the tying run.
Kane County took the lead back against Chiefs reliever Dewin Perez in the eighth. Frank Christy led off with a single to right and Alexis Olmeda attempted a sacrifice bunt to move Christy to second, but reached when Perez made an errant throw to first. Perez struck out Silverio for the first out, but a double steal put Christy at third and Olmeda at second. Christy scored on a wild pitch by Perez to give the Cougars a 2-1 lead, with Olmeda advancing to third. Walton walked and with a full count, Perez threw another wild pitch in the dirt to both walk Wilson and score Olmeda and provide Kane County with a 3-1 advantage. Brian Dobzanski came out of the bullpen and induced a double play on the first pitch he threw to end the inning.
Peoria cut into the Cougars lead in the eighth against relievers Cal Becker and Erbert Gonzalez. Becker walked both Kramer Robertson and Ryan McCarvel with Gonzalez coming in from the bullpen to face Danny Hudzina, who singled to left to load the bases. With one out Yepez collected his fourth hit of the night, a single to left, to plate Robertson and make it a 3-2 game. With the bases loaded Fiedler struck out and Davis grounded out to second for the final out of the inning while leaving the bases loaded.
Kruczynski went seven innings in a no decision, allowing a run on four hits with a walk and eight strikeouts. Perez (2-6) hurled 1/3 of an inning in a loss, allowing two runs (one earned) on a hit with two walks and a strikeout. Dobzanski went 1 2/3 scoreless innings out of the bullpen without allowing a hit with one walk.
Notes… Kruczynski set career highs with seven innings pitched and eight strikeouts… The four hits allowed tie a career-low in five or more innings of work… Kruzcynski has four quality starts this season… The Chiefs have 51 quality starts as a team… Yepez has three four-hit games this season and 16 total multi-hit games… Fennell has a hit in seven consecutive games, which is a new career-high… Hudzina has a seven-game hit streak… Fiedler extended his hitting streak to five games… The Chiefs used Dylan Carlson and Evan Mendoza as pinch hitters in the ninth, marking the first time that Peoria used more than one pinch hitter in a game… It was the first time the Chiefs used a pinch hitter not because of injury and the first since August 1 and Peoria has used six pinch hitters this season… The Chiefs are 3-3 in specialty jerseys this season… Peoria is 17-23 in the first game of a series and 8-12 at home… With nine games left, six at home, the Chiefs lead Clinton by two games, Beloit by 2 ½ games, Wisconsin by four and Burlington by five in the Wild Card race… The Chiefs hold the tiebreaker over Beloit, Clinton and Burlington… The final home stand of the season continues Saturday at 6:30 pm as the Chiefs host Kane County with a post-game Fireworks show…The Chiefs will start RH Frederis Parra (3-6, 4.32) against Cougars RH Emilio Vargas (5-5, 3.58)… It's a Brimfield Insurance Agency Signature Saturday at Dozer Park, where various Chiefs players will be available to sign autographs pre-game on the main concourse… Saturday is also AARP night… The broadcast can be heard, starting with the pregame show at 6:15 p.m. on www.peoriachiefs.com/listenlive which also has downloads for a free app on the iPhone, iPad, Blackberry, and Android… The broadcast is also available on the Peoria Chiefs Radio Network in the Tune-In Radio App.