Chiefs Fall 4-2 in Gorman's Debut
Davis scores both runs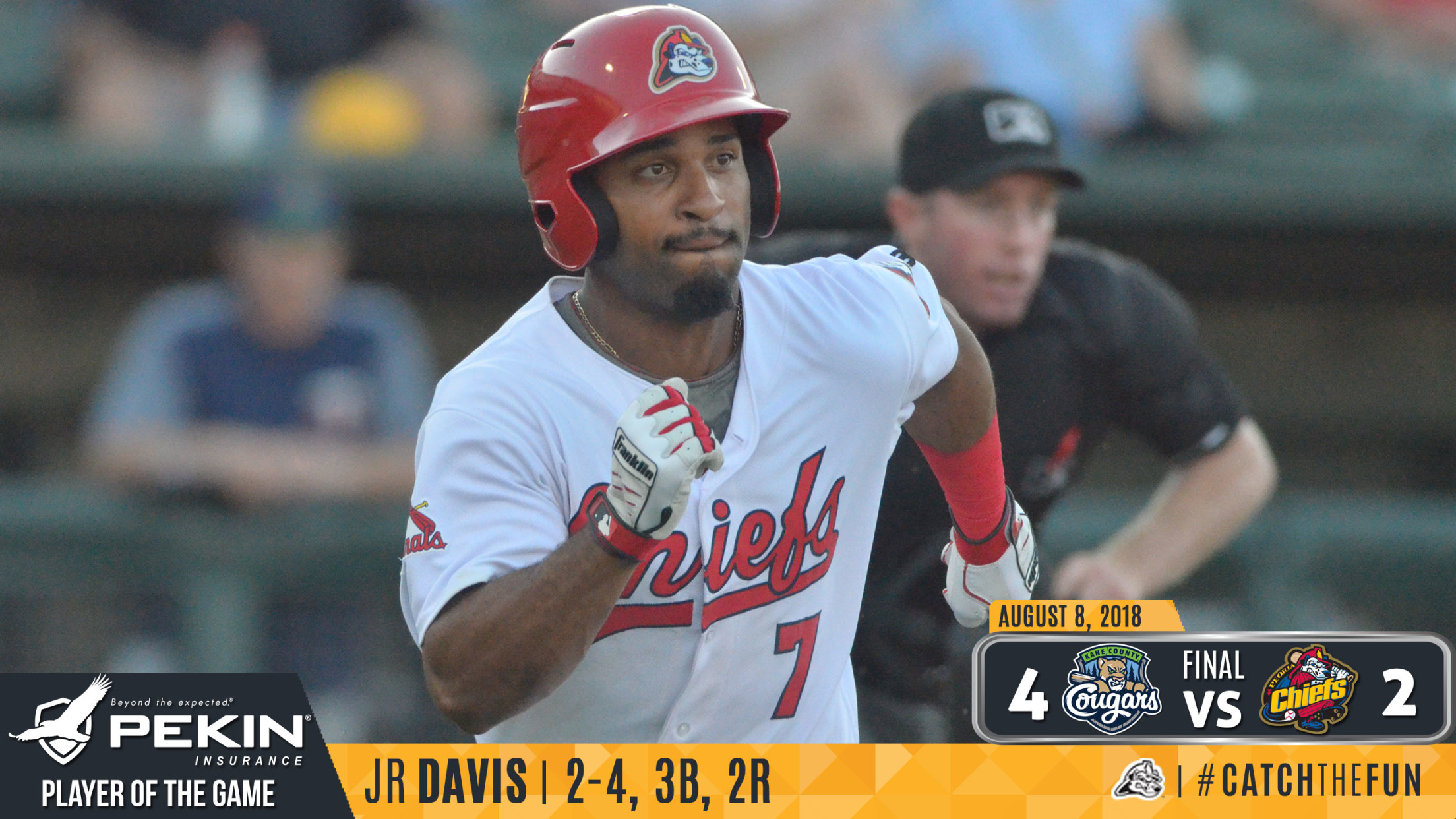 Geneva, IL - The Peoria Chiefs added 2018 Cardinals first round pick Nolan Gorman to the lineup but his debut was spoiled 4-2 by the Kane County Cougars on Wednesday night. Gorman batted fifth and played third base going 0-for-3 with a walk as a diving catch in center robbed
Geneva, IL - The Peoria Chiefs added 2018 Cardinals first round pick Nolan Gorman to the lineup but his debut was spoiled 4-2 by the Kane County Cougars on Wednesday night. Gorman batted fifth and played third base going 0-for-3 with a walk as a diving catch in center robbed him of a hit in the fourth.
Kane County scored the first two runs with solo tallies off Chiefs starter Jake Dahlberg in the second and fourth innings. Jancarlos Cintron led off both innings with hits, a single in the second and a double in the fourth, and tallied both runs.
The Chiefs got on the board in the fifth against Lane Ratliff. JR Davis singled to start the inning and he moved to second on a passed ball. With one out, Nick Plummer drew a walk and Davis scored when Wood Myers singled to center. The Chiefs left runners on the corners and Kane County added on with a run in each of the next two innings.
Down 4-1 the Chiefs put pressure on in the seventh against Ratliff. Davis led off with a triple to right-center and scored on a single by Bryce Denton but the inning ended with the Chiefs down 4-2. In the eighth a double play wiped out a leadoff single by Yariel Gonzalez before Zach Kirtley doubled. Gorman walked on the ninth pitch of his plate appearance to put the tying run on base but Luis Castillo got Julio Rodriguez on a grounder to end the inning.
Castillo walked Denton and Plummer with one out in the ninth before Ryan Grotjohn made a nice running catch in the gap in left-center to rob Myers of extra bases. Gonzalez drew a walk to load the bases but reliever Kyler Stout retired Luken Baker on a foul pop up to end the game.
Dahlberg (1-1) took the loss as he allowed four runs on 12 hits over five innings while facing two batters in the sixth. He struck out three and did not issue a walk in his second Chiefs start. Thomas St. Clair walked two and struck out one in a hitless outing over 1 2/3 innings. Patrick Dayton allowed one hit and one walk while recording a strikeout in 1 1/3 innings.
Notes… Gorman is the youngest player in the Midwest League and the first Chiefs player to be born in the 2000s…According to research done by Brian Walton at TheCardinalsNation.com he is the first Cardinals position player drafted in the first round to be promoted to Low-A in the same season since Garry Templeton 44 years ago…The Chiefs have lost three of four to the Cougars in the second half after going 4-2 against Kane County in the first half…The teams have eight games left in August, five in Geneva…Dahlberg allowed a career-high 12 hits and tied a career-high with four runs allowed…His streak of five straight outings of seven innings ended…Dahlberg pitched at UIC and this was his first pro outings back in the Chicago area…Gorman was part of a unique 1-5-3-6 double play as he recovered a grounder that hit Dahlberg's leg with a runner on second and one out…Rodriguez threw out 3-of-4 would be base stealers and the only one he didn't get came on a no-throw with the pitch in the dirt…Kirtley has three multi-hit games in three games played against Kane County this season…He was 5-for-9 with three doubles in Geneva June 5-6 and 2-for-4 with a double Wednesday…Dayton has a 1.29 ERA in 13 outings…Game two of the series is Thursday at 6:30 p.m. as the Chiefs start RH Johan Oviedo (8-7, 4.80) against Cougars LH Franklyn Soriano (0-1, 3.38)…The broadcast can be heard, starting with the Pre-Game Show at 6:15 p.m. on www.peoriachiefs.com/listenlive and is also available on the Peoria Chiefs Network in the Tune-In Radio App…The game is also available to subscribers on MiLB.TV.