Chiefs Fall to Rattlers Saturday
Piscotty drives in another run by Chiefs lose 4-1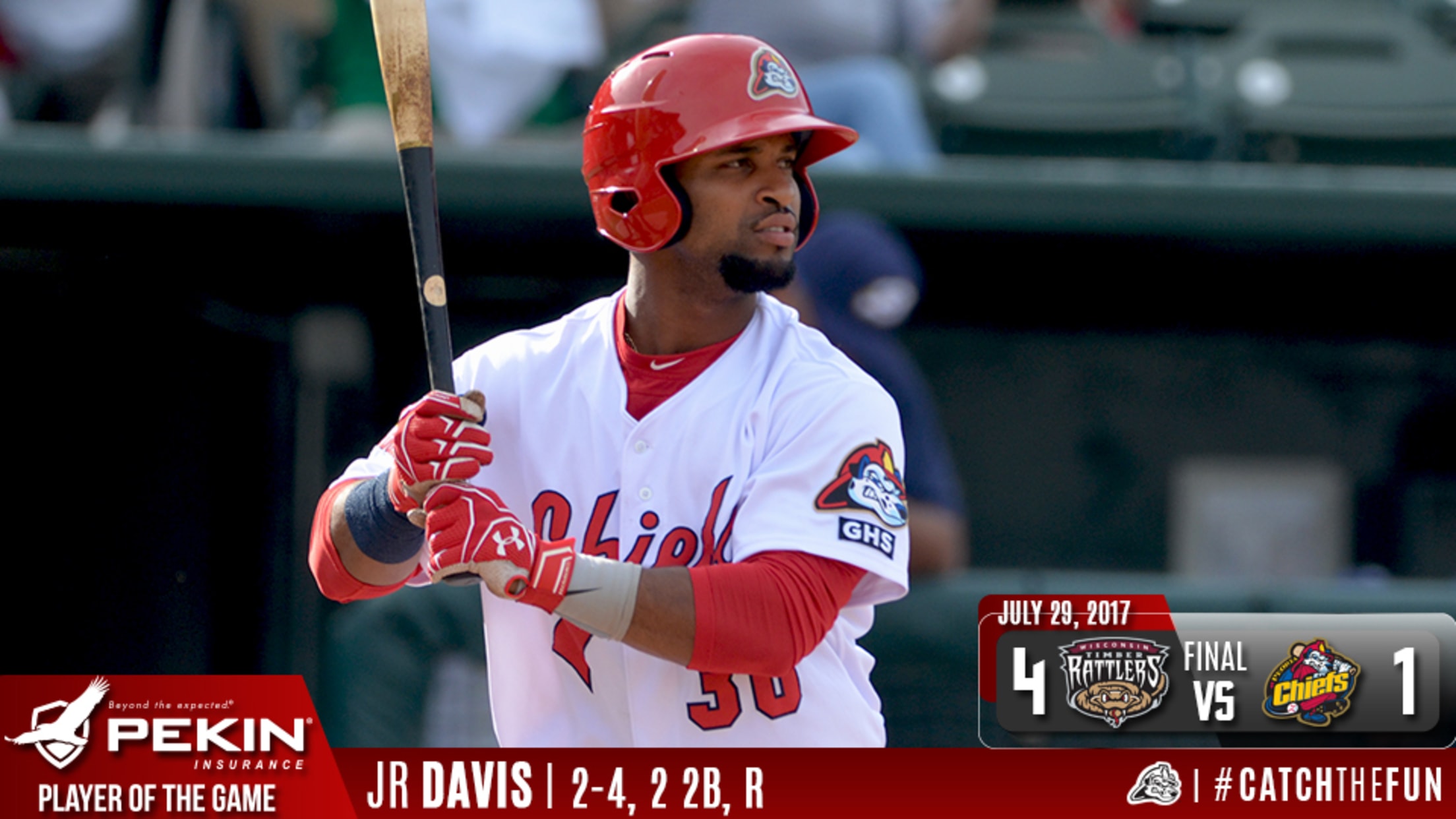 Peoria, IL- J.R. Davis had two doubles and scored a run while Stephen Piscotty singled home a run, but the Peoria Chiefs lost the first game of a four-game set with the Wisconsin Timber Rattlers 4-1 on Saturday evening. The Chiefs are 20-15 in the second half and 50-54 overall with
Peoria, IL- J.R. Davis had two doubles and scored a run while Stephen Piscotty singled home a run, but the Peoria Chiefs lost the first game of a four-game set with the Wisconsin Timber Rattlers 4-1 on Saturday evening. The Chiefs are 20-15 in the second half and 50-54 overall with the second game of the series scheduled for a 6:30 p.m. first pitch on Sunday.
Wisconsin took a one-run lead on Chiefs starter Ian Oxnevad in the first inning. Demi Orimoloye lined the first pitch of the game to left-center field for a double. Joantgel Segovia laid down a sacrifice bunt to move Orimoloye to third, and Keston Hiura bunted into a fielder's choice which got Orimoloye into a rundown, but Orimoloye beat the throw to the plate and gave the Rattlers a 1-0 advantage.
The Timber Rattlers extended their lead in the second. Caleb Whalen led off with a home run to left field off Oxnevad to make it a 2-0 game. Orimoloye doubled to right in the next at-bat and advanced to third when Segovia grounded out. Orimoloye scored when Hiura singled to left to give Wisconsin a 3-0 lead, but Hiura was thrown out by Mick Fennell at second base trying to stretch the hit to a double.
The Chiefs got to Wisconsin starter Cameron Roegner in the third. Davis scorched a double off the wall in right and moved to third when Fennell singled through the left side to give the Chiefs runners at the corners. With one out, Piscotty hit a liner to left, scoring Davis and cutting the Timber Rattlers lead to 3-1 with runners at first and second. Roegner worked out of the jam, striking out Stefan Trosclair and Brian O'Keefe to end the inning and the Chiefs threat.
Anthony Shew relieved Oxnevad in the fifth inning. Orimoloye homered to left field, his 10th of the season, to extend the Wisconsin lead to 4-1. Shew retired the next three hitters to end the inning.
Oxnevad (3-9) threw four innings in a loss, allowing three runs on five hits with one walk and a strikeout. Shew threw four innings while holding Wisconsin to one run on three hits with three strikeouts. Leland Tilley made his Chiefs debut in the ninth, allowing a walk in an otherwise perfect inning.
Notes… Piscotty has a hit in two straight games… Juan Yepez extended his hit streak to seven games… Plummer collected his seventh multi-hit game of the season… Fennell has four multi-hit games… Davis had his 19th multi-hit effort… Yepez reached 10 multi-hit games for the season… Yepez recorded two doubles in a game for the first time since May 14 of 2016 and is the fifth time in his career he's done so…Brian O'Keefe threw out two would-be base stealers in the game…Davis recorded two doubles for the second time in his career, both of which have come this season.. Oxnevad leads the Midwest League in innings with 108 1/3 and was taken out after four innings in a planned piggyback with Shew… The Chiefs are 15-18 overall and 7-10 at home in the first game of a series…The season series is even 4-4 wit the Chiefs leading 3-1 at Dozer Park… The Chiefs and Timber Rattlers with a 6:30 p.m. first pitch… Peoria will send LH Evan Kruczynski (1-1, 5.34 ERA) to the mound and Wisconsin will start RH Victor Diaz (0-3, 5.47 ERA)… There will be a fireworks display following Sunday's game… Sunday is Back to School Night with a backpack giveaway to the first 1,000 fans ages 12 and under… Buddy from Dinosaur Train (PBS) will make an appearance… The first 1,000 fans (all ages) in attendance will receive a Kramer Robertson Player Poster presented by PJStar.com and CityLink… It's a PNC Kids Sunday at Dozer Park and Kids 12 and under receive $5 tickets and Free hot dog, drink and chips with a paid kids ticket… Kids 12 and under can also get pre-game player autographs… It's a senior Sunday with seniors 55 and over can get $5 tickets when buying them in-person at the Dozer Park box office… The broadcast can be heard, starting with the pregame show at 6:15 p.m. on www.peoriachiefs.com/listenlive which also has downloads for a free app on the iPhone, iPad, Blackberry, and Android… The broadcast is also available on the Peoria Chiefs Radio Network in the Tune-In Radio App.