Chiefs Land Six on All-Star Team
Gonzalez, Lopez, Montero named as starters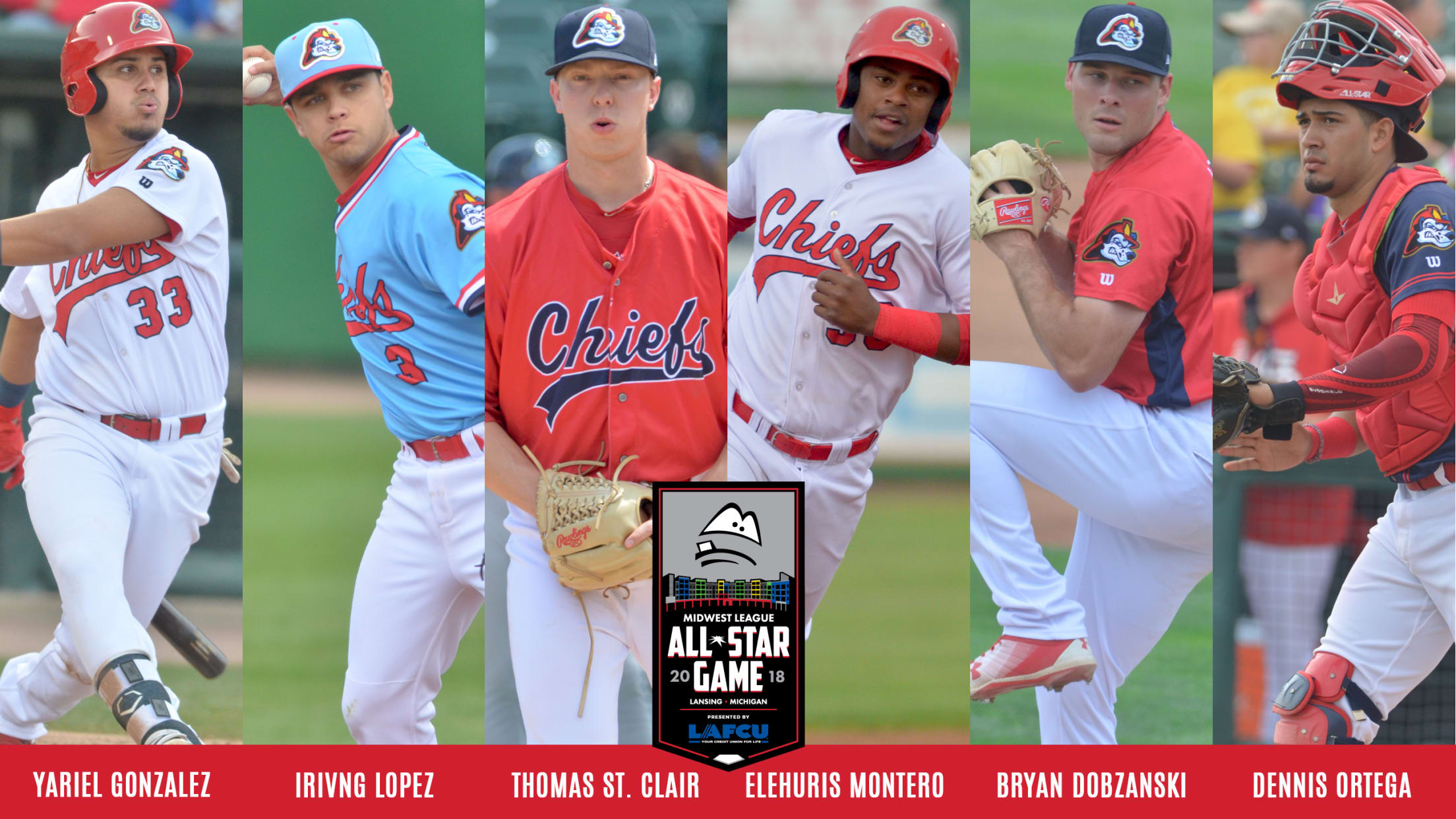 PEORIA, IL - The Midwest League announced the 2018 All-Star Teams on Wednesday and the Peoria Chiefs will be represented by six players at the June 19 game in Lansing, the most by any Western Division team. First baseman Yariel Gonzalez, second baseman Irving Lopez and third baseman Elehuris Montero
PEORIA, IL - The Midwest League announced the 2018 All-Star Teams on Wednesday and the Peoria Chiefs will be represented by six players at the June 19 game in Lansing, the most by any Western Division team. First baseman Yariel Gonzalez, second baseman Irving Lopez and third baseman Elehuris Montero were all voted in by league managers as starters. Catcher Dennis Ortega is a reserve while reliever Bryan Dobzanski and Thomas St. Clair were also selected. Last year the Chiefs had five All-Stars and they last had six in 2016.
Gonzalez, 23, is batting .308 with 10 doubles, three homers, 27 RBI and 23 runs scored in 50 games. He has drawn 18 walks to just 21 strikeouts and has a .367 OBP going into Wednesday's game. Gonzalez is ninth in the MWL in batting average and has posted three hit streaks of at least seven games this season while playing first base, second base, shortstop, third base and outfield.
Lopez, 22, is batting .293 with 13 doubles, three homers, 17 RBI 1n4 25 runs scored in 44 games. He has a .383 OBP with 19 walks and has just four errors on the season at second base. Lopez leads the Chiefs in doubles and is second in walks while leading the MWL in double plays turned by a second baseman.
Montero, 19, is batting .311 with six homers, 12 doubles, two triples, 30 RBI and 34 runs scored in 51 games. He is eighth in the MWL in average while leading the Chiefs in average, hits, runs, RBI and is tied for first in home runs. Montero is slugging a team best .485 and has a team-high .840 OPS.
Ortega, 20, is batting .267 with three homers, three doubles, 13 RBI and 18 runs scored in 28 games. He has drawn 13 walks and leads the Chiefs with five stolen bases. Ortega is second in the MWL in throwing out base-stealers at 48% and he has also picked nine runners off base.
Dobzanski, 22, is 4-2 with a 1.86 ERA in a team-high 18 relief appearances. He has nailed down three saves while striking out 29 batters over 29 innings and walking just six. Opponents are hitting .239 against the right-hander and he has posted a 1.10 WHIP.
St. Clair, 24, is 2-2 with a 1.71 ERA in 16 relief outings while going a perfect 3-for-3 in save chances. The right-hander has struck out 36 and walked 12 in 26 1/3 innings. He has posted a 0.76 WHIP while holding opponents to a .098 batting average, the best number in the league for any pitcher.
The 2018 Midwest League All-Star Game will take place in Lansing, Michigan on Tuesday, June 19. The Chiefs have the most selections in the Western Division with six. Kane County has five while Cedar Rapids, Clinton and Beloit all have four. Quad Cities and Wisconsin have three each and Burlington has two. Bowling Green leads the East with six selections while South Bend and Dayton have five and Fort Wayne and Lansing have four. Lake County has three players while Great Lakes and West Michigan round out the team with two selections each.