Chiefs Lower Magic Number to One with Walk Off Win
Hudzina singles home Plummer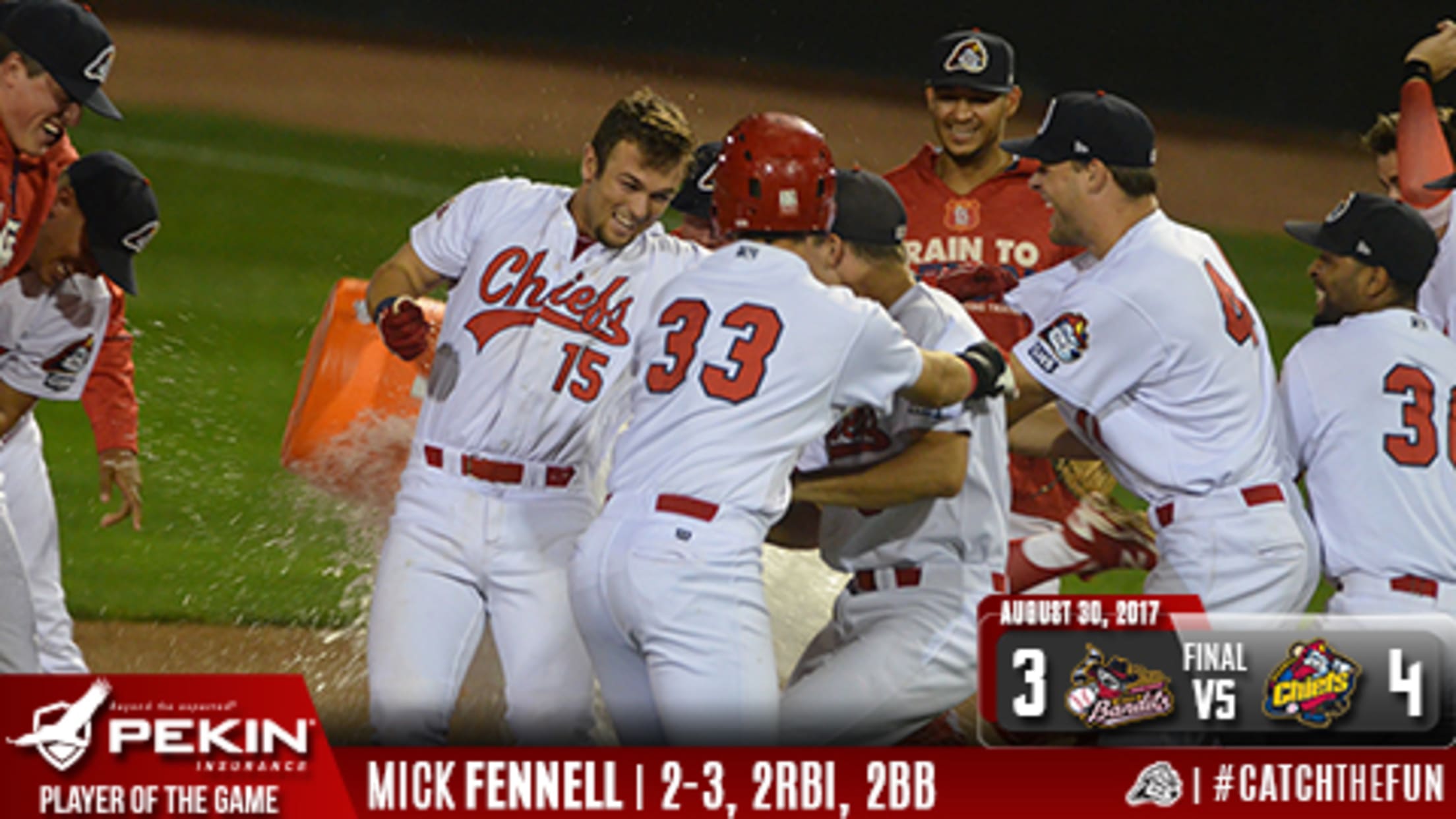 Peoria, IL - Danny Hudzina capped a three-run ninth as he singled with the bases loaded to give the Peoria Chiefs a 4-3 walk off win against the Quad Cities River Bandits on Wednesday evening at Dozer Park. The win improves the Chiefs to 35-30 in the second half and
Peoria, IL - Danny Hudzina capped a three-run ninth as he singled with the bases loaded to give the Peoria Chiefs a 4-3 walk off win against the Quad Cities River Bandits on Wednesday evening at Dozer Park. The win improves the Chiefs to 35-30 in the second half and with five games remaining their magic number to secure the Western Division Wild Card spot is one. The Chiefs can clinch a playoff spot for the third year in a row by winning on Thursday night against Quad Cities.
The River Bandits got on the board in the first inning against Chiefs starter Ian Oxnevad. The lefty hit J.J. Matijevic with a pitch and Daz Cameron doubled to left to give Quad Cities two runners in scoring position. Chuckie Robinson singled to shortstop to bring home Matijevic and an errant throw to first plated Cameron to give Quad Cities a 2-0 lead.
Bandits starter Ronel Blanco held the Chiefs hitless and scoreless until the third inning. With two outs Kramer Robertson walked and scored from first when Evan Mendoza doubled to the left-center field gap. It was Mendoza's second double of the season and cut Quad Cities lead in half, 2-1.
Quad Cities extended their lead in the sixth against Colton Thomson, who was on the hill in relief. Abraham Toro-Hernandez led off with a triple to right and with one out Luis Payano singled to center, driving in Toro-Hernandez and giving the Bandits a 3-1 advantage.
The Chiefs stormed back in the ninth inning against River Bandits reliever Nathan Thompson. Dennis Ortega, J.R. Davis and Nick Plummer all walked to load the bases with no outs. Quad Cities went to the bullpen, sending Lucas Williams to the mound and Mick Fennell singled to right to plate Ortega and Davis to even the score at 3-3. Plummer went to third and Fennell went to second on the throw, and with one out Quad Cities reloaded the bases by intentionally walking Mendoza. Danny Hudzina singled to left field, driving home Plummer to walk-off the River Bandits 4-3.
Oxnevad tossed five innings while allowing two runs on four hits with four strikeouts in a no decision. Thomson went one inning, allowing one run on two hits with two strikeouts. Bryan Dobzanski threw two scoreless innings allowing a walk with one strikeout. Dewin Perez (3-6) got a win and threw a scoreless ninth inning, allowing a hit with two strikeouts.
Notes… At 35-30 the Chiefs can clinch a playoff spot Thursday night with a home win against Quad Cities…Beloit (30-34) and Clinton (30-35) both lost Wednesday while Wisconsin (30-35) won…Beloit and Wisconsin play each other Thursday so the Chiefs cannot clinch without a win but none of the other three teams can get to 36 wins…The Chiefs have never made the playoffs three straight years…Hudzina extended his hit streak to 12 games, which is the third longest for a Chiefs hitter this season behind Andrew Knizner and Shane Billings who both had 15-game streaks… Hudzina played first base for the first time this season… Ortega has been on base in each of his first three games with Peoria… With the win, the Chiefs finish 9-8 on Wednesdays in the regular season and 7-2 at home on the day… Peoria has nine walk-off wins, one shy of the record at Dozer Park set in 2008…The Chiefs were 0-57 when trailing entering Sunday's game, but have won two since then…Peoria improves to 22-25 in one-run games…The final home stand of the season continues Thursday at 6:30 p.m. as the Chiefs host Quad Cities…The Chiefs will start LH Evan Kruczynski (3-3, 3.50) while the River Bandits will start LH Kit Scheetz (2-0, 0.60)… It's Brewers Distributing Beer & Brat Thirsty Thursday featuring $2 12 oz domestic cans and soda plus $3 16 oz Craft drafts and Margaritas and $3 Brats…Field seats are $5 with a valid college student ID…Thursday is Taco Bell Live Mas Thursday where fans can show a Taco Bell receipt showing a purchase from within the last seven days to receive a buy one get one FREE ticket (Limit 4 free tickets per transaction)… The broadcast can be heard starting with the pregame show at 6:15 p.m. on www.peoriachiefs.com/listenlive which also has downloads for a free app on the iPhone, iPad, Blackberry, and Android… The broadcast is also available on the Peoria Chiefs Radio Network in the Tune-In Radio App.