Chiefs Walk Off Bandits In Game One
Mendoza singles Chiefs to 4-3 Win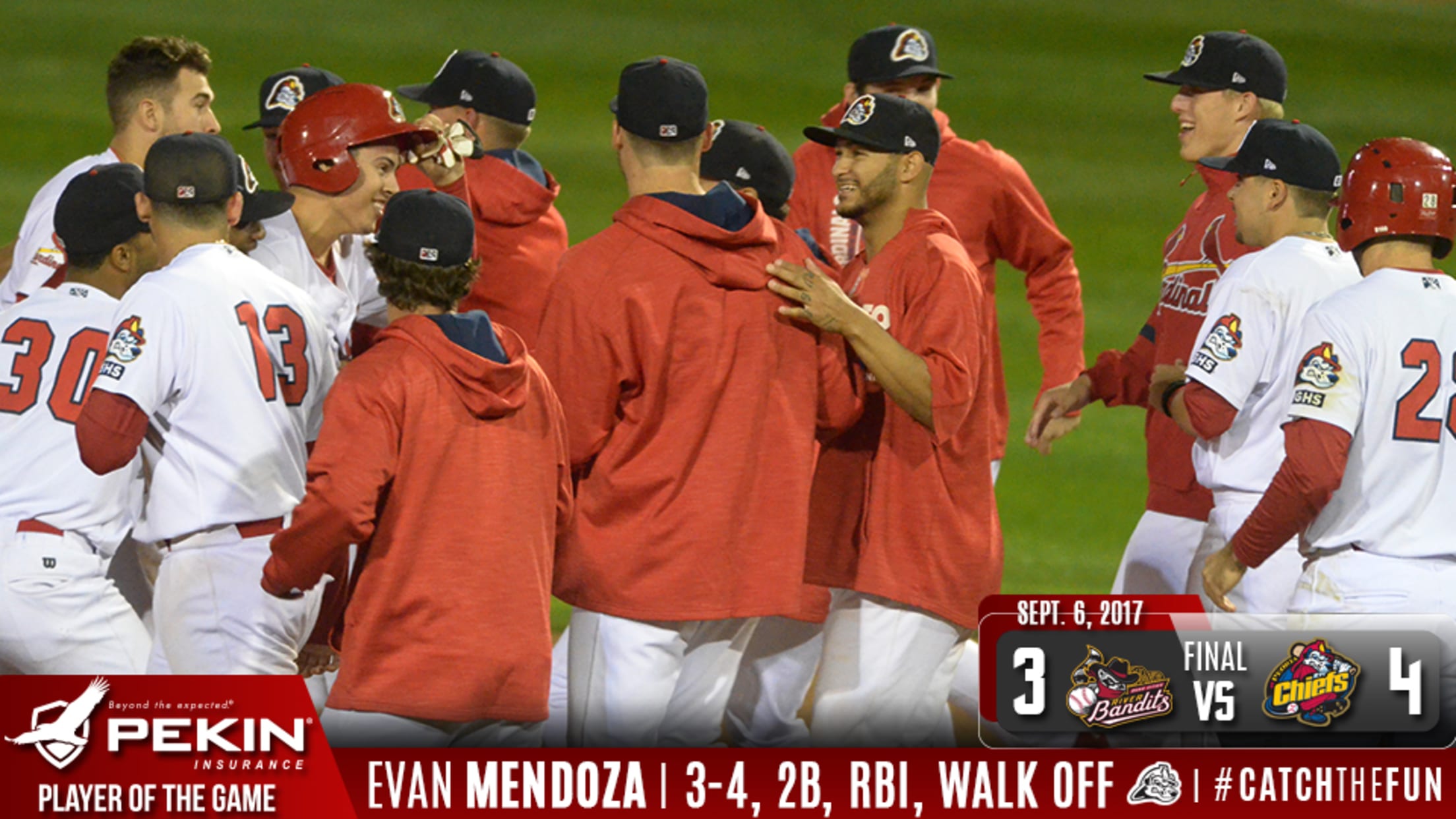 Peoria, IL - Evan Mendoza singled the Peoria Chiefs to a 4-3 walk-off win against the Quad Cities River Bandits on Wednesday in game one of the first round of the Midwest League Playoffs. The Chiefs lead the series 1-0 and will play game two against the River Bandits in
Peoria, IL - Evan Mendoza singled the Peoria Chiefs to a 4-3 walk-off win against the Quad Cities River Bandits on Wednesday in game one of the first round of the Midwest League Playoffs. The Chiefs lead the series 1-0 and will play game two against the River Bandits in Davenport, IA on Thursday with a 6:30 p.m. first pitch.
The Chiefs struck first against Quad Cities reliever Kit Scheetz, who came out of the bullpen to replace MLB rehabber Michael Feliz, in the second inning. Mendoza led off with a single to right and went to second when Luis Payano booted the ball in right field. Brian O'Keefe singled to left to move Mendoza to third. Juan Yepez grounded into a force out that retired O'Keefe at second, but plated Mendoza to give Peoria a 1-0 lead.
Quad Cities took the lead in the fourth against Chiefs starter Ian Oxnevad. Astros rehabber Colin Moran was hit by a pitch and went to third when Abraham Toro doubled off the wall in left. Josh Rojas hit a sacrifice fly to center field and Moran scored to make it a 1-1 game. Toro went to third when Wander Franco grounded out and scored when Kristian Trompiz singled to left, giving the Bandits a 2-1 advantage.
Peoria took the lead back in the sixth against Scheetz and reliever Jesus Balaguer. With one out Stefan Trosclair singled and Mendoza doubled to right, giving the Chiefs runners at second and third. O'Keefe flew a sacrifice fly to right that brought home Trosclair and tied the game at 2-2. Balaguer entered from the bullpen and walked Yepez and Dylan Carlson to load the bases. Matt Fielder walked to force in Mendoza and give the Chiefs a 3-2 advantage.
The River Bandits tied the game in the seventh against Chiefs reliever Bryan Dobzanski. Payano led off with a single to right field and scored when Chas McCormick tripled to center, tying the game at 3-3.
Peoria won the game in the ninth against Quad Cities relievers Devon Carr and Robert Corniel. Fennell led off with a walk against Carr and Kramer Robertson laid down a sacrifice bunt to move Fennell to second and went to third on a wild pitch. Trosclair walked to give Peoria runners at the corners with one out. Mendoza chopped a single into right field to score Fennell and give the Chiefs a 4-3 walk off win.
Oxnevad went six innings in a no decision, allowing two runs on three hits with three walks and a strikeout. Dobzanski blew a save and threw an inning of relief, allowing one run on two hits with a strikeout. Austin Sexton logged an inning of perfect work with two strikeouts. Yeison Medina (1-0) earned the win, pitching one scoreless inning while allowing one hit and a walk with one strikeout.
Notes… O'Keefe hit his first post-season single of his Chiefs career, he has five post season hits… He's the first Chiefs player to ever play in three post-seasons… Mendoza has a hit in three straight games and collected his sixth multi-hit game this year with the Chiefs… Peoria is 12-7 in playoff home games… Peoria has played 12 playoff games at Dozer Park/O'Brien Field and are 8-4… The Chiefs are 13-13 in the 1st round of the post season… The Chiefs have five post-season walk-off wins in their history, four of which have been at Dozer Park… Peoria has 10 walk-off wins this year and four against Quad Cities… The Chiefs last two wins are walk-offs… The win snapped a six-game playoff losing streak to teams from Iowa… The last win was in 2002 against Cedar Rapids to win the Western Division… The Chiefs head to Quad Cities for game two of the MWL First Round playoff series on Thursday at 6:30 p.m. with LH Austin Warner (2-4, 3.00) on the mound for the Chiefs while Quad Cities will send RH Cristian Javier (2-0, 2.39) to the hill…The broadcast can be heard starting with the pregame show at 6:15 p.m. on www.peoriachiefs.com/listenlive which also has downloads for a free app on the iPhone, iPad, Blackberry, and Android… The broadcast is also available on the Peoria Chiefs Radio Network in the Tune-In Radio App.