Chiefs Walked Off 9-8 Wednesday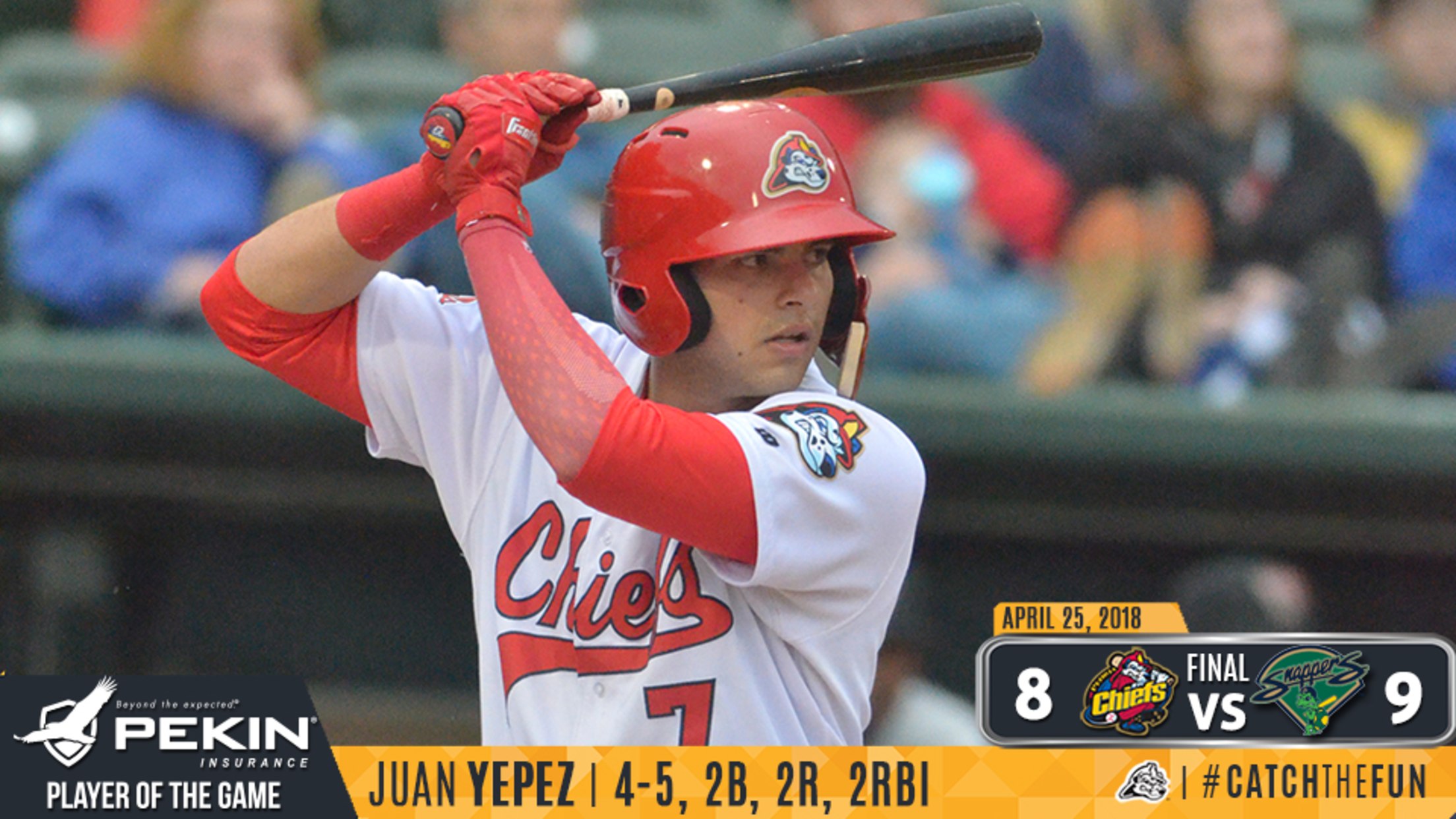 Beloit, WI - The Peoria Chiefs lost a four-run lead in the seventh inning, tied the game when down to their last strike and lost on a walk-off single 9-8 to the Beloit Snappers Wednesday night. The loss, their third in a row all by one run, drops the Chiefs
Beloit, WI - The Peoria Chiefs lost a four-run lead in the seventh inning, tied the game when down to their last strike and lost on a walk-off single 9-8 to the Beloit Snappers Wednesday night. The loss, their third in a row all by one run, drops the Chiefs to 8-9 on the season.
Beloit got the scoring started in the bottom of the first against Johan Oviedo. With one down Mickey McDonald doubled to left and he scored on a two-out single to right by Logan Farrar. Oviedo's second strikeout of the inning ended the frame with the Snappers leading 1-0.
Peoria responded immediately against Snappers starter Michael Danielak. Juan Yepez led off the second with his league-leading 24th hit, a single to left-center. Bryce Denton's second double of the season plated Yepez to tie the game. Julio Rodriguez singled to right to put the Chiefs on top 2-1 and he advanced to second on an error by Anthony Churlin on the play. With one down Edwin Figuera was hit by a pitch but Danielak recovered to get the next two batters out to end the inning.
The Chiefs added on in the third inning. Yariel Gonzalez singled to center and moved to second on a single to left by Elehuris Montero. Yepez's league-leading seventh double of the season scored Gonzalez for a 3-1 lead. Denton put the Chiefs up 4-1 as he brought home Montero with a groundout to shortstop.
Beloit scored twice in the bottom of the third. McDonald singled and scored on a double to the wall by Beck to cut the Chiefs lead to 4-2. After a pair of outs, Jordan Devencenzi singled to right to bring home Beck. Another single put two Snappers on base but Oviedo struck out Churlin to end the threat with the Chiefs up 4-3.
The Chiefs went right back at Danielak in the fourth. With two down newcomer Scott Hurst was hit by a pitch and beat out a fielders' choice attempt at second with Gonzalez safe at first. Montero doubled to center to score both runners for a 6-3 lead. Beloit changed pitchers and Yepez smacked the first pitch from Mitchell Jordan into center for a RBI single and a 7-3 Chiefs lead.
The lead vanished in the seventh as Oviedo left the game. Levi MaVorhis took over and walked Nick Allen to start the inning. McDonald reached on an error and with one out, Farrar double home Allen to cut the Chiefs lead to 7-4. Hunter Hargrove doubled home two runs to cut the lead to 7-6 and Bryan Dobzanski took over for MaVorhis. A single by Devencenzi tied the game and Churlin walked with two outs. Jesus Lopez hit a grounder to short that should have ended the inning but Figuera threw the ball into right field allowing Beloit to take an 8-7 lead.
The Chiefs tied the game in the top of the ninth against Heath Bowers. Yepez singled with one out and moved to second on a single by Denton. With two outs and down to their last strike, the Chiefs tied the game on a single to left by Nick Plummer. Bowers struck out Figuera with runners on the corners to end the inning.
Kevin Hamann took over in the ninth for the Chiefs. A leadoff walk to Trace Loehr and a wild pitch put a runner in scoring position with one out. Lopez drew a walk and both runners moved up when Allen grounded out to shortstop. Beloit won the game 9-8 on a slow roller halfway down the third base line by McDonald for the walk-off single.
Oviedo took a no-decision as he allowed three runs on nine hits over six innings as he struck out five and did not issue a walk. MaVorhis allowed four runs, three earned, on two hits and a walk as he struck out one in 1/3 of an inning. Dobzanski allowed one unearned run on two hits and two walks while striking out two over 1 2/3 innings. Hamann (0-2) took the loss as he allowed one run on one hit and two walks while striking out one in 2/3 of an inning.

Notes…Chiefs starting pitchers have gone at least 5 2/3 innings in eight straight games…In those eight games the starters have allowed seven total earned runs for a 1.33 ERA…In a total of 47 1/3 innings they have 52 strikeouts…The Chiefs have a blown save in three straight games…The Chiefs have allowed eight runs in the seventh inning in the last games…The Chiefs are 2-4 on the road this year with four straight losses, all by one run…Three of those losses have been walk-off hits…Peoria is 4-4 when scoring five runs or more and they have lost twice when scoring seven or more…Bryant's 12-game on base streak ended…Yepez has a team-best nine multi-hit games…He is top three in the MWL in batting average, slugging percentage, hits, extra-base hits, doubles and RBI…Yepez had his fourth 4-hit game in a Chiefs uniform and first since August 25…The 2-3-4-5 hitters of Gonzalez, Montero, Yepez and Denton were a combined 10-for-18 with four doubles, seven runs scored, six RBI and a walk…Oviedo has allowed at least one run in the first inning in three of his four starts…August 16, 2017 was his only other professional start without a walk…The series concludes at 6:30 p.m. Thursday as the Chiefs start RHP Evan Guillory (1-1, 2.20) against Snappers RHP Bryce Conley (1-0, 0.61)…The broadcast can be heard, starting with the Pre-Game Show at 6:15 p.m. on www.peoriachiefs.com/listenlive and is also available on the Peoria Chiefs Network in the Tune-In Radio App.