Chiefs Walked Off Monday
Leahy Turns in Quality Start in No-Decision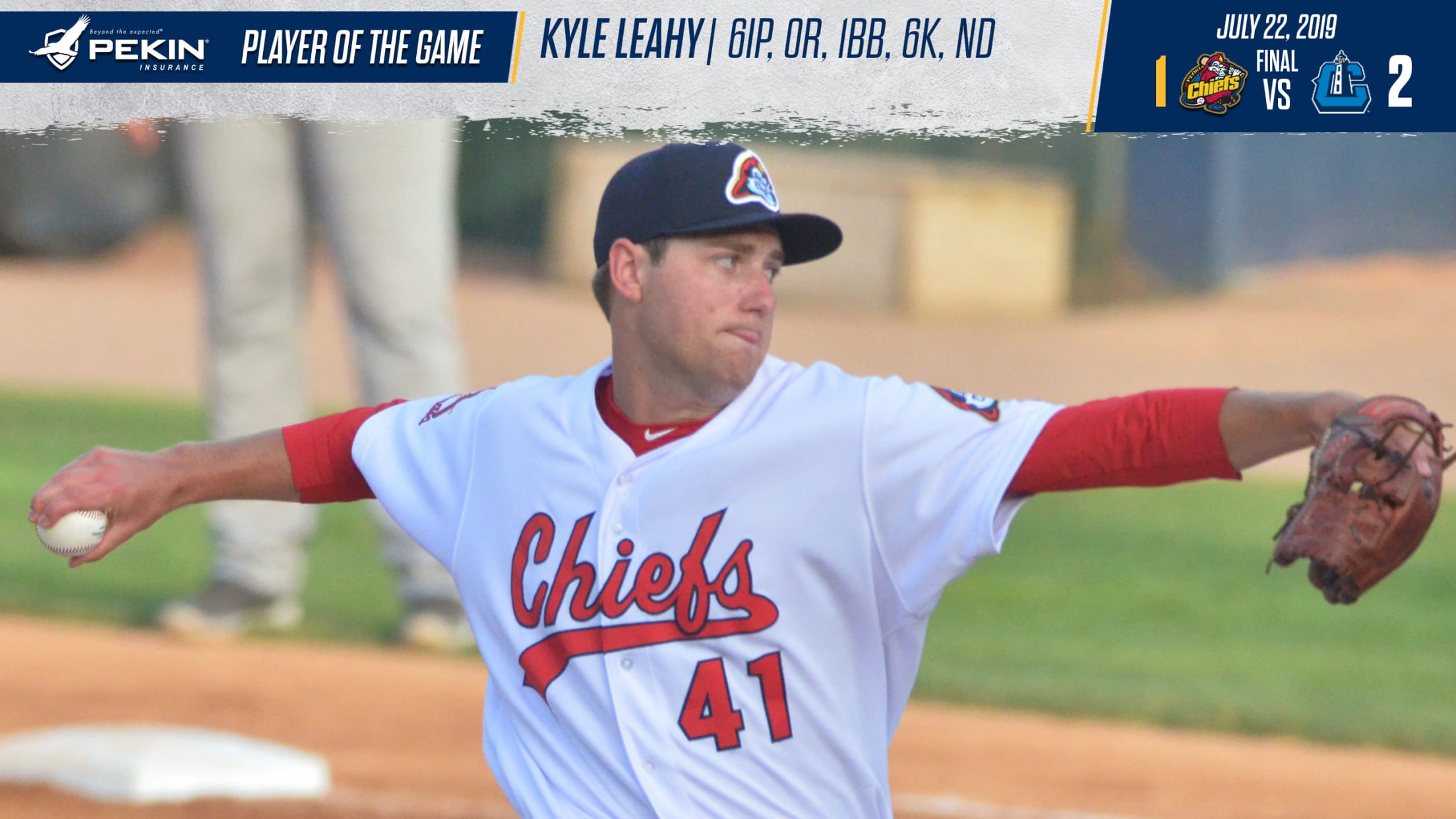 Eastlake, OH - The Peoria Chiefs protected a 1-0 lead Monday night until the bottom of the ninth when a walk, hit batter and two singles gave the Lake County Captains a 2-1 walk-off win. With six shutout innings and six strikeouts, Kyle Leahy was named the Pekin Insurance Beyond
Eastlake, OH - The Peoria Chiefs protected a 1-0 lead Monday night until the bottom of the ninth when a walk, hit batter and two singles gave the Lake County Captains a 2-1 walk-off win. With six shutout innings and six strikeouts, Kyle Leahy was named the Pekin Insurance Beyond the Expected Player of the Game as he got a no-decision.
The Chiefs took the lead against Matt Turner in the second inning. Leandro Cedeno doubled to center to start the inning and he moved to third on a groundout to second. Brandon Benson gave the Chiefs a 1-0 lead with a sacrifice fly to center.
Leahy kept Lake County off balance all night with a quality start and six shutout innings as he scattered four hits and struck out six. Freddy Pacheco and Sebastian Tabata also turned in shutout frames as the Chiefs took the 1-0 lead into the ninth before Evan Sisk (1-6) took the loss. Sisk walked one, hit one and allowed two runs on two hits over 1/3 of an inning.
Brendan Donovan's 12-game hit streak ended though he walked to extend his on-base streak to 13. Donovan had 22 hits during the hit streak. Chiefs starting pitchers have not allowed a run in the last 11 innings and have allowed just three earned runs over the lsat 22 innings of work. Pacheco leads the Chiefs with 70 strikeouts in 39 2/3 innings and he leads the MWL in K/9 IP. Leahy has six quality starts. Edwin Figuera had three hits with two doubles and he has four doubles so far on the road trip.
Tuesday is a league wide off day and the Chiefs will head to Quad Cities Wednesday for a 6:35 p.m. start with LH Colin Schmid on the mound against River Bandits All-Star RH Matt Ruppenthal.
The Chiefs return home on Saturday, July 27 to start a seven-game homestand. Individual game tickets, group tickets and season ticket packages, including full-season, a 35-game ticket package, an 18-game ticket package or a Flex Plan are currently on sale by calling 309-680-4000. Individual game tickets are also on sale with the Dozer Park Box Office open Monday - Friday from 10:00 am - 5:00 pm and online at www.peoriachiefs.com which also lists all of the season's promotions. Game times and promotions are subject to change.