Chiefs Win 6th Straight, 13-1
Davis drives in four, Ortega homers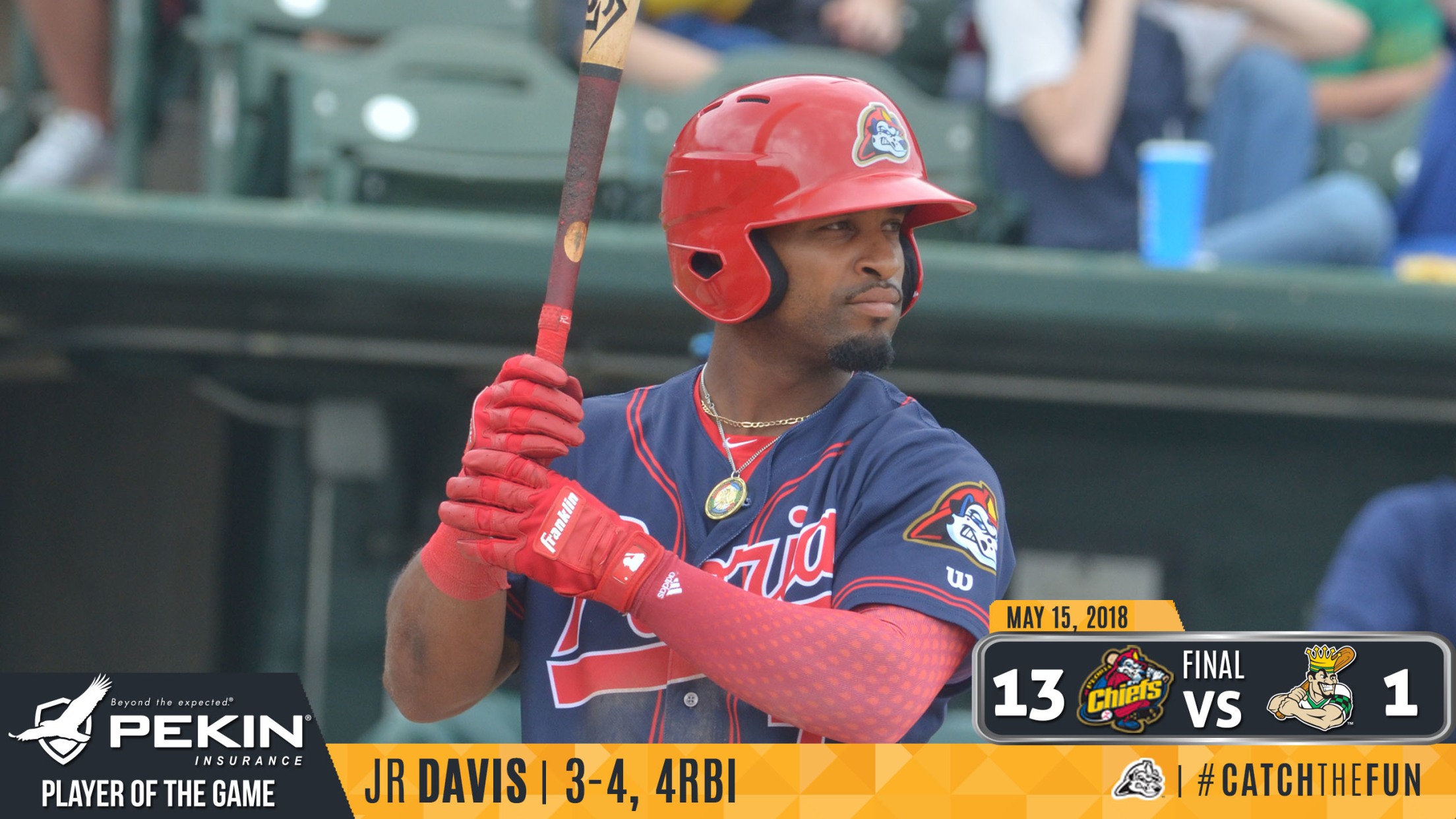 Peoria, IL - The Peoria Chiefs pulled away from the Clinton LumberKings in the fifth and did not look back in a 13-1 win on Tuesday afternoon. After their sixth win in a row, the Chiefs improved to 19-16 overall with game three of the four game series scheduled for
Peoria, IL - The Peoria Chiefs pulled away from the Clinton LumberKings in the fifth and did not look back in a 13-1 win on Tuesday afternoon. After their sixth win in a row, the Chiefs improved to 19-16 overall with game three of the four game series scheduled for Wednesday at 11 a.m.
The LumberKings jumped out to an early lead on Chiefs starter Evan Guillory in the top of the second. Jack Larsen drew a leadoff walk and with one out Ryan Costello singled to put runners at the corners. Greifer Andrade hit a sacrifice fly to right field as Larson scored to put the LumberKings on the board first 1-0.
The Chiefs answered in the bottom of the second against Clinton starter Oliver Jaskie. Elehuris Montero led off with a walk and Dennis Ortega reached first on a fielder's choice at second that retired Montero. Ortega moved to second on a ground out by Matt Fiedler and JR Davis drove in Ortega for his first RBI of the season with a two-out single up the middle to tie the game 1-1.
In the bottom of the fourth inning, Peoria took the lead for the first time of the day. Gonzalez singled with one out and Montero walked. Fiedler drew a two-out walk and Davis lined a two-run single to center scoring Gonzalez and Montero for a 3-1 lead.
Peoria blew the game wide open in the bottom of the fifth on reliever Adonis De La Cruz. The Chiefs loaded the bases as Taylor Bryant walked, Scott Hurst doubled and Irving Lopez walked. Gonzalez scored Bryant and Hurst on a single pulled down the right field line for a 5-1 advantage. Montero delivered a sacrifice fly to right field as Lopez crossed home plate. Up 6-1, Dennis Ortega smashed his first professional home run over the berm in left field for a commanding 8-1 Chiefs lead.
The Chiefs added to their lead in the seventh. Gonzalez and Montero both singled with one outand Ortega walked to load the bases. Fiedler drove in Gonzalez on a sacrifice fly to right as the lead grew to 9-1. Davis continued his hot debut with an RBI single for a 10-1 lead and with two outs Taylor Bryant cleared the bases on a double down the third base line as the lead widened to 13-1.
Guillory (4-2) got the win throwing six innings allowing one run on five hits with one walk and three strikeouts. Kodi Whitley tossed a scoreless inning with no runs or hits allowed with one strikeout in the seventh. Fabian Blanco threw a scoreless eighth inning after surrendering a hit with no walks and one strikeout. Thomas St. Clair finished the game off in the ninth with a scoreless inning allowing one hit with one walk and one strikeout.
Notes… The Chiefs scored a season-high 13 runs…The have scored 10 or more four times this season, three of those are in games started by Guillory…Fiedler and Davis made their 2018 Chiefs debuts…Ortega has a six-game hit streak… Chiefs pitchers have 13 quality starts…Ortega hit his first professional home run…Plummer has a six-game hit streak… Bryant has a seven-game hit streak… Gonzalez has a nine-game hit streak… Gonzalez notched his ninth multi-hit game…Chiefs have won a season high six games in a row… The Chiefs wore dark blue jerseys for the first time at home this season and are now 9-4 wearing them…The Chiefs are 5-4 in day games… The Chiefs will host Clinton at 11:00 a.m. Wednesday on Ameren Illinois Education Day with a Bang For Your Buck Wednesday promotion in which fans can purchase $1 hot dogs, $1 nachos and $1 popcorn…Chiefs will start RHP Alvaro Seijas (1-2, 5.08) against Clinton RH Ryne Inman (1-2, 4.73)...The broadcast can be heard, starting with the Pre-Game Show at 10:45 a.m. on www.peoriachiefs.com/listenlive and is also available on the Peoria Chiefs Network in the Tune-In Radio App…The game is also available on MiLB.tv for subscribers.