Chiefs Win 7th Straight, Move Into First
Fiedler's triple caps 6-run 8th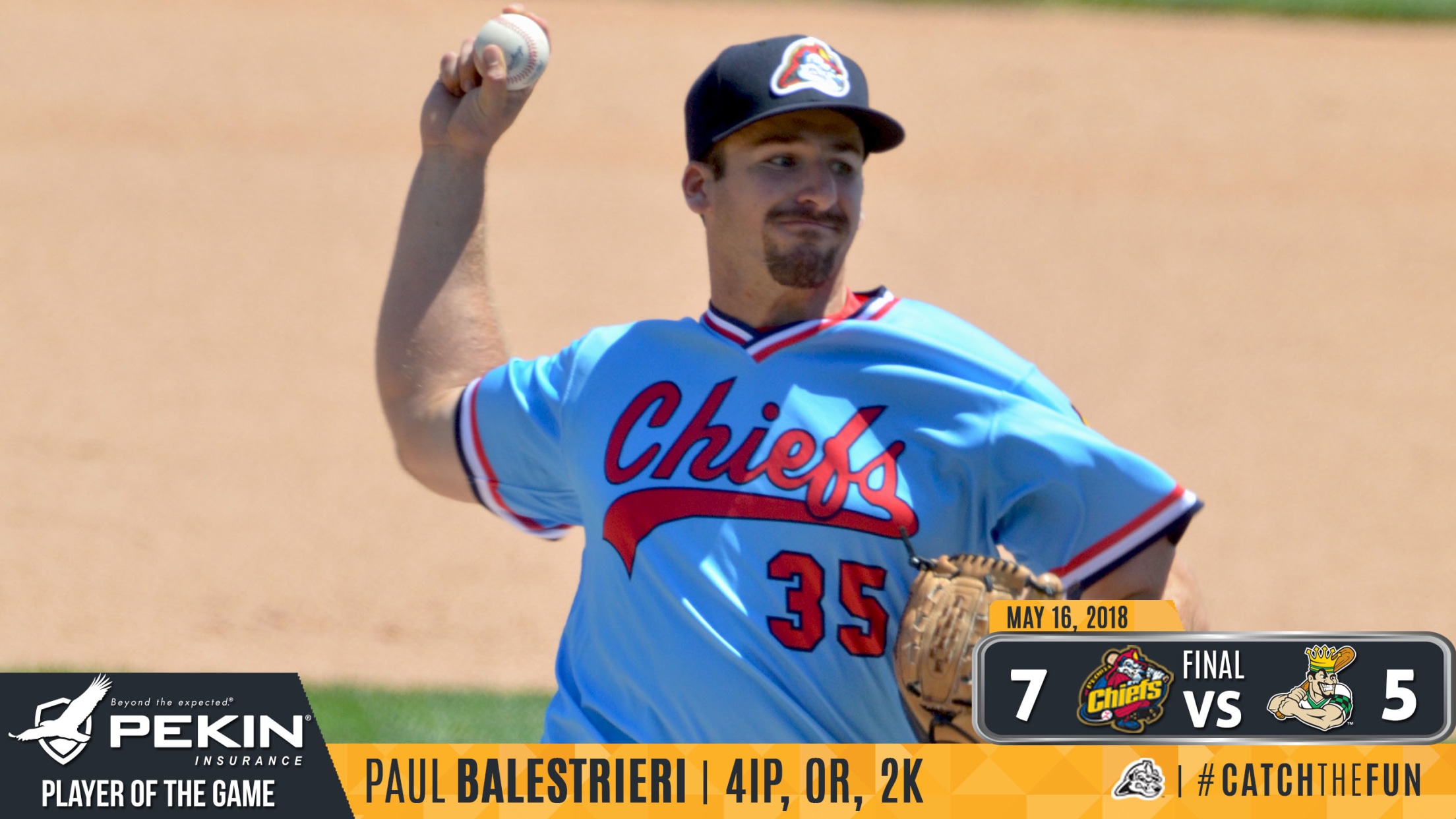 Peoria, IL - The Peoria Chiefs scored six runs in the bottom of the eighth to rally past the Clinton LumberKings 7-5 Wednesday afternoon in front of 5,018 grade schoolers. The win gives the Chiefs their first seven-game win streak since 2012 and moves them past Clinton and into first
Peoria, IL - The Peoria Chiefs scored six runs in the bottom of the eighth to rally past the Clinton LumberKings 7-5 Wednesday afternoon in front of 5,018 grade schoolers. The win gives the Chiefs their first seven-game win streak since 2012 and moves them past Clinton and into first place with a 20-16 record.
Clinton got off to a fast start against Chiefs hurler Alvaro Seijas as Joe Rosa led off with a double and moved to third on a single by Eugene Helder. A double play kept Rosa at third but Johnny Adams put Clinton on top 1-0 with a single to right.
Clinton added to their lead in the third with another two-out rally. Ryan Costello's double plated Helder and Adams for a 3-0 lead. The visitors knocked Seijas from the game in the fourth with two more runs. Helder singled home Louis Boyd with two outs and Ariel Sandoval made it 5-0 with a single to plate Rosa. CJ Saylor came out of the bullpen and struck out Adams to leave the bases loaded.
The Chiefs finally got on the board against Ryne Inman in the bottom of the fifth. JR Davis led off with a double to left and scored on a two-out single by Scott Hurst.
The game stayed 5-1 Clinton into the bottom of the eighth as Kyle Wilcox took over on the mound. Irving Lopez drew a leadoff walk and Hurst singled before Nick Plummer drove in a run with a single to left-center. After two straight outs, Julio Rodriguez walked and Hurst scored on a wild pitch to cut the Clinton lead to 5-3. Davis singled home a run and Bryce Denton tied the game with a single to right-center to score Rodriguez. Matt Fiedler's first hit since rejoining the Chiefs was a go-ahead triple to left-center to give the Chiefs a 7-5 lead, that held up as the final score.
Seijas took a no-decision as he allowed five runs on nine hits over 3 2/3 innings while walking four and striking out two. Saylor allowed one hit and one walk as he struck out two over 1 1/3 innings. Paul Balestrieri (1-0) picked up the win in his Chiefs debut with four shutout innings as he allowed two hits and struck out two.
Notes… Gonzalez played shortstop for the first time since July 21, 2016 with Johnson City…he has now played first, second, shortstop, third and left field this season…Lopez started a game at third base for just the third time as a pro…Plummer has a seven-game hit streak… Gonzalez had his nine-game hit streak snapped…The Chiefs are 6-4 in day games…The Chiefs have 12 comeback wins this season including six in the last seven games…The seven-game win streak is the first since June 4-11, 2012…The last time the Chiefs won more than seven in a row was August 2009…The Chiefs were also in first place at 1-0 after an Opening Day win…The Chiefs are 3-12 when allowing five runs or more…The Chiefs have scored at least five runs six times in the win streak…The series concludes at 6:30 p.m. Thursday with a Baumgarten Distributing Beer & Brat Thirsty Thursday…Domestic can beers (12 oz) are $2 as are sodas…Craft drafts (16 oz), margaritas and brats are $3…College students get $5 tickets with a valid student ID…The Chiefs will start RHP Zach Prendergast (4-1, 2.25) against Clinton LH Nick Wells (2-2, 5.29)...The broadcast can be heard, starting with the Pre-Game Show at 6:15 p.m. on www.peoriachiefs.com/listenlive and is also available on the Peoria Chiefs Network in the Tune-In Radio App…The game is also available on MiLB.tv for subscribers.