Chiefs Win Regular Season Finale 11-9
Chiefs have won 8 of 9 heading into playoffs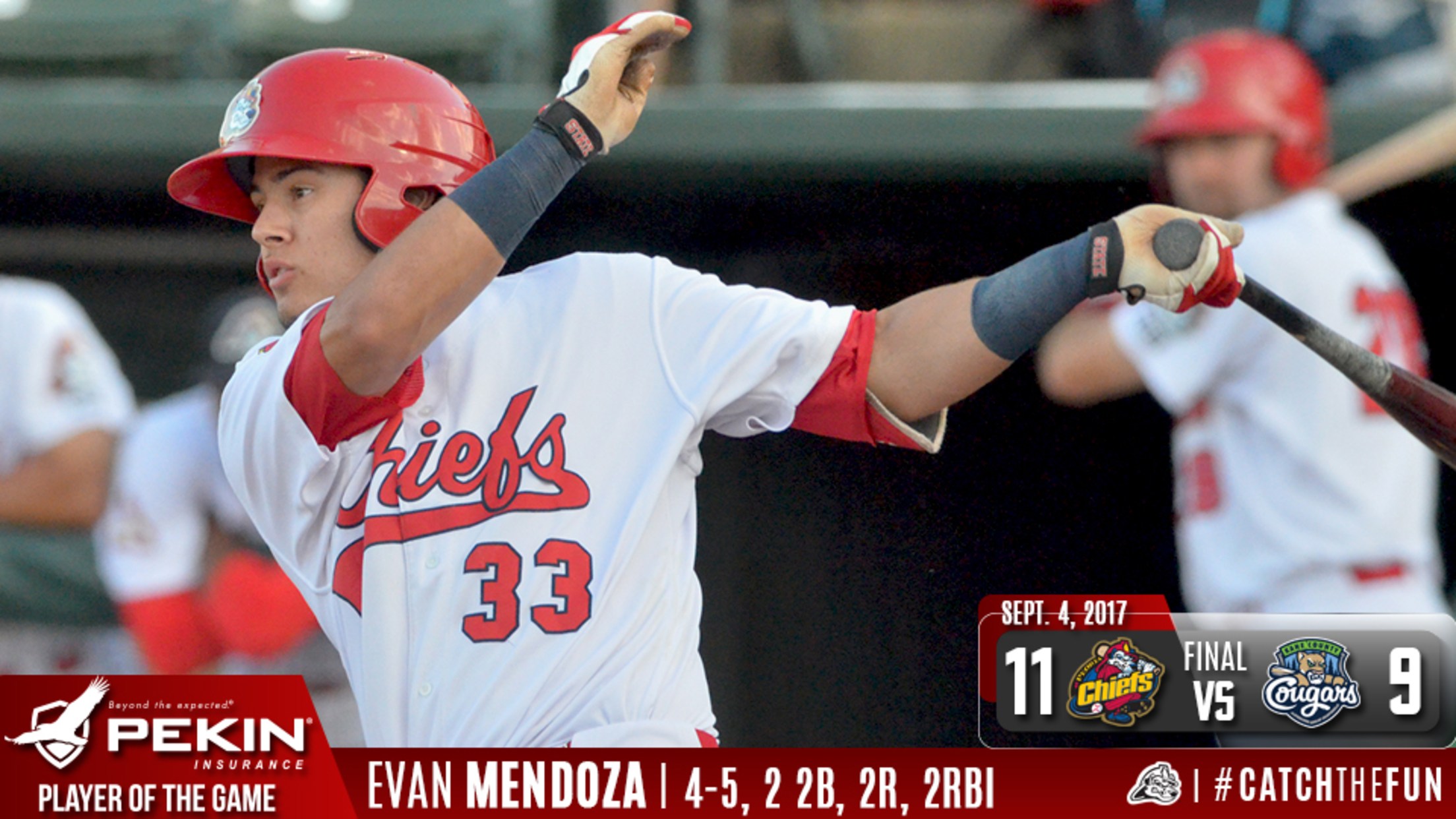 Geneva, IL - The Peoria Chiefs erased a three-run deficit then blew a four-run lead but scored two in the 11th to beat the Kane County Cougars 11-9 Monday afternoon in the regular season finale. The win moves the Chiefs to 39-31 in the second half and 69-70 overall with
Geneva, IL - The Peoria Chiefs erased a three-run deficit then blew a four-run lead but scored two in the 11th to beat the Kane County Cougars 11-9 Monday afternoon in the regular season finale. The win moves the Chiefs to 39-31 in the second half and 69-70 overall with the MWL Playoffs starting Wednesday at Dozer Park.
The Chiefs took a 1-0 lead in the first against Riley Smith. With one out Kramer Robertson singled, Evan Mendoza singled and JR Davis put the Chiefs on top with a hit.
Peoria was down 4-1 when they rallied against Smith in the fourth. Juan Yepez led off with a double and Stefan Trosclair launched his 15th home run of the season to cut the deficit to 4-3. Dennis Ortega and Matt Fielder followed with singles before Mick Fennell's one out fielders' choice tied the game 4-4.
The Chiefs took the lead in the fifth against Tyler Mark. Mendoza doubled and with one out moved to third on a single by Yepez. Trosclair's sacrifice fly made it 5-4 and Yepez later scored on a wild pitch. Peoria scored three more in the sixth against Jake Winston. Robertson singled home Fielder with one out and Nick Plummer scored on a Mendoza sac fly. Robertson stole second and scored on an error to put the Chiefs up 9-4. Kane County scored five late runs to tie the game.
Both teams put position players on the mound for extras. The Chiefs took an 11-9 lead off catcher-turned-pitcher Alexis Olmeda in the 11th. Robertson singled and moved to third on a double Mendoza. With one out a sacrifice fly from Juan Yepez put he Chiefs on top and a wild pitch made it 11-9.
Ronnie Williams allowed four runs on four hits over 1 2/3 innings in a no-decision as he hit one, allowed a homer and struck out two. Dewin Perez threw 2 1/3 perfect innings in which he struck out four. Evan Kruczynski allowed one unearned run on a walk and he struck out four over two hitless innings. Frederis Parra allowed a hit over one shutout inning. Colton Thomson allowed one run on two hits in 1/3 of an inning with a walk and a strikeout. Austin Sexton allowed two unearned runs on one hits over 1 2/3 while striking out two. Outfielder Mick Fennell allowed one run on two hits in 1/3 of an inning for a blown save. Outfielder Matt Fiedler (1-0) earned his first pro win with two shutout innings in which he allowed just one hit.
Notes… The teams shared two different bats in the game as the first bat lasted until the second inning and was replaced for the rest of the game…Robertson and Mendoza both had four hits…The Chiefs set new team records this season in fielding percentage (.977), least amount of errors (118), least amount of sacrifice bunts (15), most home runs allowed (118) and most hitting strikeouts (1125)…The Chiefs defense also established new records for least amount of errors in a season at first base (9), shortstop (24) and outfield (17) while also setting new fielding percentage marks at all three positions…Williams has allowed 19 homers in his Chiefs career, fourth most in team history…Trosclair led the Chiefs in at-bats, hits, RBI, total bases, triples, walks, steals, RBI, OBP, SLG, OPS and sac flies…Dylan Carlson led the team in games and runs scored…Ryan McCarvel led the team in homers and doubles …Fielder is the first Chiefs position player to get a win since catcher Luis Cruz on July 24, 2015 at Clinton…Peoria won the season series 10-7, their best season against Kane County since also going 10-7 in 2008…The 10 wins against the Cougars are the most against Kane County, tying 2008 and 1999…The Chiefs have won the season series in consecutive years against Kane County for the first time since 2007-08…The Chiefs will host Quad Cities in the first game of the MWL First Round playoff series on Wednesday at 6:30 p.m. with LH Ian Oxnevad on the mound…The broadcast can be heard starting with the pregame show at 6:15 p.m. on www.peoriachiefs.com/listenlive which also has downloads for a free app on the iPhone, iPad, Blackberry, and Android… The broadcast is also available on the Peoria Chiefs Radio Network in the Tune-In Radio App.