Chiefs Win Twice Friday
Gorman Homers Twice, Baker wins nightcap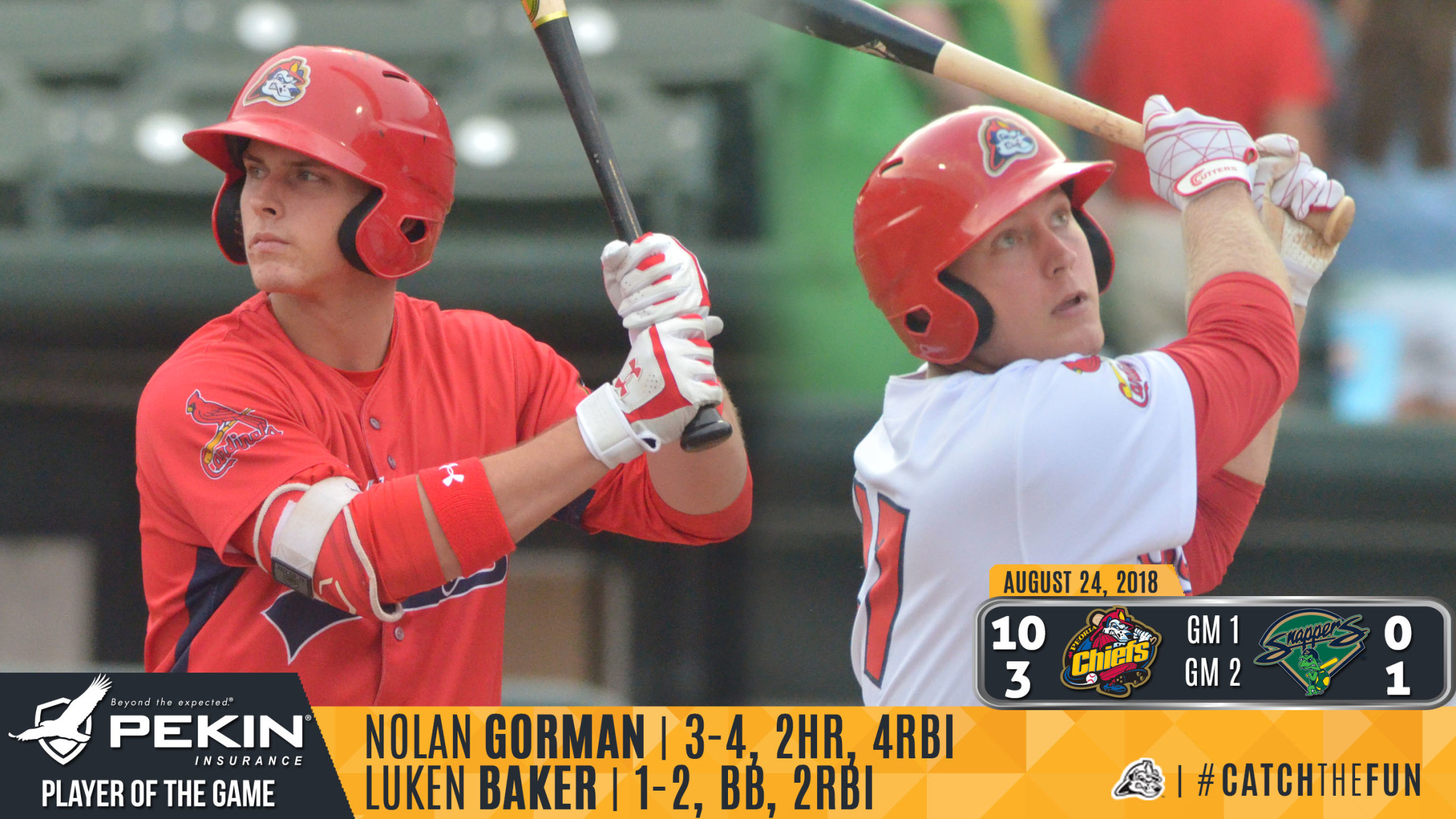 Peoria, IL - The Peoria Chiefs finished a suspended game with a dominant 10-0 victory and pulled ahead late to win game two 3-1 for a doubleheader sweep of the Beloit Snappers on Friday night. The Chiefs improved to 35-25 in the second half and 74-56 overall with game three of
Peoria, IL - The Peoria Chiefs finished a suspended game with a dominant 10-0 victory and pulled ahead late to win game two 3-1 for a doubleheader sweep of the Beloit Snappers on Friday night. The Chiefs improved to 35-25 in the second half and 74-56 overall with game three of the series set for 6:30 p.m. on Saturday, August 25.
The game suspended on July 1 in Beloit due to rain resumed at Dozer Park in the bottom of the second inning. Peoria built a 5-0 lead in Wisconsin and added to it in the top of the fourth against Jhenderson Hurtado. Andres Luna led off with a single to right and stole second base. Nick Dunn drew a one-out walk and Gorman clobbered a three-run homer over the right field wall at an exit velocity of 107 MPH for his fifth homer of the season. Zach Kirtley singled to center and Brandon Benson walked with two outs. Rayder Ascanio singled home Kirtley from second as the Chiefs commanded a 9-0 advantage.
Gorman did it again to widen the margin in the top of the sixth. Gorman hit a leadoff opposite field home run to left for another multi-home run game, his sixth long ball of the season for a sizeable 10-0 cushion.
Johan Oviedo (10-9) earned the win throwing 7 1/3 shutout innings allowing four hits with four walks and five strikeouts. Fabian Blanco tossed 2/3 of an inning without allowing a hit with no walks and no strikeouts to preserve the shutout.
Down 1-0 in game two, the longball knotted the game in the bottom of the second against Snappers starter Mitchell Jordan. Dennis Ortega rocketed a solo homer to left center for his fifth home run of the season as the game drew even 1-1.
Peoria moved ahead late in the bottom of the sixth inning. Wood Myers hit a leadoff single followed by Gorman dropping down a bunt single and both runners moved into scoring position on a wild pitch. Luken Baker sent a single up the middle to score both Myers and Gorman for a 3-1 advantage.
Alvaro Seijas took a no-decision throwing four innings without allowing an earned run on three hits with one walk and five strikeouts. Robbie Gordon (2-1) earned the win throwing three scoreless innings allowing two hits with no walks and three strikeouts.
Notes: Elehuris Montero extended his hit streak to 14 games…Irving Lopez scored two runs and had a double…Matt Fiedler, who retired on July 13, was 0-for-1…The Chiefs are 12-2 in doubleheaders...Peoria is 11-0 at home on Fridays...Gorman recorded his third professional multi-homer game and second in a Chiefs uniform…He has two three-hit games with the Chiefs...Oviedo became the 40th pitcher in franchise history to record double digit wins and sixth in the MWL season…The last Chiefs pitcher to win more than 10 games was Austin Gomber with 15 in 2015...A feature about Oviedo missing two Chiefs games to obtain his Green Card for residency is exclusively on www.peoriachiefs.com...Blanco leads the Chiefs with 40 appearances…Peoria has eight shutouts this season...Yariel Gonzalez now has 11 home runs and 64 RBI despite being on the DL...The Chiefs have 31 come from behind wins…The series continues at 6:30 p.m. on Saturday...The Chiefs will start RH Paul Balestrieri (7-5, 5.04) against Beloit LH Jared Poche (7-6, 4.45)...The first 1,000 fans 13 and up receive a Peoria Chiefs trucker hat...Saturday is Pete Vonachen Night as we remember former owner and Peoria's Mr. Baseball Pete Vonachen.... There will be post-game Fireworks presented by Pearl Technology Saturday is also Faith and Family Night... …Tickets are available online at www.peoriachiefs.com or at the Dozer Park Box Office…The broadcast, with Chiefs broadcast assistant Danny Frey can be heard starting with the pregame show at 6:15 p.m. on www.peoriachiefs.com/listenlive and is also available on the Peoria Chiefs Network in the Tune-In Radio App…Video of the game is available to subscribers on MiLB.TV…Chiefs playoff tickets are also on sale with Dugout and Field Box Seats available for $9 as the Chiefs host Quad Cities in Game One Wednesday, September 5…The Chiefs announced their entire 2019 schedule last Friday and the entire schedule is available at www.peoriachiefs.com.