Climbing the Ladder, Harris and Sosebee Become Latest RiverDogs to Get the Call to Tampa
RiverDogs lose two key bullpen cogs as Wagner is reinstated to the active roster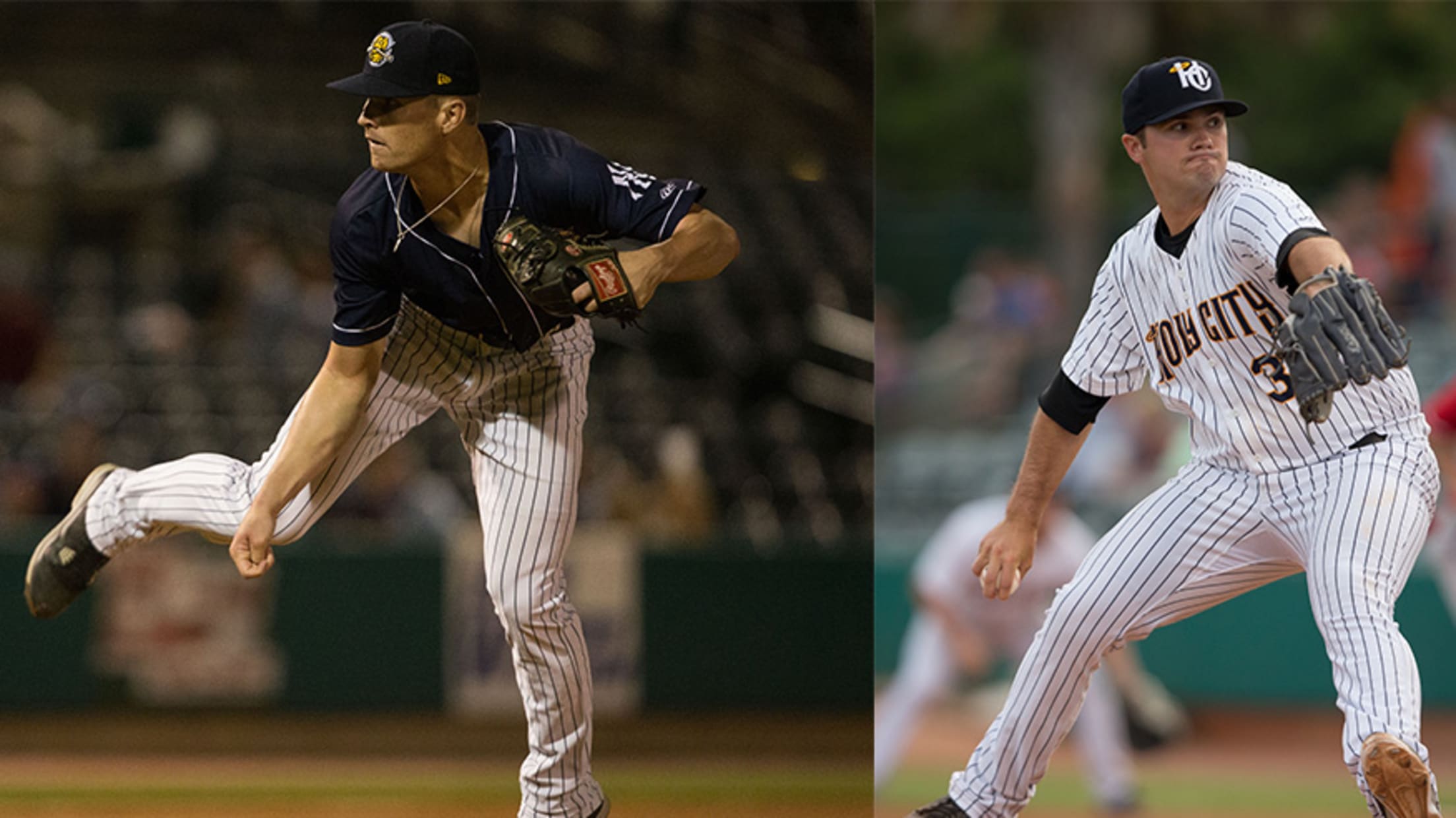 CHARLESTON, S.C. - The New York Yankees have announced that two more members of Charleston's dominant bullpen have been called up as right-handers Hobie Harris and David Sosebee were each promoted to High-A Tampa on Saturday.The former college picks were each key cogs in a RiverDogs bullpen that have thus
CHARLESTON, S.C. - The New York Yankees have announced that two more members of Charleston's dominant bullpen have been called up as right-handers Hobie Harris and David Sosebee were each promoted to High-A Tampa on Saturday.
The former college picks were each key cogs in a RiverDogs bullpen that have thus far recorded a 1.95 ERA with over 500 strikeouts in 430 plus innings this season. The two right-handers become the 14th and 15th RiverDogs called up to the T-Yanks this season.
In other roster moves announced, first baseman Brandon Wagner was also reinstated from the disabled list, as rightys Brian Trieglaff and Matt Wivinis were called up from Staten Island and Pulaski, respectively.


Harris, 24, returns to Tampa after making the Florida State League affiliate's roster out of Spring Training. The former Pitt Panther racked up 37 punch outs in 26 2/3 innings and a 2.36 ERA with the RiverDogs after a reassignment in May.
Sosebee, 23, departs after leading the relief corps in innings thrown (58.0) and strikeouts (65) while racking up 11 saves with a 1.93 ERA in 31 appearances with the RiverDogs since Opening Day. The former Georgia Bulldog was sharp in both long relief or in short spurts and issued just 12 walks along with the eye-popping strikeout totals.
Trieglaff, 23, gets the call up the SALLY League after pitching well for the Staten Island Yankees in high-leverage situations. The former TCU Horned Frog accrued a 2.04 ERA in 13 appearances with six saves, and fanned 16 batters with just one walk in 17 2/3 innings with the Baby Bombers. The Houston, Tex. native was the Yankees' 13th round pick in 2016 after a College World Series run with Texas Christian in his sophomore season.
Wivinis, 24, joins the RiverDogs as part of his first professional season after signing with the Yankees as a non-drafted free agent out of Eastern Illinois in 2016. The Illinois native struck out an impressive 32 hitters in just over 20 innings while posting a 0.87 ERA with just three runs (two earned) allowed in 12 appearances in the Appalachian League.
With their retooled roster, the RiverDogs continue a four-game series with the Lexington Legends, trying to clinch the series in game three on Saturday night from Whitaker Bank Ballpark at 6:35. The game can be tuned into on "The Big Talker" WTMA 1250 AM and online streaming audio via riverdogs.com and the RiverDogs TuneIn Radio app station. Pregame coverage for "Saturday Dog Talk" begins at 6 ET. The RiverDogs return home start a weeklong homestand on Tuesday, August 15.
RiverDogs tickets, including options for the all-new Riley Park Club, are now available and can be secured by contacting the box office at (843) 577-DOGS (3647) or online at riverdogs.com/tickets. Those that can't make it to the park can follow every pitch of the RiverDogs season on WTMA 1250 AM in the tri-county area or by streaming online at riverdogs.com and the TuneIn Radio App by searching "RiverDogs." All 70 RiverDogs home games are available with online streaming video at MiLB.tv.
--RIVERDOGS--